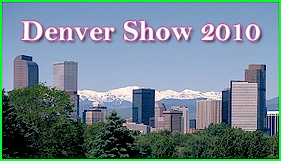 The Denver Show 2010 Mineral Rooms!
* Updated September 23rd, 2010 *

MIN#Denver2010-2 New!
Gemmy, apple-green Fluorite cubes in cluster with Quartz accenting!
Very sweet Fluorite specimen and old material you don't see very often these days.
These apple-green Fluorites on Quartz appeared about seven years ago and have become
very difficult to locate at the shows. This is one of the finer examples I've seen in years
and the crystals are all gemmy right down to the matrix and in excellent shape.
From the Xianghualing Mine, Chengzhou Prefecture, Hunan Province of China.
Measures 10 cm by 10.2 cm by 8.7 cm in size.
Ex. John Fender Personal Mineral Collection
Price $785
MIN#Denver2010-4 New!
Polished corner Fluorite cube with Sphalerite clusters on sparkling matrix!
Incredible Elmwood specimen!! The color is a rich raspberryish-purple and the polished
corners allow for visibility all the way down to the matrix! The left face of the largest Fluorite
cube has etched down around the Sphalerite crystal, giving the crystal a really interesting
concave appearance in that area. The Sphalerites are lustrous and show lots of reddish brown!
Measures 9.8 cm by 5.6 cm by 4.5 cm in size.
Ex. Lloyd Tate Mineral Collection
Price $1500

FOR ADDITIONAL NEW SPECIMENS, GO TO Denver 2010 Room 2 !
Rhodochrosite Room | Gold Room | Silver Rooms | Beryl Rooms | Elmwood Room | Exceptional Rooms | Tucson 2010 Rooms