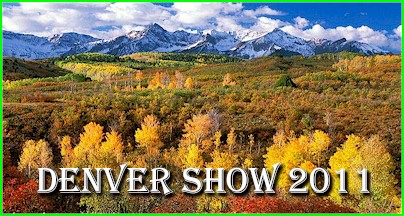 The Denver Show 2011 Mineral Rooms!
* Re-Updated April 28th, 2012 *

MIN#Denver2011-23 New!
Fine elongated crystals of orange Wulfenite with Calcite on Limonite!
Doubly terminated, lustrous, and deeply colored, these Wulfenite are in excellent condition!
From the Ojuela Mine, Mapimi, Durango, Mexico.
Measures 5 cm by 9.9 cm in size.
Ex. Vorpahl Mineral Collection
Price $2850
MIN#Denver2011-27 New!
Really neat specimen featuring several Prehnite "fingers" pseudo. after Anhydrite!
Truth be known, all of these fingers are hollow casts but the way the horizontal crystal exposes
its interior next to the verticle crystals is not only unique but it's also very asthetic and dramatic!
The structure of the original Anhydrite crystals is still recognizable but is now displayed with light
green, lustrous surfaces. A very sturdy specimen that would look wonderful in any collection.
From the Lower New Street Quarry, Paterson, Passaic Co., New Jersey.
Measures 8.4 cm x 4.5 cm x 4.5 cm in total size.
Circa 1950's - Ex. Frank Valenzuela, W. Mueller Mineral Collections
Price $1850
MIN#Denver2011-29 New!
Killer specimen featuring crystals of Native Copper separated only by Chrysocolla!
I love this specimen and I'm pretty picky about Coppers! The crystals are sharp and well
defined with isolation on the front and clustering on the back side. The terminations and
crystal faces look great and there is none of the typical crudeness you often see with these
specimens. The patina is original and naturally aged. Chrysocolla accents between each xl!
From the New Cornelia Mine area, Ajo, Little Ajo Mts, Ajo District, Pima Co., Arizona.
Measures 4.7 cm by 4.2 cm in size.
Ex. Evan Jones Collection
Price $2450
MIN#Denver2011-30 New!
Brilliant crystal of transparent Selenite set among Gypsum matrix!
Perfectly terminated and measuring nearly 10 cm in length, this Selenite has a lot of pizzazz
for such a common mineral. The surfaces are superbly striated, giving the crystal an amazing
sheen or luster. The termination is fine with only a small bit of irregularity on the right side. Other
smaller Selenites pop out here and there from the yellowish-tan Gypsum matrix. Very fluorescent!
From Santa Eulalia, Chihuahua, Mexico.
Measures 17 cm by 15.7 cm by 11.8 cm in total size.
Price $1500
MIN#Denver2011-31 New!
Rare specimen of Native Gold on Chrysocolla covered matrix!
I rarely find Native Gold on Chysocolla or any other Copper mineral for that matter. The combination
of the two just isn't common so I purchase every one I find. This specimen has a .6 cm leaf of pure Gold!
From Inca de Oro, Chanaral Province, Chile.
Measures 4.2 cm by 4 cm by 4.4 cm in total size.
Ex. Dr. Daniel Manolescu Mineral Collection
Price $585
MIN#Denver2011-32 New!
Impressive combination of Spessartine Garnet with Rhodonite and Galena!
One of the better examples I've seen recently - the Garnets are large and distinct with
an average size of 2.5 cm and one crystal as large as 4.2 cm!! The Spessartine
crystals emerge from and sit atop a matrix of Galena and a seam of Rhodonite.
From Broken Hill, New South Wales, Australia.
Measures 4.6 cm by 5.2 cm by 4.2 cm in size.
Ex. Al Ordway Mineral Collection
Price $985
MIN#Denver2011-33 New!
Large terminated Pyromorphite crystal with Pyromorphite on matrix!
Good looking Pyro specimen, highlighted by a large 1.5 cm crystal on the right side!
In excellent condition overall with no contacts and a brilliant luster atop every face.
From the Daoping Lead-Zinc Mine, Guangxi Province of China.
Measures 2.8 cm by 3.1 cm in size.
Price $785
MIN#Denver2011-35 New!
Dazzling specimen of orange to yellow Pyromorphite crystals on matrix!
This is one great looking Pyro! The crystals are all in excellent shape with complete
terminations. The crystal faces are super lustrous and reflect even the faintest light
and create a blinding sparkle when the specimen is tilted from side to side. Very nice!!
From the Jersey Vein, Level 9, 17-23 Floors, Bunker Hill Mine, Kellogg, Idaho.
Measures 6.2 cm by 6.6 cm in size.
Price $4850
MIN#Denver2011-36 New!
Pretty cluster of sea-green Fluorite cubes!
From a classic Austrian locale, this is one of two specimens I purchased at the show and is the
largest of the pair. The cubes are in excellent condition with very glassy, reflective faces. They
are nearly transparent as well, allowing one to see through to the white matrix beneath in areas.
From Weisseck Mountain, Murwinkel, Lungau, Salzburg, Austria.
Measures 7.7 cm by 12.5 cm by 6.4 in total size.
Ex. J. Hoppner Mineral Collection
Price $485
MIN#Denver2011-37 Sold!
Beautiful specimen of Raspberry Grossular Garnet on matrix!
Raspberry Garnets are renown for their great looks but unfortunately they're also well known
for their damage and broken crystals. Recently some new specimens have appeared on the
market but they were mostly of a very low quality. This specimen is from the earlier 1997 find
and is in excellent condition with complete Garnet and none of the all too common "split crystals"
which causes me to reject most of what I see. Definately one of the best small cabs at the show!
From Sierra de Cruces, Mun. de Sierra Mojada, Mexico.
Measures 6.5 cm by 9.8 cm in size.
Price $985
MIN#Denver2011-38 New!
Wonderful old time Pyromorphite from Pennsylvania!
I love Wheatley Mine Pyromorphites! The crystals are in excellent shape since they were
protected by a concave recess inside the gossen matrix. I only see a few incomplete terminations
which is pretty darn good for this famous locality. The Wheatley was originally a lead-silver mine and
has been worked off and on since the 1850s. This specimen is best described as olive-green in color.
From the Wheatley Mine, Phoenixville Mining District, Schuylkill Township, Chester Co., Pennsylvania.
Measures 8.5 cm by 7.4 cm by 5.4 cm in total size.
Circa late 1800's - Ex. Dr. Gary R. Hansen Mineral Collection
Price $1850

FOR ADDITIONAL NEW SPECIMENS, GO TO Denver 2011 Room 3 !
Rhodochrosite Room | Gold Room | Silver Rooms | Beryl Rooms | Elmwood Room | Exceptional Rooms | Tucson 2010 Rooms