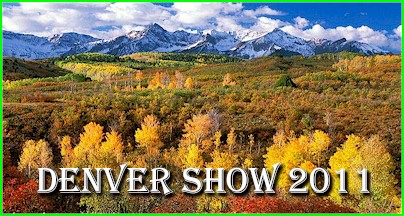 The Denver Show 2011 Mineral Rooms!
* Re-Updated April 28th, 2012 *

MIN#Denver2011-45 New!
Gorgeous, sparkling crystal balls of Olmiite with gemmy Calcite!
Many of these specimens were originally labeled as Poldervaartite but analysis has shown
that these are indeed Olmiite - a Mn dominant Poldervaartite. This lustrous specimen boasts a
3.1 cm Olmiite crystal ball with a smaller crystal ball to the right. The color is a peachy-orange!
From the N'Chwaning II Mine, Kalahari Manganese Fields, Northern Cape Province, South Africa.
Measures 5.5 cm by 3.4 cm by 2.5 cm in size.
Price $1500
MIN#Denver2011-46 New!
Glassy Beryl var. Heliodor crystal nestled between Muscovite and Albite blades!
This 5.5 crystal is incredibly sharp on the front side for a Brazilian Beryl and completely
rehealed on the backside. The color is slightly greenish-yellow and the front faces display
the typical Beryl modifications. This specimen could actually be display front on as it
is in the above photograph or turned onto it's side. Either position looks great!
From the Itatiaia Mine, Conselheiro Pena, Minas Gerais, Brazil.
Measures 5.5 cm by 7 cm by 5 cm in total size.
Price $1450
MIN#Denver2011-48 New!
Gorgeous, gemmy crystal of deep orange Scheelite on Muscovite!
This Scheelite literally glows! Glassy, translucent, deeply colored, and perfect! If you're
looking for a specimen of Scheelite and Scheelite only, I highly recommend this 4.5 cm crystal.
The color and gemmy termination are incredible and only the far back side is slightly matted.
From the Mt. Xuebaoding Mine, Pingwu, Sichuan Province of China.
Measures 6.8 cm by 5.6 cm in size.
Price $6500
MIN#Denver2011-51 New!
EXCEPTIONAL! Elogated crystals of Acanthite ps Argentite sprouting upwards atop Acanthite cubes!
Bizarre looking specimen and one that is a Silver collector's dream! Argentite is a mineral that exists
at high temperature and when it cools, it pseudomorphs into Acanthite which is the low temperature
version of the same mineral. These Argentite crystals kept their original form which could best be
described as "fishtail-like". Perfectly formed, lustrous cubes of Acanthite make up the base of this
very unique specimen. Classic Silver specimen dating back to the late 1800's or possibly earlier.
From the Himmelsfürst Mine, Freiberg District, Erzgebirge, Saxony, Germany.
Measures 4 cm by 3.1 cm by 2.6 cm in total size.
Ex. Wolfgang Wendel, Kevin Ward Mineral Collection
Price $3500
MIN#Denver2011-52 New!
Cabinet sized specimen of Fishtail Selenite crystals!
An awesome display specimen, I rarely see these twinned Selenite crystals anymore and specimens of
this condition without damage and or major scuffing are extremely hard to find! The largest fishtail twin
at the top measures 9 cm in height and 8 cm in width. It's surrounded by a smaller twin on the front and
untwinned Selenite crystals on the side and back. All sit aesthetically atop a hard white stone matrix.
From the Gibraltar Mine, Chihuahua, Mexico.
Measures 13 cm by 10.8 cm by 14.7 cm in total size.
Ex. David Stoudt Mineral Collection
Price $1850
MIN#Denver2011-53 New!
Very iridescent blades of Covellite in cluster on matrix!
This is Summitville Covellite and look at the color on those blades! Wow!
Vibrant and very lustrous blades of reddish-purple roll the light from the side
to side when the specimen is held and tilted. Many of the blades are free standing
and actually point towards the viewer while the blades at top lay flat against the matrix.
From Summitville, Rio Grande County, Colorado.
Measures 7.5 cm by 5 cm in size.
Price $1250
MIN#Denver2011-54 New!
Fine green Fluorite octahedrons with pokerchip Calcites on matrix!
I don't see these specimens much anymore as they originally appeared about a decade ago
and most now reside in private collections. This is a lovely example with two Fluorite crystals
and that wonderful deep green color that reminds me of a forest evergreen. Both Fluorites
are translucent and the matrix is coated with a sparkling drusy Quartz. Calcites on the back.
From Dal'negorsk, Primorskiy Kray, Russia.
Measures 7.8 cm by 5 cm by 4.4 cm in total size.
Price $785
MIN#Denver2011-55 New!
Fine cluster of terminated Barite crystals on Hematite matrix!
The specimen is in excellent condition with just minor contacts on a few crystal surfaces.
Only the normal trimming zone incompleteness is present. The matrix is a concave Hematite
cast which ranges from red to silvery grey. It serves as the perfect base for this glassy xl cluster.
From the Mowbray Mine, Frizington, West Cumberland Iron Field, Cumbria, England.
Measures 6 cm by 6.2 cm in size.
Ex. Howard Belsky Mineral Collection (Label Included)
Price $985
MIN#Denver2011-56 New!
Fine combo of Hessonite Garnet with glassy Diopside crystals from an old classic locality!
A flashy gem miniature with loads of color and sparkle and unusually large Diopside crystals!
In excellent condition overall, with only some natural matrix influenced irregular terminations
on the Diopside. This is common and not considered to be damage. Both the Hessonite and
Diopside are incredibly gemmy and glassy. The color could best be described as reddish-orange.
From Testa Ciarva, Balme, Ala Valley, Lanzo Valley, Torino Province, Piedmont, Italy.
Measures 5.2 cm by 4.7 cm in size.
Ex. J. Hoppner Mineral Collection
Price $685
MIN#Denver2011-57 New!
Classic specimen of yellowish-brown Smithsonite!
This unique looking specimen shimmers with luster and has at least four distrinct "fingers"!
The color could best be described as a lustrous brown with a bit of yellow mustard mixed in.
It's not a color of Smithsonite I've seen before but I've seen very few from the old Zacatecas
locality. The surfaces are in excellent condition with only one slight contact on the back side!
From Zacatecas, Mexico.
Measures 8 cm by 7.4 cm by 5 cm in total size.
Ex. E. O. Stratton Mineral Collection
Price $1250
MIN#Denver2011-58 New!
Lovely cabinet sized plate featuring rolling crystal growths of Hemimorphite!
One of the more interesting Hemimorphites I've seen in a long time, this specimen is a cluster
of large radiating growth patterns on Limonite matrix. The crystals are lustrous and flashy with a
good peppering of sparkle as well as a brownish coloration accenting the top portions. Very nice!
From the Ojuela Mine, Mapimi, Durango, Mexico.
Measures 8.4 cm by 11.5 cm by 5.3 cm in total size.
Price $985
MIN#Denver2011-59 New!
HUGE!! Large cabinet centerpiece of Galena, Sphalerite, and Chalcopyrite crystals on Quartz points!
This very impressive specimen is from Creede, Colorado and is easily the largest I have ever offered from that
classic mining locality. The Sphalerite crystal are glossy and lustrous and make up the majority of the surface.
Frosty Galena cubes are scattered about as are the golden and iridescent Chalcopyrite crystals. My favorite
thing about this specimen (other than the size) is the two layered appearance. It's very 3-dimensional and displays
like a museum piece. I had a custom, labeled acrylic base constructed for the specimen so it could easily be one.
From the Commodore Mine, Creede District, Mineral County, Colorado.
Measures 19.2 cm by 26.2 cm by 19.8 cm in total size.
Ex. Kevin Ward Mineral Collection
Comes with a custom made, labeled base for display
Price $4850
MIN#Denver2011-60 New!
Completely crystallized specimen of Native Silver on matrix!
Look at the hundreds of crystals and cubes which make up this very impressive Mexican Silver!
This is easily one of the most crystallized Batopilas specimens I've ever come across. The patina
is a lovely antique-golden brown and the crystals are present on both sides of the specimen!
From Batopilas, Chihuahua, Mexico.
Measures 5.2 cm by 5.8 cm by 4.3 cm in size.
Price $2450

FOR ADDITIONAL NEW SPECIMENS, GO TO Denver 2011 Room 4 !
Rhodochrosite Room | Gold Room | Silver Rooms | Beryl Rooms | Elmwood Room | Exceptional Rooms | Tucson 2010 Rooms