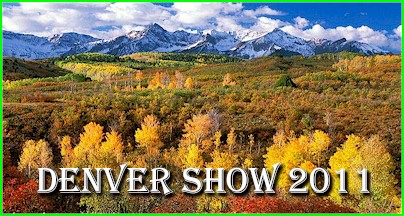 The Denver Show 2011 Mineral Rooms!
* Re-Updated April 28th, 2012 *

MIN#Denver2011-61 New!
Tremendous cabinet sized specimen of Native Wire Silver from China!
INCREDIBLE specimen of Native Silver, with wires twirling and curling their way upwards
from the thicker wires at the bottom, and twisting into a very aesthetic "tree" form! The luster
is brilliant and covers the entire surface from top to bottom. A light patina can be seen along the
edges and this only serves to enhance the beauty of the overall specimen. Also, a peppering
of sparkling Acanthite drusy lends additional contract to the edges of some of the Silver wires.
From the Hongda Mine, Lingqiu County, Datong Prefecture, Shanxi Province, China
Measures 15 cm by 11.4 cm in size.
Comes with a custom made, engraved acrylic stand.
Price $18,500
MIN#Denver2011-62 New!
Brilliant specimen of gemmy yellow Brazilianite crystals perched atop Microcline!
This is one stunning specimen to say the least. The aesthetics are superb and I was struck at
first glance by the way the gem Brazilianite crystals climbed the left side of the matrix and draped
over the top. Seriously, I couldn't take my eyes off the piece! The crystals are all in excellent
shape with full terminations except for one crystal on the back side which is rehealed.
From Conselheiro Pena, Rio Doce Valley, Minas Gerais, Brazil.
Measures 8 cm by 7 cm by 4.8 cm in total size.
Ex. Herbert Obodda Mineral Collection #2872
Comes with a custom made, labeled display base
Price $7500
MIN#Denver2011-63 New!
Dazzling combination of Chalcopyrite covered Polybasite crystals with Acanthite!
This amazing miniature came to light during the show and I acquired it with my other
Silver specimens. It's in great shape with only a few incomplete crystals. Considering
how thin the Polybasites are, this is to be expected. The main Polybasite crystals are
complete and the crystal form is very distinct as is obvious by looking at the crystal
on the upper left. The lustrous gray Acanthite crystals contrast well with the golden to
reddish brown Chalcopyrite covered Polybasites. This specimen sparkles in any light.
From the San Juan de Rayas Mine, Guanajuato, Mun. de Guanajuato, Guanajuato, Mexico.
Measures 4 cm by 5.1 cm in size.
Ex. Stoudt Mineral Collection
Price $1500
MIN#Denver2011-64 New!
Fine crystals of Allargentum with Dyscrasite, Schachnerite, Native Silver, and Actinolite sprays!
This attractive small miniature has it all! The well formed crystals emerge from the right side of the
matrix and climb upwards atop one another. The light green Actinolite sprays are scattered between.
From the Bouismas Mine, Bou Azzer District, Ouarzazate Province, Morocco.
Measures 5.4 cm by 2.6 cm in size.
Price $1250
MIN#Denver2011-65 Sold!
Brilliant, gemmy Golden Topaz set between a Quartz point and Albite matrix!
A crystal that is practically flawless. The termination is complete and perfect. The crystal surfaces
are all glassy and lustrous. The color is very good and the clarity is such that you can read print through
the widest part of the crystal. Simply a gorgeous Topaz! The crystal itself measures 5.5 cm by 3.3 cm in size!
I might also point out that the large semi-smoky Quartz crystal is also terminated with a bit of Albite attached.
From Dassu, Skardu, Northern Areas of Pakistan.
Measures 7.3 cm by 8.3 cm by 5.5 cm in total size.
Come with a custom made, engraved base for display
Price $5500
MIN#Denver2011-66 New!
Unique specimen featuring flat Sulfur crystals on sparkling drusy Quartz!
These appeared over a decade ago and I haven't seen any since. The initial find must of been
quite small. This was one of the largest plates I could find when they first appeared from China.
The Sulfur crystals are somewhat flat with shiny, glassy surfaces. Interesting and attractive.
From the Xikuangshan Sb Deposit, Lengshuijiang Co., Loudi Prefecture, Hunan Province, China.
Measures 9.5 cm by 12 cm in size.
Price $485
MIN#Denver2011-68 New!
Awesome stacked crystals of Malachite pseudo after Azurite!
This is simply a tremendous pseudomorph from a classic Copper mining locality in Arizona!
I love the stacked crystals on the upper left but the entire specimen is impressive with its
large crystal blades. In excellent condition overall with very few contacts. This specimen
dates back to the earliest mining period of the Miami district and is circa 1910-1920.
From the Live Oak pit, Inspiration Mine, Globe-Miami District, Gila County, Arizona.
Measures 9.5 cm by 7.2 cm by 5.8 cm in total size.
Ex. Gerry McLoughlin Mineral Collection
Price $3500
MIN#Denver2011-71 New!
Two habits of Galena with Calcite crystals and Chalcopyrite!
A perfect elongated cube of lustrous Galena sits atop a cluster of Chalcopyrite
accented Galena octahedrons. Calcite crystals cover the space inbetween and Dolomite
is present on the back side. In excellent condition overall with a great deal of eye appeal.
From the Sweetwater Mine, Ellington, Viburnum Trend District, Reynolds Co., Missouri.
Measures 6.3 cm by 4.3 cm by 4.4 cm in total size.
Ex. Schlichter Mineral Collection
Price $895
MIN#Denver2011-77 Sold!
Beautiful pink Morganite gem with green Tourmaline, Cleavelandite, and Lepidolite!
This crystal is a pink jewel, with excellent form and and complete gemminess. The facing
surface is smooth as glass while the modifications and left edge are slightly matted. Holding
the specimen up to eye level, I can attest to the fact that one could easily watch television
through the center - it's that clear. I think the specimen would look much better in a display
cabinet however. Contacts are limited to only one small bump on the bottom side. Very nice!
From Pech, Kunar Province, Afghanistan.
Measures 3.8 cm by 5.4 cm by 2.8 cm in total size.
Price $4500
MIN#Denver2011-78 New!
Glassy crystals of Malachite included Barite on botryoidal Malachite!
The prismatic Barite crystals here are lustrous with gemmy interiors and perfect terminations.
The tallest crystals stand upright while the fattest crystals lay horizontally towards the front.
No damage to speak of, with a beautifully patterned Malachite surface atop a darker matrix.
From the Mashamba West Mine, Kolwezi, Western Area, Shaba Cu Belt, Shaba, Congo.
Measures 9.5 cm by 7 cm by 6.8 cm in total size.
Price $3500
MIN#Denver2011-79 New!
Cabinet sized plate of large Barite tabs on Ankerite covered matrix!
Great looking display piece with over a dozen fine tabular Barite crystals, some of which have
an orange Hematite accent. The matrix is nearly completely covered by Ankerite crystals, making
for a wonderful contrast between the two minerals. Barite is fairly fragile and there are a few minor
contacts and there are a couple of cleaves near the back. These could easily be frosted over however.
From Seriphos Island, Cyclade Islands, Kykládes Prefecture, Aegean Islands Department, Greece.
Measures 9 cm by 16.3 cm by 7.8 cm in total size.
Ex. Marvin Rausch Mineral Collection
Price $950
MIN#Denver2011-80 New!
RARE! Quartz on Silver specimen!
Calcite accented Quartz point cluster sitting atop a mesh of Native Wire Silver and Calcite!
There appears to be a slight sprinkling of Limonite, giving a orangish hue to the Quartz.
What's really interesting about the specimen is the mesh of Silver wires and small Calcite
crystals located at the base and on the right side of the cluster. I can't recall seeing another
Silver specimen from Naica before, especially not one with Quartz crystals in association.
From the Naica, Mun. de Saucillo, Chihuahua, Mexico.
Measures 7.3 cm by 8.5 cm by 7.7 cm in size.
Ex. Bill and Carol Smith Collection
From the Kevin Ward Personal Collection
Price $4500
MIN#Denver2011-80b New!
Gemmy crystals of honey colored Barite perched atop Sulfur colored matrix!
The elongated crystals of Barite are very gemmy and glassy and many have full
terminations. Broken tips are the norm for these specimens so they don't detract.
The display of the Barites is very aesthetic with clusters pointing in all directions.
From the Machów mine, Tarnobrzeg, Podkarpackie, Poland.
Measures 6.5 cm by 4.8 cm by 4.5 cm in total size.
Price $785
MIN#Denver2011-80c New!
Fine crystal sprays of blue Aurichalcite with glassy clear Hemimorphite clusters!
A fine looking Aurichalcite from a locality I don't see often - Box Elder County, Utah.
The delicate crystals are in excellent condition with no contacting or bruising to speak of.
From the Tecoma Hill Mines, Lucin District, Pilot Range, Box Elder County, Utah.
Measures 6.2 cm by 7.2 cm in size.
Price $285

FOR ADDITIONAL NEW SPECIMENS, GO TO Denver 2011 Room 5 !
Rhodochrosite Room | Gold Room | Silver Rooms | Beryl Rooms | Elmwood Room | Exceptional Rooms | Tucson 2010 Rooms