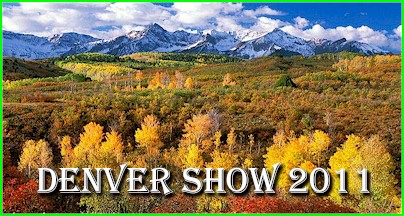 The Denver Show 2011 Mineral Rooms!
* Re-Updated April 28th, 2012 *

MIN#Denver2011-1 New!
CLASSIC SILVER!! Amazing specimen featuring Pyrargyrite crystals draped atop Calcite rhombs!
This incredibly aesthetic combination of Pyrargyrite crystals draped over the top of Hematite accented
Calcite rhombs dates back to the late 1800's! It's in wonderful condition considering it's age and has a
presence that will impress even the fussiest collectors. The provenance is also very impressive, consisting of
two major names in the world of minerals. Amazingly, both of their original labels are intact with the specimen!
From the Samson Mine, St. Andreasberg, Harz, Germany.
Measures 3.5 cm by 6.6 cm by 4.4 cm in size.
Circa late 1800's - Ex. Franz Hafliger, W. Maucher, Kevin Ward Mineral Collections
Comes with a custom made, labeled acrylic base
Price $12,500
MIN#Denver2011-2 New!
EXCEPTIONAL CABINET SIZED RED BERYL PLATE!!
This is easily the largest Red Beryl specimen I've offered on the website and one of the largest
I've ever seen. Usually when I find a large Red Beryl specimen, the crystals are tiny, damaged, and of
poor quality. This plate offers four Red Beryl crystals (1.8 cm, 1.6 cm, 1.3 cm, and 1.3 cm in size), and
three of them are doubly terminated! There's also a good amount of gem material peaking out of these
crystals in addition to smooth, glassy faces and no corner chipping which is common to Red Beryls.
I can visualize this plate as being the centerpiece of a gem mineral or Beryl collection!
From the Harris Red Beryl Claim, Wah Wah Mountains, Beaver County, Utah.
Measures 11 cm by 16.5 cm by 5 cm in size.
Comes with a custom made, engraved base
Price $24,500
MIN#Denver2011-3 New!
The "SILVER COBRA"!
This is truely an EXCEPTIONAL specimen of Peruvian Native Wire Silver on matrix!
Peruvian Silvers hit the market about ten years ago and they really came on strong and heavy
at the time. Unfortunately, I didn't find very many with the aesthetical quality of this well known
specimen. The piece was photographed by Jeff Scovil at the time for publication and it was named
the Cobra for obvious reasons. Unlike so many Peruvian Silvers, these wires are thick and clean.
The luster is also very impressive. I consider this one of the finest Silvers to come out of the find.
From a private collection, this is the second appearance of this fine specimen on the website!
From the Uchucchacua mine, Oyon Province, Lima Department, Peru.
Measures 5 cm by 6.5 cm in size with a "snake-like" 3.5 cm curl of .3 cm thick Wire Silver.
Ex. Kevin Ward Mineral Collection
Price $9500
MIN#Denver2011-4 New!
Lustrous, terminated crystals of Epidote on Epidote covered matrix.
Epidote is not on of the most glamorous minerals but this specimen is pretty darn nice, especially
with the terminated, nearly 3 cm upright crystal near the right side. As a matter of fact, every
olive-green Epidote crystal is terminated except for the fat crystal on the far right. It's rehealed.
From the Pinchin Quarry, Malone, Ontario, Canada.
Measures 5.2 cm by 8.6 cm by 6.1 cm in total size.
Ex. Clyde Hardin Mineral Collection
Price $485
MIN#Denver2011-6 Sold!
Sweet miniature of yellow Wulfenite blades with green Mimetite!
This specimen is pretty much flawless. It's well trimmed and very aesthetic. The blades
are complete and unchipped. The positioning of the Wulfenite atop the Mimetite is really
nice. I can easily recommend this specimen for Mexican mineral collections and all others.
From the Ojuela Mine, Mapimi, Durango, Mexico.
Measures 4.5 cm by 5.2 cm in size.
Ex. Evan Jones Private Mineral Collection
Price $985
MIN#Denver2011-7 New!
Awesome plate of Scepter Quartz crystals with an iridescent Limonite coating!
I'm not a big Quartz collector but I had to grab this cool looking plate. The Quartz scepters
are all over the place and the Limonite coating makes the specimen appear as if it's been bronzed!
In excellent condition overall with only a few missing points and all are tiny and unimportant.
From the Banská Štiavnica Mine, Schemnitz, Banská Štiavnica Mining District, Slovakia.
Measures 7 cm by 9.2 cm in size.
Price $785
MIN#Denver2011-8 Sold!
Rare! Terminated, cris-crossing Celestite crystals with Sulfur inclusions!
This specimen is a cluster of glassy, doubly terminated crystals with no real point of attachment so
it appears to be a complete floater. The yellow Sulfur inclusions are quite visible just beneath the
translucent surfaces. The story behind this find - These specimens were collected in 1962 by Oz Krebs
in Libya. They were held privately for over 40 years before being released to the market in 2009.
From Jabal al Akhdar, Cyrenaica, Libya.
Measures 6 cm by 4 cm in size.
Price $685
MIN#Denver2011-9 New!
Pretty cube of lavender Fluorite with a glowing Golden interior with Calcite on Dolostone!
I love two toned Fluorite Elmwood specimens but I don't find many to offer very often.
This one features a large cube with no damage and a nice association of gemmy Calcite.
From the Elmwood Mine, Smith County, Tennessee.
Measures 7 cm by 5.7 cm by 4.7 cm in size.
Price $685
MIN#Denver2011-10 New!
Impressive, large crystal of Celestine on Celestine covered matrix with Calcite!
This perfectly terminated crystal measures 5.5 cm in length and 3 cm in width! It juts upwards
from the blue matrix, creating a specimen that is both aesthetic and visually stunning. I might
point out that it could be displayed from either side and there are no real contacts to speak of.
The side shown has a small bit of attached matrix but the other side is perfectly clean.
From near Scofield, Monroe County, Michigan.
Measures 8 cm by 8.2 cm by 5.9 cm in total size.
Ex. Al Ordway Mineral Collection
Price $1500
MIN#Denver2011-12 New!
Fine blades of Erythrite climbing up and over matrix with Quartz!
A very pretty specimen in arrangement, these are upright standing blades which are
always more desirable. Also, only a few have bending which is amazing considering the
number of blades. A small cluster of Quartz crystals accents the lower left side.
From Bou Azzer, Tazenakht, Ouarzazate Province, Morocco.
Measures 4 cm by 6.2 cm in size.
Price $785
MIN#Denver2011-13 New!
CLASSIC SMITHSONITE!!
This old timer also has Azurite crystals which are located on the far right of the matrix!
Malachite accents as well. The sea-green surfaces are in excellent condition considering the
age of the specimen and the luster is a mild frosty one. Italian Smithsonites are a rare find indeed.
Antique collection label lists the specimen as being from Masaia, Sardinia.
Circa 1900 - From the Masua Mine, Masua, Iglesias, Carbonia-Iglesias Province, Sardinia, Italy.
Measures 6.8 cm by 6.4 cm in size.
Ex. Col. J. H. Pratt, Paul Tucker Mineral Collections
Price $785
MIN#Denver2011-17 New!
Classic Fluorite! Cubes and modified cubes of purple Fluorite on Fluorapatite covered matrix!
This Bohemian Fluorite dates to the late 1800's and comes with an original handwritten label as well
as another old collection label. The crystals are in great shape with only a few trival contacts for the age.
Antique label circa 1890's reads as Schlackenwald, Bohemia.
I believe this to be Horní Slavkov (Schlaggenwald), Karlovy Vary Region, Bohemia, Czech Republic.
Measures 6.2 cm by 7.2 cm in size.
Ex. Col. J. H. Pratt, Paul Tucker Mineral Collections
Price $585
MIN#Denver2011-18 New!
Sweet miniature featuring Leaf Native Silver in and atop matrix!
A very aesthetic specimen which displays three distinct growths of leaf Silver with
the largest of which rising 2.4 cm above the dark matrix. Delicate looking but sturdy.
A rare specimen being that Silver is not listed as a major mineral in the Kirkland area.
From the Kirkland Lake area, Gauthier Township, Timiskaming District, Ontario, Canada.
Measures 5 cm by 2.4 cm in size.
Ex. Schlichter Mineral Collection
Price $485
MIN#Denver2011-20 New!
Fine halfbreed featuring Native Silver crystals atop larger crystals of Native Copper!
This specimen can be displayed from several angles but this one is my favorite. The bright
white and lustrous Silver crystals sit side by side atop the Copper, terminating outwards in
different directions. The large Copper crystal at the bottom is accented by bits of Calcite.
From the Keweenaw Peninsula, Michigan.
Measures 5.8 cm by 3 cm in size.
Price $1850

FOR ADDITIONAL NEW SPECIMENS, GO TO Denver 2011 Room 2 !
Rhodochrosite Room | Gold Room | Silver Rooms | Beryl Rooms | Elmwood Room | Exceptional Rooms | Tucson 2010 Rooms