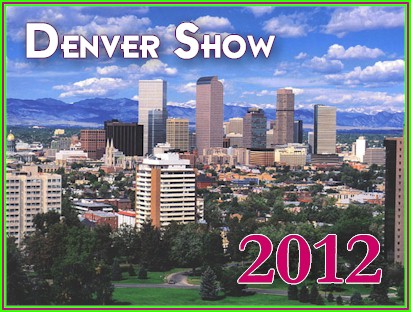 The Denver Show 2012 Mineral Rooms

Updated January 8th, 2013
MIN#Denver2012-181 New!
Gorgeous tabs of Golden Barite atop cream-colored Calcite blades!
This is quite the cabinet sized plate. The crystals are all complete with full terminations
on the front side and display an incredible amount of golden flash. The backside of the
the crystals are incomplete where the specimen was separated from the host rock but
this doesn't detract and is pretty much the norm with large, flat plates. An excellent
example of the Meikle Mine combinations that appeared five or six years ago.
From the Meikle Mine, Elko County, Nevada.
Measures 14 cm by 12.5 cm in size.
Ex. Edward David Mineral Collection
Price $4500
MIN#Denver2012-182 New!
Sparkling specimen of Azurite with Malachite!
Beautiful specimen featuring micro-crystalline botryoidal Azurite surfaces with Malachite on
Limonite matrix. This is old material dating back to the late 1890's and is in excellent condition.
From the Czar Shaft, Bisbee, Cochise County, Arizona.
Measures 8 cm by 10.7 cm in size
Price $2850
MIN#Denver2012-183 New!
Impressive crystals of lustrous Galena with Sphalerite sitting atop Dolostone matrix!
The Sphalerite crystals are distinct and well isolated. One can be seen in front just
below the Galenas and the other is perched atop the matrix just behind the Galenas.
From the Cumberland Mine, Smith County, Tennesee.
Measures 7 cm by 6.2 cm in size.
Price $585
MIN#Denver2012-184 New!
Cute specimen featuring tranlucent Calcite rhombs atop reddish Calcite!
From the Tsumeb Mine, Tsumeb, Namibia, SW Africa.
Measures 5 cm by 3.6 cm in size.
Ex. Uli Barman Mineral Collection
Price $485
MIN#Denver2012-185 New!
Colorful specimen featuring Bornite coated Chalcopyrite crystals with pinkish Calcite!
Lots of luster and rainbow iridescent color highlights this small cab. The specimen probably dates
back to this early 1940's and was part of the large Philadelphia Academy collection. The Chalcopyrites
are very well formed and oocassionally appear as golden patches between the iridescent Bornite coating.
The addition of pink Calcite crystals is an added bonus and really makes the piece!
From Guanajuato, Guanajuato, Mexico.
Measures 7.5 cm by 6.9 cm in size.
Ex. Philadelphia Academy of Natural Sciences
Price $895
MIN#Denver2012-186 New!
Beautiful specimen featuring two tri-color Tourmaline crystals with Albite!
Both crystals exhibit a gorgeous laying of yellow-green to green to pink at both perfect
terminations! The surfaces are well striated and super glassy while the pink portions
near the tips are gemmy. Both crystals are held tight by several blades of Cleavelandite.
From Paprok, Nuristan Province, Afghanistan.
Measures 3.3 cm by 2.7 cm in size.
Ex. Matthew Webb Collection
Price $2850
MIN#Denver2012-187 New!
Fine specimen featuring pink blushed Calcite crystals on Calcite covered matrix!
The large Calcites sit atop a matrix of smaller but still sharp Calcite crystals. One of
the best examples of Calcite I've seen from this region with 3.5 cm and 2 cm crystals!
From the Haramosh Mountains in Northern Pakistan.
Measures 6.5 cm by 9 cm in total size.
Price $985
MIN#Denver2012-188 New!
Large cabinet plate of vibrant purple Fluorite with Barite blades in cluster!
These purple cubes are pure gems with internal phantoming and transparency all the way
down to the matrix! They sit atop a sparkling matrix of Quartz and provide a wonderful
color contrast for the creamy white Barite blade clusters. In very good condition overall.
From the Berbes Mine, Berbes, Asturias, Spain.
Measures 9.8 cm by 14 cm in size.
Price $895
MIN#Denver2012-189 New!
Sharp crystals of Native Copper rising up from a Quartz covered matrix!
It all begins with a sharp 2.1 cm crystal which gives rise to a "tree-like" growth of smaller crystals!
From Keweenaw County, Upper Peninsula, Michigan.
Measures 6.3 cm by 6 cm in size.
Ex. Russell MacFall Collection
Price $895
MIN#Denver2012-190 Sold!
Sparkling specimen of Quartz drusy over Chysocolla!
The specimen is perfectly centered and unblemished with a dazzling flash under any lighting.
From the Ray Mine, Mineral Creek District, Pinal County, Arizona.
Measures 6 cm by 5.4 cm in size.
Price $1250
MIN#Denver2012-191 New!
Impressive cluster of reddish-brown Descloizite crystals on matrix!
An aesthetic cluster with excellent form and very few incomplete crystals.
The crystals themselves are very lustrous and translucent at the tips!
From the Berg Aukas Mine, Grootfontein, Namibia, SW Africa.
Measures 6 cm by 5.4 cm in size.
Price $785
MIN#Denver2012-192 New!
Pretty mix of botryoidal Chrysocolla with Azurite, Malachite, and Tenorite!
From the Morenci Mine, Morenci, Greenlee County, Arizona.
Measures 8 cm by 11.5 cm in size.
Ex. Edward David Mineral Collection
Price $785
MIN#Denver2012-193 New!
Glossy round clusters of Aragonite on matrix!
These clusters appear to be botryoidal but they are actually composed of small
surface blades. The color is a light aqua-green and the mounds are very shiny.
From the Tsumeb Mine, Tsumeb, Otjikoto Region, SW Africa.
Measures 6.2 cm by 8.4 cm in size.
Price $650
MIN#Denver2012-194 New!
Stunning specimen featuring three crystals of Forsterite var. Peridot atop a Magnetite!
Very unique specimen featuring multiple terminated green crystals of gemmy Peridot!
The dark Magnetite crystal serves as the center base and measures 1.6 cm in size.
From Sapat Gali, Naran-Kagan Valley, Kohistan District, North-West Frontier Province, Pakistan.
Measures 2.7 cm by 3.2 cm in size.
Price $1450
MIN#Denver2012-195 New!
Sweet specimen featuring a large, shiny Sphalerite crystal set among Fluorite cubes on Dolostone!
In excellent conditional overall, the Sphalerite it aesthetically surrounded by the zoned Fluorites!
From the Elmwood Mine, Smith County, Tennessee.
Measures 7.5 cm by 7.4 cm in size.
Price $550
MIN#Denver2012-197 New!
Beautifully patinaed specimen of crystalline Native Copper on Copper spinels!
The color of the Copper crystals changes from bright Copper to reddish Copper as you move towards
the bottom. The largest crystals have the deepest patina color and all are sharp with lustrous faces.
I love the way the crystal habits change with each level of growth, mimicking the color change.
From the Centennial Mine, Keweenaw County, Michigan.
Measures 6 cm by 6 cm by 3.4 cm in size.
Price $3850
MIN#Denver2012-199 New!
Gemmy and extremely flashy blue cluster of Celestite crystals on matrix!
These specimens always dazzle but this one seems to have a bit more pizzazz than usual and the
aesthetics are superb. There is no damage except for the outer trim line which is the norm. The largest
crystals rising up from the center measure 5 to 6 cm in total size! A great example of this popular mineral.
From the Sakoany Mine, Majunga, Madagascar.
Measures 11.7 cm by 12.4 cm by 13.4 cm in size.
Price $4500
MIN#Denver2012-200 New!
Large cabinet specimen featuring bi-colored Apophyllite crystals on Stilbite and Apophyllite!
A zeolite combo that should impress everyone! The Large Apophyllite crystals display a strong
greenish-yellow color set against clear tips. The top crystal is doubly terminated and lays horizontally
atop the peachy Stilbites while the other two rise upwards. The plate is neatly trimmed at the edges.
From Jalgaon, Maharashtra State, India.
Measures 19 cm by 14.8 cm in size.
Price $3500
- LINKS TO THE DENVER 2012 SHOWROOMS -
1 | 2 | 3 | 4 | 5 | 6 | 7 | 8 | 9 | 10 | 11
HOME | EXCEPTIONAL MINERALS | MINERAL AUCTION | SPECIMENS FROM PAST SHOWS | CONTACT US