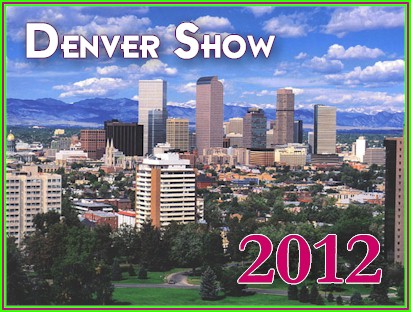 The Denver Show 2012 Mineral Rooms

Updated October 22nd, 2012
MIN#Denver2012-62 Sold!
Stunning specimen of Rhodochrosite on Quartz needles with Hubnerite!
This is one of the finest Hedgehog miniatures that I've seen recently! The largest Rhodo rhomb
measures nearly an inch (2.2 cm) in size and displays a vibrance of color that you usually don't find
in Hedgehog Pocket specimens. All the Rhodochrosite surfaces are lustrous glassy and complete
with some natural facial stepping on the corner. The large reddish-pink rhomb is completely pristine!
From the Hedgehog Pocket, Main Stope Drift, Sweet Home Mine, Alma, Colorado.
Measures 5 cm by 4.8 cm by 5 cm in total size. Rosia Montana (Verespatak; Vöröspatak; Goldbach), Alba Co., Romania
Ex. Revelle Mineral Collection
Price $5500
MIN#Denver2012-63 New!
The amazing "Copper Dragon"!
A stunning specimen of Native Copper crystals which together form a dramatic looking "dragon"!
One can easily make out the dragon's head, wings, feet, and even a curling tail. Looking closer at the
head, you can see eyes, a nose, and a mouth. Copper crystals form the pointed ridges down the neck.
This is one of the most incredible specimens I've ever seen in terms of its resemblance to an animal or
in this case, a mythical animal. It's also a really good crystalline Copper specimen with distinct crystals
measuring to 2.4 cm in size (the largest crystal forms the dragon's head) and a lovely antiquish patina.
From the Copper Mining District, Keweenaw County, Michigan.
Measures 6 cm by 9.8 cm by 3.7 cm in total size.
Ex. Webb Mineral Collection
Price $3500
MIN#Denver2012-66 Sold!
Lovely specimen of pink Smithsonite with lavender undetones on matrix!
This is a small cabinet sized specimen featuring botryoidal surfaces and intense
luster throughout. The specimen is mostly reddish-pink but there is a hint of lavender
beneath the surface color near the center and lower portion of the specimen. Very nice!
From Choix, Mun. de Choix, Sinaloa, Mexico.
Measures 7.2 cm by 6 cm by 4.6 cm in total size.
Price $785
MIN#Denver2012-67 New!
Canary-yellow crystals of Cerussite atop matrix!
There are well over a dozen glassy crystals here. All are terminated and all exhibit a brilliant yellow
coloration. For a locality better known for its Pyromorphite, Cerussite specimens are not that common
but their quality is quite good. These Chrome-Cerussites came out about 7 years ago and disappeared
from the market very quickly. The crystals stand upright on the matrix and exhibit a fine waxy luster.
From the Daoping Mine, Gongcheng Co., Guilin Prefecture, Guangxi Zhuang Autonomous Region, China.
Measures 4.5 cm by 2.5 cm by 2 cm in total size.
Price $895
MIN#Denver2012-68 New!
Fine, gemmy cluster of Smoky Quartz crystals from Norway!
This is the first Quartz specimen I've offered from this locality and I can attest that they
definately aren't common at the shows. This cluster features about a dozen crystals, all
terminated, and all exhibiting a beautiful Smoky coloration which reminds me of a Swiss
Quartz specimen. Very glassy with no real damage - only a few trival bumps here and there.
From Nibbenut, Odda, Hardangervidda, Hordaland, Norway.
Measures 7.8 cm by 5.5 cm by 5 cm in total size.
Ex. T. Bye Mineral Collection
Price $785
MIN#Denver2012-69 New!
Velvety clusters of Schorl Tourmaline with Quartz on Albite matrix!
These lovely specimens have become very diffcult to track down in the current market. They came
out about a decade ago and now I'm lucky if I see one or two at a mineral show. This specimen
displays a superb crystal spray of nearly 4 cm in size, complete with all the tips and the luster that
comes with. Small Quartz crystals are scattered about atop the Albite matrix, accenting the Tourmalines.
From the Guadalupana Mine, Sierra del Chivato, Santa Cruz, Mun. de Santa Cruz, Sonora, Mexico.
Measures 5.2 cm by 8.5 cm by 7.5 cm in total size.
Price $485
MIN#Denver2012-70 New!
Superb crystal of Azurite on Malachite from Tsumeb!
This is one great looking crystal, with super glossy surfaces and striations that roll
the light from one side to the other. The crystal itself measures right at 3.5 cm in size
and is nearly pristine with only the most minimal of contacts on the back side. Not only
is this fine specimen impressive to look at, but it's also quite historical. It traces its origin
back to the personal collection of William S. Vaux. When Mr. Vaux died in 1882, his collection
was donated to the Academy of Natural Sciences in Philadelphia, Pennsylvania. The specimen
comes complete with the original Academy specimen label and its attribution to William S. Vaux.
Circa late 1890's to early 1900's - From the Tsumeb Mine, Tsumeb, Namibia, SW Africa.
Measures 4.8 cm by 4.8 cm by 3.7 cm in total size.
Ex. William S. Vaux, Academy of Natural Sciences of Philadelphia Mineral Collection
Price $2500
MIN#Denver2012-72 New!
Large, shiny crystal of Cassiterite with accenting Cleavelandite!
This large and quite heavy crystal measures right at 5 cm across at it's widest point.
The surfaces are very lustrous and reflective on both the front and back. The back
side has a small area of contact near the lower left edge where the specimen was
removed from the host rock matrix but overall, the crystal is in wonderful shape.
From the Itatiaia mine, Conselheiro Pena, Doce valley, Minas Gerais, Brazil.
Measures 5 cm by 5.8 cm by 4 cm in total size.
Price $895
MIN#Denver2012-73 New!
Glowing specimen of Golden Fluorite with purple accents and Barite crystals!
A lovely combination featuring clusters of cream colored Barite along the left side
and center portion of the Fluorite cubes. The Fluorite is glassy and glows a deep golden
color with reddish-purple zoning along the edges. Note the vertical black line of natural
Bitumen just right of center! This is an interesting feature which forms a partial inclusion.
From the Minerva #1 Mine, Hardin County, Illinois.
Measures 5.3 cm by 6.2 cm by 3.5 cm in total size.
Price $985
MIN#Denver2012-74 New!
Rare specimen of Native Silver wires with Acanthite!
This specimen is from the island of Sardinia! It is solid Native Silver mixed with Acanthite
and even boasts several Acanthite crystals. I've only offered a couple specimens of Italian
Silver over the past decade and this is one of the most impressive to come to market in a while.
From Sarrabus, Cagliari Province, Sardinia, Italy.
Measures 3.5 cm by 3.8 cm by 2.5 cm in total size.
Ex. Comptoir Central d'Histoire Naturelle specimen with original label
Ex. Earl Calvert Mineral Collection
Price $1500
MIN#Denver2012-75 New!
Gorgeous combination of pink-tipped Spodumene crystals with Goshenite and Smoky Quartz!
All three sit atop a matrix of creamy white Cleavelandite. This was one of the prettiest combos
I saw at the show and I was especially attracted to the two crossing Spodumenes at top. Both are
super glassy and lustrous with light reflecting striations up and down the crystal faces. The interiors
are a vibrant golden-yellow and the tips are rosy-pink and both colors glow with an incredible brilliance!
Below the Spodumene crystals is a faintly blue Beryl var. Goshenite crystal. This crystal is also very
transparent and the Cleavelandite beneath can be seen through the top faces. Smoky Quartz crystals
are scattered about the surface and add a dark accent to the other gemmy crystals and Cleavelandite.
The Spodumene crystals at top measure 4.5 cm and 4 cm each while the Goshenite at bottom is 3.2 cm.
From Mawi, Laghman Province, Afghanistan.
Measures 13.3 cm by 6.4 cm by 7.3 cm in total size.
Price $8500
MIN#Denver2012-76 New!
Classic specimen featuring Wulfenite blades on Mimetite!
This specimen is covered with dozens of transparent yellowish-orange Wulfenite blades,
with the largest measuring 1.4 cm in size. The bright yellow surrounding the Wulfenite are
small sparkling clusters of Mimetite, giving the specimen a brilliant appearance. No damage
to speak of. The Silver Bill Mine is an old Arizona mine that is situated just east of Tombstone
and about a mile outside the ghost town of Gleeson. Worked since 1893, the mine closed in 1978.
From the Silver Bill Mine, Gleeson, Dragoon Mountains, Cochise County, Arizona.
Measures 6.5 cm by 10 cm by 6.3 cm in total size.
Price $685
MIN#Denver2012-77 New!
Super lustrous specimen of Chalcocite crystals!
A lovely cluster with crystals measuring to 1 cm in size. The luster is intense and the
color is a reddish-golden patina. The individual crystals are very sharp and complete.
From the Flambeau Mine, Ladysmith, Rusk County, Wisconsin.
Measures 3.5 cm by 2.3 cm by 2 cm in total size.
Price $485
MIN#Denver2012-78 Sold!
Exceptional specimen featuring olive-green crystals of Apatite, Muscovite, and Quartz!
What a gorgeous specimen this is! The large Apatites are super glassy with a variation
of dark green and olive green. The largest crystal measures to 6.5 cm in size. The top
terminations are all textbook and complete while the bottom side is completely rehealed.
Attached to the Apatite crystals are blades of red and silver Muscovite! The blades are
undamaged and stand upright in most areas of the specimen. However, the concave opening in
the smaller Apatite near the bottom has several blades of Muscovite inside. Either the blades of
Muscovite were there first and the Apatite grew around them or they filled an etched out opening
after the fact. Your guess is as good as mine but it is an interesting feature of this fine specimen.
From the Ilha claim (Lavra da Ilha), Taquaral, Itinga, Jequitinhonha valley, Minas Gerais, Brazil.
Measures 5.4 cm by 11 cm by 7 cm in total size.
Come with a custom made, labeled display base
Price $2500
MIN#Denver2012-80 Sold!
Wow! This is one incredible specimen of Quartz with inclusions of Astrophyllite!
A rare specimen to say the least but even more rare in this quality and size range! The colorless Quartz
crystals are so completely included with the reddish Astrophyllite needles that they look solid red. The
interior of each Quartz shimmers from the hundreds of needles which fill every portion, all the way up
to the tips. The surfaces of each Quartz are very glassy and the terminations are complete. Any contacts
are minor and unnoticeable. This is the largest plate of this material that I've seen and even though
I am not much of a Quartz fan, this specimen impresses me and I love it! The white matrix is granitic.
From Zagi Mountain, Hameed Abad Kafoor Dheri, Peshawar, North-West Frontier Province of Pakistan.
Measures 11.2 cm by 13 cm by 10.7 cm in total size.
Ex. Herbert Obodda Private Collection No. 2103
Price $6500
MIN#Denver2012-80b Sold!
LARGE CABINET!! Exceptional specimen of brilliant silver Smithsonite with frost accents!
Intensely lustrous with satiny-smooth botryoidal surfaces, this specimen represents the largest Smithsonite plate
I've ever offered from Sierra Mojada! The color is a gleaming silver with white frost accenting along some of the
botryoidal edges. This is a true museum quality plate in terms of both size and appearance. There is no damage
to speak of and no visible contacts on the wonderful rolling surfaces. I might also point out that specimens of
Smithsonite from Sierra Mojada are not common and even small ones are rare. A specimen this size is incredible.
Sierra Mojada, Mun. de Sierra Mojada, Coahuila, Mexico.
Measures a huge 20 cm by 30 cm by 7.4 cm in total size.
Price $12,500
MIN#Denver2012-80c New!
Great looking cluster of Native Copper crystals!
This impressive cluster is composed of hundreds of fine Copper crystals with Copper
dendrites extending outwards along the outer edges. The patina is a brilliant reddish-brown
with some golden highlights. Each crystals, although in a cluster, is distinct and lustrous.
Note the Spinel-Twin crystal at the very top!
From the Cole Mine, Bisbee, Warren District, Mule Mountains, Cochise County, Arizona.
Measures 10.7 cm by 8 cm by 5 cm in total size.
Price $1250
MIN#Denver2012-80d New!
Beautiful plate featuring Golden Calcite crystals from Illinois!
These crystals are completely terminated with a glowing golden coloration. The surfaces are
glassy and the interiors are translucent to gemmy. I don't see very many specimens of Calcite
on matrix from Illinois since most come in combination with Fluorite. These 6 cm sized crystals are
impressive enough to stand on their own and together they form a a great looking cabinet specimen.
From the Denton Mine, Hardin County, Illinois.
Measures 10 cm by 14.2 cm by 11.5 cm in total size.
Ex. Goings Mineral Collection
Comes with a custom made, labeled display base
Price $2500
- LINKS TO THE DENVER 2012 SHOWROOMS -
1 | 2 | 3 | 4 | 5 | 6 | 7 | 8 | 9 | 10
HOME | EXCEPTIONAL MINERALS | MINERAL AUCTION | SPECIMENS FROM PAST SHOWS | CONTACT US