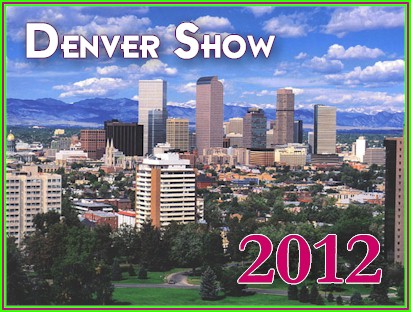 The Denver Show 2012 Mineral Rooms

Updated December 11th, 2012
MIN#Denver2012-121 New!
Lovely plate of deep reddish-pink Cobaltoan Smithsonite crystals on matrix!
There are dozens of fine Smithsonite crystals on this plate, measuring to 1.5 cm in size.
All are complete and distinct with only a scattering of tiny contacts which are nearly invisible
except for under magnification. The color is a vibrant pink with a touch of red in the mixture
and the luster is a pearlish-satiny rolling sheen. A small collection of these appeared at the
show and this was the finest of the lot. I cherry picked it for color, aethetics and condition.
From the Tsumeb Mine, Tsumeb, Otjikoto Region, Namibia.
Measures 4.2 cm by 7 cm by 2.3 cm in total size.
Ex. E. J. Immelman Mineral Collection
Price $3500
MIN#Denver2012-122 New!
Superb cabinet specimen featuring Malachite ps after Chalcopyrite crystals with Quartz!
This is easily the finest cabinet specimen of El Cobre Malachite ps after Chalcopyrite that I've seen
in the past seven or eight years. The pseudomorphs are in perfect condition and measure to 3 cm in
size. The surfaces are excellent and nearly pristine while the brown Quartz needles are complete and
unbroken. A specimen in this condition from this locale is extremely rare. I don't see many to begin with
and this one ranks in the top three of those I have seen. The drusy coating adds a wonderful sparkle.
From El Cobre Mine, Concepción del Oro, Mun. de Concepción del Oro, Zacatecas, Mexico.
Measures 11.5 cm by 12 cm by 9.8 cm in total size.
Price $4500
MIN#Denver2012-123 Sold!
Heavy specimen of Native Gold wires on Quartz matrix!
This is a heavy specimen which is mostly crystalline wires over Quartz. The Quartz weight
on the specimen is tiny and the wires actually surround the Quartz which is mostly in the
center. Mixed in with the wires are small trigons and octahedrons throughout. Very lustrous!
From the Belshazzar Mine, Quartzburg District, Boise County, Idaho.
Weighs 76.4 grams or 2.45 ounces.
Measures 4.2 cm by 3.5 cm by 2.6 cm in total size.
Price $9500
MIN#Denver2012-124 New!
Shiny Azurite crystal clusters on Malachite!
A fascinating specimen due to the way the Azurite cluster become more distinct and form large
individual crystals near the bottom. The clusters and Azurite crystals are all in excellent condition
with a flashy luster. They fill the slightly concave structure in the middle of the Malachite matrix.
From the Big Indian Mine, San Juan County, Utah.
Measures 8.3 cm by 7.5 cm by 5 cm in total size.
Price $1450
MIN#Denver2012-125 New!
Brilliant specimen of crystalline Native Gold on white Quartz!
Fine crystals are clustered atop the Quartz while seams and a lustrous Gold leaf can be seen
below. The color of the Gold is a bright yellow and contrasts well with the stark Quartz matrix.
From the Harvard Open Pit Mine, Jamestown, California.
Measures 2 cm by 1.5 cm in size.
Price $385
MIN#Denver2012-126 New!
Glassy crystal clusters of Creedite atop Calcite crystals!
Here's a specimen you don't see every day. Fine crystals of purple Creedite in clusters atop
a surface of small greenish-yellow Calcite crystals, many of which are double terminated.
The layering of Creedite sparkles intensely in contrast with the matted surfaces of the Calcite
and completely covers the interiors of several small concave pockets in the host matrix.
From the Cresson Mine, Eclipse Gulch, Cripple Creek District, Teller County, Colorado.
Measures 9 cm by 8 cm by 6.4 cm in total size.
Price $1500
MIN#Denver2012-127 New!
Very rare combination featuring Argentite ps. after Galena with Realgar and Xanthoconite crystals on Barite!
Xanthoconite is a rare Silver Arsenic Sulfide (Ag3AsS3). These rare specimens came to market years ago and
only a few good ones were available at that time. They've long since disappeared and I haven't seen one in
almost a decade. The Xanthoconite can be seen scattered about atop the Barite blades near the Argentite
which has completely pseudomorphed and taken on the habit of the Galena cubes. Red Proustite crystals
are also present on this unique Silver specimen, displaying a close association with the Xanthoconite.
From the Alte Hoffnung Gottes Mine, Kleinvoigtsberg, Freiberg District, Erzgebirge, Saxony, Germany.
Measures 7.5 cm by 5.5 cm by 4 cm in total size.
Price $3500
MIN#Denver2012-128 New!
Misty-green cluster of Fluorite cubes from Austria!
A great looking specimen that is glassy Fluorite all the way around, on all sides. It almost
appears to be a floater with no point of attachment. I see an area that may have once been
matrix contact but it's covered by smaller, slightly etched Fluorite crystals. The specimen is in
great shape overall with some minor contacts scattered about but nothing that really detracts.
From Rieding Lake, Weißeck area, Murwinkel, Lungau, Salzburg, Austria.
Measures 6.5 cm by 6.2 cm by 5.8 cm in total size.
Price $485
MIN#Denver2012-129 New!
Slightly iridesent specmen of crystalline Native Gold on white Quartz!
Small crystals are scattered about and a deep reddish patina colors the recesses
of this fine Native Gold TN. Both the front and back sides are covered with Gold.
From the Harvard Open Pit Mine, Jamestown, California.
Measures 1.2 cm by 1 cm in size.
Price $285
MIN#Denver2012-130 New!
Lovely specimen of yellow Brazilianite crystals with a Quartz point on matrix!
This is a great looking miniature with Brazilianite crystals to 2.5 cm. The crystals are
gemmy and lustrous with all being terminated except for a couple of smaller crystals
towards the back side. The Quartz point is also terminated, providing a nice balance.
From Conselheiro Pena, Doce Valley, Minas Gerais, Brazil.
Measures 4.2 cm by 4 cm by 3.4 cm in total size.
Ex. McCarty Mineral Collection
Price $785
MIN#Denver2012-132 Sold!
Fine specimen of green Fluorite octahedrons climbing a matrix of Quartz crystals!
First of all, this is a American Tunnel specimen and these classic Fluorites are tough to find.
Secondly, the specimen is gorgeous and looks almost like a snow covered mountain. There's
even some small pink Rhodochrosite crystals scattered about the white Quartz. The green
Fluorites are complete with a minty-green coloration and some tiny Quartz crystals along
the top faces. Classic Colorado Fluorite specimens like this one are becoming very scarce.
From the American Tunnel Mine, Howardsville, Animas District, San Juan Co., Colorado.
Measures 6.2 cm by 5 cm by 3.5 cm in total size.
Ex. David Glenn Mineral Collection
Price $895
MIN#Denver2012-133 New!
Gorgeous leaf of reddish tinted Native Gold on bright white Quartz!
This super lustrous crystalline leaf has some of the prettiest patina I've seen on
a Gold specimen. The colors range from red to orange to yellow on the far right.
From the Harvard Open Pit Mine, Jamestown, California.
Measures 1.1 cm by .8 cm in size.
Price $285
MIN#Denver2012-134 New!
Colorful specimen featuring reddish-pink Rhodochrosite crystals on Pyrite studded matrix!
These fine rhombohedral crystals of Rhodochrosite are translucent with a much better than
average color for a Butte specimen. They are reddish-pink in contrast to the more common
pale pink specimens normally seen from this locality. Each Rhodo is lustrous and nearly gem
with a good color vibrance. A thin Calcitic growth frames many of the Rhodo crystals at the base.
This is old collection material and is one of the better Butte Rhodo specimens I've seen in years.
From the Emma Mine, Butte, Butte District, Silver Bow County, Montana.
Measures 5 cm by 4.5 cm by 3.1 cm in total size.
Ex. David Glenn Mineral Collection
Price $2450
MIN#Denver2012-135 New!
Historic specimen of crystalline Native Gold on altered Rhyolite with Quartz matrix!
A very rich specimen of Native Gold from a locality that is tied to one of the most famous ghost towns
in America - Rhyolite, Nevada! The photo above shows the brilliant Gold dendrites which are bright in
color and very lustrous. The matrix is typical to the Bullfrog District and matches the material I've
personally dug many times while exploring the Rhyolite area. This specimen dates to the early 1900s
and was displayed in the Beatty Exchange Club for years until it was donated to the Keck Museum.
I've only seen three specimens of Gold from the Rhyolite District and two of those are in this update.
From near Rhyolite, Bullfrog District, Nye County, Nevada.
Total specimen weight is 108.3 grams.
Measures 5 cm by 3.8 cm by 5 cm in total size.
Ex. Beatty Club, Marcus Johnston, W. M. Keck Museum Collections
Price $5500
MIN#Denver2012-136 New!
Gemmy green twinned Fluorite with Galena on Quartz covered matrix!
This is a great looking combo specimen. The Fluorite is a deep vibrant green and very gem all the way
to the Quartz matrix. Gray Galena octahedrons are scattered about the matrix, adding contrast in both
texture and color. I don't detect any damage to speak of, only the tiniest of contacts that are unnoticeable.
From the Rogerley Mine, Rogerley Quarry, Frosterley, Weardale, Co. Durham, England.
Measures 8 cm by 11.2 cm by 3.8 cm in total size.
Price $985
MIN#Denver2012-137 New!
Brilliant specimen of semi-crystalline Native Leaf Gold on a bit of matrix!
The luster and brilliance of this fine Gold Leaf is amazing and the surface is covered with
small flattened trigon crystals which formed within the tight recesses of the matrix seam.
From the Yandal Greenstone Belt, Leonora Shire, Goldfields-Esperance region, Western Australia, Australia.
Measures 2.3 cm by 2.3 cm by 1.7 cm in total size.
Price $585
MIN#Denver2012-138 New!
Rare specimen featuring a Blue Cap Aquamarine sitting upright atop Microcline matrix!
This is a great looking Aquamarine crystal, measuring in at 2.6 cm in length with gemmy interiors
and a flashy, wet-looking luster on all crystal faces. The interior zoning is very evident and the blue cap
at top is distinct and easy to see. The top termination is flat and complete with only some scattered pocket
noise along the edges. Nothing that detracts or is visible without strong magnification. There's a dark line
about 1 cm down from the top and this appears to be an inclusion of some mineral, possibly Schorl Tourmaline.
The Microcline crystals to the right of the Aqua are twinned. Smaller Aquamarines surround the large crystal.
From Raikot, Chilas, Diamar District, Gilgit-Baltistan, Pakistan.
Measures 4.7 cm by 8.9 cm by 3 cm in total size.
Price $1850
MIN#Denver2012-139 New!
Fine dendritic Native Gold with Gold leaves on Quartz matrix!
A sweet little TN from a very old locality that was mined by the Romans.
From the Rosia Montana, Transylvania, Romania.
Measures 1.2 cm by .8 cm in size.
Price $285
MIN#Denver2012-140 New!
Gemmy green crystals of Sphalerite and Pyrite set atop and between Quartz points!
These Sphalerites are so gemmy that you will swear they are Peridots. The crystals measure to 2 cm in size
and are facetable quality with their gemmy interiors and glassy faces. I count at least five Sphalerites and
any contacts are small and do not detract. The Sphalerite sit atop the Quartz points with some small Pyrites.
I found this link on mindat and I think it's the same specimen! Use the back feature on your browser to return.
From the Osikovo Deposit, Septemvri Mine, Madan Ore Field, Rhodope Mts, Smolyan Oblast, Bulgaria.
Measures 4.5 cm by 6.6 cm by 5.2 cm in total size.
Ex. Dirk Rheinlander Mineral Collection
Price $1850
MIN#Denver2012-140b New!
Dazzling specimen of Precious Opal from Australia!
This is one of those few Opals I come across every now and then that are true specimen
quality. This is a sizeable Opal with all the color you could possibly ask for. Red, blue,
green, yellow, violet, and orange flashes jump out from beneath the shiny greyish-white
Opal surfaces! They also appear on the edges which should mean the entire length and
depth of the specimen is cutable if you choose to do so. This Opal weighs in at 201.8 grams!
This one is much better in person. The color flash of Opal is very hard to capture in a photo.
From Coober Pedy, Coober Pedy - Everard Range Regions, South Australia, Australia.
Measures 6 cm by 13.2 cm by 3.4 cm in total size.
Price $4500
MIN#Denver2012-140c New!
Native Gold dendrites atop Limonite stained matrix!
Fine Gold dendrites cover this specimen from top to bottom. The color is a lustrous yellow
and the contrast with the matrix is very nice. I don't see too many from this locality anymore.
From the Slumbering Hills, Humboldt County, Nevada.
Measures 2.3 cm by 1.2 cm in size.
Price $285
MIN#Denver2012-140d New!
Sweet specimen featuring a gemmy green Fluorite octahedron atop Quartz covered matrix!
This Fluorite is pure perfection, complete on all sides with a vivid color and gemmy interiors.
The crystal faces take turns changing from glassy smooth to stepped with tiny crystal faces. This
creates both a lustrous and flashy appearance to the Fluorite when rotated in even faint lighting.
From the Shigar Valley, Skardu District, Gilgit-Baltistan, Northern Areas of Pakistan.
Measures 5 cm by 3 cm by 3.2 cm in total size.
Price $550
MIN#Denver2012-140e New!
Fine crystals of orange Wulfenite on Malachite covered matrix!
An attractive miniature with translucent Wulfenite crystals measuring to 1.1 cm in size.
The crystals are glassy lustrous and some actually appear yellowish-orange. Very trival
contacts are visible under extreme magnification but none are large enough to be noticeable.
From the Tsumeb Mine, Tsumeb, Otjikoto Region, Namibia.
Measures 5.3 cm by 3.7 cm by 2.3 cm in total size.
Ex. Ulrich Bahmann Mineral Collection
Price $985
MIN#Denver2012-140f New!
Historic specimen of crystalline Native Gold on altered Rhyolite matrix!
A very rich specimen of Native Gold from a locality that is tied to one of the most famous ghost towns
in America - Rhyolite, Nevada! The photo above shows the brilliant Gold crystals which are bright in
color and very lustrous. The matrix is typical to the Bullfrog District and matches the material I've
personally dug many times while exploring the Rhyolite area. This specimen dates to the early 1900s
and was displayed in the Beatty Exchange Club for years until it was donated to the Keck Museum.
I've only seen three specimens of Gold from the Rhyolite District and two of those are in this update.
From near Rhyolite, Bullfrog District, Nye County, Nevada.
Total specimen weight is 57 grams.
Measures 4.5 cm by 2.2 cm by 3.5 cm in total size.
Ex. Beatty Club, W. M. Keck Museum, Kleine Collections
Price $3500
- LINKS TO THE DENVER 2012 SHOWROOMS -
1 | 2 | 3 | 4 | 5 | 6 | 7 | 8 | 9 | 10 | 11
HOME | EXCEPTIONAL MINERALS | MINERAL AUCTION | SPECIMENS FROM PAST SHOWS | CONTACT US