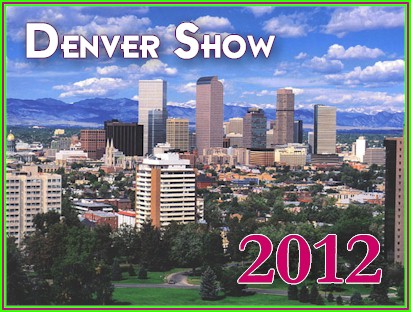 The Denver Show 2012 Mineral Rooms

Updated January 8th, 2013
MIN#Denver2012-141 New!
VERY LUSTROUS and aesthetic combo featuring Arsenopyrite crystals alongside a large Ferberite!
A dazzling specimen, these combos appeared around seven years ago and have virtually disappeared
from the current marketplace. This specimen features a cluster of lustrous Arsenopyrite crystals on
the far left edge with the largest upright and terminated crystal measuring some 5 cm in length!!
The large 5.4 cm by 4.5 cm Ferberite crystal is heavily striated which accounts for its heavy luster.
It is partially rehealed on two sides and complete two others. The nickel-silver color of the
Arsenopyrite crystals contrasts beautifully with the shiny black color of the Ferberite.
From the Yaogangxian Mine, Hunan Province of China.
Measures 5.3 cm by 8 cm by 6.2 cm in size.
Price $3500
MIN#Denver2012-142 New!
Fine combo of Scheelite with transparent Fluorite on Muscovite!
These combos are so rare these days and the perfect matching size of both crystals is really nice!
Numerous smaller Scheelites are scattered atop the matrix on both sides. No damage to speak of.
From the Mt. Xuebaoding Mine, Pingwu, Sichuan Province of China.
Measures 6 cm by 6.2 cm by 4.8 cm in total size.
Price $2500
MIN#Denver2012-143 New!
Exceptional!! Dramatic specimen of "Cave Calcite" fingers and crystals from Bisbee, Arizona!
This is one of the finest examples of mining Calcite that I've seen from the old Copper mines in
Bisbee! The rounded Calcite fingers are topped by sharp Aragonite crystals which glisten in even
faint lighting. The specimen is pristine overall with no visible damage. It was preserved with
great care by the former owners. The story behind these specimens - Most were encountered
deep inside the mines at Bisbee and unfortunately, most were also destroyed or blasted away
during the mining process. A specimen of this quality is rarely encountered and is a true prize.
From the Holbrook Shaft, Copper Queen Mine, Bisbee, Cochise County, Arizona.
Measures 12.2 cm by 9.8 cm by 6.4 cm in size.
Comes with a custom made, engraved base
Price $3500
MIN#Denver2012-144 New!
Colorful mix of rootbeer-colored Sphalerite crystals on pink Rhodochrosite!
The color of the Sphalerite crystals is an intense amber-brown and is quite gemmy in some
locations. The pink Rhodochrosite covers almost the entire matrix with a beautiful contrast.
From the Manuelita Mine, Morococha District, Yauli Province, Junin Department, Peru.
Measures 7.2 cm by 5.1 cm in size.
Price $585
MIN#Denver2012-147 New!
Lovely specimen of raspberryish Fluorite cubes with golden interiors!
The cubes are accented by dogtooth Calcite crystals and a sprinkling of Chalcopyrite
with some natural etching and rehealing. The specimen is in very good shape overall.
Circa 1960's- From the Minerva Mine #1, Hardin County, Illinois.
Measures 8 cm by 7.4 cm in size.
Ex. Roy A. Smith Collection
Price $585
MIN#Denver2012-150 New!
Impressive large cabinet plate featuring Galena and Sphalerite on Quartz!
This is a classic English combo specimen with lots of stark contrast between the crystals and
a good amount of luster. Both Galenas are sharp and well formed against the shiny Sphalerite.
From Nenthead, Alston Moor, North Pennines, Cumbria, England.
Measures 13.3 cm by 11 cm in total size.
Price $1250
MIN#Denver2012-151 New!
Attractive cluster of doubly terminated Brazilianite crystals on Albite!
I count six complete gem crystals climbing upwards on the Albite! Beautiful with
better than average tranparency and lots of pizzazz for the price in my opinion!
From Linópolis, Divino das Laranjeiras, Doce Valley, Minas Gerais, Brazil.
Measures 8 cm by 3 cm in size.
Price $895
MIN#Denver2012-153 New!
Thick and impressive curved wire of Native Silver accented by micro Acanthite!
A superb example of an off-matrix Silver wire! The striations are very pronounced
and the luster is excellent. A lovely antique patina completes the entire package.
From the San Martin Mine, San Martin, Zacatecas, Mexico.
Measures 3.6 cm by 2.1 cm in size.
Price $895
MIN#Denver2012-154 New!
Flashy and glassy, this bi-colored Calcite is Hematite included and sits atop Dolomite!
The bi-colored Calcite rhomb is undamaged and seems to be color split or Hematite
included along the middle axis! The surfaces are very glassy and bright with lots of gem
in the colorless side. The matrix is covered by small Dolomite crystals and more Hematite.
From Schlema, Schlema-Hartenstein District, Erzgebirge, Saxony, Germany.
Measures 6 cm by 4.4 cm by 3.4 cm in size.
Price $650
MIN#Denver2012-155 New!
Aesthetic cluster of lustrous Galena cubes with stacked pokerchip Calcites!
Chalcopyrite crystals can be seen on the backside, embedded into the Calcite stacks.
Damage free and flashy, this is one of the better combos from Russia I saw at the show.
From Dal'negorsk, Primorskiy Kray, Russia.
Measures 5.8 cm by 6.1 cm by 4 cm in size.
Price $985
MIN#Denver2012-156 New!
Super lustrous crystal clusters of Pyrite on Quartz matrix!
The largest cluster measures 3 cm in size and most are 2 cm to 3 cm. The crystals
themselves are very flashy golden-bronze with sharp faces and layers of growth.
From the Krushev dol Mine, Madan Ore Field, Rhodope Mtns., Smolyan Oblast, Bulgaria.
Measures 11.2 cm by 7 cm in size.
Price $585
MIN#Denver2012-157 New!
Lustrous crystals of Spessartine Garnet on Albite with scattered Calcites!
The entire specimen exhibits great flash and the small Calcites are doubly terminated.
Unlike many of the Spessartines I've seen from this locale, these crystals have a much better
color and tend to lean somewhat towards the oranger side of red. Well striated and complete.
From Gilgit, Gilgit District, Northern Areas of Pakistan.
Measures 4.4 cm by 7 cm in size.
Price $685
MIN#Denver2012-158 New!
CLASSIC Copper specimen! Fine pocket of bluish-tinted Native Copper crystals!
I love the way these Copper crystals sit inside the matrix recess. The appearance is
very organic and original and the bluish coating adds a nice touch to the specimen.
From the 5th level of the Southwest Mine, Bisbee, Cochise County, Arizona.
Measures 12.4 cm by 7.5 cm in size.
Ex. Evan Jones Mineral Collection
Price $785
MIN#Denver2012-159 New!
SHARP crystals of Galena (octahedral) atop Sphalerite!
Both minerals sit atop a Dolomite crystal covered Chert matrix.
From the Tri-State Mining District, Picher, Oklahoma.
Measures 4.7 cm by 7.8 cm in size.
Price $895
MIN#Denver2012-160 New!
Fine cabinet plate featuring octahedral Galena with Chalcopyrite on Dolomite covered matrix!
Impressive specimen which is not only full of sharp crystals, but is also very well balanced from top to
bottom. The lustrous Galenas show well against the Dolomite and are well balanced by the Chalcopyrite!
From the Sweetwater Mine, Reynolds County, Missouri.
Measures 15.3 cm by 11.5 cm in size.
Ex. Revelle Mineral Collection
Price $1500
- LINKS TO THE DENVER 2012 SHOWROOMS -
1 | 2 | 3 | 4 | 5 | 6 | 7 | 8 | 9 | 10 | 11
HOME | EXCEPTIONAL MINERALS | MINERAL AUCTION | SPECIMENS FROM PAST SHOWS | CONTACT US