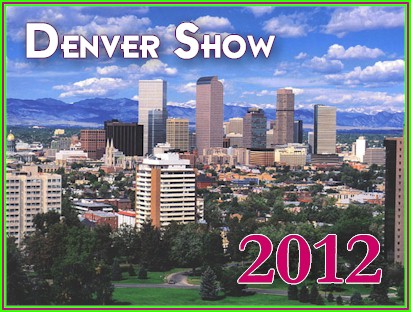 The Denver Show 2012 Mineral Rooms

Updated January 8th, 2013
MIN#Denver2012-162 New!
Lustrous, silvery-gray crystal cluster of Stephanite with Calcite on matrix!
VERY impressive example of this late stage Silver Antimony Sulfosalt which is roughly
about 69% Silver by formula. The crystals appear as flattened hexagonal tables with
an obvious twin visible in the photo on the far left side of the cluster. Crude looking
dogtooth Calcite crystals surround the cluster and cover most of the host rock matrix.
From the Doloras Mine, Real del Monte, Hidalgo, Mexico.
Measures 5 cm by 4.8 cm by 4 cm in size.
Ex. Manhattanville College Mineral Collection, Purchase, New York
Price $2500
MIN#Denver2012-163 New!
Exceptional specimen featuring a Smoky Quartz with a crystal-clear Topaz crystal!
A really sweet combo, the Smoky Quartz is fully terminated and in perfect condition with
only a tiny bit of chatter here and there. The Topaz crystal is large for the locale and is
completely gem with sharply striated faces. It measures 3 cm by 3.5 cm in size and is
almost colorless but for a very faint icy-blue tint. The Topaz is partially contacted on
the backside but this does not detract in the least. This is one stunning specimen to see.
From Klein Spitzkopje, Swakopmund District, Namibia.
Measures 8.1 cm by 6 cm by 4.5 cm in size.
Ex. Rolf Wein Mineral Collection
Price $2500
MIN#Denver2012-164 New!
Glassy crystal of bi-color Apophyllite perched atop transparent Calcite crystals!
The Calcites are accented by Stilbite blades along the top side and smaller Apophyllite crystals
down the back. A distinct green banding can be seen in the center of the 7.2 cm Apophyllite
crystal. It's doubly terminated with the left side termination being pristine and pointed while
the right side termination is flat with a slightly matted surface. In excellent condition overall!
From Jalgaon, North Maharashtra, India.
Measures 11.9 cm by 7.3 cm by 6.7 cm in size.
Ex. Steve Neely Mineral Collection
Price $2250
MIN#Denver2012-165 New!
Lovely, phantomed Calcite twin on smaller phantomed Calcites!
The individual Calcite crystals are all terminated with glassy surfaces and darker brown
phantoms. The specimen is nearly flawless with only a minor chip on the right side Calcite.
From Xiang Fang Lin Mine, Chenzhou, Hunan Province of China.
Measures 5.2 cm by 3.8 cm in size.
Price $485
MIN#Denver2012-166 New!
RARE! Golden dendritics of Nickeline with Acanthite in host matrix from Cobalt!
This is one impressive mineral plate and is eye candy for a Silver collector like myself. The Acanthite
crystals are the more angular gray crystals on the right side of the plate while the Nickeline portion
appears as golden dendrites on the left side of the plate. Nickeline was once confused for a Copper
ore and was actually called Copper Nickel (kupfernickel) by German miners in the 19th century.
However it's actually a mixture of Nickel and Arsenic (NiAs) and contains no Copper or Silver.
It's a scarcer mineral from the Cobalt region and frequently appears with Acanthite or Silver ore.
There's an old $25.00 price label on the bottom side of the specimen with the collection number 245.
This is one of the most impressive plates I've seen in terms of both size and aesthetics.
Circa early 1900's - From the Cobalt area, Cobalt-Gowganda region, Timiskaming District, Ontario, Canada.
Measures 8.2 cm by 17.4 cm by 2.1 cm in size. Quite heavy as well!
Ex. Whitmore Mineral Collection
Currently in the Kevin Ward Mineral Collection
Price $2500
MIN#Denver2012-168 New!
Shiny, dark red Rutile crystals on matrix!
The largest crystal measures 1.3 cm in size and even though it's dark, there's a serious red
flash that pops out when the crystal is tilted under a light. The surfaces are complete and shiny!
From the Champion Mine, Mono County, California.
Measures 3 cm by 3 cm in size.
Ex. Schlichter Mineral Collection
Price $345
MIN#Denver2012-170 New!
Awesome stalactite featuring stacked "Faden" Adularia crystals!
This is the first of these specimens that I've seen and I was amazed at
the perfection of the crystal stacking. There's only one point of attachment
and that's at the very bottom so the crystals definately grew atop one another.
From Val Giuv, Tavetsch Region, Vorderrhein Valley, Grischun, Switzerland.
Measures 4.8 cm by 2.4 cm in size.
Price $485
MIN#Denver2012-171 New!
Dazzling plate of lustrous Azurite crystals with Malachite!
These plate is mostly covered with fine Azurite crystals but the Malachite around the
edges sure adds a nice contrast to the glassy dark blue! I can't stress enough just how
flashy the plate is. It literally blinds you when given a direct light and the crystals are
all there. I'm hard pressed to find any real damage to speak of but there is some slight
incompleteness near the upper trim edge. If you're looking for a cabinet sized Bisbee
Azurite that looks great and is priced reasonably, then this is the specimen for you!
Circa 1880-1890 - From the Copper Queen Mine, Bisbee, Cochise County, Arizona.
Measures 9 cm by 12.9 cm by 5.2 cm in size.
Price $2500
MIN#Denver2012-172 New!
Bi-color specimen of green and pink Fluorite crystals with Pyrite!
Beautiful cluster displaying blushes of both colors throughout. The Fluorite faces are
glassy and the crystals are well defined octahedral. The Pyrite cubes accent both sides.
From Huanzala, Dos de Mayo Province, Huanuco Department, Peru
Measures 3.7 cm by 5 cm in size.
Ex. Martin Zinn Collection
Price $895
MIN#Denver2012-174 New!
Terminated blade of Wolframite on Quartz points with Fluorite, Dolomite, and Muscovite!
The Wolframite blade has two irregular terminations - actually natural breaks that
rehealed in the mine. Both are partially covered with Muscovite and Dolomite crystals.
From the Yaogangxian Mine, Hunan Province of China.
Measures 6.7 cm by 4.2 cm by 5.2 cm in size.
Price $385
MIN#Denver2012-175 New!
Aesthetic mix of drusy coated Malachite and shiny, smooth blue Chrysocolla!
Both minerals have botryoidal surfaces but the texture difference separates the two just as much
as the color does. The specimen is both sparkling and glossy at the same time! No distractions
or real damage to speak of, this cabinet specimen can be displayed upright or horizontally.
From the Star of the Congo Mine, Lubumbashi, Katanga (Shaba), Democratic Republic of Congo.
Measures 15.5 cm by 7.8 cm by 5.5 cm in size.
Price $1500
MIN#Denver2012-176 New!
Flashy specimen featuring glassy reddish-orange Vanadinite crystals on spotted matrix!
Pretty much every crystal is in pristine condition and all are upright standing which always
creates the best overall appearance I think. The spots are nice and may be Psilomelane.
From Mibladen, Meknes-Tafilalet Region, Morocco.
Measures 10 cm by 10 cm by 4.6 cm in size.
Price $685
MIN#Denver2012-177 New!
Beautiful old classic! Attractive miniature featuring glossy Azurite crystals on chatoyant Malachite!
This specimen mixes crystals with chatoyant surfaces and is a great example of the incredible combos
that came from the Bisbee Mining District over a hundred years ago. In excellent condition for its age!
From Bisbee, Warren District, Mule Mts., Cochise County, Arizona.
Measures 5.4 cm by 5.5 cm in size.
Price $1850
MIN#Denver2012-178 New!
Gemmy crystals of lavender Creedite on matrix!
These crystals are large and isolated with a color that is more lavender than purple!
I personally prefer this look and think it's more beautiful than the darker purple
specimens. The crystals are very transparent and glassy, ranging from 1 to 1.5 cm.
Interestingly, there are a couple of orange Creedite crystals at the very top!
From Santa Eulalia, Chihuahua, Mexico.
Measures 5.4 cm by 5.3 cm in size.
Price $685
MIN#Denver2012-179 New!
Glossy, bubbly surfaces of Chrysocolla with Malachite!
A beautiful plate which is covered by a thick layer of very shiny Chrysocolla.
No damage to speak of except along the outer trim zone. A very pretty mix of blue and green!
From Katanga (Shaba), Democratic Republic of Congo.
Measures 7.4 cm by 9.2 cm in size.
Price $385
MIN#Denver2012-180 New!
Gorgeous cabinet plate featuring large, gemmy reddish-purple Fluorites with Sphalerite!
Both are sitting atop a Dolomite covered matrix. The specimen is in great condition overall,
with very few contacts. The Fluorites are very transparent and exhibit just a touch of red
in their purple coloration which really makes the plate glow under all forms of lighting.
The backside of the plate is pure Dolomite on drusy and sparkles like crazy.
From the Elmwood Mine, Smith County, Tennessee.
Measures 10.4 cm by 8.4 cm in size.
Price $2450
MIN#Denver2012-180b New!
Impressive cabinet specimen featuring large dark reddish-purple Fluorite cubes with Calcite accents!
The color is almost raspberryish but the cubes are a little too thick and the color leans towards the
darker side of reddish-purple. The cubes are also spotted with darker purple spots and highlighted
by tiny crystals of pearly Calcite! In excellent condition with a satiny luster, this is a first rate Fluorite!
From Cave-in-Rock, Hardin County, Illinois.
Measures 12.5 cm by 11.6 cm by 6.2 cm in size.
Price $1250
MIN#Denver2012-180c New!
Lovely pink sprays of Strontianite with Calcite crystals!
Both minerals sit atop a matrix of purple and gold Fluorite on the backside.
From the Minerva Mine #1, Cave-in-Rock District, Hardin County, Illinois.
Measures 7.7 cm by 7 cm in size.
Price $385
MIN#Denver2012-180d New!
Covellite!! Fine clusters blades of iridescent Covellite on matrix!
Both sides are covered with blades that range in color from reddish-purple to blue and gold!
From the Leonard Mine, Butte, Silver Bow County, Montana.
Measures 5.6 cm by 8.8 cm in total size.
Price $895
MIN#Denver2012-180e New!
Bright Green Fluorite cube set atop Calcite matrix with a Galena border!
Really pretty combo specimen with a lot of flash and loads of luster! The Galena
crystals set along the entire top edge are further accented by fine Calcites.
From Naica, Chihuahua, Mexico.
Measures 5.1 cm by 8.1 cm in size.
Price $385
- LINKS TO THE DENVER 2012 SHOWROOMS -
1 | 2 | 3 | 4 | 5 | 6 | 7 | 8 | 9 | 10 | 11
HOME | EXCEPTIONAL MINERALS | MINERAL AUCTION | SPECIMENS FROM PAST SHOWS | CONTACT US