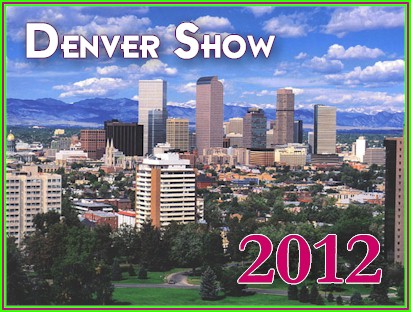 The Denver Show 2012 Mineral Rooms

Updated September 17th, 2012
MIN#Denver2012-1 New!
MUSEUM QUALITY specimen featuring huge crystals of Acantite on Calcite!
This specimen is easily in the top three of all time finest Acanthites that I have seen from Mexico!
It was formally in the Romero Collection before being gifted to the University of Arizona Mineral
Museum. There are well over a dozen perfect crystals of Acanthite here, most still displaying the
slight hoppering from their days as high temperature Argentite which later cooled to Acanthite but
remained faithful to the original crystal form. The crystals measure to 3 cm in size and are a lustrous
silver-gray except for the middle portion just below the top which is slightly accented with tiny crystals
of Pyrite. The Acanthite formed within a tight seam which forced their outward growth from a narrow
center. The end result is a specimen which takes on the appearance of crystals which are blossoming
into large, distinct terminations - almost like flowers atop a narrower stem! A VERY aesthetic and
might I say unique presentation. I can't recall another specimen looking anything like this one.
From the Fresnillo Mine, Pinos, Mun. de Pinos, Zacatecas, Mexico.
Measures 10 cm by 7.2 cm by 2.8 cm in total size.
Ex. Romero, University of Arizona Mineral Collections
Price $35,000
MIN#Denver2012-3 Sold!
Stunning crystal of deep rose-red Spinel perched atop hard marble matrix!
The main crystal is a beautifully pristine 2 cm crystal which sits atop the stark white matrix while exhibiting
excellent form. Smaller Spinels are visible beneath the largest crystal, adding a nice contrast. This is one of the
finest Spinel crystals I've seen in a long time and exhibits an well proportioned octahedron with a waxy, wet luster.
From Luc Yen, Yenbai Province, Vietnam.
Measures 6 cm by 4 cm by 4 cm in total size.
Ex. Mijer Mineral Collection
Price $5000
MIN#Denver2012-4 New!
MUSEUM QUALITY! Gorgeous specimen of Native Silver Wires on Acanthite coated Silver!
This specimen is a classic German Silver, dating back to the 1800's! It consists of curling wires
in various lengths and sizes, all rising upwards from a matrix of Silver with Acanthite coating.
The wires are well striated and covered with the most beautiful golden patina you'll ever see.
Exceptional in every respect and one of the most aesthetic Silvers I've ever owned or offered.
I'm excited to now have it back to be able to offer this great specimen again on the website.
From Freiberg, Erzgebirge, Saxony, Germany.
Measures 7.5 cm by 5.3 cm by 2.8 cm in total size.
Ex. Pellman, Schorsch, Bernardi Mineral Collections
* Hall of Fame Specimen *
Comes with a custom made, labeled base
Price $28,500
MIN#Denver2012-5 New!
WOW! Super gemmy and intensely colored Imperial Topaz on matrix!
This is one of the deepest colored Topaz crystals you will ever see from Katlang. The color is a rich
glowing orange and is so vibrant that it can be seen in my case from across the room! The 2 cm crystal
is perfectly terminated and very clean and glassy on all surfaces and very transparent in the interior.
From Shamozai, Katlang, Mardan District, North-West Frontier Province, Pakistan
Measures 5.5 cm by 4 cm by 3 cm in total size.
Ex. Obodda Mineral Collection
Price $4500
MIN#Denver2012-7 New!
VERY RARE!! Amazing combination of Native Silver crystals on olive-green Chlorargyrite var. Embolite!
Both sit atop a matrix of orange Limonite. This is the only specimen of this combination that I've ever seen
and they are extremely rare from all localities. Using a 10X loupe, you literally see hundreds of lustrous
Silver crystals and some fine Silver wires sitting atop and between green crystals of Embolite! This is
truly a rare opportunity to acquire a mineral conbination that very few collectors have ever owned.
From the Broken Hill Mine in New South Wales, Australia.
Measures 5.2 cm by 7.5 cm by 3.5 cm in total size.
Ex. Dr. Eric Asselborn, Albert Chapman, Kevin Ward Mineral Collections
Price $12,500
MIN#Denver2012-9 Sold!
Large plate of intense reddish-orange Spessartine Garnets with Smoky Quartz on Albite!
A gorgeous cabinet plate which jumps off the shelf visually with its deep reddish-orange Garnets set against
white Albite matrix and gemmy Smoky Quartz points. The color contrast is stunning and the crystals all have
lustrous, glassy faces which roll and reflect the light with an incredible amount of flash. No damage to speak of.
From the Wushan Spessartine Mine, Tongbei, Yunxiao Co., Zhangzhou Prefecture, Fujian Province, China.
Measures 13 cm by 7.2 cm by 5.4 cm in total size.
Ex. Obodda Mineral Collection
Price $8500
MIN#Denver2012-10 New!
Sharp crystals of Benitoite emerging from white Natrolite!
An attractive specimen featuring over a dozen fine crystals, most of which are isolated atop the white surface.
The Benitoite crystals measure to 1.8 cm in size. There is a good amont of gem material at the tips and the color
is a deep indigo blue with a satiny luster on every crystal face. The only incomplete crystals appear at the trim edge.
From the Benitoite Gem Mine, New Idria District, Diablo Range, San Benito Co., California
Measurs 4.8 cm by 7.4 cm by 2.8 cm in total size.
Price $2850
MIN#Denver2012-15 Sold!
SHARP crystal blades of Covellite on matrix!
A superb specimen from Colorado displaying some of the finest Covellite blades you will ever
see! The color ranges from reddish to purple and there is a good hint of iridescence thoughout.
I can't find a single negative thing to say about this fine specimen. Only some trivals contacts
here and there but they are easily lost among the incredibly sharp blades. Some minor Pyrite.
From the Reynolds Tunnel, Summitville Mine, Summitville District, Rio Grande Co., Colorado.
Measures 7.2 cm by 4.1 cm by 3 cm in total size.
Price $2500
MIN#Denver2012-16 New!
Gemmy crystals of lemon-yellow Fluorapatite crystals on matrix!
Half a dozen transparent Fluorapatites cover the Quartz and Hematite matrix, with complete form and
good terminations. Anyone who is familiar with this locality knows how often these are found cracked, broken
and incomplete. The largest crystal measures 4 cm in size and this is the finest cabinet specimen from the show.
From the Cerro de Mercado Mine, Victoria de Durango, Mun. de Durango, Durango, Mexico.
Measures 9 cm by 9 cm by 4.5 cm in total size.
Price $1500
MIN#Denver2012-17 New!
Deep Golden Calcite crystal atop purple Fluorite on matrix!
Very aesthetic and colorful combination specimen set off by a large glowing Golden Calcite!
The Calcite is extremely glassy with highly reflective faces. It measures 4 cm in size and it is
complete on all sides. The Fluorite cubes below are mostly complete with a scattering of Rubyjack
Sphalerite and drusy. The contrast between the Calcite and Fluorite is very stark and eye catching.
From the Denton Mine, Hardin County, Illinois.
Measures 7.8 cm by 7.3 cm by 5.7 cm in total size.
Ex. Crenko, Going Mineral Collections
Price $985
MIN#Denver2012-18 Sold!
Glowing crystal of Golden Topaz perched alongside hard matrix!
This gemmy 2.8 cm crystal is perfectly terminated with glassy, lustrous faces. It glows under lighting
and really sets itself apart 3-dimensionally from the lighter matrix which serves more as a backdrop.
From Shamozai, Katlang, Mardan District, North-West Frontier Province, Pakistan
Measures 5 cm by 5 cm by 3.5 cm in total size.
Ex. Obodda Mineral Collection
Price $3500
MORE NEW SPECIMENS FROM DENVER COMING SOON!!
- LINKS TO THE DENVER 2012 SHOWROOMS -
1 | 2 | 3 | 4 | 5 | 6 | 7 | 8 | 9 | 10
HOME | EXCEPTIONAL MINERALS | MINERAL AUCTION | SPECIMENS FROM PAST SHOWS | CONTACT US