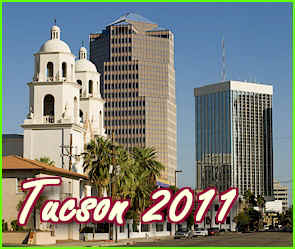 The Tucson Show 2011 Mineral Rooms!

Updated October 20th, 2011

MIN#Tucson2011-203 New!
Gorgeous orange Scheelite crystals with Calcite on Muscovite!
I've offered several Scheelite and Fluorite specimens recently but this is the first combo
plate with Calcite. The crystals are in excellent condition with only some slight contacting
on the far left Scheelite along the trimming edge. The top Scheelite measures 3 cm in size!
From the Mt. Xuebaoding Mine, Pingwu, Sichuan Province of China.
Measures 12.5 cm by 8 cm in size.
Ex. Revelle Mineral Collection
Price $7500
MIN#Tucson2011-204 New!
Lustrous bi-color crystal of Spodumene-Kunzite!
Perfectly terminated crystal displaying quite well the gradual color shift from light
yellowish Spodumene to vibrant rosey-purple Kunzite. Turning the specimen on its
side shows that the crystal changes color at just about the midpoint of its length!
This truely is a half and half specimen - one which is very lustrous and gemmy!
From the Pech (Peech) Pass, Kunar Province of Afghanistan
Measures 6.8 cm by 2.2 cm by 2.3 cm in size.
Ex. Matthew Webb Collection
Price $3250
MIN#Tucson2011-205 New!
Shiny black crystals of terminated Neptunite on white Natrolite!
I count three very lustrous crystals, all with textbook terminations! The top
crystal is doubly terminated on the Natrolite while the other two larger Neptunites are
perched mostly on but a little off the matrix near the sides. Attractive miniature!
From the Dallas Gem Mine, San Benito County, California.
Measures 6.3 cm by 3.5 cm in size.
Ex. Matthew Webb Collection
Price $845
MIN#Tucson2011-206 New!
Classic specimen of fine dendritic growths of Native Silver on matrix from Cobalt!
I actually visited Cobalt this past summer and did some exploring and photo taking
in this historic mining town. While most of the headframes appear to be intact, they aren't
being protected very well and with the constant exposure to the elements, who knows how
long they'll remain in place. Cobalt was once a major Silver mining district and specimens
like this one are highly prized by myself and other Silver collectors. Impressive and heavy!
From the Cobalt Mining District, Ontario, Canada.
Measures 5.5 cm by 6.4 cm by 5.7 cm in size.
Ex. Charles Leavitt Mineral Collection
Currently in the Kevin Ward Silver Collection
Price $4500
MIN#Tucson2011-208 New!
Powder-blue specimens of Anhydrite (Angelite)!
This is a 2-1 deal! A beautifully polished specimen of Anhydite and its companion - a cut and
polished egg of the same mineral. Angelite is the trade name for the gem variety of Anhydrite.
From Lima Department, Peru.
Measures 7 cm by 5.7 cm by 4.3 cm / 2.5 cm by 3.6 cm in sizes.
Ex. Eduard Gübelin Collection
Price $485
MIN#Tucson2011-209 New!
Beautiful plate featuring isolated reddish rhombs of Rhodochrosite on fine Quartz needles!
The Rhodochrosite coming out of China gets more impressive every show it seems and this
one is approaching Sweet Home quality in terms of crystal habit and isolation on matrix.
The 1 cm rhombs are translucent with the best color to yet appear from China. Also, the
matrix is now a more sturdy Quartz needles on Chalcedony with allows for easier display.
From Wuzhou, Guangxi Province of China.
Measures 6 cm by 10.4 cm in size.
Ex. James Vorpahl Mineral Collection
Price $3250
MIN#Tucson2011-210 New!
Exceptional Russian Combo!
Large, crystal-clear Fluorite dodecahedron perched between Green Quartz
(Hedenbergite included) and atop Calcite! The glassy Fluorite itself is pristine and very
lustrous, measuring nearly 4 cm across the front. A smaller sidecart crystal is incomplete
on the backside but this doesn't affect the large Fluorite. Most of the Green Quartz
crystals are terminated with the largest being doubly terminated. The Calcites near
the bottom add a nice touch to what is a very attractive specimen of bygone mining.
From Dal'negorsk, Primorskiy Kray, Russia.
Measures 7.4 cm by 6 cm in size.
Ex. Edward David Collection
Price $2500
MIN#Tucson2011-211 New!
Fine wires and crystals of Native Silver in Calcitic matrix!
This is part of a small batch of Silvers from recent workings at the old Balcoll Mine.
The Balcoll Mine was worked by the Romans for Silver for decades and is obviously
still loaded with fine specimens. An Acanthite coating darkens some of the wires.
From the Balcoll Mine, Falset, Tarragona, Catalonia, Spain.
Measures 5.5 cm by 3.7 cm in size.
Price $850
MIN#Tucson2011-212 New!
EXCEPTIONAL! Large specimen featuring rare crystals of Augelite with Siderite and Pyrite!
Augelite is a very rare Aluminum Hydroxyl Phosphate and these crystals are especially sharp
with plenty of gemminess and luster. The Siderite crystals aren't bad either with good translucent
color. Several large and dozens of smaller Pyrite octahedrons balance off this large cabinet piece.
From the Rosario Section of the Tazna Mine, Cerro Tazna, Potosí Department, Bolivia.
Measures 13 cm by 13 cm by 11.2 cm in size.
Ex. Kosnar, Marvin Rausch Collections
Price $2500
MIN#Tucson2011-214 New!
Pretty specimen of bi-color Aquamarine-Goshenite with Schorl on Microcline!
I've seen some Aqua-Morganites from here but this is the first Aqua-Goshenite I've
come across. The cluster is impressive with full terminations and a nice contrasting
mix of Schorl crystals in various sizes. The Beryls could best be described as a 50/50
split, with the bottom half being Goshenite and the upper half blue Aquamarine.
From Baha, Braldu Valley, Baltistan, Northern Areas of Pakistan.
Measures 7 cm by 9 cm in size.
Price $2450
MIN#Tucson2011-216 New!
NEW FIND!! Terminated Celestite crystals with Sulfur inclusions!
I purchased a small collection of the these incredible specimens at the show. This specimen
features a pair of glassy crystals with one being doubly terminated. The other may also be
but I'm not certain. The yellowish Sulfur inclusions are quite visible just beneath the
translucent surfaces. The story behind this find - These specimens were collected
in 1962 by Oz Krebs in Libya. They were apparently held in private for over 40 years
and just released recently to the market. The small flat I purchased are among the best.
From Jabal al Akhdar, Cyrenaica, Libya.
Measures 5.1 cm by 6.5 cm in size.
Price $1500
MIN#Tucson2011-218 New!
Classic Mexican combination featuring Amethyst with Calcite, Chalcopyrite, and Quartz!
This is one of my first specimens as a collector and it was formally in the mine director's personal collection.
It's a stunning combination of crystals with golden Chalcopyrites and well formed Calcite crystals. The
smoky-purple Amethyst points add the perfect contrast and round out what is a very beautiful cabinet piece.
From Taxco de Alarcón, Mun. de Taxco, Guerrero, Mexico.
Measures 16.6 cm by 12.7 cm by 8.9 cm in size.
From the Kevin Ward Mineral Collection
Price $9500
MIN#Tucson2011-219 New!
Gemmy crystals of Forsterite var. Peridot!
These crystals glow green when exposed to a direct light! The largest crystal
to the right is terminated while the smaller, even more gemmy crystal to the left is also
terminated. Just below that crystal is another terminated Peridot making three in total!
From Soppat, Kohistan District, North-West Frontier Province, Pakistan.
Measures 3.1 cm by 2.6 cm in size.
Ex. Gerald Clark Collection
Price $385
MIN#Tucson2011-220 New!
Colorful specimen of golden Fluorite with purple accents and Chalcopyrite!
Overall, this specimen is in good shape with only a small contact on the back Fluorite corner.z
There are some scattered Chalcopyrite inclusions just under the crystal surfaces.
From the Minerva #1 Mine, Hardin County, Illinois.
Measures 9.5 cm by 13.5 cm in size.
Price $1500

For Additional Tucson 2011 Specimens, Please Follow this Link to Room 12!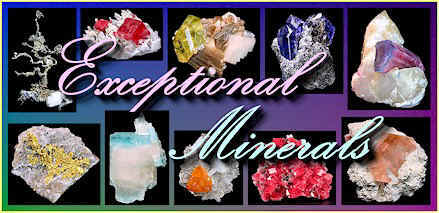 The Exceptional Mineral Rooms are Online!


Click the above banner to see our finest, museum quality mineral specimens!
Rhodochrosite Room | Gold Room | Silver Room | Beryl Room | Elmwood Room | Exceptional Minerals