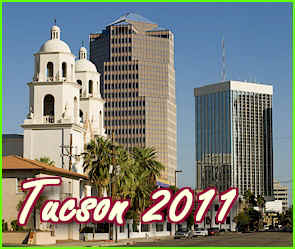 The Tucson Show 2011 Mineral Rooms!

Updated October 21st, 2011

MIN#Tucson2011-221 New!
RARE! Malachite tubes with Azurite interiors after Selenite!
I love these unusual specimens! The Selenite crystals have been replaced by Malachite and
Azurite hollow tubes or casts from top to bottom. This is one of the better examples I've seen with
two long tubes and one small tube in the middle. Six openings of Malachite and Azurite are present.
From the Apex Mine, St. George, Utah.
Measures 8 cm by 3.7 cm by 2.6 cm in total size.
Ex. Matthew Webb Collection
Price $4500
MIN#Tucson2011-222 New!
Huge Spessartine Garnet set atop a Smoky Quartz point with smaller Spessartines!
This is one of the largest Spessartine Garnets I've seen from China. It measures
2.1 cm by 2.2 cm in size or just shy of an inch! The color is a rich reddish-orange
and the crystal faces are super glassy and reflective with no damage whatsoever.
From the Wushan Spessartine Mine, Tongbei, Fujian Province of China.
Measures 3.7 cm by 3.7 cm in size.
Price $1450
MIN#Tucson2011-223 New!
Fine miniature featuring an octahedral green Fluorite on Quartz!
Quality Wise Mine Fluorites have all but disappeared from the market these days and
plates with Quartz crystals are even rarer. Note the perfect Quartz scepter at upper right!
From the William Wise Mine, Westmoreland, New Hampshire.
Measures 6 cm by 7.5 cm in size.
Price $385
MIN#Tucson2011-227 New!
Crystallized Native Copper on Calcite and Dolomite!
Crystallized Copper from Tsumeb is pretty rare and this specimen presents both
rarity and excellent aesthetics! The crystals on the right side actually extend above
the white matrix to give a "free standing" appearance. I'm pleased to be offering this
very fine Native Copper for the second time. A rare opportunity has resurfaced!
From the Tsumeb Mine in Tsumeb, Namibia, SW Africa.
Measures 6 cm by 5 cm in total size.
Ex. John Sinkankas, Kevin Ward Collections
From the Hall of Fame Collection
Ex. John Sinkankas, Ferris Mineral Collections
Price $4500
MIN#Tucson2011-228 New!
Quality specimen featuring Azurite crystal clusters atop Malachite!
One of the better specimens I've seen recently! The crystal clusters are lustrous
and undamaged and sparkle under the faintest of lighting. The Malachite is solid.
From the Big Indian Mine, San Juan County, Utah.
Measures 8.2 cm by 7.5 cm in size.
Price $850
MIN#Tucson2011-229 New!
Classic and pristine specimen of Rosasite on matrix!
Beautiful satiny surfaces of botryoidal Rosasite highlight this specimen.
From the Silver Bill Mine, near Gleeson, Cochise County, Arizona.
Measures 3.6 cm by 2.7 cm in size.
Ex. Harold Michel Collection
Price $285
MIN#Tucson2011-230 New!
Beautiful cluster of raspberryish Spinel crystals on matrix!
The large Spinel crystal in the center measures 4.3 cm in size and is surrounded by at
least a dozen smaller Spinels of at least 1 cm. The surfaces are glassy and brilliant.
From the Sungate Mine, An Phu, Luc Yen, Yen Bai District, Vietnam.
Measures 7 cm by 7.3 cm in size.
Price $1500
MIN#Tucson2011-231 New!
Fine blades of Wulfenite atop matrix!
Here's another old timer from the Gleeson area. The blades are in great condition
with a slight accenting of white Calcite. The color is best described as yellowish-orange.
From the Defiance Mine, Gleeson, Cochise County, Arizona.
Measures 5 cm by 6.5 cm in size.
Ex. Harold Michel Collection
Price $285
MIN#Tucson2011-232 New!
Glassy, green crystals of Dioptase atop Calcite!
Attractive specimen with over a dozen complete Dioptase crystals. The only incomplete
crystals are located along the outer matrix trim and could easily be removed if desired.
From the Altyn-Tyube Deposit, Karaganda Oblast', Kazakhstan.
Measures 7.2 cm by 6.4 cm in size.
Ex. Goings Mineral Collection
Price $385
MIN#Tucson2011-233 New!
Golden-brown cubes of Fluorite with Celestite on sparkling matrix!
From the recent Ohio find, the Fluorites are gemmy and sharp with great luster.
From Clay Center, Ottawa County, Ohio.
Measures 7.5 cm by 10 cm in size.
Price $285
MIN#Tucson2011-234 New!
Brilliant, glassy, emerald-green crystals of Dioptase in cluster!
Fine example of green brilliance. No real damage to speak of on the main crystals.
From the Tsumeb Mine, Tsumen, Namibia, SW Africa.
Measures 3.7 cm by 3.6 cm in size.
Price $850
MIN#Tucson2011-235 New!
Stunning cluster of lustrous and terminated Stibnite crystals!
This specimen looks Chinese but it's actually from the Raura District,
Lima Department, Peru! All but one of the crystals is terminated and the
surface luster is excellent. The aesthetics speak for themselves I think!
From the Raura District, Lima Department, Peru.
Measures 7 cm by 6.2 cm in size.
Price $985
MIN#Tucson2011-236 New!
Lustrous Stalactite of "Bisbee Ice" Calcite!
Unfortunately, many of these beautiful specimens were destroyed by mining operations.
This specimen is actually a Malachite included Calcite Helectite which grew in the old Holbrook
Copper Mine in Bisbee, Cochise County, Arizona. Most were mined through and crushed.
Measures 9.5 by 11 cm in total size.
Price $785
MIN#Tucson2011-238 New!
Impressive cluster of pearly Danburite crystals with Quartz and Chlorite accents!
A very attractive cabinet specimen with full terminations and practically no contacts!
The luster is pearly and glassy while the crystals are milky-white and flashy!
From Charcas, Mun. de Charcas, San Luis Potosí, Mexico.
Measures 11 cm by 16 cm by 11.2 cm in size.
Ex. Marvin D. Rausch Collection
Price $1450
MIN#Tucson2011-239 New!
Pretty cluster of gemmy pink Cobaltian Calcite crystals with Kolwezite!
Kolwezite is a rare, olive-green mineral which occasionally appears on these pink Calcite specimens!
Chemical formula - (Cu,Co)2[(OH)2|CO3]
From the Mashamba West Mine, Kolwezi, Katanga (Shaba), Dem. Republic of Congo (Zaire).
Measures 3.3 cm by 4.4 cm in size.
Price $385
MIN#Tucson2011-240 New!
EXCEPTIONAL TOURMALINES with LEPIDOLITE!!
A stunning specimen of multi-colored Tourmaline crystals rising some 11.3 cm above a Lepidolite
covered base! The crystal surfaces are literally flawless with a glassy vibrance I rarely see in
Tourmaline specimens. Both crystals are perfectly terminated with emerald-green tips that evolve
into a bluish-green coloration which then changes over to a lighter green near the bottom. The lower
portion of the actually becomes "watermelon" in that the interior is red while the exterior is green.
The pinkish Lepidolite crystals are the perfect accent to this amazing, UNREPAIRED Tourmaline!
Circa 2001 from the Rocket Pocket, Pederneira Mine, São José da Safira, Minas Gerais, Brazil.
Measures 11.3 cm by 2.5 cm in total size.
Price $25,000
MIN#Tucson2011-241 New!
Cute miniature featuring gemmy crystals of purple Creedite perched atop Quartz!
These are isolated crystals of Creedite and all are doubly terminated! They're also
completely transparent and shine like glass. The Quartz is accented by Pyrite and Calcite.
From the Santa Eulalia District, Chihuahua, Mexico.
Measures 3.8 cm by 4.1 cm in size.
Price $285
MIN#Tucson2011-243 New!
SHIPWRECK SPECIAL!!
Complete 1744 Pillar Dollar stuck in conglomerate with pieces of colored glass and brass!
Ok, I know this isn't really a mineral specimen but it's pretty amazing as well as aesthetic and was part
of an Atocha Bar purchase. This specimen is from the Reijgersdaal which sunk off the coast of South
Africa on October 25th, 1747. The ship had been anchored between Robbin and Dassen Islands so the
crew could capture rock rabbits for food. Along came a gale which broke the anchor line and the rest
is history. Almost nothing from the wreck was salvaged due to the dangerous conditions of the area.
Apparently, when this Mexican Pillar Dollar (1744-MF) tumbled down through the depths, it became
embedded in the mud and debris of the wreck. Over the course of 250+ years, the conglomerate
hardened and locked the coin in place along with pieces of colored glass and a small round object
made of brass that may be a crotal bell. There's also the hollow remains of a piece of wood or iron.
From the 1747 Reijgersdaal (Reygersdahl) Shipwreck, Off the coast of South Africa.
Recovered in 1979-1980. Measures 8.5 cm by 7.2 cm by 4.5 cm in size.
Comes with certificate of authenticity
Price $4500
MIN#Tucson2011-248 New!
Rare plate of Forsterite var. Peridot crystals on stabilized matrix!
This plate is from Burma and is loaded with gemmy green Peridots which grew inside a matrix
seam that stretches from front to back. There are well over a dozen crystals here and most
are terminated outside the matrix. This is the first and only Peridot plate I've seen from Burma.
From Bernardmyo, Mogok, Sagaing District, Mandalay Division, Burma (Myanmar).
Measures 10 cm by 12.6 cm in size with a see-through seam of crystals!
Price $2450
MIN#Tucson2011-251 New!
UNIQUE!! Multi-colored Smithsonite with orange caps!
I call this the "Mushroom Smithsonite" because the orange caps over the surface growth
look like the tops of mushrooms. Actually, you have three distinct layers of growth on this
unique looking specimen. The first is a misty-blue layer which covers the matrix. The second
is a more lustrous white layer. The third and final is the most lustrous yet - the orange colored
top layer of Cadmium Smithsonite which only appears draped atop the other two layers. One
must wonder if the Cadmium layer appeared last and never completed its growth or were the
sides etched away leaving only the caps? I see evidence of both possibilites but the former seems the
most likely explanation. Whatever the cause, it resulted in a specimen that is both odd and beautiful.
From the El Refugio Mine, Choix, Sinaloa, Mexico.
Measures 6.8 cm by 12 cm by 4.4 cm in size.
Price $2850

For New Specimens, Please Follow this Link to the Denver 2011 Updates!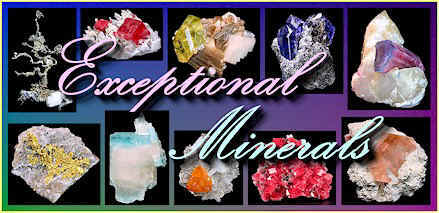 The Exceptional Mineral Rooms are Online!


Click the above banner to see our finest, museum quality mineral specimens!
Rhodochrosite Room | Gold Room | Silver Room | Beryl Room | Elmwood Room | Exceptional Minerals