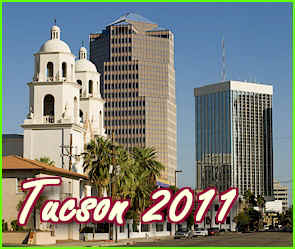 The Tucson Show 2011 Mineral Rooms!

Updated March 22, 2011

MIN#Tucson2011-65 New!
Glassy crystal of brownish-orange Zircon perched on matrix!
Here's another Australian beauty for you to consider! The Zircon measures 2.2 cm in size
and has very glossy surfaces. The crystal is complete although the right side is not completely
formed due to matrix influence. There is no damage however and several smaller xls are present.
From Mud Tank, Harts Ranges, Northern Territory, Australia.
Measures 4 cm by 3.8 cm by 4.6 cm in total size.
Price $1850
MIN#Tucson2011-66 New!
Large, impressive crystal of Beryl var. Heliodor!
This fully terminated gem measures some 16.3 cm in size! The faces are lustrous and satiny on the
backside where there was a very light etching. The color as evidenced in the photo is a rich golden-yellow
and this color is consistant throughout except for the tiny portion at the top termination which becomes
nearly colorless. If anything, this features adds character to the crystal and is really neat to look at.
From Padre Paraíso, Jequitinhonha Valley, Minas Gerais, Brazil.
Measures 16.3 cm by 3 cm by 2.1 cm in total size.
Comes with a custom made, engraved base.
Price $18,500
MIN#Tucson2011-69 New!
EXCEPTIONAL in so many ways! Gemmy bi-colored crystal of Spodumene and Kunzite!
This crystal is from California and exhibits the rare combination of yellowish-green Spodumene
with a lovely pink Kunzite coloration at the termination! The Kunzite portion measures about
4 cm as it descends from the tip of this large 15.5 cm crystal. The Spodumene portion glows under
any direct lighting and terminates at the bottom with a complex, matrix influenced termination.
There may also be some etching influence there. Circa 1978, this is a tremendous California xl!!
From the Beebe Hole (Mine), Jacumba, San Diego County, California.
Measures 15.5 cm by 7 cm by 2.6 cm in size.
Ex. Edward David Mineral Collection
Comes with a custom made, engraved base
Price $8500
MIN#Tucson2011-70 Sold!
Very fine specimen of Raspberry Grossular Garnet on matrix!
Raspberry Garnets are renown for their great looks but unfortunately they're also well known
for their damage and broken crystals. Recently some new specimens have appeared on the
market but they were mostly of a very low quality. This specimen is from the earlier 1997 find
and is in excellent condition with complete Garnet and none of the all too common "split crystals"
which causes me to reject most of what I see. Definately one of the best miniatures at the show!
From Sierra de la Cruz, Mun. de Sierra Mojada, Coahuila, Mexico.
Measures 4.2 cm by 5.7 cm in size.
Price $895
MIN#Tucson2011-71 New!
Tri-colored crystal of Tourmaline perched atop a ball of Albite blades!
This beautiful crystal is doubly terminated and sports a bright pink tip! The left side
termination is a flat termination and is nearly colorless before changing over to a grassy
green. The middle of the crystal ranges from yellowish-green to a dark green coloration.
From Stak Nala, Skardu, Northern Areas of Pakistan.
Measures 4.8 cm by 4.4 cm in size.
Ex. Matthew Webb Mineral Collection
Price $1850
MIN#Tucson2011-78 New!
Killer combo piece featuring a large orange Scheelite with attached Goshenite crystals!
The Scheelite crystal appears to be a floater with no point of attachment. The only point
of possible attachment is on the backside but the crystal must have separated a long time
ago if this is the case because the backside is completely rehealed with crystal faces. There's
also a really neat looking "arm" of attached Scheelite crystals extending upwards from the
right side of the main crystal. On the upper left side are three attached Goshenites which
have melded to form the appearance of one large crystal. There are multiple terminations
however and the crystal itself measures 5 cm in size! The surfaces are lustrous and glassy.
From Mt Xuebaoding, Pingwu Co., Mianyang Prefecture, Sichuan Province, China.
Measures 6.5 cm by 5.6 cm by 5.2 cm in total size.
Price $5500
MIN#Tucson2011-79 New!
Gemmy specimen of attached Beryl var. Helidor crystals!
Glassy and gem, this specimen is doubly terminated (both crystals!) with partially
etched terminations. Oddly enough, the faces exhibit no etching and are all completely
smooth and reflective. The color is a brilliant yellowish-green with plenty of internal glow.
From Minas Gerais, Southeast Region of Brazil.
Measures 5.8 cm by 2.3 cm by 1.2 cm in total size.
Price $685
MIN#Tucson2011-80 New!
Two crystals of Corundum var. Ruby in matrix!
An attractive specimen featuring two 3 cm crystals. Both Rubys are well formed with
lustrous terminations and the classic hexagonal form. The matrix is mostly Oligoclase
with a peppering of Biotite. A rare specimen which is well balanced and deeply colored.
From the Kleggåsen Ruby Quarry, Froland, Aust-Agder, Norway.
Measures 5 cm by 7.8 cm by 4.1 cm in total size.
Ex. University of Arizona Mineral Collection
Price $1500

For Additional Tucson 2011 Specimens, Please Follow this Link to Room 5!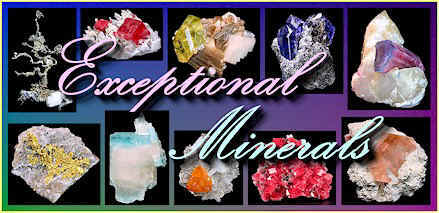 The Exceptional Mineral Rooms are Online!


Click the above banner to see our finest, museum quality mineral specimens!
Rhodochrosite Room | Gold Room | Silver Room | Beryl Room | Elmwood Room | Exceptional Minerals