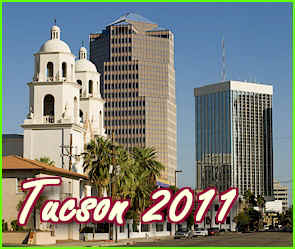 The Tucson Show 2011 Mineral Rooms!

Updated May 26th, 2010

MIN#Tucson2011-104 New!
Fine cluster of purple Fluorite cubes with phantoms and golden interiors!
Luscious, satiny faces of glowing purple Fluorite cubes in cluster. Beneath the surface a
hint of golden-yellow can be seen and when the specimen is backlighted, it really jumps out!
In excellent condition overall with a few minor contacts and rehealing on the back side.
From the Denton Mine, Hardin County, Illinois.
Measures 10.7 cm by 11.5 cm in size.
Ex. Matthew Webb, James Vorpahl Mineral Collection
Price $2850
MIN#Tucson2011-106 New!
Fine dendrites of Native Silver in and on Calcite!
Incredibly graceful and delicate in appearance, these Silver feathers cover the specimen from
top to bottom. Most were etched from white Calcite which can be seen behind the dendrites.
There are Silver dendrites on both the front and back of this very rich specimen.
From the El Bonanza Mine, Port Radium District, Great Bear Lake, Northwest Territories, Canada.
Measures 4.5 cm by 2 cm by 2.8 cm in total size.
Price $685
MIN#Tucson2011-108 New!
Textbook specimen of Tri-State Galena, Sphalerite, and Calcite on Chert matrix!
This specimen could be pictured in a mineralogy book! The three crystal habits are so
perfect for the minerals featured and the way they are all sitting there together on the
same matrix is amazing. The Galenas are cubes, the Calcite is scalenohedral and doubly
terminated, and the Sphalerite is tetrahedral. In excellent condition with no visible contacts!
This specimen was in my personal cabinet for years and I'm pleased to offer it here.
From the Lead-Zine Mines, Tri-State Mining District, Cherokee County, Kansas.
Measures 8.3 cm by 5 cm by 4 cm in total size.
Ex. Carlton M. Davis, Kevin Ward Mineral Collections
Price $3500
MIN#Tucson2011-109 New!
Fine specimen featuring Native Copper atop and inside a large glassy Calcite crystal!
A really neat combo, the Native Copper portion extends horizontally some 6.3 cm. It also
appear along the left side of the Calcite crystal. The front side of the Calcite is perfect
while the back side has some cleaves where the specimen was separated from the matrix.
From Houghton County, Michigan.
Measures 6.4 cm by 6 cm by 4.6 cm in total size.
Price $685
MIN#Tucson2011-110 New!
Superb cluster of bright orange Orpiment crystals on matrix!
Excellent color and luster with no visible contacts on any of the crystal tips.
As a matter of fact, the only contacts I see anywhere are along the trimming edge where
you'd expect to see them. Very few of these on the market are in such fine condition.
From Cut 62, Twin Creeks Mine, Humboldt County, Nevada.
Measures 8.6 cm by 6.8 cm in size.
Price $985
MIN#Tucson2011-111 New!
Glassy crystals of colorless Calcite set atop Calcite matrix!
Pristine and perfect, these four scalenohedral Calcites are perfectly terminated and very gem!
There is a portion of another small Calcite on the back side but it is just cleave and unimportant.
From the Nikolaevskiy Mine, Dal'negorsk, Primorskiy Kray, Far-Eastern Region, Russia.
Measures 4.3 cm by 5.3 cm by 3.7 cm in total size.
Price $985
MIN#Tucson2011-114 New!
Superb specimen of Pyrite cubes with Fluorite and Dolomite cluster accents!
Visually stunning combo specimen featuring over a dozen mirror-bright Pyrite cubes in cluster!
The Pyrites are overgrown on the upper left edge by a large Fluorite which is in turn, framed out
and accented by clusters of Dolomite crystals. In excellent condition with only minor contacts.
From the Shangbao Pyrite mine, Leiyang Co., Hengyang Prefecture, Hunan Province, China.
Measures 9.5 cm by 14 cm by 8 cm in total size.
Ex. James Vorpahl Mineral Collection
Comes with a custom made, labeled base
Price $8500
MIN#Tucson2011-115 New!
Rare and classic specimen of Native Silver dendrites on Native Arsenic with micro-Proustite!
A seldom seem locality for Native Silver, this specimen displays some of the most intricate
Silver dendrites you'll ever seen. The close-up photo shows the woven-like growth of the
crystals atop the Native Arsenic covered matrix. Very lustrous with an antiquish patina.
The host matrix below is a pinkish color rock which is not something I see often.
From the Vater Abraham Mine, Lauta, Marienberg District, Erzgebirge, Saxony, Germany.
Measures 6 cm by 3.4 cm by 3.6 cm in total size.
Ex. J. Hoppner Mineral Collection
Price $950
MIN#Tucson2011-116 Sold!
Impressive Tri-State plate featuring a large Blackjack Sphalerite atop Chert matrix!
Also featuring Galena and Chalcopyrite, the largest Sphalerite at top measures 6.4 cm in size!
It is complete and super lustrous with some Chalcopyrite accenting along the upper left face.
From the Joplin Field, Tri-State Mining District, Jasper County, Missouri.
Measures 13.8 cm by 15.6 cm in size.
Ex. Ernie and Vera Schlichter Mineral Collection
Price $785
MIN#Tucson2011-117 New!
Graceful specimen featuring lustrous Stibnite crystals intersecting a golden Calcite!
The above pictures says it all about this fine specimen. The Calcite is nearly perfect
with only the tiniest of contacts along the top. The indentation on the far left edge is
natural and covered with stepped growth. There may have been another Stibnite there
at one time which popped out and left it's impression in the Calcite edge. The Calcite is
glassy and gemmy and many of the Stibnites crystals actually appear on both sides of
the Calcite, making a full passage through the Calcite. The Stibnites are also complete!
From Nandan, Hechi Prefecture, Guangxi Zhuang Autonomous Region, China.
Measures 5 cm by 6.2 cm by 3.4 cm in total size.
Price $3500
MIN#Tucson2011-118 Sold!
Fine glistening surfaces of Arsenian Pyromorphite on matrix!
Ranging from bright yellow to brilliant orange, the botryoidal surfaces of this specimen
are near flawless with a lustrous as intense as any you will ever see on a Pyromorphite. The
Pyromorphite rises upwards in the center, forming a beautiful orange ridge above the yellow!
From the Bunker Hill Mine, Kellogg, Coeur d'Alene District, Shoshone County, Idaho.
Measures 4.8 cm by 7.4 cm by 3.6 cm in total size.
Price $2850
MIN#Tucson2011-120 New!
Stunning specimen of Chalcopyrite crystals with Sphalerite and Galena!
Yellowish-green Sphalerite crystals shine like glass among the gray Galens cubes and iridescent
Chalcopyrites! This plate is a true classic and has a little bit of almost everything from the famous
Creede Mining District. In excellent condition with lots of shine and color and only trim edge contacts.
From the Commodore Mine, Creede, Mineral County, Colorado.
Measures 6.5 cm by 10.2 cm in size.
Price $985

For Additional Tucson 2011 Specimens, Please Follow this Link to Room 7!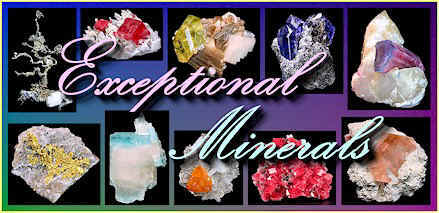 The Exceptional Mineral Rooms are Online!


Click the above banner to see our finest, museum quality mineral specimens!
Rhodochrosite Room | Gold Room | Silver Room | Beryl Room | Elmwood Room | Exceptional Minerals