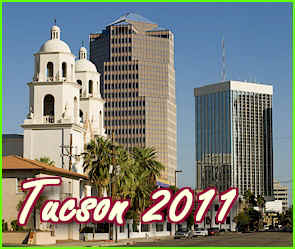 The Tucson Show 2011 Mineral Rooms!

Updated June 10th, 2011

MIN#Tucson2011-121 New!
Beautiful specimen of Aquamarine crystals with Muscovite!
The color is an excellent rich blue and much deeper than normal for Afghanistan Aqua.
The largest crystal on the left measures 6 cm in length and has a unique stepping (modification)
along the top edges. This stepped is somewhat darker in color and nearly circles the entire termination!
The bottom side of the main crystal is rehealed as are the backsides of the smaller crystals to the right.
From the Nuristan Province of Afghanistan.
Measures 6.2 cm by 8.2 cm by 5 cm in total size.
Ex. Ben de Wit Mineral Collection
Price $2850
MIN#Tucson2011-125 New!
Sharp and distinctively freestanding blades of iridescent Covellite inside a Quartz vug!
The majority of the blades and in excellent condition. The reddish-purple color is consistant
throughout but does change to blue in certain areas. All in all, an impressive Covellite miniature
which resembles what you'd normally from Butte but this one is actually from Summitville, Colorado!
From Summitville, Summitville District, Rio Grande County, Colorado.
Measures 4 cm by 4.4 cm in size.
Price $985
MIN#Tucson2011-127 New!
Superb combination featuring Analcime crystals atop Native Copper crystals!
I don't come along fine specimens like this very often and the combination of Analcime
with Native Copper is pretty scarce, especially in this quality.
From the Phoenix Mine, Keweenaw County, Michigan.
Measures 7.7 cm by 7 cm by 5.2 cm in total size.
Ex. Schlichter Mineral Collection
Price $1850
MIN#Tucson2011-128b New!
Classic and very rare specimen of lustrous gray Acanthite crystals with Chalcopyrite on matrix!
The largest crystal in the middle measures 1.8 cm in length! The remainder of this very rich
Silver Sulfide is covered with smaller Acanthites and patches of iridescent Chalcopyrite.
From the Eldorado Mine, Port Radium, Mackenzie District, Northwest Territories, Canada.
(This locality was discovered in 1900 and mined as a source of Silver and Radium in the 1930's.
It was dewatered in 1976 and mined again for its Silver and Copper reserves before closing for
good in 1982. The mine and its settlement were destroyed by fire and no longer exist today.)
Circa 1930's - Measures 4.7 cm by 5.2 cm in size.
Ex. Philadelphia Academy of Natural Sciences Collection
Ex. Kevin Ward Mineral Collection
Price $8500
MIN#Tucson2011-129 New!
Exceptional large crystals of yellowish-orange Wulfenite on matrix with Bisbeeite!
The blades are clustered together and elongated with the largest measures 7 cm in
width!! Smaller blades are scattered about the foreground with Bisbeeite coatings.
Very few contacts along the tips of the Wulfenite and no real detractions.
Classic specimen from the Tsumeb Mine in Tsumeb, Namibia, SW Africa.
Measures 6 cm by 8.5 cm in size.
Ex. Rolf Wein Mineral Collection
Price $2500
MIN#Tucson2011-130 New!
Aesthetic specimen featuring a mix of Galena crystals with Ankerite!
The Galena cubes are slightly drusy covered and sparkle while small Quartz crystals
accent the top two crystals. The specimen is in excellent shape with 3 dimensionality!
From Waterblast Flat, Smallcleugh Mine, Nenthead, Cumbria, England.
Measures 6.5 cm by 5.2 cm in size.
Price $685
MIN#Tucson2011-133 New!
Well balanced combination of Golden Calcite and Galena cubes on a Sphalerite crystal!
In excellent condition and undamaged on all sides! The Golden Calcites are gemmy and
and the Galenas are complete and lustrous. Only a couple of minor bumps on the Sphalerite.
From the Tri-State Mining District, Joplin, Granby County, Missouri.
Measures 3.3 cm by 3.3 cm by 2.9 cm in total size.
Ex. Scott J. Williams Mineral Collection
Price $285
MIN#Tucson2011-134 New!
Outstanding small plate of Native Silver crystals with Native Copper!
There are well over a dozen Silver crystals here with distinct, slightly rounded faces.
The backside is mainly Native Copper and matrix but there are additional Silver crystals
there as well. I love the way the crystals grew together and formed holes on the left side.
The luster is excellent with a lovely antique patina atop the crystals.
From the Wolverine Mine, Houghton County, Michigan.
Measures 6.5 cm by 6.5 cm in size.
Price $3500
MIN#Tucson2011-135 New!
Amazing specimen of Ram's Horn Selenite perched atop matrix!
I purchased this specimen about ten years ago for my personal cabinet and it has stayed there
ever since, always receiving a great number of compliments and questions regarding the price.
I decided the pull it out and finally let it see the light of day on the website. The specimen is
in perfect condition with two complete ram's horn curls at the top. Smaller curls can be seen
among the smaller Selenites at the base. The matrix is Selenite covered and quite lustrous.
From the Bou Bekker Mine, Touissit, Oujda-Angad Province, Oriental Region, Morocco.
Measures 15.5 cm by 8.2 cm by 5 cm in total size.
Ex. Kevin Ward Mineral Collection
Price $4500
MIN#Tucson2011-136 New!
Pristine cluster of Pyrrhotite with Calcite crystals on tan colored Quartz points!
The main attraction of this superb miniature is the pristine and very lustrous 3.4 Pyrrhotite rossette!
In the photo it appears silverish but under room lighting takes on more of a golden-bronze coloration.
The tan Quartz points are also in excellent condition with few contacts as are the white Calcites.
From the Nikolaevsky Mine, Primorskiy Kray, Russia.
Measures 7 cm by 5 cm by 5.2 cm in total size.
Ex. Martin Zinn Mineral Collection
Price $1500
MIN#Tucson2011-138 New!
Beautiful combination of green Apophyllite, Stilbite, and a spray of Scolecite shooting upwards!
The Apophyllite crystals are in excellent condition with gemmy, clear tips! There are a few flat top
Apophyllites but these are natural cleavages from the pocket. If you look closely at the Apophyllite
just below the Scolecite, that was a flat top crystal at one time but a clear tip actually grew atop
the old cleavage. I think the clear tips are present due to this fact. They represent rehealing
and later growth which formed the colorless terminations. All in all, a very aesthetic Zeolite!
From Chalisgaon, Jalgaon District, Maharashtra, India.
Measures 9.8 cm by 9 cm by 8 cm in total size.
Comes with a custom made, labeled base
Price $1850
MIN#Tucson2011-140b New!
Fine yellow crystals of Native Sulfur perched atop blades of Barite in ball clusters!
Two large crystal balls sit atop a third crystal ball cluster in the middle. The Barite crystals are
lustrous and in excellent condition with few contacts and the Sulfur crystals have nestled
themselves between and atop many of the blades. A scarce combination in a unique format!
From the Machˇw mine, Tarnobrzeg, Podkarpackie, Poland.
Measures 9 cm by 14.7 cm by 6.4 cm in total size.
Price $2500
MIN#Tucson2011-140c Sold!
Impressive meteorite from the world famous Canyon Diablo impact!
Superb meteorite with excellent form and aesthetics! Most Canyon Diablo specimens
don't do much for me but this one has well formed regmaglypts and two large impressions
on the front which most likely were Carbon nodules which either burned out or weathered
loose. Whatever the reason, the specimen certainly benefitted from the process and also
sits upright without the aid of a base or stand. Silver-grey surfaces with orange accents.
From the Canyon Diablo impact (Meteor Crater) near Winslow, Arizona - discovered in 1891.
Weighs 1,450 grams.
Age is between 20,000 to 40,000 years old.
Measures 10.3 cm by 10 cm by 6 cm in size.
Price $2500

For Additional Tucson 2011 Specimens, Please Follow this Link to Room 8!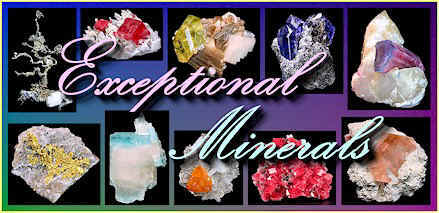 The Exceptional Mineral Rooms are Online!


Click the above banner to see our finest, museum quality mineral specimens!
Rhodochrosite Room | Gold Room | Silver Room | Beryl Room | Elmwood Room | Exceptional Minerals