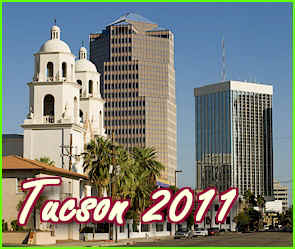 The Tucson Show 2011 Mineral Rooms!

Re-Updated October 20th, 2011

MIN#Tucson2011-168 New!
Gemmy cubes of violet-purple Fluorite on Limonite coated Calcite crystal matrix!
These Fluorite cubes are jewels! They literally glow from within without lighting and become
nearly neon quality when given an overhead light. In excellent condition, the largest measures
nearly 2 cm in size and all the Fluorites have a vibrant, satiny luster atop the crystal faces.
From Mapimi, Durango, Mexico.
Measures 3.2 cm by 4.8 cm in size.
Ex. Saums Mineral Collection
Price $685
MIN#Tucson2011-170 New!
Glossy crystals of yellowish-green Pyromorphite snug inside a matrix seam!
The matrix has provided good protection because the crystals are nearly pristine.
Smaller Pyros cover the remainder of the matrix and part of the back side as well.
From the San Andrés Mine, Espiel (Villaviciosa de Córdoba), Córdoba, Andalusia, Spain.
Measures 5.5 cm by 5,5 cm in size.
Ex. Korpi Mineral Collection
Price $985
MIN#Tucson2011-170 Sold!
RARE RHODO!! Pretty old timer featuring Rhodochrosite clusters atop Quartz matrix!
This mine produced some small quantities of Rhodochrosite during its very long lifespan but
this is the first specimen I've ever offered on the website. It's covered with pink bladed clusters
of Rhodo set between milky Quartz crystals and what appears to be stacked Calcites. I date this
specimen to the mid or late 1800's and it has quite a history with four past collection labels attached.
From the Coronation Lode, Geevor Mine (North Levant Mine), Pendeen, St Just District, Cornwall, England.
Measures 8.7 cm by 6.5 by 5 cm in total size.
Ex. John Marshall Mineral Collection
Price $985
MIN#Tucson2011-171 Sold!
Old classic specimen of Chalcedony over multi-colored Smithsonite!
This specimen dates to the late 1890's or early 1900's from the early workings of the Kelly Mine
when it was being mined for its Silver and Zinc ores. Beneath the translucent Chalcedony coating,
zones of Cadmium Smithsonite can be seen and this is much rarer than the more common Kelly Mine
green which was the main reason the Sherwin Williams Paint Company purchased the nearby Graphic Mine
in 1904. Seems they had found a use for all those green Zinc Carbonate rocks discarded by the Silver miners.
From the Kelly Mine, Magdalena District, Socorro Co., New Mexico.
Measures 5 cm by 7.7 cm in size.
Ex. Col. J. H. Pratt, Paul Tucker Mineral Collections
Comes with the original Ward's Natural Science mineral label
Price $1500
MIN#Tucson2011-172 New!
Exceptional, museum quality large cabinet plate of lustrous Sphalerite clusters with Barite on Dolostone!
No doubt about it! This is easily the finest Elmwood Sphalerite plate I have ever seen or offered on the website.
Usually large plates of Sphalerite are either dull or damaged but this specimen is completely pristine! The crystal
clusters are super reflective and lustrous and the specimen is as close to perfect as you can find. The plate is
very well proportioned and balanced with one side being more Sphalerite and the other more Barite clusters.
I could see this plate standing alone or being the centerpiece of a fine Elmwood collection.
From the Elmwood Mine in Smith County, Tennessee.
Measures 24 cm by 33 cm in size with a 9.5 cm Sphalerite cluster at top left.
Ex. Charlie Key Mineral Collection
Comes with a custom made, labeled base
Price $12,500
MIN#Tucson2011-174 New!
Beautiful specimen featuring a deep orange Scheelite set alongside a icy-clear Fluorite on Muscovite!
Both crystals are quite gemmy and both measure right at 2.5 cm in size. This is a very well balanced
specimen and the size similarity of the Scheelite and Fluorite is not a common feature. Very pleasing!
From Mt. Xuebaoding, Sichuan Province of China.
Measures 4.5 cm by 6.5 cm in size.
Price $4500
MIN#Tucson2011-175 New!
Golden-yellow cubes of Fluorite on Siderite
Both sit atop a matrix consising of Limonite coated Galena crystals.
The Fluorite cubes are completely pristine with nearly transparent interiors.
From the West Pastures Mine, Stanhope, Weardale, North Pennines, Co. Durham, England.
Measures 7.3 cm by 6.4 cm in size.
Price $785
MIN#Tucson2011-176 New!
VERY RARE!! Incredibly rich specimen of Gold with Chalcocite, Bornite, and Quartz!
This specimen is a spectacular contrast to the usual "pepper" Gold in Quartz specimens seen from this locale.
The Gold crystals are large and well defined and visible atop the Quartz on both the front and back sides!
Circa 1978 - From the D Level, Little Mary Vein, Sunnyside Mine, Gladstone, San Juan County, Colorado.
Measures 3.4 cm by 4.3 cm in size.
Ex. Kosnar Mineral Collection
(Label states it was acquired shortly after June 5th, 1978 when Lake Emma caved in and flooded the mine)
Price $2850
MIN#Tucson2011-177 New!
Fine example of Rhodochrosite with Pectolite on Albite!
The reddish rhombs are complete and attractively perched on the upper right side on the
matrix. Pectolite crystals can be seen atop the matrix, rising upwards towards the Rhodos.
From Mont St. Hilaire, Quebec, Canada.
Measures 6.3 cm by 5.2 cm in size.
Ex. Revelle Mineral Collection
Price $985
MIN#Tucson2011-178 New!
Very aesthetic "tree" of Native Wire Silver!
To me, this specimen looks like a tree. Others may say it looks like a hand or bird foot. I cherry picked this one
from a collection of several dozen and loved not only its form, but also the deep striations along all the wires.
This fine specimen begins with a .35 cm thick wire at the base which grows upwards some 8.2 cm in length.
There is a slight accenting of Acanthite along the striated length of each of the wires.
From the Huangtongxiang Mine, Lujiang, Anhui Province of China.
Measures 8.2 cm by 3 cm in size.
Price $3500
MIN#Tucson2011-180b Sold!
Facinating specimen featuring highly lustrous Goethite on matrix and in matrix vugs!
This is a classic specimen from an old time mineral collection. The Goethite is bronze colored
and somewhat fibrous and appears in a botryoidal form. This specimen dates to the late 1890's.
I can't recall seeing another Goethite specimen with such luster and vibrance.
From Príbram, Central Bohemia Region, Bohemia, Czech Republic.
Measures 5.2 cm by 7.4 cm by 5.2 cm in toal size.
Ex. Col. J. H. Pratt, Paul Tucker Mineral Collections
Comes with an original antique handwritten label
Price $485
MIN#Tucson2011-180d New!
Classic old time specimen of Arsenopyrite crystals with Dolomite, Sphalerite, and Pyrite on matrix!
An impressive specimen from the Freiberg Mining District, dating back to the late 1890's! The fine
Arsenopyrite crystals are very sharp and lustrous and sit atop a matrix of tiny Quartz crystals. They're
also bordered by tan Dolomite xls. Sphalerite can be seen to the upper left and the matrix is mainly Pyrite.
From the Freiberg Mining District, Erzgebirge, Saxony, Germany.
Measures 5.3 cm by 7.5 cm by 3.6 cm in total size.
Ex. Col. J. H. Pratt, Paul Tucker Mineral Collections
Comes with two original antique handwritten labels
Price $585
MIN#Tucson2011-180e New!
Stunning and quite lustrous crystal of Dioptase on brown Quartz matrix!
It's hard to take your eyes off this large 2 cm Dioptase! It's so glassy and the color is such a deep emerald-green!
The only blemish to speak of is a tiny dip on the very back side where another crystal popped off. It's not visible
from the front and hardly bothers me considering the quality of the main crystal. A smaller Dioptase is seen at left.
From the Tsumeb Mine in Tsumeb, Namibia, SW Africa.
It measures 2.5 cm by 3.9 cm in size.
Price $1250

For More Tucson 2011 Specimens, Follow this Link to Room 10!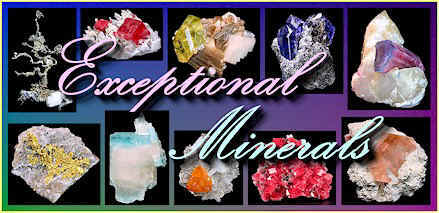 The Exceptional Mineral Rooms are Online!


Click the above banner to see our finest, museum quality mineral specimens!
Rhodochrosite Room | Gold Room | Silver Room | Beryl Room | Elmwood Room | Exceptional Minerals