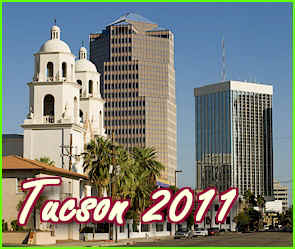 The Tucson Show 2011 Mineral Rooms!

Updated March 3rd, 2011

MIN#Tucson2011-1 Sold!
EXCEPTIONAL!! A stunning Walworth Fluorite with Calcite on Dolomite to begin the Tucson 2011 updates!
This amazing Fluorite specimen was offered to me during the Westward Show and gathered quite a crowd
when others saw it. The Fluorite is an elongated cube measuring nearly 4 cm in length! It is completely
pristine with a gemmy blue interior, glassy faces, and modified corners (typical of Walworth crystals).
To top it all off, there is also an internal rainbow which is probably caused by a transparent inclusion
of Selenite near the left corner. The above photograph shows part of the rainbow and it grows more
intense as the specimen is rotated. I can count the number of great Walworth Fluorites I've seen on just
two hands and this is both the finest and largest of them all. A rare opportunity for the Fluorite collector!
From the Walworth Quarry, Walworth, Wayne County, New York.
Measures 6 cm by 6.1 cm by 6.2 cm in total size.
Ex. David Kords Mineral Collection
Price $8500
MIN#Tucson2011-3 Sold!
RARE!! Very rare specimen of twinned Yellow Calcite crystals on Purple Fluorite!
This find occurred about 40 years ago I'm told and very few specimens came to market.
This is the first I've ever seen and the Calcite twin is in excellent condition with lustrous
surfaces and a gemmy internal glow! The Fluorite consists of purple cubes on matrix and
they offer the perfect contrasting backdrop. A rare opportunity for Fluorite collectors alike!
From Melchor Muzquiz, Mun. de Melchor Muzquiz, Coahuila, Mexico.
Measures 8 cm by 7.2 cm with a nearly 6 cm Calcite twin!
Price $3500
MIN#Tucson2011-6 New!
Eye catching specimen featuring distinctive crystals of Galena and Sphalerite on Quartz covered matrix!
I love the isolated look of the crystals on this specimen! The Galenas and Sphalerites stand apart even
when grouped together in the center. All are very lustrous and shiny with hints of red peaking through.
From the Elmwood Mine, Smith County, Tennessee.
Measures 11 cm by 8.2 cm by 5.8 cm in total size.
Price $485
MIN#Tucson2011-7 New!
Stunning combo featuring a large Calcite with an Amber Fluorite ball on Quartz crystals!
Definately one of the best of these combos that I've seen, the crystals are all in perfect
condition and undamaged. The satiny surface of the Fluorite ball gives off a "cat's-eye"
affect when rotated under lighting and the entire specimen lights up and sparkles.
The Fluorite ball measures just shy of 2 cm in size and the Calcite "hat" measures 6 cm
From the Aurangabad District, Maharashtra, India.
Measures 9.8 cm by 11 cm in size.
Price $2250
MIN#Tucson2011-8 Sold!
Amazing cabinet plate of purple Fluorite with blades of white Barite!
This is the most impressive Berbes Fluorite-Barite plate I've seen in years - probably
since the early 2000's. Most of these dried up and disappeared from the market in recent
years but then I discovered this large plate and was amazed at the aesthetics and overall
excellent condition! Except for a tiny break, the Barite blades are intact and undamaged
and that's pretty amazing in itself. The Fluorite is more of a raspberryish-purple which
I prefer and the luster could best be described at satiny. This plate is a true centerpiece.
From Berbes, Berbes Mining Area, Ribadesella, Asturias, Spain.
Measures 13 cm by 15.5 cm in size.
Price $3850
MIN#Tucson2011-9 New!
LARGE CABINET! Huge plate of slightly reddish-purple Fluorite cubes with Calcite on Dolostone!
This is the largest Elmwood Fluorite plate that I've ever offered and it nearly fills a deep flat by itself!
It's a stunning sight to see with Fluorite cubes in all sizes mixed in with Calcites, Sphalerite, and a
matrix which is a sparkling drusy covered stunner! Even the bottom side sparkles with drusy and
pizzazz!! This specimen could easily be the centerpiece of any Fluorite or Elmwood collection and
actually sits upright by itself with the tallest measurement standing vertically. In excellent condition.
From the Elmwood Mine, Smith County, Tennessee.
Measures 22.5 cm by 33.5 cm by 17.5 cm in total size.
Price $6500
MIN#Tucson2011-10 New!
Gorgeous and gemmy Calcite crystals on Dolostone matrix!
This specimen originates from the 1982 find at the Jewel Pocket, a pocket world reknown for its
incredibly gemmy, golden Calcite crystals! The tip of the largest Calcite on this plate is completely
perfect but for a tiny natural chip on the backside of the top termination. A very minor detail that
will not detract from the color and gemminess of this amazing crystal which measures 13.6 cm in
length! The crystal is actually doubly terminated with a bottom termination extending down past the
right side of the matrix. I might note that there are several other smaller Calcites accenting the
main crystal and all have tiny inclusions of bitumen which I find to be quite interesting and aesthetic.
From the 1982 Jewel Pocket, Elmwood Mine, Smith County, Tennessee.
Measures 17.5 cm by 14.2 cm by 9 cm in total size.
Price $5500
MIN#Tucson2011-11 New!
Impressive large cabinet cluster of purple Fluorite cubes on Dolostone matrix!
The cubes here are quite large, averaging 4 cm in size! They are also quite transparent
with a slightly reddish-purple color that allows one to see through to the matrix beneath.
There is a slight phantoming near the outer edges and a shimmering luster atop each cube!
From the Elmwood Mine, Smith County, Tennessee.
Measures 15 cm by 19 cm by 8 cm in total size.
Price $3500
MIN#Tucson2011-12 New!
Amazing specimen featuring dark purple cubes of Fluorite alongside etched yellow Fluorite crystals!
I never cease to be amazed by the combinations Fluorite can create for itself. This interesting specimen
began as a yellow Fluorite cluster. Later it was etched by natural solution and later overgrown on the
left side by purple Fluorite cubes. The basic structure of the original yellow Fluorite is still visible
despite the etching and together both colors create a wonderful specimen which has a lot to say.
From the Victory Mine, Cave-in-Rock, Hardin County, Illinois.
Measures 8 cm by 11.2 cm by 7 cm in total size.
Price $785
MIN#Tucson2011-14 New!
Excellent crystal of deep green Fluorite perched atop Quartz points!
One of the better matrix Wise Mine specimens I've seen in quite some time.
The Fluorite is perfect and lustrous, measuring 5.5 cm in size and the matrix of
small terminated Quartz points provides the perfect setting for this green beauty.
From the William Wise Mine, Westmoreland, Cheshire County, New Hampshire.
Measures 5.3 cm by 6.7 cm by 6 cm in total size.
Price $2250
MIN#Tucson2011-15 Sold!
Huge plate of lavender Fluorite cubes on Sphalerite matrix!
I love the look of this plate because not only is it a large centerpiece but it also sparkles like crazy!
The drusy coverage one normally sees atop the Dolostone matrix has made its way to the Fluorite
crystals themselves and given each cube a glittering surface. I can't recall ever seeing this before
in an Elmwood Fluorite. The coverage is so light that it doesn't impede the color of the Fluorite which
could best be described as a slightly reddish-lavender. The Fluorite sits atop a matrix of shiny Sphalerite.
In excellent condition with only a few corner cleaves which is pretty good considering the number of xls!
From the Elmwood Mine, Smith County, Tennessee.
Measures 19.5 cm by 28.2 cm by 8.7 cm in total size.
Price $3500
MIN#Tucson2011-16 New!
Fine green Fluorite octahedrons atop Quartz and Albite matrix!
The crystals are complete and undamaged with a better than average color.
The surfaces are slightly textured and probably etched to a minor degree.
A fine miniature that is a good representative of this scarce Fluorite locality.
From Stak Nala, Gilgit District, Pakistan.
Measures 5.5 cm by 6.3 cm in size.
Price $685
MIN#Tucson2011-17 New!
GEMMY cystals of bluish-lavender Fluorite cubes with purple accenting with Quartz on Muscovite!
An incredible plate of pure gem and flash! The Fluorites are modified at the corners and exhibit
color shifts as you peer down into the gemmy interiors to see the underlying matrix. These color
shifts consist of internal purple phantoms and mirroring along some scattered internal craze lines.
The Fluorite crystals are surrounded by terminated and included Quartz points and all sit atop
Muscovite. In excellent condition overall with virtually pristine Fluorites and glassy crystal faces!
From the Yaogangxian Mine, Hunan Province of China.
Measures 12 cm by 14 cm in size.
Price $3500
MIN#Tucson2011-18 New!
Large, impressive specimen of Golden Calcite with numerous terminations!
This gemmy crystal ranges from golden to deep golden brown near the top terminations.
The luster is INTENSE and wet looking! There's actually a termination at the bottom making this
a doubly terminated crystal. The white material near the bottom is a small bit of Barite which grew
against the Calcite tip. In excellent condition overall with one nearly unnoticeable cleave at the top.
From the Elmwood Mine, Smith County, Tennessee.
Measures 21 cm by 17 cm by 11 cm in total size.
Price $3500

For Additional Tucson 2011 Specimens, Please Follow this Link to Room 2!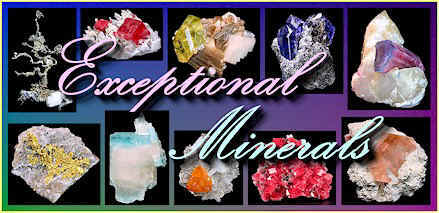 The Exceptional Mineral Rooms are Online!


Click the above banner to see our finest, museum quality mineral specimens!
Rhodochrosite Room | Gold Room | Silver Room | Beryl Room | Elmwood Room | Exceptional Minerals