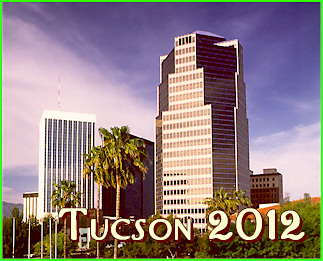 The Tucson-Houston Shows 2012 Mineral Rooms

Re-Updated August 2nd, 2013
MIN#Tucson2012-141 New!
EXCEPTIONAL!! Stunning combination of Amazonite crystals with Smoky Quartz and Albite!
One of the finest Amazonite-Smoky combos I've seen in a long time. Not only is the specimen
large in size, the color of the Amazonite crystals is every bit as deep as those from the Tree Root
find. The crystals of both minerals are large and well formed and the overall arrangement has to be
one of the most aesthetic I've seen in years. This large plate has the balance and artistic qualities
that all collectors look for in the finest of specimens. There are the usual repairs and restoration
common to large Amazonite-Smokys but they are so expertly done that they are virtually invisible.
Considering the rough pocket conditions in which these specimens are found, it's always amazing
to me just how well they survive the stresses of the earth. Even the Smoky points on this specimen
are complete and terminated with only the most minor of bumps here and these along the edges.
This is the second time I've had the pleasure of offering this fine specimen. I'm thrilled to do so!
From Sentinel Rock, El Paso County, Colorado.
Measures 8.6 cm by 12.8 cm by 8.5 cm in size.
Price $28,500
MIN#Tucson2012-142 New!
Beautiful specimen featuring a deep orange Scheelite set alongside a icy-clear Fluorite on Muscovite!
Both crystals are quite gemmy and both measure right at 2.5 cm in size. This is a very well balanced
specimen and the size similarity of the Scheelite and Fluorite is not a common feature. Very pleasing!
From Mt. Xuebaoding, Sichuan Province of China.
Measures 4.5 cm by 6.5 cm in size.
Price $4500
MIN#Tucson2012-143 New!
Golden-yellow cubes of Fluorite on Siderite
Both sit atop a matrix consising of Limonite coated Galena crystals.
The Fluorite cubes are completely pristine with nearly transparent interiors.
From the West Pastures Mine, Stanhope, Weardale, North Pennines, Co. Durham, England.
Measures 7.3 cm by 6.4 cm in size.
Price $785
MIN#Tucson2012-145 New!
Fine example of Rhodochrosite with Pectolite on Albite!
The reddish rhombs are complete and attractively perched on the upper right side on the
matrix. Pectolite crystals can be seen atop the matrix, rising upwards towards the Rhodos.
From Mont St. Hilaire, Quebec, Canada.
Measures 6.3 cm by 5.2 cm in size.
Ex. Revelle Mineral Collection
Price $985
MIN#Tucson2012-146 New!
Very aesthetic "tree" of Native Wire Silver!
To me, this specimen looks like a tree. Others may say it looks like a hand or bird foot. I cherry picked this one
from a collection of several dozen and loved not only its form, but also the deep striations along all the wires.
This fine specimen begins with a .35 cm thick wire at the base which grows upwards some 8.2 cm in length.
There is a slight accenting of Acanthite along the striated length of each of the wires.
From the Huangtongxiang Mine, Lujiang, Anhui Province of China.
Measures 8.2 cm by 3 cm in size.
Price $3500
MIN#Tucson2012-147 New!
Classic old time specimen of Arsenopyrite crystals with Dolomite, Sphalerite, and Pyrite on matrix!
An impressive specimen from the Freiberg Mining District, dating back to the late 1890's! The fine
Arsenopyrite crystals are very sharp and lustrous and sit atop a matrix of tiny Quartz crystals. They're
also bordered by tan Dolomite xls. Sphalerite can be seen to the upper left and the matrix is mainly Pyrite.
From the Freiberg Mining District, Erzgebirge, Saxony, Germany.
Measures 5.3 cm by 7.5 cm by 3.6 cm in total size.
Ex. Col. J. H. Pratt, Paul Tucker Mineral Collections
Comes with two original antique handwritten labels
Price $585
MIN#Tucson2012-149 New!
Rare specimen featurng Native Silver crystals on matrix from Freiberg!
A classic specimen from the 1800's with dozens of distinct Silver crystals set atop
matrix with Calcite and black spheres of Hematite! The crystals cover both sides of
the matrix and are quite lustrous. Galena is also present among the mix of minerals.
From the Freiberg District, Erzgebirge, Saxony, Germany.
Measures 4.4 cm by 3.6 cm by 2.6 cm in total size.
Ex. H. J. Siber Mineral Collection
Price $685
MIN#Tucson2012-150 New!
Fine blocky crystals of Orange Wulfenite on Limonite matrix!
A very impressive specimen of Ojuela Wulfenite which is covered with hundreds of
lustrous orange crystals from top to bottom. The crystals are complete and glassy
with smooth reflective faces and the specimen is in excellent condition overall. This is
easily one of the best Ojuela Wulfenites I've seen in many years and they are scarce.
From the Ojuela Mine, Mapimi, Durango, Mexico.
Measures 8.4 cm by 7.3 cm by 4.3 cm in total size.
Ex. Matthew Webb Mineral Collection
Price $2500
MIN#Tucson2012-151 New!
Cute miniature featuring a Cerussite "twinned-star" on Tennantite!
This crystal twin is in excellent condition with barely a contact and five full points.
It measures 1.7 cm from left to right and exhibits glassy luster and striations,
especially along the inside of each spoke. Not quite a sixling, but very close!
From the famous Tsumeb Mine in Tsumeb, Namibia, SW Africa.
Measures 3.2 cm by 2.7 cm by 2.9 cm in total size.
Ex. Gunther Pietsch, William Severance Mineral Collections
Price $650
MIN#Tucson2012-152 New!
Rare specimen of lustrous Graphite crystals on Moonstone matrix!
Sharp blades of lustrous Graphite stand upright atop the vibrant matrix.
From Liebs Moonstone Mine, Saranac Lake, Franklin County, New York.
Measures 3.3 cm by 2.7 cm by 2.8 cm in total size.
Ex. The Saums Mineral Collection
Price $385
MIN#Tucson2012-153 New!
Superb specimen of large Pyromorphite crystals!
Very impressive specimen featuring lustrous crystals which rise as high as 3 cm above
the matrix! The slightly greenish but mostly yellow crystal faces are sharp and glassy.
All are terminated and I only see a couple of small crystals missing on the backside.
From the Jersey Vein, 9 Level, Bunker Hill Mine, Kellogg, Shoshone County, Idaho.
Measures 3.5 cm by 4.8 cm in size.
Ex. Mine Owner's Collection
Price $2850
MIN#Tucson2012-154 New!
Large and very distinct crystals of bronze Pyrrhotite with golden Chalcopyrite!
Also with some Calcite crystals, this impressive combination piece boasts a 5.2 cm
Pyrrhotite crystal at top to go along with a 4.2 cm Chalcopyrite in the center! Actually,
the Chalcopyrite is complete surrounded by thick Pyrrhotite crystals on all sides!
From the Nikolaevskiy Mine, Nikolaevskoe Pb-Zn-Ag deposit, Dal'negorsk, Primorskiy Kray, Russia.
Measures 7.4 cm by 9.5 cm by 6.5 cm in size.
Ex. Pilipenko, Star van Schriver, Edward David Mineral Collections
Price $4500
MIN#Tucson2012-155 New!
Lustrous and quite rare Native Silver Wire rising up from a matrix vug!
I can tell you right now that I seldom see good matrix wire Silvers from China. This specimen
leaped out when I saw it in Tucson and I had the matrix trimmed even further to more centralize
the wire. The wire itself is pretty big, measuring just shy of 5.5 cm from base to tip! I love the way
it does an "S" curve bend as it pulls away from the Calcite and Acanthite coated vug and rises
upwards, well above the matrix. The wire is very lustrous with a golden patina and very attractive.
From Lingqiu County, Datong Prefecture, Shanxi Province of China.
Measures 7.8 cm by 5.7 cm in size.
Currently in the Kevin Ward Personal Collection
Comes complete with a custom made, labeled base
Price $7500
MIN#Tucson2012-156 New!
Lustrous pyramidal crystal clusters of Acanthite with Native Silver wires!
An amazing combination featuring stacked Acanthite ps. after Argentite (Silver Sulfide) crystals with Native
Silver wires throughout! Obviously the Sulfur component was removed at some point during the development
of this specimen, allowing for the Native Silver growth. Specimens like this always amaze me. They are both
beautiful and extremely interesting in a geological as well as an historical sense. This specimen is a classic
rarity from a major Silver mining district which has faded into the past. Fortunately, great specimens survive
for all collectors to enjoy. I might point out that this specimen is very heavy and nearly solid Silver mineral!
From the Foster Mine, Glen Lake, Coleman Township, near Cobalt, Ontario, Canada.
Measures 8.4 cm by 7 cm by 7.8 cm in total size.
Currently in the Kevin Ward Mineral Collection
Comes with a custom made, labeled stand
Price $9500
MIN#Tucson2012-158 New!
Beautiful green Fluorite octahedron perched atop Calcite and needle Quartz!
Impressive specimen with good color and a wonderful Quartz spray to the right of the Fluorite.
From Huanzala, Dos de Mayo Province, Huanuco Department, Peru.
Measures 8.3 cm by 9 cm in total size.
Ex. Revelle Mineral Collection
Comes with a custom made, labeled base
Price $1500
MIN#Tucson2012-159 New!
"The Copper Cactus"
First we had a Copper Scorpian and now a Copper Cactus! You could build a unique looking
collection with these Native Copper specimens! This specimen is also composed of elongated
crystals, with the largest having the added bonus of green Epidote and Quartz along the top
left side. Overall, this is a very impressive old timer from Michigan with great crystal form!
From the Centennial Mine, Centennial, Kearsarge Lode, Houghton County, Michigan.
Measures 7.1 cm by 3 cm by 2.5 cm in total size.
Ex. Revelle Mineral Collection
Comes with an acrylic base
Price $7500
MIN#Tucson2012-160 Sold!
Scarce combination of gemmy Yellow Calcite perched atop Natrolite needles!
Fine specimen that I rarely encounter in the marketplace. The Calcites are undamaged
and quite gem with a vibrant interior glow. The Natrolite is in good condition with a few
scattered contacts but nothing that detracts. Some small Albite crystals are also present.
From Pollux, Gorner glacier area, Zermatt, Matt Valley, Wallis (Valais), Switzerland.
Measures 3.3 cm by 3.9 cm by 2 cm in total size.
Price $585

- LINKS TO THE TUCSON-HOUSTON 2012 SHOWROOMS -
1 | 2 | 3 | 4 | 5 | 6 | 7 | 8 | 9 | 10 | Denver 2012 Showrooms
HOME | EXCEPTIONAL MINERALS | MINERAL AUCTION | SPECIMENS FROM PAST SHOWS | CONTACT US