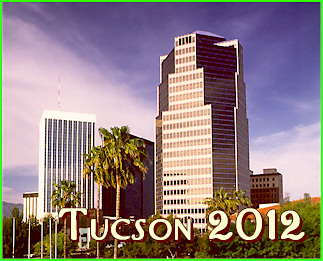 The Tucson-Houston Shows 2012 Mineral Rooms

Updated June 5th, 2012
MIN#Tucson2012-141 New!
EXCEPTIONAL!! Stunning combination of Amazonite crystals with Smoky Quartz and Albite!
One of the finest Amazonite-Smoky combos I've seen in a long time. Not only is the specimen
large in size, the color of the Amazonite crystals is every bit as deep as those from the Tree Root
find. The crystals of both minerals are large and well formed and the overall arrangement has to be
one of the most aesthetic I've seen in years. This large plate has the balance and artistic qualities
that all collectors look for in the finest of specimens. There are the usual repairs and restoration
common to large Amazonite-Smokys but they are so expertly done that they are virtually invisible.
Considering the rough pocket conditions in which these specimens are found, it's always amazing
to me just how well they survive the stresses of the earth. Even the Smoky points on this specimen
are complete and terminated with only the most minor of bumps here and these along the edges.
This is the second time I've had the pleasure of offering this fine specimen. I'm thrilled to do so!
From Sentinel Rock, El Paso County, Colorado.
Measures 8.6 cm by 12.8 cm by 8.5 cm in size.
Price $28,500
MIN#Tucson2012-144 Sold!
Fine specimen of Grossular Garnet with Quartz crystals!
One of the better examples from this locality that I've offered on the website. The greenish-yellow
Garnets are glassy and lustrous with no damage except for the normal incompleteness along the
trimming edge at bottom. The Quartz points are all terminated. Visually, this is a striking specimen
from a classic Arizona Garnet locality. I can't recall seeing a better looking miniature from there.
From Stanley Butte, Graham County, Arizona.
Measures 6.2 cm by 5.4 cm by 3.5 cm in total size.
Ex. J. R. Jelks Mineral Collection
Price $985
MIN#Tucson2012-145 New!
Rare specimen featurng Native Silver crystals on matrix from Freiberg!
A classic specimen from the 1800's with dozens of distinct Silver crystals set atop
matrix with Calcite and black spheres of Hematite! The crystals cover both sides of
the matrix and are quite lustrous. Galena is also present among the mix of minerals.
From the Freiberg District, Erzgebirge, Saxony, Germany.
Measures 4.4 cm by 3.6 cm by 2.6 cm in total size.
Ex. H. J. Siber Mineral Collection
Price $685
MIN#Tucson2012-148 New!
Fine blocky crystals of Orange Wulfenite on Limonite matrix!
A very impressive specimen of Ojuela Wulfenite which is covered with hundreds of
lustrous orange crystals from top to bottom. The crystals are complete and glassy
with smooth reflective faces and the specimen is in excellent condition overall. This is
easily one of the best Ojuela Wulfenites I've seen in many years and they are scarce.
From the Ojuela Mine, Mapimi, Durango, Mexico.
Measures 8.4 cm by 7.3 cm by 4.3 cm in total size.
Ex. Matthew Webb Mineral Collection
Price $2500
MIN#Tucson2012-150 New!
Fine specimen of "Jack-straw" Cerussite crystals on matrix!
A beautiful specimen displaying complete, upright crystals with vibrant luster and
literally no visible damage. I haven't seen these in a while but a few nice specimens
appeared at the show this year and this was the best and most aesthetic of the group.
From the Flux Mine, Harshaw District, Patagonia Mts, Santa Cruz County, Arizona.
Measures 4 cm by 6.7 cm by 5 cm in total size.
Ex. Eileen Kokinas Mineral Collection
Price $685
MIN#Tucson2012-152 Sold!
Brilliant green spray of Apophyllite crystals with Stilbite blades on Calcite covered matrix!
Flashy and gemmy, these terminated Apophyllites are a sight to see! The color is rich green
and much deeper than most of what I see from India. The Stilbites pop up here and there for
accent and all are highly lustrous. In excellent condition atop a Calcite covered brown matrix.
From the Pune District (Poonah District), Maharashtra, India.
Measures 6 cm by 6 cm by 5.8 cm in total size.
Ex. R. R. Stoddard Mineral Collection
MIN#Tucson2012-153 New!
Gemmy crystals of Calcite on "poker-chip" Calcite crystals from Norway!
This is an eye catching Calcite specimen from a seldom seen locality. The Calcites are
all very gemmy with glassy, lustrous faces. They measure to 4.5 cm and I count at least half a
dozen upright crystals, all terminated. Each has an internal phantoming which is reflected in the
striated termination faces, creating a prism effect. They all sit atop large poker-chip Calcite xls.
From the Dalen-Kj°rholt Mine, Kj°rholt, Brevik, Porsgrunn, Telemark, Norway.
Measures 7.8 cm by 9 cm by 6 cm in total size.
Ex. T. Bye Mineral Collection
Price $850
MIN#Tucson2012-157 New!
Cute miniature featuring a Cerussite "twinned-star" on Tennantite!
This crystal twin is in excellent condition with barely a contact and five full points.
It measures 1.7 cm from left to right and exhibits glassy luster and striations,
especially along the inside of each spoke. Not quite a sixling, but very close!
From the famous Tsumeb Mine in Tsumeb, Namibia, SW Africa.
Measures 3.2 cm by 2.7 cm by 2.9 cm in total size.
Ex. Gunther Pietsch, William Severance Mineral Collections
Price $650
MIN#Tucson2012-158 New!
Rare specimen of lustrous Graphite crystals on Moonstone matrix!
Sharp blades of lustrous Graphite stand upright atop the vibrant matrix.
From Liebs Moonstone Mine, Saranac Lake, Franklin County, New York.
Measures 3.3 cm by 2.7 cm by 2.8 cm in total size.
Ex. The Saums Mineral Collection
Price $385
MIN#Tucson2012-159 Sold!
Very attractive specimen of Azurite and Malachite in vug form!
The aesthetics of this specimen are incredible! I love the satiny botryoidal form of
Bisbee Azurite and this specimen has everything I look for. The rolling Azurite surfaces
are micro-crystalline covered and completely layer the matrix and interior of the small
vug to the far right. At the very back of the vug there are some larger Azurite crystals
and the color become even deeper among these. The entire botryoidal Azurite is surrounded
by layers of Malachite. The surface is in excellent condition with only a few trivial contacts.
From the Copper Queen Mine, Bisbee, Cochise County, Arizona.
Measures 5.4 cm by 11.3 cm by 5 cm in total size.
Ex. E. O. Stratton Mineral Collection
Price $2500
MIN#Tucson2012-160b New!
Scarce combination of gemmy Yellow Calcite perched atop Natrolite needles!
Fine specimen that I rarely encounter in the marketplace. The Calcites are undamaged
and quite gem with a vibrant interior glow. The Natrolite is in good condition with a few
scattered contacts but nothing that detracts. Some small Albite crystals are also present.
From Pollux, Gorner glacier area, Zermatt, Matt Valley, Wallis (Valais), Switzerland.
Measures 3.3 cm by 3.9 cm by 2 cm in total size.
Price $585
- LINKS TO THE TUCSON-HOUSTON 2012 SHOWROOMS -
1 | 2 | 3 | 4 | 5 | 6 | 7 | 8 | 9 | 10 | Denver 2012 Showrooms
HOME | EXCEPTIONAL MINERALS | MINERAL AUCTION | SPECIMENS FROM PAST SHOWS | CONTACT US