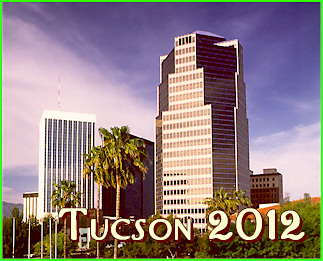 The Tucson Show 2012 Mineral Rooms

Re-Updated August 2nd, 2013
MIN#Tucson2012-161 New!
Classic specimen of fine dendritic growths of Native Silver on matrix from Cobalt!
I actually visited Cobalt this past summer and did some exploring and photo taking
in this historic mining town. While most of the headframes appear to be intact, they aren't
being protected very well and with the constant exposure to the elements, who knows how
long they'll remain in place. Cobalt was once a major Silver mining district and specimens
like this one are highly prized by myself and other Silver collectors. Impressive and heavy!
From the Cobalt Mining District, Ontario, Canada.
Measures 5.5 cm by 6.4 cm by 5.7 cm in total size.
Ex. Charles Leavitt Mineral Collection
Currently in the Kevin Ward Silver Collection
Price $4500
MIN#Tucson2012-162 New!
Lustrous bi-color crystal of Spodumene-Kunzite!
Perfectly terminated crystal displaying quite well the gradual color shift from light
yellowish Spodumene to vibrant rosey-purple Kunzite. Turning the specimen on its
side shows that the crystal changes color at just about the midpoint of its length!
This truely is a half and half specimen - one which is very lustrous and gemmy!
From the Pech (Peech) Pass, Kunar Province of Afghanistan
Measures 6.8 cm by 2.2 cm by 2.3 cm in total size.
Ex. Matthew Webb Mineral Collection
Price $3500
MIN#Tucson2012-163 New!
Shiny black crystals of terminated Neptunite on white Natrolite!
I count three very lustrous crystals, all with textbook terminations! The top
crystal is doubly terminated on the Natrolite while the other two larger Neptunites are
perched mostly on but a little off the matrix near the sides. Attractive miniature!
From the Dallas Gem Mine, San Benito County, California.
Measures 6.3 cm by 3.5 cm by 2.2 cm in total size.
Ex. Matthew Webb Mineral Collection
Price $785
MIN#Tucson2012-164 New!
Large crystal of gem-red Rhodochrosite perched atop matrix with Goethite!
In good condition with only a small cleave on the bottom side, this crystal measures
3 cm in size. It is terminated at the top and the sides display a stepped growth that hosts
a thin coating of Goethite in some areas. The Rhodochrosite surfaces are glassy reflective.
From the Uchucchacua Mine, Oyon Province, Lima Department, Peru.
Measures 3.3 cm by 2.8 cm by 3 cm in total size.
Ex. T. Bye Mineral Collection
Price $485
MIN#Tucson2012-165 New!
GORGEOUS GOLDEN YELLOW SAPPHIRE!
Something different this time around and wow, what a stone this is! Incredibly brilliant with the most
beautiful golden-yellow color you can imagine! The color you see in the photo is true to life and I would
go as far as to say there is a touch of orange in the golden-yellow. This is an oval cut with an I-1 clarity
rating. The cut is rated as very good with a total carat weight of 7.06 ct. Personally, I love Sapphires
and they are second only to my favorite which is Emerald. The intense glow and flash of this gemstone
is enough to make you stare in amazement. The stone would be perfect for a ring and is large enough
for a necklace. Appraised value is listed at $11,260 but the consigner's selling price is much lower.
Measures 12.30 mm by 9.15 mm by 6.85 mm in size.
Weighs 7.06 ct., Type II, I-1 clarity.
Comes with an appraisal from AIG, American International Gemologists
Price $8500
MIN#Tucson2012-166 New!
Pretty cluster spray of Beryl var. Aquamarine crystals!
I count at least twenty individual crystals in the cluster and all are terminated with
the exception of one which is rehealed. The color is quite blue and not pale at all.
From Nagar, Hunza Valley, Gilgit, Northern Areas of Pakistan.
Measures 5.8 cm by 3.3 cm by 2.6 cm in total size.
Ex. T. Bye Mineral Collection
Price $985
MIN#Tucson2012-167 Sold!
Very impressive specimen featuring a large Scheelite crystal on Muscovite!
What a vibrant crystal this is! Glassy, translucent, deep orange coloration, and perfect! The crystal
measures 6 cm across at the base and has no visible contacts or damage. If your collection needs
a major specimen of Scheelite on Muscovite, I can highly recommend this one. I rarely come across
specimens which offer size, color, and quality all in the same package. The termination is all there too.
From the Mt. Xuebaoding Mine, Pingwu, Sichuan Province of China.
Measures 5.6 cm by 10.2 cm in size.
Price $9500
MIN#Tucson2012-168 New!
Rainbow colored specimen of Native Silver wires on matrix!
A beautiful specimen of twisting wires of Native Silver which can be displayed
from either side. The iridescent color may be the result of a slight mineral coating
but it appears to be a natural patina. Whatever the case, it makes for a unique piece.
From Tongbai County, Nanyang Prefecture, Henan Province, China
Measures 4.3 cm by 5 cm by 1.4 cm in total size.
Come with a custom made base for display
Price $1500
MIN#Tucson2012-169 New!
Sweet specimen of greenish-yellow Pyromorphite in individual clusters on matrix!
Brilliant miniature which exhibits a great deal of eye appeal and flash! The glassy Pyromorphite
crysta;s have grouped themselves together into little spheres, creating an unique and very aesthetic
presentation. The specimen is in great condition with barely a contact. Formally a competition piece.
From the Daoping Mine, Gongcheng Co., Guilin Prefecture, Guangxi Zhuang Autonomous Region, China.
Measures 5.2 cm by 4.3 cm by 2.3 cm in total size.
Come with a custom made, labeled wooden base for competition display
Price $1500
MIN#Tucson2012-170 New!
EXCEPTIONAL LARGE CABINET!! Incredible specimen hosting two large Selenite crystals on Goethite!
One of the most impressive Selenites at the entire show, this specimen features two doubly terminated
Selenites measuring nearly 22 cm and 16.5 cm in size! Both crystals are incredibly clear and glassy with
well striated surfaces that reflect the light with an intense luster. For a soft mineral of such large size, this
specimen is in amazing condition with only a few trivial contacts. This could easily be a museum piece or a
wonderful centerpiece for a personal mineral collection. If you'd like a stand, I can have one made for you.
From the Gibralter Mine, Naica, Chihuahua, Mexico.
Measures 21 cm by 26.8 cm by 12.2 cm in total size.
Price $2500
MIN#Tucson2012-171 New!
Lovely combination of satiny Malachite mounds with Cerussite on matrix!
A very aesthetic miniature with literally no damage save for a tiny contact on the far
left Malachite mound. You will need a 10X loupe to see it. The satiny surfaces and small
colorless Cerussite crystals are in excellent condition with a good amount of natural sparkle.
From the Tsumeb Mine, Tsumeb, Namibia, SW Africa.
Measures 4.5 cm by 4.7 cm by 2.3 cm in total size.
Price $985
MIN#Tucson2012-172 New!
Exceptional miniature of iridescent Native Silver on matrix from Kongsberg!
The Native Silver emerges from the Calcitic matrix, forming two distinct "horns" which are
reminiscent of a viking helmet! The surfaces are not only highly lustrous, but there are also
iridescent with shades of red, green, purple, and blue. The Silver measures 2.5 cm in height
and is surrounded by Acanthite, Polybasite, and other Silver Sulfides atop the host matrix.
From the Kongsberg Silver Mining District, Kongsberg, Buskerud, Norway.
Measures 4.1 cm by 4.4 cm by 3.5 cm in total size.
Ex. Herbert Obodda Mineral Collection
Price $4500
MIN#Tucson2012-173 New!
Glowing crystals of Native Sulfur perched atop a ledge of Celestine matrix!
This specimen is very aesthetic and the Sulfur crystals are wonderfully isolated along the white matrix
edge! There are well over a dozen Sulfur crystals here, measuring to 2.5 cm in size. All are in good
condition with other the most minor of contacts here and there. The surfaces are satiny and the crystal
interiors are very translucent. The host matrix is completely covered with small Celestine crystals.
From Agrigento (Girgenti), Agrigento Province, Sicily, Italy.
Measures 5.2 cm by 13.2 cm by 9.3 cm in total size.
Price $6500
MIN#Tucson2012-174 New!
Fine combo of brassy Marcasite crystals with brown Calcite!
An attractive specimen that displays very well the greenish-gold color of Marcasite. The crystals are
sharp and in excellent condition with good luster. They completely covered the rolling matrix and are
topped off by the small brown Calcite crystals which form grape-like clusters at the top and bottom.
Circa 1985 - From the Rensselaer Quarry, Pleasant Ridge, Jasper Co., Indiana.
Measures 11.4 cm by 5.3 cm by 5.2 cm in total size.
Ex. Russell Mineral Collection
Price $545
MIN#Tucson2012-175 New!
Unique combination of Schorl Tourmaline with Quartz and Albite!
Artistic and unique specimen featuring a lustrous Schorl crystal with Smoky Quartz topped by an Albite
"flower"! I can't recall seeing another specimen like this one and the Schorl is wonderfully striated with
a textbook perfect termination on one end and a complex termination on the other. Smaller crystals of
Schorl are scattered about in the background surrounding the vertical Quartz point and its amazing hat.
From the Erongo Mountains in Namibia, SW Africa.
Measures 6 cm by 5.7 cm by 5.3 cm in total size.
Price $1450
MIN#Tucson2012-176 New!
Pretty specimen of Turquoise-colored Smithsonite!
A pleasing specimen with tighter botryoidal mounds and a fine, glossy surface.
A tiny crack runs from around the center towards the lower right but this is a natural feature
and does not go through to the backside which is very solid. No surface contacts to speak of.
From the El Refugio Mine, Choix, Sinaloa, Mexico.
Measures 7.8 cm by 12.2 cm in size.
Ex. Revelle Mineral Collection
Price $485
MIN#Tucson2012-177 New!
Dazzling plate of shiny black Sphalerite crystal clusters atop drusy covered matrix!
What a gorgeous large cabinet specimen! The sparkling drusy covered matrix adds a perfect
contrast to the incredibly shiny Sphalerite crystal faces. There are also some individual crystals of
Sphalerite between the large clusters. In excellent condition with very little in the way of contacts!
From the Elmwood Mine, Smith County, Tennessee.
Measures 14 cm by 22.5 cm by 9.5 cm in size.
Ex. Revelle Mineral Collection
Price $6500
MIN#Tucson2012-178 New!
Glassy crystals of reddish-brown Uvite Tourmaline sitting atop clear Magnestite!
One of the prettiest examples I've seen in a long time, these Uvite crystals are GEM and actually twinkle
when rolled from side to side under lighting. The colorless Magnesite really allow the color to pop through!
From Brumado, Bahia, Northeast Region, Brazil.
Measures 5 cm by 6 cm in size.
Ex. Revelle Mineral Collection
Price $1500
MIN#Tucson2012-179 New!
Classic specimen of curling "Rams Horn" Gypsum on matrix!
Every now and then I see one of these incredible specimens from Morocco but
this specimen is from the old workings in Bisbee! And the fact that there are three
Rams Horn curls makes it even more amazing. A very aesthetic cabinet sized plate!
From the Southwest Mine, Bisbee, Cochise County, Arizona.
Measures 12.8 cm by 9.5 cm in total size.
Ex. Stoudt Mineral Collection
Price $2450
MIN#Tucson2012-180 New!
EXCEPTIONAL large plate of intensely lustrous Schorl crystal clusters on white Quartz!
These incredible Schorl specimens appeared about 7 years ago in Tucson and have all but disappeared
from the market. I purchased this large cabinet plate in 2006 because it was the largest of the entire lot
that I was fortunate enough to cherry-pick. It's now making its first website appearance and trust me,
the above photo (as good as it may be) does not do the specimen justice! The Schorl Tourmaline
clusters are incredibly vibrant and lustrous with a satiny sheen that just can't be captured in a photo.
These black crystal clusters are made even more impressive by the stark-white Quartz crystal
matrix that they sit on. This is the finest and largest specimen of this material that I've ever owned
or offered on the website. It would easily make a great centerpiece for the finest mineral collection.
From the Guadalupana Mine, Cerro de Chavito, Santa Cruz, Sonora, Mexico.
Measures 19 cm by 24.1 cm by 8 cm in size.
Ex. Revelle Mineral Collection
Price $4500

- LINKS TO THE TUCSON-HOUSTON 2012 SHOWROOMS -
1 | 2 | 3 | 4 | 5 | 6 | 7 | 8 | 9 | 10 | Denver 2012 Showrooms
HOME | EXCEPTIONAL MINERALS | MINERAL AUCTION | SPECIMENS FROM PAST SHOWS | CONTACT US