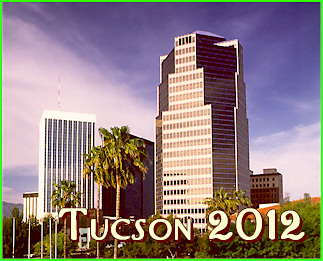 The Tucson Show 2012 Mineral Rooms

Updated June 26th, 2012
MIN#Tucson2012-161 Sold!
Incredible specimen of Blue Fluorite with a mirror-like Galena cube sitting atop Quartz matrix!
This is one of the finest Blanchard Mine specimens I've seen. The 4+ cm Galena cube is bright and lustrous
and sits beautifully atop the matrix, surrounded by sky-blue Fluorite crystals. They don't get much more
aesthetic than this! The Fluorite surfaces have a satiny luster and there is very little in the way of contacts.
As is normal for these specimens, the Fluorite appears bluish-purple in incandescent lighting and turns a
breathtaking deep blue in natural sunlight. The camera flash caught the gorgeous blue in the above photos.
From the Blanchard Mine, Bingham, Socorro County, New Mexico.
Measures 11.5 cm by 14 cm by 8 cm in total size.
Price $8500
MIN#Tucson2012-162 Sold!
Beautiful plate of emerald-green Dioptase crystals from Tsumeb!
A very fine specimen that exhibits the best of luster and a deep green color that glows with the
best of them. The crystals are in excellent shape and there really is nothing that detracts save for
one tiny incomplete crystal near the upper left trimming edge. This could easily be trimmed off.
When I hold the specimen in even faint light, it dazzles with flash. On a sparkling Calcite matrix.
From the Tsumeb Mine, Tsumeb, Namibia, SW Africa.
Measures 6.4 cm by 5.1 cm by 2.4 cm in total size.
Ex. R. R. Stoddard Mineral Collection
Price $1850
MIN#Tucson2012-163 New!
Large crystal of gem-red Rhodochrosite perched atop matrix with Goethite!
In good condition with only a small cleave on the bottom side, this crystal measures
3 cm in size. It is terminated at the top and the sides display a stepped growth that hosts
a thin coating of Goethite in some areas. The Rhodochrosite surfaces are glassy reflective.
From the Uchucchacua Mine, Oyon Province, Lima Department, Peru.
Measures 3.3 cm by 2.8 cm by 3 cm in total size.
Ex. T. Bye Mineral Collection
Price $485
MIN#Tucson2012-164 Sold!
Stunning combination featuring Pink Danburite crystals with yellow Calcite accents!
The photo above speaks for itself - this specimen is gorgeous!! The Danburite crystals are
glassy and gemmy with a glowing pink coloration. All the terminations are complete and there
is no damage to speak of. I love the color combination of the yellow Calcite climbing the upright
Danburites and the clarity of each pink crystal is incredible. You can read through these crystals!
From the Aurora Mine, Charcas, Mun. de Charcas, San Luis Potosí, Mexico.
Measures 7 cm by 7.3 cm by 4 cm in total size.
Ex. Bernardi Mineral Collection
Come with a custom made, labeled base for display
Price $3500
MIN#Tucson2012-165 New!
GORGEOUS GOLDEN YELLOW SAPPHIRE!
Something different this time around but wow, what a stone this is! Incredibly brilliant with the most
beautiful golden-yellow color you can imagine! The color you see in the photo is true to life and I would
go as far as to say there is a touch of orange in the golden-yellow. This is an oval cut with an I-1 clarity
rating. The cut is rated as very good with a total carat weight of 7.06 ct. Personally, I love Sapphires
and they are second only to my favorite which is Emerald. The intense glow and flash of this gemstone
is enough to make you stare in amazement. The stone would be perfect for a ring and is large enough
for a necklace. Appraised value is listed at $11,260 but the consigner's selling price is much lower.
Measures 12.30 mm by 9.15 mm by 6.85 mm in size.
Weighs 7.06 ct., Type II, I-1 clarity.
Comes with an appraisal from AIG, American International Gemologists
Price $8500
MIN#Tucson2012-167 New!
Pretty cluster spray of Beryl var. Aquamarine crystals!
I count at least twenty individual crystals in the cluster and all are terminated with
the exception of one which is rehealed. The color is quite blue and not pale at all.
From Nagar, Hunza Valley, Gilgit, Northern Areas of Pakistan.
Measures 5.8 cm by 3.3 cm by 2.6 cm in total size.
Ex. T. Bye Mineral Collection
Price $985
MIN#Tucson2012-170 New!
Very impressive specimen featuring a large Scheelite crystal on Muscovite!
What a vibrant crystal this is! Glassy, translucent, deep orange coloration, and perfect! The crystal
measures 6 cm across at the base and has no visible contacts or damage. If your collection needs
a major specimen of Scheelite on Muscovite, I can highly recommend this one. I rarely come across
specimens which offer size, color, and quality all in the same package. The termination is all there too.
From the Mt. Xuebaoding Mine, Pingwu, Sichuan Province of China.
Measures 5.6 cm by 10.2 cm in size.
Price $9500
MIN#Tucson2012-171 New!
Rainbow colored specimen of Native Silver wires on matrix!
A beautiful specimen of twisting wires of Native Silver which can be displayed
from either side. The iridescent color may be the result of a slight mineral coating
but it appears to be a natural patina. Whatever the case, it makes for a unique piece.
From Tongbai County, Nanyang Prefecture, Henan Province, China
Measures 4.3 cm by 5 cm by 1.4 cm in total size.
Come with a custom made base for display
Price $1500
MIN#Tucson2012-172 New!
Sweet specimen of greenish-yellow Pyromorphite in individual clusters on matrix!
Brilliant miniature which exhibits a great deal of eye appeal and flash! The glassy Pyromorphite
crysta;s have grouped themselves together into little spheres, creating an unique and very aesthetic
presentation. The specimen is in great condition with barely a contact. Formally a competition piece.
From the Daoping Mine, Gongcheng Co., Guilin Prefecture, Guangxi Zhuang Autonomous Region, China.
Measures 5.2 cm by 4.3 cm by 2.3 cm in total size.
Come with a custom made, labeled wooden base for competition display
Price $1500
MIN#Tucson2012-173 Sold!
Breathtaking cabinet plate of purple Fluorite with spectacular blades of white Barite!
This specimen undoubtedly is from the incredible Berbes finds in the early 2000's. Most
of these dried up and disappeared from the market in recent years but then I discovered
this fine plate in Tucson and was amazed at the incredible aesthetics and overall condition
of the large upright Barite blades! The cream-colored blades are intact and undamaged
and that's a very rare thing to find. The Fluorite is a gemmy light purple and very glassy!
From La Cabaña, Berbes Mining area, Ribadesella, Asturias, Spain.
Measures 10.5 cm by 9.6 cm by 5.9 cm in total size.
Price $1850
MIN#Tucson2012-174 New!
EXCEPTIONAL LARGE CABINET!! Incredible specimen hosting two large Selenite crystals on Goethite!
One of the most impressive Selenites at the entire show, this specimen features two doubly terminated
Selenites measuring nearly 22 cm and 16.5 cm in size! Both crystals are incredibly clear and glassy with
well striated surfaces that reflect the light with an intense luster. For a soft mineral of such large size, this
specimen is in amazing condition with only a few trivial contacts. This could easily be a museum piece or a
wonderful centerpiece for a personal mineral collection. If you'd like a stand, I can have one made for you.
From the Gibralter Mine, Naica, Chihuahua, Mexico.
Measures 21 cm by 26.8 cm by 12.2 cm in total size.
Price $2500
MIN#Tucson2012-175 New!
Lovely combination of satiny Malachite mounds with Cerussite on matrix!
A very aesthetic miniature with literally no damage save for a tiny contact on the far
left Malachite mound. You will need a 10X loupe to see it. The satiny surfaces and small
colorless Cerussite crystals are in excellent condition with a good amount of natural sparkle.
From the Tsumeb Mine, Tsumeb, Namibia, SW Africa.
Measures 4.5 cm by 4.7 cm by 2.3 cm in total size.
Price $685
MIN#Tucson2012-176 New!
Fine crystals of yellowish-orange Pyromorphite on Barite matrix!
Good Pyromorphites from Les Farges are becoming very difficult to find these days. This one
has a less common color, best described as yellowish or greenish-orange, with sharp crystals
and minimal contacts, mostly on the smaller less important crystals. There is one missing
crystal just beneath the largest crystal in the center but it is well hidden in the recesses.
The Pyromorphite has very good luster and almost complete covered the Barite matrix.
From the Les Farges Mine, Ussel, Corrèze, Limousin, France.
Measures 7.4 cm by 7.5 cm by 3.4 cm in total size.
Price $1450
MIN#Tucson2012-177 New!
Exceptional miniature of iridescent Native Silver on matrix from Kongsberg!
The Native Silver emerges from the Calcitic matrix, forming two distinct "horns" which are
reminiscent of a viking helmet! The surfaces are not only highly lustrous, but there are also
iridescent with shades of red, green, purple, and blue. The Silver measures 2.5 cm in height
and is surrounded by Acanthite, Polybasite, and other Silver Sulfides atop the host matrix.
From the Kongsberg Silver Mining District, Kongsberg, Buskerud, Norway.
Measures 4.1 cm by 4.4 cm by 3.5 cm in total size.
Ex. Herbert Obodda Mineral Collection
Price $4500
MIN#Tucson2012-178 New!
Glowing crystals of Native Sulfur perched atop a ledge of Celestine matrix!
This specimen is very aesthetic and the Sulfur crystals are wonderfully isolated along the white matrix
edge! There are well over a dozen Sulfur crystals here, measuring to 2.5 cm in size. All are in good
condition with other the most minor of contacts here and there. The surfaces are satiny and the crystal
interiors are very translucent. The host matrix is completely covered with small Celestine crystals.
From Agrigento (Girgenti), Agrigento Province, Sicily, Italy.
Measures 5.2 cm by 13.2 cm by 9.3 cm in total size.
Price $6500
MIN#Tucson2012-179 New!
Fine combo of brassy Marcasite crystals with brown Calcite!
An attractive specimen that displays very well the greenish-gold color of Marcasite. The crystals are
sharp and in excellent condition with good luster. They completely covered the rolling matrix and are
topped off by the small brown Calcite crystals which form grape-like clusters at the top and bottom.
Circa 1985 - From the Rensselaer Quarry, Pleasant Ridge, Jasper Co., Indiana.
Measures 11.4 cm by 5.3 cm by 5.2 cm in total size.
Ex. Russell Mineral Collection
Price $545
MIN#Tucson2012-180 New!
Unique combination of Schorl Tourmaline with Quartz and Albite!
Artistic and unique specimen featuring a lustrous Schorl crystal with Smoky Quartz topped by an Albite
"flower"! I can't recall seeing another specimen like this one and the Schorl is wonderfully striated with
a textbook perfect termination on one end and a complex termination on the other. Smaller crystals of
Schorl are scattered about in the background surrounding the vertical Quartz point and its amazing hat.
From the Erongo Mountains in Namibia, SW Africa.
Measures 6 cm by 5.7 cm by 5.3 cm in total size.
Price $1250
- LINKS TO THE TUCSON-HOUSTON 2012 SHOWROOMS -
1 | 2 | 3 | 4 | 5 | 6 | 7 | 8 | 9 | 10 | Denver 2012 Showrooms
HOME | EXCEPTIONAL MINERALS | MINERAL AUCTION | SPECIMENS FROM PAST SHOWS | CONTACT US