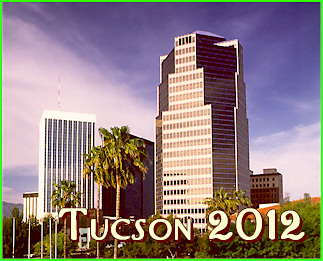 The Tucson Show 2012 Mineral Rooms

Updated February 21st, 2012
MIN#Tucson2012-1 New!
HALL OF FAME SPECIMEN!
Deep red Rhodochrosite rhombs perfectly matched with violet Fluorite zoned Fluorite cubes with Quartz!
This amazing combination plate is with me for the second time in the past decade and I'm thrilled to have
it back again. The mix of Rhodochrosite with Fluorite is always a beautiful sight to see but this specimen
is covered from one end to the other with both red and violet! The rhombs of Rhodo and cubes of Fluorite
average around 1 cm with some larger crystals and the matrix of Tetrahedrite serves to intensify the color.
From the Burgundy Pocket, Sweet Home Mine, Alma, Colorado.
Measures 14.7 cm by 6 cm by 2.8 cm in total size.
Ex. Marc Weill, Saltzgaber Mineral Collections
Price $27,500
MIN#Tucson2012-4 Sold!
EXCEPTIONAL!! An amazing large cabinet specimen of Fluorite cubes with Galena on Quartz!
This is easily one of the finest Rogerley specimens I've ever laid my eyes on. The Fluorite cubes are
typically bi-colored with twinning and these are no different. What I love about this specimen and what
makes it so unique is the way the Fluorite climbs the Quartz stalactite on the upper left side of the plate.
There's also a hollow spot in the matrix just right of the bottom center. The overall visual impact is a
specimen of great 3-dimensionality and one that is almost sculptural in appearance! This is so different
from the normal Rogerley specimen which is usually flat with very little relief. The specimen is in great
condition with very little in the way of contacts and there are no repairs. This is a true centerpiece Fluorite!
From the Rogerley Mine, Rogerley Quarry, Frosterley, Weardale, North Pennines, Co. Durham, England.
Measures 19.5 cm by 16 cm by 12.8 cm in total size.
Ex. Irv Brown Mineral Collection
Price $12,500
MIN#Tucson2012-5 New!
HUGE crystal of Yellow Wulfenite with attached smaller Wulfenite blades!
This is an amazing crystal blade measuring 9 cm across! Is's in very good condition for its size
with only a scattered of minor edge chips. The large blades plays host to smaller Wulfenites and
a cluster of blades to the far right where the specimen was apparently attached to matrix. I've seen
many specimen of Glove Mine Wulfenite but I've never seen a Wulfenite crystal of this size before!
From the Glove Mine, Santa Rita Mountains, Santa Cruz County, Arizona.
Measures 6.3 cm by 8.9 cm in size.
Ex. Gerry McLoughlin Mineral Collection
Price $1850
MIN#Tucson2012-6 New!
Fine crystal of "Mushroom" Rubellite Tourmaline!
The lustrous Rubellite grows outwards from a darker core of what appear to be Schorl.
This locale is famous for these complexly crystallized crystals and this one is in excellent condition.
From the Momeik Township, Kyaukme District, Shan State, Burma (Myanmar).
Measures 4 cm by 3.7 cm in size.
Price $485
MIN#Tucson2012-7 New!
Fine specimen featuring three terminated gem Topaz crystals in hard Calcite matrix!
One of the few multi-crystal specimens I've found from Katlang. The Topaz crystals are all
very glassy and gem with good terminations. The fatter Topaz at top measures 2.2 cm by 1.5 cm
while the Topaz at bottom measures 2.4 cm by 1.2 cm in size. The third smaller 1 cm Topaz can be
seen just to the right of this crystal. No damage to speak of, only some minor internal crazing lines.
From Katlang, Mardan District, Khyber Pakhtunkhwa, Pakistan.
Measures 8 cm by 8.4 cm in size.
Ex. Herbert Obodda Mineral Collection
Price $6500
MIN#Tucson2012-10 New!
Finely crystalline specimen of Native Copper with reddish Cuprite crystals!
The Native Copper crystals make up the majority of this specimen but the Cuprite crystals
hold their own, covered a good portion of the Copper in the center. In great condition overall,
this is one of the largest Coppers I've seen from Chile in recent years and at this years show.
From the Manto Cuba Mine, Inca de Oro, Chaņaral Province, Atacama Region, Chile.
Measures 9 cm by 8.5 cm in size.
Price $685
MIN#Tucson2012-12 New!
Glossy surfaces of botryoidal Arsenian Pyromorphite on matrix!
These surfaces are incredibly lustrous with the light literally jumping off the yellow to orange
coloration! There are some minor bumps here and there but most are mainly along the trimming
edge and these could be taken out with additional fine tuning. Overall, this is a very nice plate.
From the Bunker Hill Mine in Kellogg, Shoshone County, Idaho.
Measures 7.2 cm by 8 cm in size.
Ex. Ben de Wit Mineral Collection
Price $2500
MIN#Tucson2012-15 New!
Fine wires of Native Copper coated by red Cuprite crystals!
Cute miniature displaying both minerals in an aesthetic mix of wires and cubes.
The luster is intense and the Cuprite surfaces are very reflective and red under lighting.
From the Chino Mine, Santa Rita District, Grant County, New Mexico.
Measures 4.8 cm by 5.2 cm in size.
Price $585
MIN#Tucson2012-16 Sold!
Beautiful pink Morganite with large Lepidolite books and white Cleavelandite blades!
One of the better Morganites I saw in Tucson, this 6 cm crystal displays a lovely pink blush with
glassy, reflective faces and a very sharp form. It's also quite gemmy in the interior. The Morganite
is framed by thick crystals of Lepidolite which form an impressive border on three of its four sides.
From the Dara-i-Pech Pegmatite Field, Chapa Dara District, Konar Province, Afghanistan
Measures 13 cm by 12.5 cm by 5 cm in total size.
Price $7500
MIN#Tucson2012-17 New!
UNIQUE! A true mineral oddity featuring Calcite ps Fluorite partially overgrown by a new Fluorite!
One of the most interesting specimens I've seen from Yaogangxian. The first Fluorite was quite large at
nearly 7 cm in size! It was later pseudomorphed by a layer of tan Calcite before a second Fluorite crystal
began to engulf both. It completed about 3/4 of the job but fortunately left a small portion of the original
surface to show the various growth phases of this unique specimen. The latter Fluorite is a pretty violet
and purple coloration and the translucent surfaces are in excellent shape with no damage to speak of.
From the Yaogangxian Mine, Yizhang Co., Chenzhou Prefecture, Hunan Province, China.
Measures 9.5 cm by 9.2 cm by 10.5 cm in total size.
Price $1500
MIN#Tucson2012-18 New!
Brilliant growths of Native Gold in orange colored Quartz matrix!
A very rich and heavy specimen of Australian Gold with a lot of exposed metal but even
more inside the Quartz matrix. The Gold is a bright, lustrous yellow suggesting a high purity,
typical for Australian specimen. The Quartz is most likely Hematite stained and full of seams!
From Kambalda West, Coolgardie Shire, Western Australia, Australia.
Measured 7 cm by 6.4 cm by 6.2 cm in total size.
Price $7500
MIN#Tucson2012-19 New!
Stunning plate of lustrous Galena cubes with Sphalerite on drusy coated Chert matrix!
A great looking cabinet specimen from the bygone days of mining in the Tri-State District. The mining
towns of the Tri-State are rapidly disappearing with the government completely destroying some in
order to clean up heavy metal waste piles from last century's mining activity. A tornado ripped through
Joplin last year and caused extensive damage to the town. As the history of the Tri-State District is
learned by collectors and specimens of quality become scarcer every year, plates of this size will
only become more desirable. This specimen is in good condition with only a few contacts for the size.
From the Joplin Field, Tri-State District, Jasper County, Missouri.
Measures 10.8 cm by 14.2 cm in size.
Ex. Kessler Mineral Collection
Price $985
MIN#Tucson2012-20 Sold!
Pretty blue specimen of Smithsonite on matrix!
The lovely botryoidal surfaces of this specimen and both clean and lustrous. The color reminds
me of the Kelly Mine and is choice for the locality. I'm finding less and less Choix specimens at the
shows and most of the supply dried up years ago. It's becoming obvious that prices are moving higher.
From Choix, Mun. de Choix, Sinaloa, Mexico.
Measures 7.2 cm by 6.3 cm in size.
Price $1250
- LINKS TO THE TUCSON-HOUSTON 2012 SHOWROOMS -
1 | 2 | 3 | 4 | 5 | 6 | 7 | 8 | 9 | 10 | Denver 2012 Showrooms
HOME | EXCEPTIONAL MINERALS | MINERAL AUCTION | SPECIMENS FROM PAST SHOWS | CONTACT US