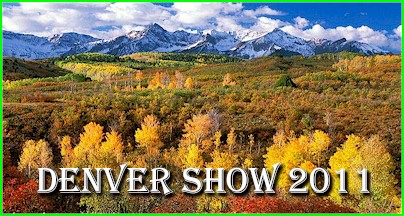 The Denver Show 2011 Mineral Rooms!
* Re-Updated April 28th, 2012 *

MIN#Denver2011-103 New!
Elegant cluster of Prehnite "fingers" ps after Laumontite!
The backside of these elongated crystals are coated with a white Zeolite, making the specimen displayable
from either side. I prefer the side shown above which shows the Prehnite with the white dusting at the edges.
In good shape with only a few missing terminations -very unusual for a plate of this size and so many fingers!
From Bombay, Maharashtra State, India.
Measures 10.3 cm by 21.4 cm by 12 cm in total size.
Ex. Edward David, James Vorpahl Collections
Price $3500
MIN#Denver2011-106 New!
Large, lustrous and quite impressive crystal of Magnetite with Clinochlore on matrix!
This perfectly formed Magnetite measures 3.8 cm in size! It is complete with sharp crystal
faces on all sides. Smaller Magnetites and blades of green Clinochlore round out the specimen.
From the Nazyamskiye Mountain, Ilmen Mountains, Urals Region, Russia.
Measures 5.4 cm by 7.4 cm in size.
Ex. Fred Pough Mineral Collection
Price $785
MIN#Denver2011-107 New!
Fine specimen of Native Silver rising up frpm Calcite matrix!
This amazing miniature not only boasts the very much sought after Silver on Calcite rhomb
appearance - the Silver at the top also forms a complete ring! This is easily one of the most unique
Kongsberg Silvers I've ever owned or offered on the website! The Calcite rhomb at the bottom
is mostly complete with some additional Silver inclusions towards the bottom. The Native Silver
rises upwards some 4 cm and most likely formed the ring around a now missing Calcite or additional
Calcite matrix. In excellent condition, this specimen would make a great additional to a Silver collection
or any mineral collection that needs a good looking Kongsberg at a price that won't break the bank.
From Kongens Gruve, Kongsberg, Buskerud, Norway.
Measures 4.9 cm by 2.4 cm by 2.2 cm in total size.
Ex. T. Bye Mineral Collection
Includes an old original handwritten label
Price $4500
MIN#Denver2011-108 New!
Aesthetic specimen of Malachite ps. after Azurite crystal with Smithsonite!
Well formed and sharp pseudos cover a surface which is studded by sparkling
Smithsonite crystals. The Smithsonite is colorless to cream colored and forms
small clusters which look like glassy little flowers! This is a specimen that
needs to be seen and examined with a loupe to be fully appreciated.
From the Tsumeb Mine, Tsumeb, Namibia, SW Africa.
Measures 5 cm by 4.8 cm by 4.6 cm in total size.
Price $2500
MIN#Denver2011-112 New!
Pearly crystals of Smithsonite in cluster from Tsumeb!
A lovely cluster of lustrous, creamy-antique white Smithsonite crystals on matrix!
No detractions to speak of. Simply a well trimmed, well presented Smithsonite.
From the Tsumeb Mine, Tsumeb, Namibia, SW Africa.
Measures 4.5 cm by 6.4 cm in size.
Ex. David Ferguson Mineral Collection
Price $585
MIN#Denver2011-115 New!
Large specimen of vibrant pink Kunzite with Quartz points and Albite accenting!
This beautiful specimen is doubly terminated and the Quartz crystal is nearly pristine
with a full point. The color of the Kunzite is quite strong (so many large Kunzites tend
to be pale) and the crystal faces are well striated and glassy. There are the normal
internal craze lines and the bottom termination is complex due to the influence of
Albite matrix (now removed). I once owned a specimen that had a similar appearance
with a large Quartz in association so I was very pleased to find this one at the show!
From Mawi, Laghman Province of Afghanistan.
Measures 17 cm by 11 cm by 9.6 cm in size.
Ex. Revelle Mineral Collection
Listed Price $5250
MIN#Denver2011-116 New!
Stunning specimen featuring fine Native Silver dendritics on matrix!
I love the perfect Spinel Twin crystal that rises vertically atop the specimen!
An .8 cm Acanthite crystal is located just below the Spinel Twin at 9 o'clock.
From the New Nevada Mine, Batopilas, Chihuahua, Mexico.
Measures 3.1 cm by 3 cm in size.
Price $485
MIN#Denver2011-119 New!
Rare specimen of Native Silver dendrites with reddish sprays of Erythrite!
The Cobalt mining area was famous for its mix of Silver and Erythrite (Cobalt bloom) in much the same
manner that Creede is famous for Silver and Amethyst. Unfortunately for collectors, most of the specimens
were not saved. Many miners would actually clean away the Erythrite to expose additional Silver, thus
destroying classic specimens. Today, specimens like the one offered here are extremely difficult to find.
From the Cobalt Mining District, Cobalt-Gowganda region, Timiskaming District, Ontario, Canada.
Measures 7 cm by 5.8 cm by 2 cm in total size.
Price $1500
MIN#Denver2011-120 New!
Fine Quartz crystal with pink Inesite sprays and brown Hubeite accents!
Also with sparkling Apophyllite. An attractive combo featuring a full termination on
the Quartz point and multiple sprays of hot pink Inesite with multiple Hubeite clusters.
From the Dayai Mine, Huangshi Prefecture, Hubei Province, China.
Measures 7 cm by 4.7 cm by 4.8 cm in total size.
Price $685

FOR ADDITIONAL NEW SPECIMENS, GO TO Denver 2011 Room 7 !
Rhodochrosite Room | Gold Room | Silver Rooms | Beryl Rooms | Elmwood Room | Exceptional Rooms | Tucson 2010 Rooms