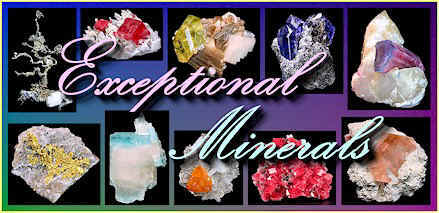 ** Updated 5/27/2012 with Our Finest Specimens **
MIN#EXCEPTIONAL-1 SOLD!
Incredibly rare specimen featuring Native Silver wires atop Sulfide matrix with Quartz!
This is the rarest Silver I've owned! This incredibly aesthetic specimen is from the original Silver workings
in the California Gulch near Leadville, California! The earliest Silvers that were mined consisted of fine
wires but later ores were of a lower quality and the wires all but disappeared. The above specimen is
definately from the early mining period and I've never seen another Leadville Silver that even comes
close to its quality. Interestingly enough, the town of Leadville was built on Silver and Gold mining but
later made a living from Lead and Molybdenite. Today, not much is happening but the town still thrives.
(Special note: The specimen has been tested and verified as Leadville by Dr. Terry Wallace - Univ. of Arizona)
Circa 1870's - 1880's - From the California Gulch Area, Leadville, Lake County, Colorado.
It measures 5 cm by 5.7 cm by 4.4 cm in total size.
Ex. Davidson, Raabe, Graeber Mineral Collections
From the Kevin Ward Personal Collection
Comes with a custom made, labeled stand
Price $25,000
MIN#EXCEPTIONAL-2 SOLD!
HALL OF FAME SPECIMEN!
Deep red Rhodochrosite rhombs perfectly matched with Violet zoned Fluorite cubes with Quartz!
This amazing combination plate is offered here for the second time in the past decade and I'm thrilled to
have it back again. The combination of Rhodo and Fluorite is always a gorgeous sight and this specimen
is covered from end to end with both red and violet! The rhombs of Rhodochrosite and Fluorite cubes
average around 1 cm with some larger crystals mixed in. The dark Tetrahedrite really makes the color pop.
From the Burgundy Pocket, Sweet Home Mine, Alma, Colorado.
Measures 14.7 cm by 6 cm by 2.8 cm in total size.
Ex. Marc Weill, Saltzgaber Mineral Collections
Price $27,500
MIN#EXCEPTIONAL-3 SOLD!
Gorgeous tabs of Golden Barite atop cream-colored Calcite blades!
This is quite the cabinet sized plate. The crystals are all complete with full terminations
on the front side and display an incredible amount of golden flash. The backside of the
the crystals are incomplete where the specimen was separated from the host rock but
this doesn't detract and is pretty much the norm with large, flat plates. An excellent
example of the Meikle Mine combinations that appeared five or six years ago.
From the Meikle Mine, Elko County, Nevada.
Measures 14 cm by 12.5 cm in size.
Ex. Edward David Mineral Collection
Price $4500
MIN#EXCEPTIONAL-4 NEW!
Exceptional cluster of gorgeous Red Beryl crystals in and atop Rhyolite matrix!
Honestly, Red Beryl clusters of this quality are so rare that I can count the number of them
that I've seen on just one hand. This ranks as one of the finest with gemmy tipped crystals
and super glassy faces. I owned this specimen some years ago and I'm very pleased to
have it back on the website for the second time. This is truely a unique opportunity.
From the Wah Wah Mountains near Delta, Utah
Measures 6.4 cm by 5.2 cm by 5.2 cm with 1.6 cm and 1.3 cm Red Beryl crystals.
Ex. Kevin Ward, Ferris Mineral Collections
Comes with a custom made, labeled stand
Price $35,000
MIN#EXCEPTIONAL-5 SOLD!
WOW! Pure gem crystal of Hessonite Garnet on matrix!
This crystal is not only pristine and gem but it's also quite large at nearly 2 cm in size! What I find most
impressive is the way it sits atop the matrix in isolation, whith only the small crystals as companions.
I think this is the most impressive presentation for these fine Garnet specimens. There is no damage and
the faces are very sharp and glassy. Light passes easily through the crystal all the way down to the matrix.
From the Jeffrey Mine, Asbestos, Quebec, Canada.
Measures 3 cm by 4 cm in size.
Price $4500
MIN#EXCEPTIONAL-6 SOLD!
EXCEPTIONAL!! An amazing large cabinet specimen of Fluorite cubes with Galena on Quartz!
This is easily one of the finest Rogerley specimens I've ever laid my eyes on. The Fluorite cubes are
typically bi-colored with twinning and these are no different. What I love about this specimen and what
makes it so unique is the way the Fluorite climbs the Quartz stalactite on the upper left side of the plate.
There's also a hollow spot in the matrix just right of the bottom center. The overall visual impact is a
specimen of great 3-dimensionality and one that is almost sculptural in appearance! This is so different
from the normal Rogerley specimen which is usually flat with very little relief. The specimen is in great
condition with very little in the way of contacts and there are no repairs. This is a true centerpiece Fluorite!
From the Rogerley Mine, Rogerley Quarry, Frosterley, Weardale, North Pennines, Co. Durham, England.
Measures 19.5 cm by 16 cm by 12.8 cm in total size.
Ex. Irv Brown Mineral Collection
Price $12,500
MIN#EXCEPTIONAL-7 SOLD!
Rare specimen of bi-colored Spodumene with Tourmaline on Albite!
This interesting specimen displays a left side greenish hue and a right side violet hue. It has not
been heated or tampered with in any way and the color is completely natural. The surfaces are well
striated with two complex terminations and gemmy interiors. Two green Tourmalines accent the left side.
From the Laghman Province, Nuristan, Afghanistan.
Measures 7 cm by 8 cm with a 6.4 cm crystal.
Ex. Herbert Obodda Mineral Collection
Price $3500
MIN#EXCEPTIONAL-9 SOLD!
Beautiful pink Morganite with large Lepidolite books and white Cleavelandite blades!
One of the better Morganites I saw in Tucson, this 6 cm crystal displays a lovely pink blush with
glassy, reflective faces and a very sharp form. It's also quite gemmy in the interior. The Morganite
is framed by thick crystals of Lepidolite which form an impressive border on three of its four sides.
From the Dara-i-Pech Pegmatite Field, Chapa Dara District, Konar Province, Afghanistan
Measures 13 cm by 12.5 cm by 5 cm in total size.
Price $7500
MIN#EXCEPTIONAL-10 SOLD!
EXCEPTIONAL! Amazing specimen of Native Silver crystals with Argentite from Kongsberg!
This incredible specimen features an elogated crystal topped by a large 2.3 cm Silver crystal!
The elongated crystal below shows the obvious influence of matrix or Calcite, giving it an angular
appearance. The crystal at top is more textbook with well defined faces! Both are accented by
a beautiful antiquish-golden patina which displays the age and originality of this classic Silver.
From Saggrenda, Kongsberg Silver Mining District, Kongsberg, Buskerud, Norway.
Measures 5 cm by 2 cm by 1.7 cm in size.
Ex. Peter Farquhar Mineral Collection
Price $8500
MIN#EXCEPTIONAL-11 SOLD!
VERY RARE specimen featuring twinned Yellow Calcite on Purple Fluorite!
This small find occurred about 40 years ago and very few specimens actually came to market.
This is the first that I've seen and the gemmy Calcite twin is in pristine condition with lustrous
surfaces and a gorgeous internal glow! The Fluorite consists of small purple cubes on matrix and
offers the perfect contrast for the Calcite. A rare opportunity for Calcite and locality collectors!
From Melchor Muzquiz, Mun. de Melchor Muzquiz, Coahuila, Mexico.
Measures 8 cm by 7.2 cm with a nearly 6 cm Calcite twin.
Price $3500
MIN#EXCEPTIONAL-12 NEW!
Classic and very rare specimen of lustrous gray Acanthite crystals with Chalcopyrite on matrix!
The largest crystal in the middle measures 1.8 cm in length! The remainder of this very rich
Silver Sulfide is covered with smaller Acanthites and patches of iridescent Chalcopyrite.
From the Eldorado Mine, Port Radium, Mackenzie District, Northwest Territories, Canada.
(This locality was discovered in 1900 and mined as a source of Silver and Radium in the 1930's.
It was dewatered in 1976 and mined again for its Silver and Copper reserves before closing for
good in 1982. The mine and its settlement were destroyed by fire and no longer exist today.)
Circa 1930's - Measures 4.7 cm by 5.2 cm in size.
Ex. Philadelphia Academy of Natural Sciences Collection
Ex. Kevin Ward Mineral Collection
Comes with a custom made acrylic stand
Price $8500
MIN#EXCEPTIONAL-13 NEW!
EXCEPTIONAL COPPER!! Bright, lustrous crystals of Native Copper!
A stunning cluster of Copper crystals with a super shiny surface and lustrous
faces. There's a combination of Quartz, Calcite, and Epidote accenting between
and atop several of the well formed crystals. No damage to speak of and one of
the prettiest patinas I've seen in a long time on a Michigan Copper specimen.
From the Calumet & Hecla Mine, Calumet, Houghton County, Michigan.
Circa late 1890's - Measures 6.5 cm by 4.1 cm by 3.2 cm in size.
Comes with a custom made, engraved base
Price $4500
MIN#EXCEPTIONAL-14 SOLD!
NEW FIND! Interesting mix of Allargentum with Dyscrasite, Schachnerite, and Native Silver!
I cherry picked the group that appeared in Tucson for the most aesthetic specimens from this
new find and this was one of the most impressive small cabs. This highly lustrous cluster of
Silver crystals is very dendritic in appearance and looks something like a pine tree growing
alongside a cliff of white Calcite. In my opinion, this was the best looking piece in this size range.
From the Bouismas Mine, Bou Azzer District, Ouarzazate Province of Morocco.
Measures 7 cm by 6.8 cm by 5 cm in size.
Price $5500
MIN#EXCEPTIONAL-15 NEW!
LARGE CABINET!! Exceptional specimen of Orange Creedite crystal balls in cluster!
One of the finest and largest Orange Creedite crystal ball clusters you'll see anywhere!
Orange Creedite is actually rarer than the more famous Purple Creedite and very few
specimens are as aesthetic and damage free as this one. Many if not most of the crystals
on the outer edges of each ball are gemmy and nearly all are terminated. This would make
an incredible centerpiece for any fine mineral collection. A true museum quality specimen.
From Mina Navidad, Durango, Mexico.
Measures 19.5 cm by 28 cm by 12 cm in size.
Ex. Vorpahl Mineral Collection
Price $5500
MIN#EXCEPTIONAL-16 SOLD!
Gorgeous bi-colored Kunzite-Triphane crystal with dark Smoky Quartz and Schorl on Albite!
A wonderful specimen featuring a doubly terminated Kunzite crystal which slowly evolves
into a Triphane near the bottom termination as the vibrant hot-pink coloration changes to
a greenish-yellow hue. The top termination is textbook and perfect with a glassy surface
to match the glassy, striated sides on the 7.5 cm gem crystal. Dark crystals of Smoky
Quartz accent the edge and backside of the crystal with a couple emerging from within
the crystal itself. Black Schorl Tourmaline also joins in and in present among the Quartz.
From Paprok, Nuristan Province of Afghanistan.
Measures 10 cm by 8.2 cm by 5.3 cm in total size.
Price $7500
MIN#EXCEPTIONAL-17 SOLD!
EXCEPTIONAL! Classic specimen of micro-crystalline Azurite layered over Malachite!
This is easily my favorite look when it comes to Azurite specimens from Bisbee. I enjoy the larger
crystals like everyone else, but the color of these botryoidal Azurites with sparkling micro-xls over
green Malachite always catches my eye first! This specimen also has a lighter blue layer of
botryoidal Azurite beneath the drusy surface and a small patch shows through at the very top
where the drusy growth never quite completed its coverage. Circa late 1880-1890s!
From the Lavender Pit, Copper Queen Mine, Bisbee, Cochise County, Arizona.
Measures 6.5 cm by 10.2 cm by 6.7 cm in size.
Ex. Robert Whitmore Collection
Price $9500
MIN#EXCEPTIONAL-18 NEW!
Sharp crystals of Acanthite and curling Native Silver wires!
Both Silver minerals sit atop a matrix of Quartz with Quartz crystal sprays.
The Acanthite crystals are so incredibly sharp and lustrous that at first glance, one
might not even notice the small "ram's horn" Silver located on the far right side of
the specimen! Acanthite and Silver combos from Mexico are rarely seen at the shows.
From the Reyes Mine in Guanajuato, Mexico.
Measures 5 cm by 3 cm by 2.5 cm in total size.
Price $2850
MIN#EXCEPTIONAL-19 NEW!
GEMMY cystals of bluish-lavender Fluorite cubes with purple accenting with Quartz on Muscovite!
An incredible plate of pure gem and flash! The Fluorites are modified at the corners and exhibit
color shifts as you peer down into the gemmy interiors to see the underlying matrix. These color
shifts consist of internal purple phantoms and mirroring along some scattered internal craze lines.
The Fluorite crystals are surrounded by terminated and included Quartz points and all sit atop
Muscovite. In excellent condition overall with virtually pristine Fluorites and glassy crystal faces!
From the Yaogangxian Mine, Hunan Province of China.
Measures 12 cm by 14 cm in size.
Price $3500
MIN#EXCEPTIONAL-20 NEW!
VERY RARE specimen featuring a large Yellow Topaz crystal with Quartz on matrix!
An amazing old time classic from the world famous Schneckenstein locality! I've seen a handful
of these in the past decade and this is by far the largest and most impressive specimen. Most
Topaz crystals I see from Schneckenstein are 1 cm in size or smaller but this terminated gem
measures 2.7 cm or more than a full inch! The color is a deep gemmy yellow and the termination
is pristine. A terminated Quartz crystal lays across the top of the Topaz. By the way, this crystal
has not been replaced or glued back into the matrix. It is completely natural and untampered with.
The Schneckenstein Topaz locale is now off limits to collection and most fine specimen like this
one were collected a long time ago. This specimen dates back to the early 1800's or late 1700's!
From the Schneckenstein cliff (Königskrone Topaz Mine), Kielberg, Klingenthal, Saxony, Germany.
Measures 6 cm by 6.8 cm by 3.5 cm in size.
Ex. Siegbert Zecha Mineral Collection
Price $5500
- LINKS TO ALL THE EXCEPTIONAL ROOMS -
1 | 2 | 3 | 4 | 5 | 6 | 7 | 8 | 9 | 10 | 11 | 12
HOME | NEW SPECIMENS | BEST OFFER MINERAL AUCTION | SPECIMENS FROM PAST SHOWS | CONTACT US