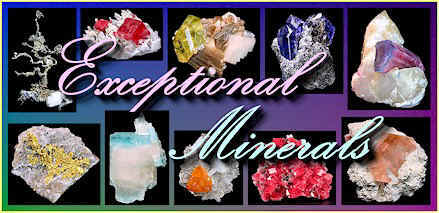 ** Updated June 4th, 2013 with Our Finest Specimens **
MIN#EXCEPTIONAL-1 SOLD!
MUSEUM QUALITY specimen of Native Wire Silver with Acanthite!
This is without a doubt, a very special Native Silver. Not only is it incredibly well balanced and
aesthetic, it's also displayable from both sides! The bottom portion of the specimen is composed
of numerous short, curling wires of Silver on an Acanthite base. If you turn the specimen over
you will see Silver wires and hundreds of small grey Acanthite crystals growing atop and nearly
covering a bright white matrix - possibly Calcite. From this base, thicker wires of Native Silver
grow out and upwards until they terminate as smaller wires that twist and turn in every direction.
At the base point, these thicker wires measures 1 cm in width or larger. I consider this to be one
of the finest small cab German Silver specimens I've seen and possibly the finest when everything
is taken into consideration. Specimen of this calibre are not common so this is a rare opportunity.
From the Himmelsfürst Mine, Brand-Erbisdorf, Freiberg District, Erzgebirge, Saxony, Germany.
Measures 8 cm by 6.4 cm by 5 cm in total size.
Ex. G. C. C., Wendel, Kevin Ward Mineral Collections
Price $35,000
MIN#EXCEPTIONAL-2 SOLD!
Brilliant and incredibly crystalline specimen of Native Gold with a bit of Quartz matrix!
This specimen is dazzling! It is completely crystalline from top to bottom and exhibits an intense
luster with mirror-like surfaces on many of the Gold crystals. I must admit, when I first saw this
piece I thought it was from the Mockingbird because the crystals are so sharp and well formed.
It's actually an Eagle's Nest Gold however, and one of the finest examples of crystallization I've
seen from that locality. There is a small amount of Quartz attached to the backside and a 1 cm
Spinel crystal in the same location. This is a specimen that could be displayed on a 360 base!
From the Eagle's Nest Mine, Placer County, California.
Measures 3.6 cm by 1.8 cm by 1.5 cm in total size.
Price $6500
MIN#EXCEPTIONAL-3 NEW!
Exceptional cluster of gorgeous Red Beryl crystals in and atop Rhyolite matrix!
Honestly, Red Beryl clusters of this quality are so rare that I can count the number of them
that I've seen on just one hand. This ranks as one of the finest with gemmy tipped crystals
and super glassy faces. I owned this specimen some years ago and I'm very pleased to
have it back on the website for the second time. This is truely a unique opportunity.
From the Wah Wah Mountains near Delta, Utah
Measures 6.4 cm by 5.2 cm by 5.2 cm with 1.6 cm and 1.3 cm Red Beryl crystals.
Ex. Kevin Ward, Ferris Mineral Collections
Comes with a custom made, labeled stand
Price $35,000
MIN#EXCEPTIONAL-4 NEW!
Aesthetic specimen of Axinite (Fe) blades with Adularia crystals and Byssolite on matrix!
This specimen of Ferro-Axinite is one of the finest from the entire show. The smoky-brown Axinite
crystals are razor-sharp with glassy faces and gemmy to transclucent interiors. The crystals are in
top form with almost no contacts and measure to 3.2 cm in size! This locality is widely considered to
be the best in the world and this specimen came out in the mid 1980's to early 1990's. Plates of this
calibre with complete, isolate crystals were not common and are even rarer today. The addition of
terminated Adularia crystals and fibrous Byssolite make for an even more interesting specimen.
From Puiva Mount, Tyumenskaya Oblast', Prepolar Ural, Western-Siberian Region, Russia.
Measures 7.5 cm by 8 cm by 7 cm in total size.
Ex. Webb Mineral Collection
Price $4500
MIN#EXCEPTIONAL-5 NEW!
Impressive specimen of Ram's Horn Selenite on Calcite matrix!
This is a classic old timer from the Copper mines in Bisbee, Arizona. I was taken by the piece
when I discovered it in Tucson and thought at first that it was Moroccan. The fact that it's from
Bisbee makes it many times better and much more desirable. There are actually several curling
Ram's Horns here but the main one that is the center of attention measures 7 cm in size! It's
in perfect, pristine condition and is firmly attached to the Selenite-Calcite matrix base it rises
from. This specimen was once part of a pocket which opened up wide enough to allow for the
Selenite to grow. It's fascinating to think about the earth processes which created such a beauty.
From Bisbee, Warren District, Mule Mts, Cochise County, Arizona.
Measures 18 cm by 18.5 cm by 10 cm in total size.
Price $4500
MIN#EXCEPTIONAL-6 NEW!
Large, glossy crystals of reddish-orange Vanadinite on matrix!
Brilliant, lustrous, and pristine are the the three words that describe these large Vanadinite crystals!
The crystals are very distinct and contacts are nearly impossible to fine. The largest Vanadinite crystal
measures to nearly 3 cm in size but most are larger than 1 cm and there are dozens and dozens of them on
this large plate. There is a slight coating on the underside of each crystal, giving the crystals a frosted edge.
From the ACF Mine, Mibladene, Midelt, Khénifra Province, Meknès-Tafilalet Region, Morocco.
Measures 12.2 cm by 7.5 cm by 4.5 cm in total size.
Ex. K. Cooper Mineral Collection
Comes with a custom made, labeled acrylic base
Price $6500
MIN#EXCEPTIONAL-7 NEW!
Incredibly sharp and brilliant Native Gold dendrites on Quartz crystal matrix!
This specimen is unbelievable under a 10X loupe, displaying some of the finest, well formed
dendrites you'll ever see on a Romanian Gold specimen. The crystals are so sharp and distrinct,
forming dendritic herringbone patterns across a good portion of the tiny Quartz point covered matrix.
They are quite lustrous and the color is brighter and more yellow than much of what I see from this
locality. There is Silver in the mix but not nearly enough to label this piece as Electrum. The surface
sparkles under lighting and the Gold crystals are bright and reflective. One of the finest from Tucson!
From Rosia Montana, Verespatak, Alba County, Romania.
Measures 4.4 cm by 6.2 cm by 1.8 cm in total size.
Comes with an original antique label which dates to the 1800's.
Price $5500
MIN#EXCEPTIONAL-8 SOLD!
Amazing specimen featuring an Chrysoberyl var. Alexandrite sixling crystal atop matrix!
This is a superb Russian Alexandrite which displays very glassy green faces in sunlight and glows a strong
raspberry-purple when given a direct light source or halogen lighting. Beneath the shiny surfaces is a gorgeous,
translucent green interior and I even noticed some gemminess near the tips. The sixling twin measures 2.7 cm in
width by 1.6 cm in depth. It is complete on all sides with barely a contact and it flashes when rotated as light jumps
off each glassy-smooth crystal face. I can tell you right now that Alexandrite specimen are RARELY found in this
quality and specimens which pre-date 1900 as this one does are extremely rare. This is one of the finest examples
I have ever seen and the finest Alexandrite I've been able to acquire in nearly a decade. It's also from the original
locality where Alexandrite is said to have been first discovered in the roots of an uprooted tree along the Tokovaya.
Note: While the sixling crystal is the center of attention, there are also numerous smaller crystals on the back side.
From the Takowaja (Tokovaya) River area, Ekaterinburg (Sverdlovsk), Sverdlovskaya Oblast', Urals Region, Russia.
Measures 3.5 cm by 3.2 cm by 2.4 cm in total size.
Ex. J. R. Jelks Mineral Collection
Price $9500
MIN#EXCEPTIONAL-9 SOLD!
Beautiful pink Morganite with large Lepidolite books and white Cleavelandite blades!
One of the better Morganites I saw in Tucson, this 6 cm crystal displays a lovely pink blush with
glassy, reflective faces and a very sharp form. It's also quite gemmy in the interior. The Morganite
is framed by thick crystals of Lepidolite which form an impressive border on three of its four sides.
From the Dara-i-Pech Pegmatite Field, Chapa Dara District, Konar Province, Afghanistan
Measures 13 cm by 12.5 cm by 5 cm in total size.
Price $7500
MIN#EXCEPTIONAL-12 NEW!
Classic and very rare specimen of lustrous gray Acanthite crystals with Chalcopyrite on matrix!
The largest crystal in the middle measures 1.8 cm in length! The remainder of this very rich
Silver Sulfide is covered with smaller Acanthites and patches of iridescent Chalcopyrite.
From the Eldorado Mine, Port Radium, Mackenzie District, Northwest Territories, Canada.
(This locality was discovered in 1900 and mined as a source of Silver and Radium in the 1930's.
It was dewatered in 1976 and mined again for its Silver and Copper reserves before closing for
good in 1982. The mine and its settlement were destroyed by fire and no longer exist today.)
Circa 1930's - Measures 4.7 cm by 5.2 cm in size.
Ex. Philadelphia Academy of Natural Sciences Collection
Ex. Kevin Ward Mineral Collection
Comes with a custom made acrylic stand
Price $8500
MIN#EXCEPTIONAL-13 SOLD!
Breathtaking specimen of blue Rosasite rolling atop green Aurichalcite on Limonite matrix!
This specimen is unreal. The incredible satiny smoothness of the botryoidal Rosasite against the
brownish-orange Limonite matrix is visually stunning. A rolling luster covers the entire surface and
even tends to highlight the mounds and curves of the Rosasite structure against the recesses of the
matrix. The edges of the blue Rosasite are accented by small balls of greenish Aurichalchite and
these can be seen along almost the entire length of the Rosasite. This specimen is simply beautiful.
Rosasite is a fairly rare mineral and specimens of this calibre are extremely rare at the shows.
From the Ojuela Mine, Mapimí, Mun. de Mapimí, Durango, Mexico.
Measures 11 cm by 7.5 cm by 6.9 cm in total size.
Ex. R.C., Jason New Mineral Collection
Price $4500
MIN#EXCEPTIONAL-14 NEW!
EXCEPTIONAL COPPER!! Bright, lustrous crystals of Native Copper!
A stunning cluster of Copper crystals with a super shiny surface and lustrous
faces. There's a combination of Quartz, Calcite, and Epidote accenting between
and atop several of the well formed crystals. No damage to speak of and one of
the prettiest patinas I've seen in a long time on a Michigan Copper specimen.
From the Calumet & Hecla Mine, Calumet, Houghton County, Michigan.
Circa late 1890's - Measures 6.5 cm by 4.1 cm by 3.2 cm in size.
Comes with a custom made, engraved base
Price $4500
MIN#EXCEPTIONAL-15 NEW!
Impressive cabinet plate of Galena cubes with Sphalerite on Chert matrix!
This was the finest Tri-State plate I saw at the show and it's one of the best I've seen in several
years. The Galenas are beautifully centered near the top of the matrix, exhibiting mirror-like lustrous
faces and a very sharp, uncluttered form. The largest Galena measures 5 cm in size and it "hugs" a
smaller Galena along the far left edge. The Galenas are in excellent condition with the only cleaves
being along the trimming edge. The crystals are somewhat stepped along the back edge so I can't
tell if the cleavage is natural or man made but it don't detract. Below the Galenas are lustrous
Sphalerite crystals measuring to nearly 3.5 cm in size. These are surrounded by smaller "Rubyjack"
Sphalerite crystals which are scattered atop the sparkling Chert matrix. The is one of those rare
Tri-States pieces that have a presence to them. This large plate is both aesthetic and impressive.
From the Barr Mine, Vinegar Hill, Treece, Picher Field, Tri-State District, Cherokee Co., Kansas.
Measures 14.5 cm by 15 cm by 6 cm in total size.
Ex. Fred Meissner Mineral Collection
Price $5500
MIN#EXCEPTIONAL-16 NEW!
LARGE CABINET!! Exceptional specimen of Orange Creedite crystal balls in cluster!
One of the finest and largest Orange Creedite crystal ball clusters you'll see anywhere!
Orange Creedite is actually rarer than the more famous Purple Creedite and very few
specimens are as aesthetic and damage free as this one. Many if not most of the crystals
on the outer edges of each ball are gemmy and nearly all are terminated. This would make
an incredible centerpiece for any fine mineral collection. A true museum quality specimen.
From Mina Navidad, Durango, Mexico.
Measures 19.5 cm by 28 cm by 12 cm in size.
Ex. Vorpahl Mineral Collection
Price $8500
MIN#EXCEPTIONAL-17 NEW!
Sharp crystals of Acanthite and curling Native Silver wires!
Both Silver minerals sit atop a matrix of Quartz with Quartz crystal sprays.
The Acanthite crystals are so incredibly sharp and lustrous that at first glance, one
might not even notice the small "ram's horn" Silver located on the far right side of
the specimen! Acanthite and Silver combos from Mexico are rarely seen at the shows.
From the Reyes Mine in Guanajuato, Mexico.
Measures 5 cm by 3 cm by 2.5 cm in total size.
Price $2850
MIN#EXCEPTIONAL-18 SOLD!
GEMMY cystals of bluish-lavender Fluorite cubes with purple accenting with Quartz on Muscovite!
An incredible plate of pure gem and flash! The Fluorites are modified at the corners and exhibit
color shifts as you peer down into the gemmy interiors to see the underlying matrix. These color
shifts consist of internal purple phantoms and mirroring along some scattered internal craze lines.
The Fluorite crystals are surrounded by terminated and included Quartz points and all sit atop
Muscovite. In excellent condition overall with virtually pristine Fluorites and glassy crystal faces!
From the Yaogangxian Mine, Hunan Province of China.
Measures 12 cm by 14 cm in size.
Price $3500
MIN#EXCEPTIONAL-19 NEW!
VERY RARE specimen featuring a large Yellow Topaz crystal with Quartz on matrix!
An amazing old time classic from the world famous Schneckenstein locality! I've seen a handful
of these in the past decade and this is by far the largest and most impressive specimen. Most
Topaz crystals I see from Schneckenstein are 1 cm in size or smaller but this terminated gem
measures 2.7 cm or more than a full inch! The color is a deep gemmy yellow and the termination
is pristine. A terminated Quartz crystal lays across the top of the Topaz. By the way, this crystal
has not been replaced or glued back into the matrix. It is completely natural and untampered with.
The Schneckenstein Topaz locale is now off limits to collection and most fine specimen like this
one were collected a long time ago. This specimen dates back to the early 1800's or late 1700's!
From the Schneckenstein cliff (Königskrone Topaz Mine), Kielberg, Klingenthal, Saxony, Germany.
Measures 6 cm by 6.8 cm by 3.5 cm in size.
Ex. Siegbert Zecha Mineral Collection
Price $5500
MIN#EXCEPTIONAL-20 SOLD!
Wonderful example of Pyrite on Quartz points from the famous Spruce Claim!
This is a cabinet sized specimen and it is in superb condition. Almost every Quartz point is complete
and terminated (very uncommon) and the largest Pyrite crystals, including the 6 cm whopper in the
middle, are undamaged with an intense flowing luster atop the surfaces! I count over half a dozen
pyritohedrons of various sizes in the grouping. The only incompleteness to speak of is on the bottom
side where the specimen was separated from the pocket matrix but even there, most of the Pyrites
are not affected. This is one of the finest cabinet sized specimens from the Spruce Claim that I've
ever offered on the website and it's definately in the best condition. This is a true centerpiece.
From the Spruce Claim (Spruce Ridge), Goldmyer Hot Springs, King County, Washington.
Measures 7 cm by 13.7 cm by 10 cm in total size.
Ex. Minette Mineral Collection (Personally collected by the Minettes with Bob Jackson)
Price $6500
- LINKS TO ALL THE EXCEPTIONAL ROOMS -
1 | 2 | 3 | 4 | 5 | 6 | 7 | 8 | 9 | 10 | 11 | 12
HOME | NEW SPECIMENS | BEST OFFER MINERAL AUCTION | SPECIMENS FROM PAST SHOWS | CONTACT US