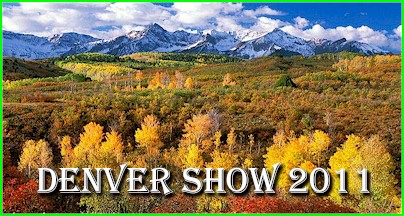 The Denver Show 2011 Mineral Rooms!
* Updated April 28th, 2012 *

MIN#Denver2011-181 New!
Graceful and quite beautiful arrangement of pink Rose Quartz crystals atop Quartz and Microcline!
Also with a small bit of Muscovite, this specimen can be displayed in a number of ways, two of which
are pictured above. I think the first thing one notices about this specimen is the depth of color - not pale
like so many but rich and vibrant and even more so near the periphery crystals! The crystals are distinct
and lustrous, with some scepters present! One interesting thing is that the crystals sit atop a Quartz point
on the backside of the specimen. The front is displayed above because I like the front better but the Quartz
is neat to see. If you're looking for a crystallized Rose Quartz with rich color and form, this is the specimen.
From Alto da Pitorra, Laranjeiras, Galiléia, Doce valley, Minas Gerais, Brazil
Measures 6.6 cm by 6.3 cm by 4.3 cm in total size.
Price $4500
MIN#Denver2011-182 New!
Aesthetic combination specimen of Malachite with smoky Cerussite crystals!
I think I also see a little bit of Duftite in the mix. The Cerussite crystals are isolated
on the matrix which is always nice and their smoky interiors are highlighted by very glassy
faces. There are some tiny bumps here and there and the usual contacting along the trimming edge
but most are complete and in excellent shape. The Malachite appears mainly as a mound at the top
and there are doubly terminated Cerussite crystals sitting atop and all the around the Malachite base.
From the Tsumeb Mine, Tsumeb, Namibia, SW Africa.
Measures 6.5 cm by 6.4 cm by 4.1 cm in total size.
Price $895
MIN#Denver2011-183 New!
EXCEPTIONAL! Very fine cabinet plate of Native Silver pseudomorphing after Dyscrazite!
The crystal form is well defined and sharp although completely replaced by Native Silver. This is one
of the most well balanced plates I've seen. It could actually be displayed from either side as there are
larger "fans" on the backside. I prefer the "jackstraw" crystal appearance on the front side though
and the patina is completely original and untampered with which is how fine Silvers should appear.
From Príbram, Central Bohemia, Bohemia, Czech Republic.
Measures 8.2 cm by 10.2 cm by 4 cm in size
Price $3500
MIN#Denver2011-184 New!
Lustrous and very well defined crystal clusters of Azurite sitting atop matrix!
Aesthetic specimen with two crystalline balls of Azurite sitting atop the clay matrix. Each is composed
of dozens if not hundreds of sharp little crystals and crystal faces. Very reflective under any lighting.
From the La Sal Mountains, San Juan County, Utah.
Measures 6.7 cm by 5.5 cm by 3.6 cm in total size.
Price $1500
MIN#Denver2011-186 New!
Fine specimen of Malachite ps after Azurite crystals!
A classic Tsumeb specimen, these pseudomorphed Azurite crystals are sharp with a distinctive form.
The terminations criss-cross somewhat and both are complete and uncontacted. Very nice miniature!
From the Tsumeb Mine, Tsumeb, Namibia, SW Africa.
Measures 5.5 cm by 3.8 cm in size.
Price $785
MIN#Denver2011-187 New!
Fine specimen of Benitoite crystals on Natrolite!


Benitoites crystals in various sizes cover the snowy-white Natrolite and all are complete
with a good bit of gem material in the tips! The two largest intersect and display sharp,
lustrous faces and crystal form. They measures 1.5 cm and 1.2 cm in size with no contacts.
From the Dallas Gem Mine, New Idria District, Diablo Range, San Benito County, California.
Measures 4.2 cm by 3 cm in size.
Price $2450
MIN#Denver2011-188 New!
Rich plate of Rhodochrosite rhombs with Quartz point accenting!
This good looking plate is nearly all Rhodochrosite! There's a stray Quartz needle here and there
but they only accent the overwhelming red. In great shape with only peripheral trim-zone contacts.
From the Hedgehog Pocket, Main Stope Drift, Sweet Home Mine, Alma, Colorado.
Measures 4.6 cm by 5.1 cm in size.
Ex. Revelle Mineral Collection
Price $2850
MIN#Denver2011-190 New!
Super sweet specimen featuring a gemmy pink Fluorite nestled between lustrous Pyrites!
Very pretty specimen with good color! The Fluorite is complete and undamaged with several
clear windows that allow one to look into the interior of the crystal itself. The Pyrites have
excellent luster and add a large amount of luster and flash to the better than average pink!
From the Huanzala Mine, Hualanca District, Huanuco Department, Peru.
Measures 5 cm by 4 cm by 4.2 cm in total size.
Price $895
MIN#Denver2011-191 New!
Unusual and quite flashy combo featuring Acanthite crystals on Chalcopyrite ps. after Polybasite!
The Acanthite crystals are very sharp and lustrous and show well against the Golden Chalcopyrite.
There's also a slight iridescence to them. The Chalcopyrite has completely pseudomorphed the
Polybasite and the end result is a super lustrous, golden series of glittering blades, both large and small.
From Guanajuato, Durango, Mexico
Measures 3.8 cm by 4.3 cm by 4 cm in size.
Price $685
MIN#Denver2011-192 New!
Very fine specimen featuring crystal-clear Fluorites with Calcite on drusy covered Quartz!
The Fluorites are literally pristine with no damage to speak of. They have glassy faces and nearly
transparent interiors. Only some internal crazing in the larger Fluorite keep it from being totally
clear but the smaller Fluorite is read-through transparent. Fine rhombs of Calcite accent the base
beneath the Fluorites and both minerals sit atop a cluster of sparkling Quartz points and drusy.
From Dal'negorsk, Primorskiy Kray, Russia.
Measures 5.5 cm by 4.7 cm by 3.5 cm in total size.
Price $685
MIN#Denver2011-193 Sold!
Glossy crystals of Andradite Garnet perched atop one another!
Sharp looking crystals with excellent form and glossy crystal faces. The backside of
some of the crystals is set against matrix so this specimen displays best from the front.
From the Miracle Mountain Mine, Calaveras County, California.
Measures 5.7 cm by 2.4 cm in size.
Ex. Bill Larsen Mineral Collection
Comes with an engraved competition display label
Price $1450
MIN#Denver2011-194 Sold!
Sharp crystals of dark red Almandine Garnet in mica schist!
The 2.5 cm Garnet at the very top is a wonderful crystal with complete form and sharp
crystal faces on all sides. Dark patches of red come through under direct lighting and
there are over half a dozen Almandine Garnets in various sizes in this specimen.
From Emerald Creek, Fernwood, Latah County, Idaho.
Measures 5.4 cm by 4.8 cm by 4.1 cm in total size.
Ex. Bill Larsen Mineral Collection
Comes with an engraved competition display label
Price $985
MIN#Denver2011-195 New!
Fine crystals of Grossular Garnet var. Hessonite in Quartz matrix!
The two larger crystals each measure 2.5 cm in size and are sharp and lustrous with the typical
reddish-orange Hessonite color. The matrix is a mix of host rock and fractured white Quartz.
From the Pitts-Tenney Quarry, Minot, Androscoggin County, Maine.
Measures 7.2 cm by 7 cm by 6 cm in total size.
Ex. Bill Larsen Mineral Collection
Comes with an engraved competition display label
Price $1500
MIN#Denver2011-196 New!
Museum specimen! Very fine crystal of Molybdenite perched atop Quartz matrix!
Excellent example of a mineral that doesn't always get its fair share of respect but one that
can be very impressive when a quality specimen like this one appears. The lustrous gray Moly
crystal sits firmly atop the Quartz matrix and measures just over 4 cm in size (width). A smaller
Moly is attached to the main crystal on the backside and this adds further stability. This specimen
was collected in 1930 by curator R. O. Chalmers and later presented to the Australian Museum.
From Goodwin's Pipe, Kingsgate Mining Area, New South Wales, Australia.
Measures 8.3 cm by 6.7 cm by 3.4 cm in total size.
Ex. R. O. Chalmers (Found in 1930), Marvin Rausch Mineral Collections
Formally in the Australian Museum Collection, Sydney, Australia.
Comes with a custom made, engraved base
Price $2850
MIN#Denver2011-197 New!
Fine needle-like sprays of Aurichalchite with colorless Hemimorphite!
A wonderful miniature with lots of eye appeal. The Aurichalchite is in excellent
condition without the usual compressions that are far too common. The colorless
Hemimorphite adds a nice contrast to what is mainly a bluish-green specimen.
From the '79 Mine, Gila County, Arizona.
Measures 6.5 cm by 5.2 cm in size.
Ex. Stoudt Mineral Collection
Price $985
MIN#Denver2011-198 New!
Dramatic sprays of Celestite (Celestine) with a single Golden Calcite perched in the middle!
This aesthetic specimen is nearly perfect! Very pleasing to the eye and well trimmed, the Calcite
in the middle is doubly terminated, lustrous, and pristine. It measures 2.2 cm from tip to tip.
There are actually a few other tiny Calcites but the main one on the center is the attraction.
The blades of Celestine are pearly lustrous and extend upwards as much as 6 cm!
From the White Rock Quarry, Clay Center, Ottawa County, Ohio.
Measures 7.2 cm by 6.5 cm by 7 cm in total size.
Price $685
MIN#Denver2011-199 New!
Fine specimen of Native Copper crystals and wires on Prehnite!
Unsual specimen in that some of the wires have crystals at the ends. The Prehnite is
in excellent condition and appears as small mounds, stacked one atop the other.
From the Iroquois Mine, Keweenaw County, Michigan.
Measures 5.4 cm by 5.4 cm in size.
Ex. Russell P. MacFall Collection
Price $585
MIN#Denver2011-200 New!
Impressive specimen featuring lavender cubes of Fluorite with Galena, Barite and Sphalerite!
This is a stunning Elmwood combo with cubes that are nearly completely colorless but for a very
slight lavender coloration. The Fluorites are in excellent condition and featuring numerous, although
tiny inclusions of Bitumen which forms some really neat patterns beneath the surfaces. Some of
these Bitumen inclusions actually form "drips" that extend downward into the Fluorites. Small
crystals of Galena, Fluorite, and Barite cover the large Galena located at the top center.
From the Elmwood Mine, Smith County, Tennessee.
Measures 9.2 cm by 11 cm by 7.2 cm in total size.
Price $3850

FOR ADDITIONAL NEW SPECIMENS, GO TO Denver 2011 Room 11 !
Rhodochrosite Room | Gold Room | Silver Rooms | Beryl Rooms | Elmwood Room | Exceptional Rooms | Tucson 2010 Rooms