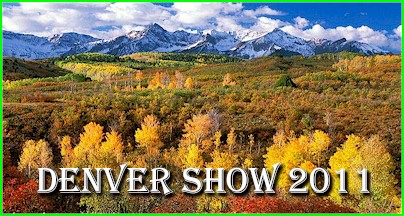 The Denver Show 2011 Mineral Rooms!
* Updated April 28th, 2012 *

MIN#Denver2011-201 New!
EXCEPTIONAL!! Thick, curling wire of Native Silver on Calcite matrix!
This is what a Kongsberg Silver should look like! Thick, striated, and antique patinaed,
rising out from a Calcite seam in matrix. When I think of the miners of yesteryear mining
Silver in Kongsberg, this is the image I have in mind. I can only imagine what they must
of thought when these specimens were discovered by candlelight inside those old mines.
Unfortunately for them, all Silver ore mined was the property of the King. This amazing
specimen features a 1+ cm thick wire which curls its way upwards some 5.6 cm. The
wire narrowed a bit as it grew but kept a nice thickness all the way up. Needless to
say, there's no risk of bending this sturdy wire if handled. Interesting note - Silver
wires appear on the bottom side of the matrix and this makes me wonder if the wire
extends all the way through the host rock. It's possible but I'd leave the piece as is.
From the Kongsberg Silver Mines, Kongsberg, Buskerud, Norway.
Measures 7 cm by 3.4 cm by 4.3 cm in size.
Ex. Anton Watzl Sr. Mineral Collection
Comes with a custom made, engraved base
Price $22,500
MIN#Denver2011-205 New!
Classic, antique specimen featuring blue Kyanite blades in Quartz!
Fantastic old timer from the Philadelphia Academy, complete with its original label.
From Chesterfield, Hampshire County, Massachusetts.
Measures 15 cm by 8.8 cm in size.
Ex. G. W. Carpenter, Philadelphia Academy of Natural Sciences Collections
Price $785
MIN#Denver2011-206 New!
Beautiful specimen featuring gemmy Hessonite Garnets on Epidote matrix!


A very aesthetic specimen which features both isolated crystals and crystals in cluster
atop a background of olive-green Epidote. I count nearly twenty Garnets in total and the color
of each is rich and bold, not pale like some of the later finds that appeared from the Jeffrey.
The surfaces are glassy and reflective and there are very little in the way of contacts or bruising.
From the Jeffrey Mine in Asbestos, Quebec, Canada.
Measures 9.5 cm by 6 cm with 1 cm sized Hessonites scattered atop the green Epidote!
Ex. Wein, Revelle Mineral Collections
Price $3450
MIN#Denver2011-207 New!
Good looking specimen of Green Fluorite with a terminated Schorl Tourmaline!
White Albite accents the piece and helps to show the depth of color of this Fluorite.
This is a RICH GREEN Fluorite, not pale like those we see all too often from this
locality. The Fluorite is modified in habit, very gemmy, and satiny lustrous! The shiny
black Schorl Tourmaline is nearly 4 cm in length and displays a perfect top termination.
From Nagar, Gilgit, Northern Areas of Pakistan.
Measures 5.8 cm by 6.6 cm by 5.5 cm in size.
Ex. Gene Meieran Mineral Collection
Comes with a custom made, engraved base
Price $4500
MIN#Denver2011-209 New! Breathtaking specimen of Erythrite blades on matrix!
The combination of sharp Erythrite blades with the light pink drusy balls makes
this specimen a sight to see! The blades are full translucent and nearly pristine.
This is the prettiest Erythrite specimen I've seen in a long time.
From Bou Azzer, Tazenakht, Ouarzazate Province, Morocco.
Measures 5.9 cm by 4.7 cm in size.
Ex. Martin Zinn, Bernardi Mineral Collections
Comes with a custom made, labeled base
Price $3500
MIN#Denver2011-211 Sold!
RARE CLASSIC!! Lustrous Sylvanite with Calaverite on matrix!
The Sylvanite and Calaverite appear as flattened and elongated crystals atop the rich
gray matrix. Rotating the specimen from side to side displays the flashy prismatic structure
of both minerals. The color can best be described as silverish gray to very slightly yellow.
I believe there is more Sylvanite than Calaverite in this piece but testing is required to be certain.
From the Ingram Mine, Gold Hill District, Boulder County, Colorado.
Measures 5 cm by 5 cm by 2.5 cm in total size.
Ex. Robert Whitmore Mineral Collection
Ex. Ward's Mineral Specimen
Price $2500
MIN#Denver2011-213 New!
Dramatic and very aesthetic Native Silver Wire perched atop Calcite!
This curling wire is sturdy and lustrous with a light coating of Acanthite drusy.
The matrix actually consists of terminated Calcite crystals with complete faces.
From Mine #45, Dzhezkazgan, Kazakhstan.
Measures 4.5 cm by 2 cm in size.
Price $1250
MIN#Denver2011-214 New!
Amazing specimen featuring transparent Halite cubes on Gypsum crystals!
This is an incredible specimen considering the placement of the Halite on the thin Gypsum
crystals. Actually, the specimen is pretty sturdy too. The Gypsum blade at top is covered
by Halite cubes of various size and rises better than 7 cm above the matrix. The base of
the specimen is a mix of thin Gypsum crystals and Halite cubes - at least a couple dozen.
Note: The photo on the right shows the reddish glow given off under UV lighting!
From Inowroclaw, Kujawsko-Pomorskie, Poland.
Measures 13 cm by 6 cm by 6.3 cm in size.
Ex. J. Hoppner Mineral Collection
Price $985
MIN#Denver2011-215 New!
Colorful specimen of Rhodochrosite with Quartz, Tetrahedrite, and Malachite!
As far as I know, only one pocket with Malachite was found at the Sweet Home Mine.
Most specimens from there had poor quality Rhodo in pretty rough shape. This was the
only specimen I found that had several complete and gemmy rhombs with the Malachite!
From the Malachite Pocket, 3rd Tetrahedrite Raise, Sweet Home Mine, Alma, Colorado.
Measures 8.5 cm by 5.5 cm in size.
Price $850
MIN#Denver2011-216 New!
Beautiful specimen of Amethyst-tipped Quartz crystals on Quartz cast matrix!
A specimen that is very pleasing to the eye! The Amethyst color is intense and this creates
a radical break where the Quartz crystals begin to grow scepters. The two upright crystals on
the top right display this feature very well. All the terminations are complete with only a couple
of bumps on the backside of two crystals. This definately doesn't detract from the specimen.
From the Goboboseb Mountains, Brandberg area, Brandberg District, Erongo Region, Namibia
Measures 7 cm by 9 cm by 4.1 cm in total size.
Ex. Charles Key Mineral Collection
Price $1500
MIN#Denver2011-217 New!
Fine crystals of Andradite Garnet on matrix!
A perfect, nearly 2 cm Garnet sits atop the specimen, with small Pyrite accents nestled
among lustrous faces. Other lustrous Garnets cover the matrix on every side. The crystals
faces are much cleaner and smoother than what one normally sees from this classic locality.
From the Cornwall Iron Mines, Cornwall, Lebanon County, Pennsylvania.
Measures 6 cm by 5 cm by 4.5 cm in total size.
Ex. Bill Larsen Mineral Collection
Comes with an engraved competition display label
Price $985
MIN#Denver2011-218 New!
Wonderful specimen featuring a crystal needle ball of Natrolite atop gemmy Analcime!
The 2.5 cm Natrolite ball at top is pristine. Gorgeous specimen with more than its fair share of flash!
From the Price Peak Quarry, near King's Valley, Benton County, Oregon.
Measures 7.7 cm by 10.2 cm in size.
Price $785

FOR ADDITIONAL NEW SPECIMENS, GO TO Denver 2011 Room 12 !
Rhodochrosite Room | Gold Room | Silver Rooms | Beryl Rooms | Elmwood Room | Exceptional Rooms | Tucson 2010 Rooms