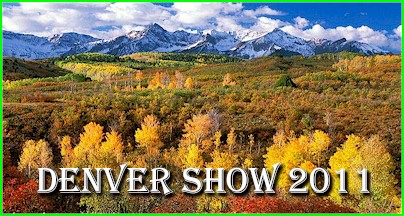 The Denver Show 2011 Mineral Rooms!
* Updated April 28th, 2012 *

MIN#Denver2011-221 New!
MUSEUM QUALITY SPECIMEN!
Tremendous antique plate of super lustrous Pyrargyrite crystals with Calcite on matrix!
One of the finest I've seen from St. Andreasberg and one that has quite an impressive
provenance as well. The Pyrargyrite crystal grouping is incredibly sharp, undamaged, and
lustrous. It also still displays an amazing amount of red for a specimen of its age! Note the
reddish color of the crystals in the bottom close up when exposed to a direct light. This plate
is literally covered from top to bottom with lustrous, shiny Pyrargyrite but it's the main
grouping in the top center which is the main attraction. These large crystals each measure
just shy of 2 cm in size with some 1 cm crystals nearby. I love this specimen and can highly
recommend it to anyone who is a Silver mineral collector or a collector of very high end classics!
From St. Andreasberg, Harz Mountains, Lower Saxony, Germany.
Measures 7 cm by 11.3 cm by 8.8 cm in size.
Ex. Geipel Collection (early 1900's), Bally-Prior Museum Collection in Schönenwerd, Switzerland
Price $17,500
MIN#Denver2011-223 New!
Fine crystal of golden Spodumene rising from a matrix of Albite and Muscovite!
This unique crystal displays a slight bend as it rises 5 cm above the Albite. The rehealed
lower crystal portion is visible just below the large Muscovite blade near the center.
From Kala, Darrah Pech, Kunar Province of Afghanistan.
Measures 10 cm by 6.5 cm in size.
Price $985
MIN#Denver2011-226 New!
Beautiful light pink crystals of Fluorite in cluster with Pyrite and Galena!
These rounded and modified Fluorite crystals are incredibly gem and flashy!
The Pyrites at top are covered with tiny Galena crystals.
From the Huanzala Mine, Huanuco Department, Peru.
Measures 4.2 cm by 3.5 cm in size.
Price $685
MIN#Denver2011-227 New!
Impressive specimen featuring several Staurolites on Schistic matrix!
This cabinet sized plate features a large Staurolite cross right in the middle!
Very aesthetic and definately not as common these days!
From Keivy Massif, Kola Peninsula, Russia.
Measures 6.5 cm by 5.3 cm in size.
Price $785
MIN#Denver2011-228 New!
VERY RARE combination of iridescent (blue-purple) cubic Galena with Siegenite!
The cubic Galenas and rare Siegenite sit along side a larger octahedral habit Galena crystal.
I love the bluish-purple iridescent coating on the smaller Galenas. It really sets off the piece!
From the Bonneterre Formation, Viburnum Trend, Missouri.
Circa 1996 - Measures 3.7 by 3 cm in size.
Price $585
MIN#Denver2011-229 New!
Pretty specimen featuring a bi-colored Aqua-Morganite on Microcline with Albite!
This gemmy 1.6 cm crystal shows much better pink and blue coloration than what I normally
see in bi-color Beryls from this locale. It's perfectly terminated at top and rehealed on the
bottom where it fractured in the pocket millions of years ago. The Microcline has a sharp
termination with shiny crystal faces. Jagged Albite crystals add a nice contrasting texture.
From Baha, S. W. Buspar Peak, Baltistan, Northern Areas of Pakistan.
Measures 5 cm by 5.6 cm in size.
Price $585
MIN#Denver2011-232 New!
Fine specimen of reddish-purple Fluorite cubes with Sphalerite on matrix!
An attractive plate from a lesser seen locale, this specimen is in very good
condition with only a few minor contacts scattered about the Fluorite corners.
Smaller crystals of Sphalerite add a nice accent to the cluster.
From the Hill-Ledford Mine, Ozark-Mahoning Company, Cave-in-Rock, Illinois.
Measures 10.6 cm by 9.1 cm in size.
Price $585
MIN#Denver2011-233 New!
Gemmy cluster of Hessonite Garnet with Diopside crystals at top!
The Garnets display a deeper than average color with sharp, glassy faces.
The Diopside crystals are incredibly sharp and quite large for the locale.
I love the way they're perched at the top of the specimen. Very aesthetic!
From the Jeffrey Mine, Asbestos, Quebec, Canada.
Measures 2.8 cm by 1.7 cm in size.
Price $685
MIN#Denver2011-234 New!
NEW FIND! Interesting mix of Allargentum with Dyscrasite, Schachnerite, and Native Silver!
I cherry picked the group that appeared in Tucson for the most aesthetic specimens from
this new find and this cute miniature was among the ones chosen. The highly lustrous
crystals spray out towards the left from the center cluster and the entire grouping sits atop a
matrix of shiny white Calcite. The numerous crystals are somewhat matted but still quite distinct.
From the Bouismas Mine, Bou Azzer District, Ouarzazate Province of Morocco.
Measures 4.5 cm by 4.5 cm by 3.8 cm in size.
Price $785
MIN#Denver2011-235 New!
Very aesthetic specimen featuring lavender Fluorite with Quartz points on Calcite!
Beautiful combo piece here. The Fluorites are gem and octahedral in habit. They are accented
by a light sprinkling of Pyrite and protected by at least five terminated Quartz points!
From the San Martin Mine, Zacatecas, Mexico.
Measures 5 cm by 5.5 cm by 5.3 cm in size.
Price $685
MIN#Denver2011-236 New!
Beautiful specimen featuring Rhodochrosite in cluster atop fine Quartz crystals!
Good quality Rhodochrosite with decent color is getting almost impossible to find at the shows.
The translucent-gem rhombs here average 1 cm to 1.5 cm in size and I count at least twenty of them.
This specimen displays enough Rhodochrosite to impress anyone and the price is still reasonable!
From the Hedgehog Pocket, Main Stope Drift, Sweet Home Mine, Alma, Colorado.
Measures 6.5 cm by 6 cm in size.
Price $5250
MIN#Denver2011-237 New!
Fine crystal ball of Barite set atop lustrous Sphalerite crystals!
An attractive combo featuring a 5.4 cm Barite ball! The Sphalerite crystals
are all sharp with no contacts or bruises. The same can be said for the Barite.
From the Elmwood Mine, Smith County, Tennessee.
Measures 9 cm by 7 cm in size.
Price $650
MIN#Denver2011-239 New!
Rare and colorful mix of Native Gold with Atacamite on matrix!
This specimen looks like paint spots on matrix! These appeared about seven years ago and
have since disappeared from the market. A rare opportunity to purchase a very unique Gold!
From a locality near the Faride Mine in Sierra Gorda, Chile.
Measures 4 cm by 4 cm in size.
Price $485
MIN#Denver2011-240 New!
Gorgeous specimen of blue Hemimorphite on matrix!
This has got to be one of the prettiest blues I've seen in a mineral specimen!
From the Wenshan Mine, Yunnan Province of China.
Measures 5.5 cm by 3.8 cm in size.
Price $285
MIN#Denver2011-241 New!
GORGEOUS! Unique cluster of bi-color Beryl (Heliodor and Aquamarine) with Schorl and Albite!
A small find of these rare bi-color Beryls appeared recently from Namibia and this is one of the
largest plates that I've seen. The Heliodor crystals are all tipped with blue Aquamarine!
From the Davib Ost Farm, Erongo Mountains, Namibia, SW Africa.
Measures 8.7 cm by 11.5 cm in size.
Price $3500
MIN#Denver2011-242 New!
Huge crystal of lustrous, bronze Pyrrhotite with smaller crystals on Quartz!
The large upright crystal measures 6.5 cm in size! A 3.2 cm Pyrrhotite can be
seen just below and both sit atop a cluster of tan Quartz crystals and Calcite.
From Dal'negorsk, Primorskiy Kray, Russia.
Measures 8 cm by 9 cm in size.
Price $2500

FOR ADDITIONAL NEW SPECIMENS, GO TO Tucson 2012 Showroom 1 !
Rhodochrosite Room | Gold Room | Silver Rooms | Beryl Rooms | Elmwood Room | Exceptional Rooms | Tucson 2010 Rooms