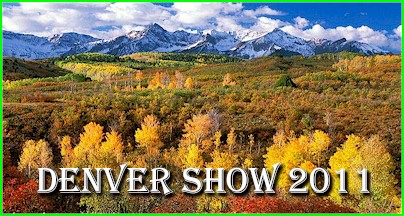 The Denver Show 2011 Mineral Rooms!
* Updated April 28th, 2012 *

MIN#Denver2011-144 New!
Fine blades of iridescent Covellite with Quartz points perched high atop Quartz matrix!
Glittering sprinkles of Pyrite add accenting to this scarce specimen out of Butte, Montana.
The Covellite blades are complete for the most part but there is some matrix contact incompleteness
near the left side. This is very common for Covellite blades which formed in tight pockets. The color
of the lustrous blades is a gorgeous iridescent purplish-blue and this color is consistant throughout.
Most of the Quartz points are terminated except for the crystal in the very back which also touched matrix.
From the Leonard Mine, Butte, Silver Bow County, Montana.
Measures 5.8 cm by 6.2 cm by 4.8 cm in total size.
Price $2850
MIN#Denver2011-145a New!
Dazzling specimen of Gem Boulder Opal in brown ironstone matrix!
I see reds, greens, yellows, oranges, and blues in this fine Opal seam which runs through both
the whitish matrix and the layered ironstone. The color flashes are smaller and more scattered
giving the specimen a "twinkling star" appearance similar to that of Andamooka Opals.
From Quilpie, Quilpie Shire, Queensland, Australia
Measures 5.4 cm by 5.2 cm by 3.2 cm in size - Weighs more than my scale's 125 gram limit.
Price $750
MIN#Denver2011-145b New!
Dazzling specimen of Gem Boulder Opal in brown ironstone matrix!
I see reds, greens, yellows, oranges, and blues in this fine Opal seam which runs through both
the whitish matrix and the layered ironstone. The reds are especially vibrant in this miniature!
From Quilpie, Quilpie Shire, Queensland, Australia
Measures 5.1 cm by 7.2 cm by 2.5 cm in size - Weighs 121.4 grams.
Price $850
MIN#Denver2011-146 New!
Fine twinned crystals of Hematite included Calite on dogtooth Calcite crystals!
The twinned crystals measure 3.5 cm across from tip to tip and are both very tranparent
with an internal brownish-orange coloration due to Hematite influence. Oddly enough, the smaller
Calcites around the base are more opaque and this is due to their higher concentration of Hematite.
From the Leiping Mine, Leiping, Guiyang Co., Chenzhou Prefecture, Hunan Province, China.
Measures 5 cm by 5.7 cm by 5.1 cm in total size.
Price $2450
MIN#Denver2011-147 New!
Wonderfully rich plate of Smoky Quartz on Amazonite with Goethite ps. Siderite crystals!
First of all, the color of the Amazonite is excellent! That's one of the most important factors
for these combo specimens. Secondly, the Smoky points are all terminated and complete
with only a single nearly invisible repair to the large 6+ cm Smoky in the center. The
brownish crystals to the upper right are Goethite pseudomorphing Siderite crystals.
From Ken's Pocket, Two Point Claim, Teller County, Colorado.
It measures 10.5 cm by 11.5 cm in size.
Listed Price $6500
MIN#Denver2011-148 New!
Fine locality piece featuring cream-colored Dolomite crystals on Quartz drusy matrix!
This specimen is from the Camp Bird Mine and is the first Dolomite I've seen from there in quite
some time. I don't know how scarce they are but I do know that specimens from the Camp Bird
are not common at the shows. This one presents a fine gathering of small Dolomite clusters
draped over a sparkling Quartz matrix. The brown colored crystals may be small Siderites.
From the Camp Bird Mine, Ouray, Colorado.
Measures 6.2 cm by 7.6 cm in size.
Price $385
MIN#Denver2011-149 New!
Glossy crystals of amber-colored Calcite with yellow Calcite on white Calcite covered matrix!
Three colors of Calcite here, with the largest amber-colored crystals appearing almost wet they
are so gemmy and lustrous! Fine yellow Calcite crystals appear to the left and one sits atop the
amber Calcite cluster. These crystals are slightly more opaque but are also lustrous and possibly
semi-etched which explains their unique structure. Finally, tiny white Calcites cover the matrix
in the background, adding a noticeable sparkle to the otherwise, very reflective specimen.
From Santa Eulalia, Chihuahua, Mexico.
Measures 3.9 cm by 5.6 cm by 3.1 cm in total size.
Price $385
MIN#Denver2011-150 New!
Scarce specimen featuring gem Green Fluorite octahedrons on Quartz!
This piece is from the William Wise Mine which is famous for its beautiful green Fluorite.
I don't see many specimens from there anymore and Fluorite on Quartz pieces were always rare!
From the William Wise Mine, Westmoreland, Cheshire Co., New Hampshire.
Measures 4.5 cm by 5.3 cm in size.
Price $985
MIN#Denver2011-151 New!
Gemmy crystals of Golden Calciute atop matrix!
A good looking specimen with only a few very minor contacts. The crystals are glassy and gem
and completely drape the top of the matrix. This specimen could be displayed from with side.
Circa 1980 - From the Stoneco Auglaize Quarry, Paulding County, Ohio.
Measures 5.2 cm by 6.9 cm by 4 cm in total size.
Ex. Rick Russell Mineral Collection
Price $350
MIN#Denver2011-153 New!
Very fine specimen of Sphalerite crystals with Galena and Chalcopyrite on Amethyst!
The Sphalerites are very impressive with the largest measuring 3.5 cm in size! They glow
rich golden-brown when backlit and could be cut into some gorgeous gemstones. The lustrous
Galenas and golden Chalcopyrites sit with the Sphalerites atop a light purple layer of Amethyst.
From the P-vein 2 south, 5 level, Commodore Mine, Creede, Mineral County, Colorado.
Measures 9 cm by 4.6 cm in size.
Price $1250
MIN#Denver2011-155 New!
Fine cabinet plate of zoned Fluorite with Calcite accents!
A very attractive specimen which displays a strong golden-yellow interior beneath purple exteriors.
The Calcites are sprinkled atop the cubes in various sizes and all are very gemmy.
From the Minerva #1 Mine, Hardin County, Illinois.
Measures 14 cm by 11 cm in size.
Price $3450
Ex. Matthew Webb, James Vorpahl Mineral Collections
MIN#Denver2011-157 New!
Pretty specimen featuring globular Mimetite over Mimetite crystals!
The color can best be described as a satiny yellow with a slight touch of green.
The rounded Mimetite at top sits atop a bottom matrix consisting of prismatic crystals.
From the Ojuela Mine, Mapimi, Durango, Mexico.
Measures 5.7 cm by 5.4 cm in size.
Price $485
MIN#Denver2011-159 New!
Lustrous crystal balls of Rhodochrosite with Barite tabs on Romanechite!
I don't come across very many of these and most are probably in private collections.
This specimen features half a dozen lustrous Rhodochrosites and the color could best
be described as red with just a hint of orange. The Barite tab at top is transparent and
absolutely pristine! Both minerals sit atop a matrix of botryoidal Romanechite.
From the Lone Tree Mine, Humboldt County, Nevada.
Measures 7.8 cm by 7.3 cm in size.
Price $985
MIN#Denver2011-160 New!
VERY RARE! Old collection specimen of Native Copper on matrix from Jerome, Arizona!
Jerome is an old copper mining town located along the steep sides of Cleopatra Hill. If you've
never been there, it's an amazing site with the streets and buildings running up along the mountain
side like something you'd see in Europe. I drove through at night several years ago on my way
north to Flagstaff and was amazed by the gas laterns and the 19th century feel of the town.
This specimen is very dendritic in structure and was collected in the 1940's before the dumps
were fenced off. Although mining has taken place in Jerome since the 1880s and much of
the town is undercut by mine shafts, there's very little activity there today except for tourism.
From Jerome, Verde District, Black Hills (Black Hill Range), Yavapai County, Arizona, USA
Measures 6.8 cm by 7.6 cm by 3.5 cm in total size.
Price $785

FOR ADDITIONAL NEW SPECIMENS, GO TO Denver 2011 Room 9 !
Rhodochrosite Room | Gold Room | Silver Rooms | Beryl Rooms | Elmwood Room | Exceptional Rooms | Tucson 2010 Rooms