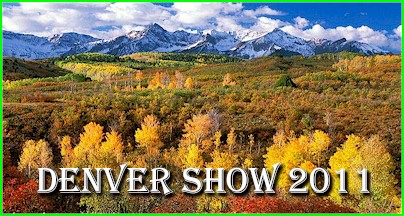 The Denver Show 2011 Mineral Rooms!
* Updated April 28th, 2012 *

MIN#Denver2011-161 New!
Tremendous specimen of Rhodochrosite atop a large Pyrite with Tetrahedrite and Quartz!
One of the most impressive combo specimens I've seen from the Sweet Home Mine and easily
the largest Pyrite crystal, this specimen was formally in the private collection of Bryan Lees.
The main rhomb at the top measures over 4 cm in size from corner to corner and is a deep
red with an internal glow that radiates through the entire translucent crystal! The bottom side
and far right side faces are misted and this is probably what helps the color become so intense.
The Rhodo rhomb is in perfect condition and sits atop a 2.3 cm Pyrite which is as shiny as it
is striated. A sprinkling of dark Tetrahedrite and needle Quartz crystals accent the surface.
All in all, this is a MAJOR Rhodochrosite and possibly the finest combination of Rhodo and
Pyrite ever found at the Sweet Home. A specimen that is easily worthy of the finest collections.
From Collector's Pocket, 2nd Crosscut, Sweet Home Mine, Alma, Colorado.
Measures 5.6 cm by 4 cm by 3.4 cm in total size.
Ex. Bryan Lees Personal Collection
Price $25,000
MIN#Denver2011-162 New!
Gemmy crystals of Golden Calcite on Calcite!
What a gorgeous specimen this is and the chiseled looking, striated Calcite on the left
is easily the main draw! In excellent condition, I see very few contacts and none that
are destracting. The largest Calcite measures 6 cm in size with scattered transparency.
From the York Stone Quarry, York County, Pennsylvania.
Measures 8 cm by 8.5 cm by 5.4 cm in size.
Price $1250
MIN#Denver2011-167 New!
Dramatic sprays of pink Inesite crystals on matrix!
For some reason, I don't see many Inesites from this locality at the shows and certainly
none of this quality. In excellent shape, the crystals are sharp, lustrous, and well defined because
they were protected by the most part by their surrounding matrix vug. Very nice small cab!
From the Hale Creek Mine, Mad River Ridge, Trinity County, California.
Measures 9.3 cm by 5 cm by 7.2 cm in total size.
Price $1750
MIN#Denver2011-168 New!
Glassy cluster of greenish Barite crystals with minor matrix!
In excellent condition overall with very little in the way of chipped corners which are common
to Barite specimens. The crystals are translucent with a greenish hue and there appears to be
small lustrous Hematite crystals nestled between some of the blades. Uncommon locality for Barite!
From the Shirley Basin, Carbon County, Wyoming.
Measures 10 cm by 4.6 cm by 4.4 cm in total size.
Price $685
MIN#Denver2011-169 New!
Gorgeous, glassy tabular crystals of Aquamarine with Muscovite!
This plate has a wonderful flash to it and the color of the Aquamarine crystals is much better
than what normally comes from this locale! I would place the depth of blue on par with the Aquamarines
one sees coming out of Afghanistan and that's pretty good for a Chinese specimen. The tabular crystals
are glassy and translucent with some gem. No real damage to speak of - only some bumps at the trimming.
From Mt. Xuebaoding, Sichuan Province of China.
Measures 7.5 cm by 13.2 cm by 9.5 cm in total size.
Price $4500
MIN#Denver2011-172 New!
Very pretty specimen of bi-colored Calcite crystals in cluster!
The crystals are glassy and gemmy with icy clear interiors and reddish-brown
Hemimorphite included tips! In excellent condition, this specimen dates back to the
late 1800's and was formally part of the Carnegie Museum Mineral Collection.
The Stank Mine was an iron (hematite) mine which was active from the 1870's to 1901.
From the Stank Mine, Barrow, SW Region, Cumbria, England.
Measures 6.5 cm by 7.9 cm by 7 cm in total size.
Ex. Carnegie Museum Collection
Price $2500
MIN#Denver2011-174 New!
Beautiful reddish-pink crystal clusters of Rhodochrosite on Quartz!
A sweet specimen which packs more of a Rhodo punch than most specimens I see from this locale.
The pink clusters are in excellent shape with no contacts to speak of. They add a nice sparkle in
contrast to the glassy crystal faces of the Quartz crystals which cover the matrix. Very pretty!
From Santa Eulalia, Chihuahua, Mexico.
Measures 5.6 cm by 7.1 cm by 3.0 cm in total size.
Ex. Revelle Mineral Collection
Price $1500
MIN#Denver2011-175 New!
Fine cluster of Pyromorphite crystals off matrix!
I say off matrix because the host matrix is pretty much gone, leaving a concave cast beneath
the Pyromorphite. This is a smaller version of the larger plate above and is in excellent condition as
well. The crystals are lustrous and reflective with full terminations and just a tint of olive in the green.
From the Daoping Mine, Gongcheng City, Guangxi Zhuang Autonomous Region, China.
Measures 2.9 cm by 3.9 cm in size.
Price $485
MIN#Denver2011-176 New!
Glassy, isolated crystals of yellow Adamite with clear Calcites on Limonite matrix!
Very attractive specimen with a lot of flash and color. The crystals are complete and in
excellent shape and really pop out against the orange Limonite. Really neat combo plate!
From the Ojuela Mine, Mapimi, Durango, Mexico.
Measures 6.8 cm by 7.4 cm in size.
Price $1500
MIN#Denver2011-177 New!
Pretty specimen of Hemimorphite crystal sprays on matrix!
The Hematite component is the colorant in these glassy crystals and presents itself as shades of
pink, red, and brown. The surface luster is very impressive and almost every crystal is terminated.
From the Ojuela Mine, Mapimi, Durango, Mexico.
Measures 7 cm by 3.6 cm in size
Price $485
MIN#Denver2011-178 New!
Sharp, lustrous Hematite var. Iron Roses on Quartz and Adularia!
Both Hematite roses are in excellent shape with no visible damage and plenty of luster.
The specimen is very well trimmed and attractive and there are no detractions to speak of.
From Fibbia Mt., Central St. Gotthard Massif, Leventina, Ticino (Tessin), Switzerland.
Measures 5.2 cm by 4.2 cm in size.
Price $1250
MIN#Denver2011-179 New!
Bi-colored Pyromorphite crystals in cluster on a cast!
Gorgeous and very lustrous specimen of yellow and orange Pyromorphite clustered
atop a cast. There is no matrix beneath the solid crystal cluster and it may have etched
away inside the mine. The color of this specimen is eye catching and ranges from a slightly
greenish-yellow near the top to a bright canary-yellow near the center and finally changing
over to an Arsenian orange at the edges! The specimen is in great shape with only one missing
crystal near the top edge. It's hidden very well by larger crystals and doesn't detract from the piece.
From the Bunker Hill Mine, Kellogg, Shoshone County, Idaho.
Measures 6.6 cm by 7.1 cm by 3.6 cm in total size.
Price $2500
MIN#Denver2011-180 New!
Dazzling large cabinet sized plate of Blue Hemimorphite on matrix!
Wenshan is known for its colorful blue Hemimorphites and in fact they have always been highly prized
but a recent find took it to another level. The color and luster of this plate is breathtaking and there
really are no weaknesses. If you prefer a smaller size, the plate could be trimmed down but I like it
large because the color shield is so impressive. This large cabinet would make a great centerpiece!
From the Wenshan Mine, Dulong ore field, Wenshan Autonomous Prefecture, Yunnan Province, China.
Measures 14 cm by 20.3 cm by 6.4 cm in total size.
Ex. Revelle Mineral Collection
Price $2500

FOR ADDITIONAL NEW SPECIMENS, GO TO Denver 2011 Room 10 !
Rhodochrosite Room | Gold Room | Silver Rooms | Beryl Rooms | Elmwood Room | Exceptional Rooms | Tucson 2010 Rooms