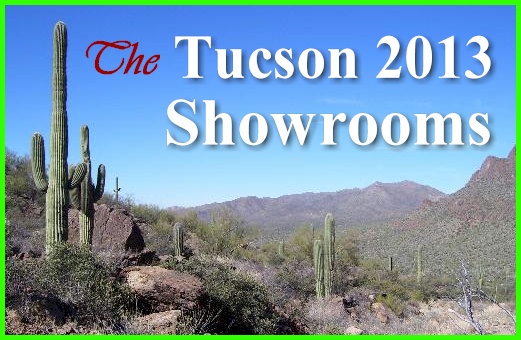 The Tucson Show 2013 Mineral Rooms

Re-Updated August 11th, 2014
MIN#Tucson2013-21 Sold!
An incredibly GEMMY specimen of Aquamarine crystals and Muscovite!
This was one of the gemmiest, most transparent Aquamarine clusters at the show! The crystals
are a deeper blue than most Aquamarines from this locality and the crystal in the back is even
slightly greenish-blue in certain lighting. The crystal faces look like lustrous clear glass with
brilliant light striations. The crystals are separating by a well placed accenting of Muscovite blades
which climb the edges of each vertical Aquamarine. A special thing about this specimen is that the
back side is completely rehealed with a multitude of faces. This allows the light to shine through
like a faceted jewel and intensifies the color of the main crystals. In excellent condition overall.
From Chumar Bakhoor, Hunza Valley, Gilgit District, Gilgit-Baltistan, Pakistan.
Measures 10.4 cm by 9.2 cm by 6 cm in total size.
Price $12,500
MIN#Tucson2013-23 Sold!
Fine crystals of Azurite and Malachite ps after Azurite on Malachite!
One of the better crystalline specimens I've seen from Morenci in quite some time.
The Azurite crystals are sharp and lustrous and the Malachite is pristine and very
chatoyant! No damage to speak of and the specimen displays very aesthetically atop the
Malachite matrix with a stacked crystal display. The appearance remind me of Bisbee.
From the Morenci Mine, Morenci, Greenlee County, Arizona.
Measures 9.2 cm by 5 cm by 3 cm in total size.
Price $4850
MIN#Tucson2013-24 New!
RARE!! Scarce specimen of Köttigite crystal sprays on Limonite!
Köttigite is a Zinc Arsenate Hydrate and quality specimens like this one rarely appear at the
shows. This small cab plate of Limonite had not one but several separate sprays of the greenish-
blue mineral and all were in excellent condition thanks to the protective ridge along the left edge
of the matrix. The crystals are acicular, with the largest spray measures a full inch across (2.5 cm)!
Note: There is a 3 cm spray on the backside but it does have a slight contact.
From the Ojuela Mine, Mapimí, Mun. de Mapimí, Durango, Mexico.
Measures 8.5 cm by 6.4 cm by 3 cm in total size.
Ex. Hollis Page Mineral Collection
Price $985
MIN#Tucson2013-25 New!
Dramatic, almost sculptural specimen of Stibnite crystals in Calcite matrix!
A very aesthetic Italian Stibnite which is both 3-dimensional and balanced. The Stibnites
are in very good condition with only some minor incompleteness here and there. All are
lustrous against the glossy white Calcite surfaces. The specimen was obviously etched to
expose the Stibnite and the preparer did a wonderful job of created a specimen with a lot
of eye appeal. I love the way the top looks like an ocean wave rising above the crystals.
From Montauto, Manciano, Grosseto Province, Tuscany, Italy.
Measures 6.2 cm by 8.4 cm by 7.4 cm in total size.
Price $1850
MIN#Tucson2013-26 New!
Interesting specimen featuring greenish-brown Embolite crystals with Goethite and Cerussite!
Chlorargyrite is the mineral known as "Horn Silver". It was once misunderstood by miners
until they had it assayed and discovered it was Silver Chloride and very rich. Embolite is
a variety of Chlorargyrite which adds some Bromian into the molecular mix and is also
known as Bromian Chlorargyrite. This specimen is covered with the waxy-brown crystals
which are accented by iridescent (bluish-lavender) Goethite and tiny twinned Cerussites!
I haven't seen this combination of minerals from the Broken Hill before and it's very nice.
From the Broken Hill Proprietary Mine, Broken Hill, Yancowinna Co., New South Wales, Australia.
Circa 1950's - Measures 9.5 cm by 7.4 cm by 5.5 cm in total size.
Price $2500
MIN#Tucson2013-27 New!
Transparent purple cubes of Fluorite atop lustrous Sphalerite matrix!
Good looking specimen of Fluorite with a dozen cubes scattered atop the Sphalerite.
In good shape overall with only some incompleteness along the left trimming edge.
From the Elmwood Mine, Smith County, Tennessee.
Measures 7.5 cm by 7.7 cm by 6 cm in total size.
Price $285
MIN#Tucson2013-30 New!
NEW FIND! Colorful crystal of Halite with colorless Sylvite!
These wonderful specimens first appear at the Denver Show last year and quickly left the market.
Now a better batch of specimens has come to market at Tucson and the prices are skyrocketing.
I purchased this specimen early on so the prices are right and reasonable. This 5 cm Halite crystal
displays a gorgeous coloration of bluish-purple and sits on matrix alongside the 6.5 cm transparent
Sylvite crystal. The crystal faces of both are smooth and glassy with a slight surface texture which
reflects light in the above photo. The nature of these Halite crystals is stable and the combination of
the two minerals is one that could play out at any time. This is one of the best pieces I have to offer.
From the 10th Ore Zone, Intrepid Potash Mine, Carlsbad Potash District, Eddy Co., New Mexico.
Measures 6.4 cm by 10.2 cm by 6 cm in total size.
Price $2450
MIN#Tucson2013-32 New!
Amazing specimen featuring dark purple cubes of Fluorite alongside etched yellow Fluorite crystals!
I never cease to be amazed by the combinations Fluorite can create for itself. This interesting specimen
began as a yellow Fluorite cluster. Later it was etched by natural solution and later overgrown on the
left side by purple Fluorite cubes. The basic structure of the original yellow Fluorite is still visible
despite the etching and together both colors create a wonderful specimen which has a lot to say.
From the Victory Mine, Cave-in-Rock, Hardin County, Illinois.
Measures 8 cm by 11.2 cm by 7 cm in total size.
Price $785
MIN#Tucson2013-33 New!
Fine green Fluorite octahedrons atop Quartz and Albite matrix!
The crystals are complete and undamaged with a better than average color.
The surfaces are slightly textured and probably etched to a minor degree.
A fine miniature that is a good representative of this scarce Fluorite locality.
From Stak Nala, Gilgit District, Pakistan.
Measures 5.5 cm by 6.3 cm in size.
Price $685
MIN#Tucson2013-36 New!
Brilliant and very gemmy crystals of Precious Topaz on hard matrix!
I love the aesthetics of this double Topaz specimen. The crystal sitting upright on the
upper left is like clear glass it's so transparent and gemmy. It measures 3 cm in size
and the smaller crystal to the right measures 1.5 cm. Both display a gorgeous golden-pink
coloration that literally glows from within. The terminations are complete and well formed.
There's really no damage to speak of and I can't imagine a more sculptural Topaz specimen!
From Shamozai, Katlang, Mardan District, North-West Frontier Province, Pakistan.
Measures 5 cm by 5 cm by 3.3 cm in total size.
Price $4500
MIN#Tucson2013-34 Sold!
HUGE crystal of lustrous Pyrite ps after Pyrrhotite with Calcite and Quartz!
This is the ultimate for a pseudomorph collector! The Pyrite has pseudomorphed a large Pyrrhotite
measuring 9 cm in size and imparted it from top to bottom with a brilliant golden luster. Parts of the
crystal surface also display lustrous concentric rings, much like that you would see on a Pyrite "sun".
This large pseudomorph sits atop smaller Pyrrhotites, also pseudomorphed by Pyrite, and a series of
Quartz points. A cluster of Calcite crystals sit atop the upper left edge. This specimen is in excellent
condition with no visible contacts anywhere. It is one of the most impressive pseudos I've ever seen!
Please note - I can't capture the brilliance of the luster with a photograph. It's even better in person.
From Dal'negorsk, Primorskiy Kray, Russia.
Measures 10.6 cm by 9.2 cm by 6.7 cm in total size.
Ex. J. R. Jelks Mineral Collection
Price $3500
MIN#Tucson2013-38 Sold!
Elongated crystals of Vesuvianite and Manganvesuvianite!
Impressive cluster of yellows and pinks, with crystals ranging from 1.3 cm to 1.5 cm in size!
Many of the largest crystals stand upright but there are also crystals laying horizontally.
In excellent condition overall with perfect terminations atop the main crystals.
From the Jeffrey Quarry, Asbestos, Quebec, Canada.
Measures 3.2 cm by 3.4 cm by 2.6 cm in total size.
Price $685

- LINKS TO THE TUCSON 2013 SHOWROOMS -
1 | 2 | 3 | 4 | 5 | 6 | 7 | 8 | 9 | 10
HOME | EXCEPTIONAL MINERALS | MINERAL AUCTION | SPECIMENS FROM PAST SHOWS | CONTACT US