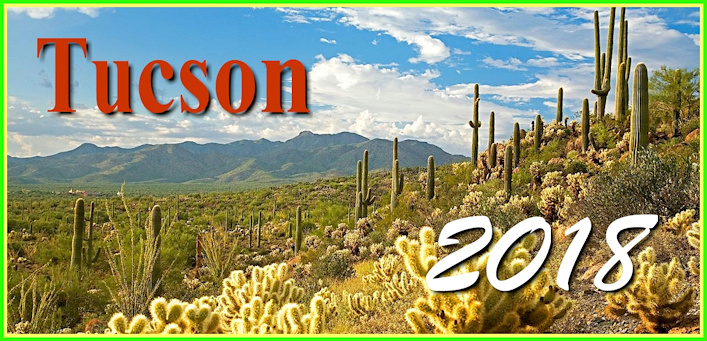 The Tucson 2018 Mineral Showrooms

* Updated March 22nd, 2018 *
MIN#TUCSON2018-22 NEW!
Super aesthetic display featuring a spray of primary Malachite atop a bed of Dioptase crystals on Quartz matrix!
This is a gorgeous display piece which spirals around the Dioptase crystals with glassy lustrous tips along the front
and back. The Malachite is in remarkably excellent condition with only minor contacts of the most trivial nature
along the tips. The Dioptase crystals are very flashy and completely cover the front side of the white Quartz matrix.
From the Christoph Mine (Christoff Mine), Kaokoveld Plateau, Kunene Region, Namibia.
Measures 9.8 cm by 6.8 cm by 5.2 cm in total size.
Price $3850
MIN#TUCSON2018-23 NEW!
Gorgeous red scalenohedral crystals of Rhodochrosite on Manganite matrix!
Pure color and pure gem! I haven't offered many South African Rhodos over the years but this one
caught my eye the moment I saw it! The crystals display the deepest coloration and most display full
terminations and glassy faces that clearly show the inner gemminess of each Rhodo! It's amazing that
something so red can also be so transparent. This specimen displays intense color even under faint
lighting. As is the norm with most of these specimens, there are some incomplete crystals mixed in
with the terminated crystals but these get lost visually in the overall intensity of color. Also, this
specimen is covered on ALL SIDES by gemmy Rhodochrosite crystals because it formed on a matrix
knob so it is a true 360 degree displayable specimen! One of the finest N'Chwaning Rhodos at the show.
From the N'Chwaning Mines, Kuruman, Kalahari manganese fields, Northern Cape Province, South Africa.
Measures 5 cm by 6.5 cm by 5 cm in total size.
Ex. Sela Mineral Collection
Price $34,500
MIN#TUCSON2018-24 NEW!
Incredible specimen featuring thick Aquamarine crystals on Muscovite and Albite!
The Aquamarines are pperfectly terminated and jut out in all directions atop the silvery bladed
Muscovite covered matrix! This is a tremendous Aquamarine specimen from a famous locale
that just isn't producing the same quality that it once did. This specimen probably came to market
back around 2002 or 2003 and its aesthetical qualities are excellent. The crystals are terminated
with flat tips and only the occasional modification. The faces are glassy with transparent interiors
throughout with better than average color. Contacts are few and invisible among the dozens of crystals.
From Nagar, Hunza Valley, Gilgit District, Gilgit-Baltistan, Northern Areas of Pakistan.
Measures 12.3 cm by 14 cm by 13.7 cm in total size.
Price $9500
MIN#TUCSON2018-25 NEW!
EXCEPTIONAL specimen of super brilliant Native Gold var. Electrum leaves and dendrites on Quartz crystal matrix!
This plate is unbelievable under a 10X loupe, displaying some of the finest, well formed dendrites you'll ever see on a Romanian
Gold specimen. The crystals are very sharp and distrinct, forming dendritic herringbone patterns across a good portion of the
Quartz drusy covered matrix. They sit alongside lustrous and mirror-brilliant leaves of Electrum which cover the entire left side
of the matrix. This is without a doubt, the finest Electrum specimen I've offered from this classic locality and one of the richest
I've ever seen. Electrum is a mix of Native Gold and Native Silver and depending on the Silver content, the color can be a slight
yellow to a pale golden. This specimen leans toward the lighter side so I would suspect the Silver percentage is at least 40%
or higher. Along the right side of the sparkling matrix are Pyrite and what appears to be Chalcopyrite crystals for accenting.
From Roşia Montană (Verespatak), Roşia Montanã Commune, Alba Co., Romania.
Measures 11 cm by 7.3 cm by 4.5 cm in total size.
Ex. Huber, Kevin Ward Mineral Collections
Price $18,500
MIN#TUCSON2018-26 Sold!
Fine crystal cluster of Rhodonite on Calcite with Franklinite!
This is a classic specimen from Franklin, New Jersey and only the second or third Franklin Rhodonite
crystal specimen that I felt was of high enough quality to offer on the website. The crystal cluster in the
center consists of half a dozen terminated crystals measuring to 2.6 cm in size. They are set against a
white Calcite backdrop with black Franklinite scattered about for contrast. Aesthetic and in great shape.
From the Franklin Mine, Franklin, Franklin Mining District, Sussex Co., New Jersey.
Measures 4.8 cm by 11 cm by 7.5 cm in total size.
Ex. Franklin Mineral Museum Collection
Comes with a custom made, labeled display base
Price $985
MIN#TUCSON2018-27 NEW!
Extremely rare specimen featuring iridecent Covellite crystals with Anglesite from Tsumeb!
I can count the number of Tsumeb Covellite specimens I've seen on one hand and this is one
of the most impressive. The crystals are small which is normal for Tsumeb but they are very
iridescent as displayed in the close up photo above. Scattered about the matrix with the fine
Covellites are Anglesite crystals, glassy and mostly transparent. I don't know when I'll come
across another Covellite for this famous locality so this represents a rare opportunity for all
collectors. Mindat.org only has three examples of Covellite out of over 5600 Tsumeb pictures.
From the Tsumeb Mine, Tsumeb, Otjikoto Region (Oshikoto), Namibia.
Measures 5.6 cm by 4 cm by 4.4 cm in total size.
Ex. Helmut Heuser, Oleszczuk Mineral Collections
Price $1850
MIN#TUCSON2018-28 NEW!
Large cabinet sized plate of deep bluish and sea-green Fluorite with white Barite crystals!
This is the most impressive Okorusu Fluorite I've offered in years and I really haven't seen very many
good ones of this size in the past decade. The color is a mix of blue with greenish undertones and there are
phantoms beneath the super glassy and quite lustrous surfaces. The white Barites are a nice contrasting
addition to this large display plate. In excellent condition with few contacts and no visual detractions.
From the Okorusu Mine (Okarusu Mine), Otjiwarongo District, Otjozondjupa Region, Namibia.
Measures 17.2 cm by 13.6 cm by 7.5 cm in total size.
Price $3500
MIN#TUCSON2018-29 NEW!
Impressive specimen featuring Cerussite crystals on Barite!
Glassy crystals of translucent Cerussite with sharp reflective faces and a golden coloration.
There are at least a dozen crystals here, measuring to 3.2 cm in size, with some hoppering
along the edges. They sit atop a matrix of pinkish Barite blades with burnt orange accenting.
Mibladen Mining District, Midelt Province, Drâa-Tafilalet Region, Morocco.
Measures 9 cm by 7 cm by 3.6 cm in total size.
Price $1850
MIN#TUCSON2018-30 NEW!
Fine combination of Rhodochrosite with Fluorite, Dolomite and Pyrite!
This specimen has a little of almost everything from the Wutong Mine. The Rhodochrosite appears
as actual rhombs and they are well formed and complete with few contacts. The gemmy light Purple
Fluorite sit along the center and tiny Pyrite crystals are sprinkled along Dolomite covered edges.
From Wutong Mine, Liubao, Wuzhou Prefecture, Guangxi Zhuang Autonomous Region, China.
Measures 3.8 cm by 4.1 cm by 2 cm in total size.
Price $895
MIN#TUCSON2018-31 NEW!
Glassy crystals of Malachite included Barite in cluster atop Malachite!
Fine specimen displaying fully terminated Barite tabs and only a couple of incomplete crystals which are well hidden.
The Barites are lustrous and reflective. The Malachite is smooth with no blemishes and a beautiful radial patterning.
From the Shangulowé Mine, Kambove District, Katanga (Shaba), Democratic Republic of the Congo.
Measures 5.5 cm by 6.8 cm by 3.7 cm in total size.
Price $685
MIN#TUCSON2018-32 NEW!
Lovely specimen featuring a deep Golden Topaz crystal perched atop Quartz points and Albite matrix!
Every now and then I see fine examples of Golden Topaz off matrix but matrix specimens with fully transparent crystals
have become nearly impossible to find in today's market. The only specimens that appear every now and then are all from
collections, as this piece is. This specimen features a golden Topaz crystal measures nearly 3 cm in size perched high atop
a terminated Quartz and surrounded by white blades of Albite. The color is a glowing golden which deepens in incandescent
lighting. The Topaz is so gemmy and transparent that it's like gazing through a piece of golden colored glass. I can easily read
print through the crystal. The surfaces of both the Topaz and Quartz are glassy-lustrous with an excellent flash when rotated.
From Dassu, Braldu Valley, Skardu District, Baltistan, Gilgit-Baltistan, Northern Areas of Pakistan.
Measures 8 cm by 8.6 cm by 6 cm in total size.
Ex. Obboda Mineral Collection
Comes with a custom made, labeled display base
Price $7500
MIN#TUCSON2018-33 NEW!
Cute specimen featuring a dark Smoky Quartz point with a deeply colored Amazonite crystal!
This fine miniature offers some of the best of both colors. The Smoky Quartz point and Amazonite
both have excellent color with perfect terminations and no detractions. There is the typical repair
but this is professionally done and pretty much invisible. A well balanced, aesthetic combination!
From Sentinel Rock, El Paso County, Colorado.
Measures 8.8 cm by 7.2 cm by 6.9 cm in total size.
Price $1850
MIN#TUCSON2018-34 NEW!
Historical specimen of Native Gold crystal dendrites on Quartz matrix from Nevada!
This cabinet sized plate is an amazing example of American and Nevada mining history. It's from
the old mining district of Tonopah, Nevada which was the home to a huge Silver mining boom in the
early 1900's. While Silver was the main ore discovered in Tonopah, there were also gold deposits
although most were a bit further south in Goldfield. This specimen is a white Quartz matrix with open
pockets into which Native Gold flowed while in solution. The Gold cooled to form dendritic crystalline
clusters. The close up photo displays the incredibly intricate crystals and dendrites which fill the openings.
Specimens of this size with this much Gold coverage from Tonopah, Nevada are incredibly rare today.
Circa 1910 - From the Tonopah District, San Antonio Mts, Nye County, Nevada.
Measures 6.6 cm by 10.5 cm by 4.8 cm in total size.
Price $1500
MIN#TUCSON2018-35 NEW!
Super aeLarge gem Topaz crystals set atop Smoky Quartz from Namibia!
This was by far the most impressive Namibian multi-Topaz specimen at the show and it one of
the best I've seen in years. There are two gemmy, terminated Topaz crystals here, both measuring
around 3.5 cm in size. The crystals are both light greenish-blue with gemmy interiors clear enough to
read through. The Smoky Quartz are complete and terminated and display some internal phantoming
beneath the light brown exteriors. The crystals are all complete with some rehealing along the bottom.
From the Erongo Mountain, Usakos-Omaruru Districts, Namibia.
Measures 6.3 cm by 8.8 cm by 8.5 cm in total size.
Ex. Bahmann Mineral Collection
Price $2850
MIN#TUCSON2018-36 NEW!
Glowing plate featuring gemmy cubes of golden Fluorite with bluish zoning and a large crystalline Sphalerite!
This is a beautiful Fluorite plate with great color, good form, and a strong glassy luster over gemmy interiors.
The crystals are a deep golden color with a light blue zoning at the edges which highlights the crystal structure.
A large, lustrous Sphalerite cluster is the perfect backing for this fine plate. In great shape with only tiny contacts.
From the Denton Mine, Harris Creek Sub-District, Hardin County, Illinois.
Measures 6.3 cm by 9.5 cm by 10 cm in total size.
Ex. Paone Mineral Collection
Price $1850
MIN#TUCSON2018-37 NEW!
Sweet cluster of gemmy pink Danburite crystals!
I don't see pink Danburite specimens very often anymore and clusters in the cabinet size range have become
very difficult to locate. These large crystals are quite glassy and become transparent as you approach the tips.
Some are doubly terminated! The pinkish hue becomes more apparent with incandescent lighting which is typical of
these pretty specimens. Overall, the specimen is in very good condition with great presentation and no detractions.
From Charcas, Mun. de Charcas, San Luis Potosi, Mexico.
Measures 11.5 cm by 5.5 cm by 4.3 cm in total size.
Price $2500
MIN#TUCSON2018-38 NEW!
Fine specimen of brown Fluorite on Celestite crystal blades with yellow Calcite!
This specimen is from a find that occurred several years ago and quality specimen have
since disappeared from the market. I choose this specimen because the Fluorite cubes are
all in excellent condition with smooth glassy faces and no detracting contacts. The largest
cube situated to the left measures nearly 4 cm corner to corner. Every one of the cubes exhibit
a bold phantom just beneath the surface. They sit atop a series of Celestite blades with Calcite.
From the White Rock Quarry, Clay Center, Ottawa County, Ohio.
Measures 7 cm by 9.2 cm by 7.5 cm in total size.
Price $3450
MIN#TUCSON2018-39 NEW!
Aesthetic specimen featuring lustrous Pyrite cubes with Quartz crystals!
This is a superb small miniature, displaying some of the most lustrous Pyrites crystals you'll
ever see. The largest Pyrite on the very top measures 3 cm from corner to corner. The modified
cubes sit high atop a cluster of fine Quartz crystals, all of which are complete and terminated.
From the Spruce claim (Spruce Ridge), Goldmyer Hot Springs, King Co., Washington.
Measures 9 cm by 7.4 cm by 5 cm in total size.
Price $1850
MIN#TUCSON2018-40 NEW!
Colorful, lustrous surfaces of vibrant blue Smithsonite with white patterning!
A wonderful display specimen that is as pristine as it is beautiful. The botryoidal surfaces
are highly lustrous with barely a surface contact anywhere. The color is a gorgeous deep
blue with snowy-white rings surrounding every natural opening in the rolling blue surfaces..
I consider this to be one of the most attractive Smithsonites I've seen and offered in years!
From Choix, Mun. de Choix, Sinaloa, Mexico.
Measures 6.8 cm by 6 cm by 4.8 cm in total size.
Price $985
MIN#TUCSON2018-40b Sold!
Classic specimen featuring Green Fluorite crystals with pink Rhodochrosite on Quartz matrix!
This great looking specimen is from the old American Tunnel workings in Silverton, Colorado.
Specimens of this caliber from there rarely come to market and really good quality Fluorites
are almost impossible to fine. These stepped and modified Fluorites measure between 3 cm
and 3.5 cm in size and actually wrap themselves around the pink Rhodochrosite crystals.
The matrix is a solid mix of small white Quartz crystals and Pyrite. In excellent condition.
From the Sunnyside Mine, American Tunnel, Silverton District, San Juan Co., Colorado.
Measures 7.7 cm by 7.2 cm by 6.5 cm in total size.
Price $985
MIN#TUCSON2018-40c NEW!
Amazing combination of bright yellow Stellerite spheres with Epidote crystals on green Prehnite!
This is one of the most interesting combo specimens I've seen recently. I don't know how many of these came out but
there couldn't have been too many because they are few and far between at the shows and only three are listed on mindat.org.
This specimen features at least three distinct crystalline balls of stellerite, all exhibiting a rolling luster, with the largest ball
measuring right at 5 cm in size! A scattering of olive-green Epidotes can be seen in the foreground with Prehnite in the back.
From the Diamonkara, Bendougou village, Arrondissement Diakon, Commune Diakon, Cercle de Bafoulabé, Kayes Region, Mali.
Measures 7.5 cm by 7 cm by 5.7 cm in total size.
Price $1450
MIN#TUCSON2018-40d NEW!
Super fine Native Copper dendrites from Nevada!
This is an excellent example of crystalline Native Copper from one of the rarer Copper mining localities
in Nevada. I almost never see specimens from this locality and this one came out several decades ago.
From the Mountain City Mine (Mountain City Mercur), Mountain City District, Elko Co., Nevada.
Measures 5.7 cm by 5.2 cm by .7 cm in total size.
Price $685
MIN#TUCSON2018-40e NEW!
Incredibly rare specimen featuring a Calcite ball tucked inside a Rhodochrosite lined matrix vug!
Rhodochrosite from Michigan is quite rare but a specimen that opens up into a see-through vug, lined with Rhodo crystals,
with a yellow Calcite sphere as well is quite incredible. The vug is open on the back side and allows light to stream through.
This seldom seen specimen is from the Cannon Mine, Stambaugh, Menominee Iron Range, Iron County, Michigan.
Measures 5.5 cm by 7 cm by 6.5 cm in total size.
Ex. Oleszczuk Mineral Collection
Price $1850
MIN#TUCSON2018-40f NEW!
This is an amazing, museum calibre, large cabinet plate of Galena cubes with Sphalerite and Dolomite on Chert!
What a superb dazzling Tri-State plate! Dozens of mirror-lustrous and brilliant Galena cubes cover the sparkling
front surface of this large Chert matrix. The cubes are all sharp and distinct with stepped corners and secondary
crystallization but few contacts. The largest cubes measure to 7+ cm in size across the corners but all are large
and the weight of the plate reflects their size. This is by far the largest and most impressive Tri-State Galena
specimen I've ever displayed for sale in years. If you're looking for a major centerpiece or a museum calibre
Tri-State classic, this is the piece for you! In excellent condition with a scattering of Ruby-Jack Sphalerite.
From the West Side Mine, Treece, Picher Field, Tri-State District, Cherokee Co., Kansas.
Measures 18.2 cm by 30.5 cm by 10.2 cm in total size.
Ex. Lee B. Burnett Mineral Collection
Price $7500
- LINKS TO THE TUCSON 2018 MINERAL SHOWROOMS -
1 | 3 | 4 | 5 | 6 | 7 | 8 | 9 | 10

HOME | EXCEPTIONAL MINERALS | MINERAL AUCTION | SPECIMENS FROM PAST SHOWS | CONTACT US