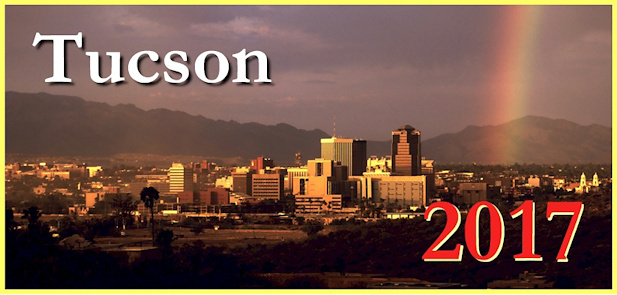 The Tucson 2017 Mineral Showrooms

* Updated May 23rd, 2017 *
MIN#TUCSON-81 Sold!
Exceptional and rare specimen of Native Leaf Gold in white Quartz matrix!
This is a MAJOR Gold specimen and of a quality seldom seen from the Oriental Mine in
California. The Gold appears as brilliant layers of leaf Gold with crystals present along
the edges of each seam. There are also flattened trigons apparent atop the surfaces of
the leaf Gold so you could actually say that the entire specimen is crystalline! The color
of the Gold is a super lustrous butter-yellow indicating a small Silver presence in the mix.
(Orange would indicate Copper). Specimens of Gold from the Oriental in this size range
are quite rare and specimens with this much Gold coverage are incredibly rare! This fine
specimen represents a unique opportunity for Gold collectors and mineral collectors alike!
From the Oriental Mine, Alleghany, Forest District, Sierra County, California.
Measures 6.8 cm by 6.3 cm by 5 cm in total size.
Ex. Kevin Ward Mineral Collection
Price $18,500
MIN#TUCSON-82 NEW!
Gorgeous red scalenohedral crystals of Rhodochrosite on Manganite matrix!
Pure color and pure gem! I haven't offered many South African Rhodos over the years but this one
caught my eye the moment I saw it! The crystals display the deepest coloration and most display full
terminations and glassy faces that clearly show the inner gemminess of each Rhodo! It's amazing that
something so red can also be so transparent. This specimen displays intense color even under faint
lighting. As is the norm with most of these specimens, there are some incomplete crystals mixed in
with the terminated crystals but these get lost visually in the overall intensity of color. ALSO, the
specimen is covered on ALL SIDES by gemmy Rhodochrosite crystals because it formed on a matrix
knob so it is a true 360 degree displayable specimen! One of the finest N'Chwaning Rhodos at the show.
From the N'Chwaning Mines, Kuruman, Kalahari manganese fields, Northern Cape Province, South Africa.
Measures 5 cm by 6.5 cm by 5 cm in total size.
Ex. Sela Mineral Collection
Price $35,000
MIN#TUCSON-83 Sold!
"The VIKING SILVER"
Exceptional Native Silver from the old mines in Frieberg, Germany!
This incredible old classic features some of the thickest wires of Native Silver I've ever seen,
measuring 3 cm and 3.5 cm in width! AMAZING! They rise upwards, gracefully twisting and
bending atop a matrix of Silver and Acanthite before finally terminating as two "Viking Horns"
11 cm above the lower base. This is a sizeable specimen for sure and one with a good amount
of heft and presence. The thick rope-like wires are beautifully patinaed with an antique golden
to golden brown oxidation. Patches of orange brown surface skin attest to the age and originality
of the specimen since this literally takes many decades to form. Beneath the original surfaces
is a flowing luster which is more noticeable along the fine striations. I've personally owned
and offered some of the finest Silvers in the world and this one stands tall among the others.
This is truely a spectacular German Silver worthy of the finest collections. In excellent condition.
From the Himmelsfürst Mine, Brand-Erbisdorf, Freiberg District, Erzgebirge, Saxony, Germany.
Measures 11 cm by 5.7 cm by 3.9 cm in total size.
Ex. Hoppe, Kevin Ward Mineral Collections
Price $145,000
MIN#TUCSON-84 NEW!
Exceptional specimen featuring a brilliant leaf of Native Gold rising up from bright white Quartz matrix!
This very rare locality piece is a characteristic style found twice - In the 1880s and later in one pocket in the early 1990s. It is from a single
famous pocket which produced some of the finest golds seen since the gold rush era, via a lucky find by a metal detector on long-worked property.
The vertical leaf of gold is 3.5 cm tall. The pieces from this find are in major museums and collections around the world, and seldom come up for sale.
The piece is 360 degrees, complete all around, and displays elegantly from all sides. The leaf is quite sturdy and extends through the quartz matrix.
Last sold in the 1990s by Herb Obodda, this is one of my favorite Gold miniatures from the show. It is brilliant, glamourous, and incredibly aesthetic.
From the 1992 Christmas Pocket, Crystalline-Alabama Claim, Jamestown mine, Tuolumne Co., California.
Measures 4.5 cm by 3.4 cm by 3.3 cm in total size.
Ex. Obboda Mineral Collection
Price $6500
MIN#TUCSON-85 Sold!
Colorful, lustrous surfaces of greenish-blue Smithsonite with white patterning!
A wonderful display specimen that is as pristine as it is beautiful. The botryoidal surfaces
are highly lustrous with barely a surface contact anywhere. The color is a gorgeous sea water
green with snowy-white patches across the top, down the right edge, and across the center.
I consider this to be one of the most attractive Smithsonites I've seen and offered in years!
From Choix, Mun. de Choix, Sinaloa, Mexico.
Measures 8 cm by 6 cm by 4.2 cm in total size.
Ex. Webb Mineral Collection
Comes with a custom made, labeled display stand
Price $2850
MIN#TUCSON-86 NEW!
Fine crystals of Native Silver in cluster high atop Native Copper!
Wonderfully aesthetic specimen which is one of the most distinctive halfbreed specimens
I've ever seen from the old Michigan Copper Mining District. The crystals are sharp and
well formed as they branch out from the lustrous cluster at top. I actually nicknamed this
specimen the "Silver Eagle" because I can see an eagle sitting on a nest with wings formed
from the numerous Silver crystals. In excellent condition with a beautiful visual display.
From the Kearsarge Mine, Kearsarge, Houghton County, Michigan.
Measures 7 cm by 3.8 cm by 2.5 cm in total size.
Price $3500
MIN#TUCSON-87 Sold!
Matching Pair of Chromium colored Petrified Wood (Araucarioxylon arizonicum)!
From one of the oddest finds of Petrified wood in the world, this Conifer tree existed between
65 and 200 million years ago during the Triassic Era. When the tree died and was becoming
petrified, it became exposed to the mineral Chromium (same mineral which colors Emeralds).
Native Americans were the first to find the material and used it in jewelry making but kept the
location a secret until it was eventually rediscovered and authenticated by the Smithsonian.
These specimens are natural hygrometers. When dry they become a very light pale green and
when wet or exposed to humidity they turn a deep green. This specimen is a very fine example,
cut into a cross section and displays a full rind of bark around both ends which are highly polished.
From a locality near Winslow, Navajo County, Arizona.
Measures 7 cm by 9.4 cm by 2.5 cm and 9 cm by 8.5 cm by 1.5 cm in total sizes.

Price $9500
MIN#TUCSON-88 NEW!
Beautiful crystals of bi-colored Fluorite on matrix!
Vivid purples and greens color these Fluorite cubes which climb atop one another up the matrix. This is a
rare locality I have not previously offered and was one of the best specimens from the small collection. The
largest Fluorite cube measures 3.6 cm in size and all exhibit a strange chatoyance, almost like Labradorite
with a luminescence just beneath the crystal faces. Definately one of the most unusual Fluorites I've seen.
From the Tarryall Mountains Area, Jefferson County, Colorado.
Measures 8.6 cm by 9.8 cm by 7 cm in total size.
Price $1850
MIN#TUCSON-89 NEW!
Fine specimen featuring transparent Calcite crystals sitting atop Calcites of another habit and color!
These four Calcites are pristine and gem, with super glassy surfaces which reflect light like a chandelier when the
specimen is rotated. A smaller Calcite cluster can be seen along the front edge of the matrix. In excellent condition.
From the Nikolaevskiy Mine, Dal'negorsk, Kavalerovo Mining District, Primorskiy Kray, Far-Eastern Region, Russia.
Measures 4.5 cm by 5.7 cm by 4 cm in total size.
Price $1500
MIN#TUCSON-90 NEW!
Classic and quite rare specimen of Native Gold on matrix from Goldfield, Nevada!
This is a historical specimen from a major early mining period of Nevada's history. Goldfield
was mostly known for its Gold mines while Tonopah to the north was famous for its Silver deposits.
The two towns had their heyday around the same time period (1900-1920's) and are today still holding
on although Tonopah has done somewhat better thanks to a nearby military base. The district is very
historical and full of old mines. It's also one of my favorite areas to visit when I'm in the area. This
specimen features a rich scattering of Native Gold atop the front and back of the stained Quartz matrix.
From Goldfield, Goldfield District, Esmeralda County, Nevada.
Measures 7.1 cm by 4.1 cm by 2.4 cm in total size.
Price $2450
MIN#TUCSON-91 NEW!
Exceptional specimen featuring a pristine, gemmy Calcite sitting alongside a Hematite crystal!
A beautiful combination that is both aesthetic and nearly pristine. The transparent Calcite at top measures
4.7 cm in size. It sits next to a perfectly terminated, nearly 2 cm tall Hematite crystal with mirror-lustrous
faces on all side. A couple of smaller Calcite crystals are also present and all are sitting atop a matrix
covered by super flashy Hematite crystals. In excellent condition with no damage to speak of. There is
a slight matrix influence irregularity on a backside Calcite face but this does not detract. Simply superb!
From the N'Chwaning II Mine, Kuruman, Kalahari manganese field, Northern Cape Province, South Africa.
Measures 7 cm by 10 cm by 7.4 cm in total size.
Ex. Bahmann Mineral Collection
Price $6500
MIN#TUCSON-92 NEW!
Amazing specimen featuring numerous stacked Azurite crystals from Tsumeb!
I don't know if you could call this a stalactite but it sure looks like one. Well over a dozen
glassy faced Azurite crystals, tabular in habit, climb atop one another, forming a pillar that
measures 9 cm in height! The Azurite crystals themselves measure to 2.2 cm in size. Another
interesting feature is that while the flat crystal faces are glassy smooth and lustrous, their
edges are slightly textured. This makes for a wonderful contrast. In excellent condition.
From the Tsumeb Mine (Tsumcorp Mine), Tsumeb, Otjikoto Region, Namibia.
Measures 9 cm by 4.4 cm by 2.7 cm in total size.
Price $2500
MIN#TUCSON-93 NEW!
A Native Gold on Quartz that is as graceful as it is dramatic!
This specimen is from the "Mystery Wind Mine" and it actually looks wind blown, like a tree being swept by
a strong ocean breeze. The Gold is incredibly brilliant and displays a crystalline dendritic structure for the most
part as it conveys great motion above the white Quartz matrix from which it emerges. Interesting story regarding
the Mystery Wind Mine. It was a name given to Eagle's Nest specimens in an attempt to conceal their true identity.
Apparently, fine Gold specimens were being high-graded from the mine in the middle of the night as if swept away by
a mystery wind. Those removing the specimens sold them using the Mystery Wind name, apparently in an attempt to
be humorous or cheeky or perhaps both. I preserve the name because it was recorded as such on the collection label.
From the Eagle's Nest Mine (Mystery Wind Mine), Sage Hill, Michigan Bluff District, Placer County, California.
Measures 5.5 cm by 6.5 cm by 1.5 cm in total size.
Ex. Kalaskie Mineral Collection
Price $12,500
MIN#TUCSON-94 NEW!
Lovely specimen featuring an Aquamarine crystal with a Morganite crystal on Albite matrix from California!
I rarely see specimens of this calibre from California, much less the Oceanview Mine! This fine specimen was
actually pictured in Rocks and Minerals Magazine in their Oceanview Mine issue from July/August 2008. The
photograph from that issue is shown above. The 3.4 cm Aquamarine is the larger of the two crystals and it exhibits
a perfect form with a light blue coloration and just a hint of pink near the bottom. The Morganite is also pristine
with a beautiful blushed pink coloration. Both crystals are glassy-lustrous and sit side by side atop the Albite
matrix. Another Aquamarine crystal, smaller in size, is located along the far back edge. In excellent condition.
From the 49er Pocket, Oceanview Mine, Chief Mountain, Pala, Pala District, San Diego County, California.
Measures 10.5 cm by 8 cm by 6.4 cm in total size.
Featured in Rocks and Minerals Magazine in their Oceanview Mine issue of July/August 2008
Price $2850
MIN#TUCSON-95 Sold!
Exceptional specimen featuring Native Silver crystals with a coating of Native Copper!
This is one of the most unique Michigan halfbreed specimens that I've ever seen because it is
pretty much the opposite of what I see 99% of the time. This is a Silver crystal specimen with
a thin layering of Native Copper near the base of many of the Silver crystals. The specimen is
quite heavy and would be completely Silver if not for this thin layer of Copper which appears
only as an accenting afterthought. Usually, Michigan specimens are the other way around with
Copper being the dominant mineral in the combo. The Silver crystals cover the entire front side
of the specimen and actually branch out into fan shaped clusters on the back side. They measure
to 2 cm in size and many display pencil tip terminations. Several of the crystals on the front side
display flattened matrix influenced crystal faces with the majority of the surrounding crystals
being fully formed. Definately a specimen which is both aesthetic and interesting to say the least.
From the North Kearsarge Mine, Kearsarge, Houghton County, Michigan.
Measures 9 cm by 5.2 cm by 5 cm in total size.
Price $9500
MIN#TUCSON-96 NEW!
IMPRESSIVE large cabinet sized plate featuring a combination of Sphalerite with Galena, Quartz, and Realgar crystals!
This is the largest specimen I've seen from the Palomo Mine, a Silver mine which has long since been closed but which is still
mined by the local population for specimens of value. The color combination on this large plate is stunning and the red Realgar
crystals really makes the piece pop. There's also some orange Orpiment around the Realgar edges which adds additional contrast.
From the Palomo Mine, Castrovirreyna Province, Huancavelica Department, Peru.
Measures 17.4 cm by 27 cm by 16.2 cm in total size.
Ex. Phillips Mineral Collection
Price $3500
MIN#TUCSON-97 NEW!
Brilliant cluster featuring glassy, transparent Herkimer Quartz crystals!
There are half a dozen Herkimer "Diamonds" in this cluster, with the smaller gem crystals
sitting atop the larger crystals in descending order. The crystals are completely transparent
with just the lightest touch of golden color. The crystals are in excellent condition overall
with only a few trivial contacts and a clean fracture along the back side which was the point of
attachment, completely out of view. One of the prettiest Herkimer clusters I've seen in years.
From Middleville, Town of Newport, Herkimer County, New York.
Measures 5.2 cm by 6 cm by 3.3 cm in total size.
Price $1500
MIN#TUCSON-98 Sold!
Gorgeous cabinet sized plate of deep blue Fluorite cubes on Quartz matrix!
I haven't seen as many quality plates of this material recently and this one came out of
hiding in Tucson. Most of the new material is etched and purplish but this is a pure inky blue
beauty with a satiny luster atop the dozens of Fluorite cubes. The cubes measures to 1.7 cm in
size and average around 1.2 cm in size.. In great shape with only the normal edge contacting.
From the Blanchard Mine, Bingham, Socorro County, New Mexico.
Measures 12.7 cm by 15 cm by 6.3 cm in total size.
Price $1500
MIN#TUCSON-99 NEW!
Scarce specimen of Calcite crystal blades with deep red Sphalerite crystals on drusy Quartz!
These specimens first appeared in the marketplace over a decade ago and were easily some of
the finest Sphalerite specimens to date. The Sphalerites are bright red and resemble Garnet crystals.
Not many specimens were found with Calcite blades and few were as pristine as this specimen is with
its phantomed interiors of opaque white beneath translucent outer tips. I haven't seen many of these
lovely pieces lately and this is the finest plate I can recall from this scarce locality. Nearly pristine!
From the Shuikoushan Mine, Shuikoushan Ore Field, Changning Co., Hengyang Pref., Hunan Prov., China.
Measures 11 cm by 9.8 cm by 6.5 cm in total size.
Price $2450
MIN#TUCSON-100 Sold!
Brilliant Diamond crystal set firmly in a conglomerate of pebbles and Iron Oxide!
Occasionally I come across these fascinating specimens and this one is from a private collection.
The Diamond here measures 4 mm in size and displays the internal brilliance and habit Diamonds
are reknown for. These alluvial diamonds were deposited into conglomerates over time and are the main
reason this region of Brazil was named. These specimens are rarely preserved and most of the Diamond crystals
are found as loose stones.. This one features very prominent pebbles and cobbles on both sides of the colored matrix.
Circa 1950's - From Garimpo Velho, Diamantina, Minas Gerais, Brazil.
Measures 9.4 cm by 6.7 cm by 5.5 cm in total size.
Ex. Matioli, Phillips Mineral Collections
Price $1850
MIN#TUCSON-100b NEW!
Lustrous crystals of Sphalerite climbing a matrix ridge with Rubyjack and Chalcopyrite crystals!
A classic specimen of Tri-State District beauty, well trimmed and and dazzling with color and drusy covered
matrix. The Sphalerite crystals are mirror-lustrous, measuring to 2.5 cm in size. Many are studded with
golden Chalcopyrites, especially along the left edge of the matrix. In excellent condition with great eye appeal.
From the Picher Mine, Picher Field, Tri-State District, Ottawa County, Oklahoma
Measures 7.2 cm by 8.1 cm by 3.5 cm in total size.
Price $985
MIN#TUCSON-100c NEW!
Fine old specimen of semi-crystalline Native Gold in and on Quartz matrix from Montana!
Super rich and super brilliant, this is the richest Montana Gold I've seen in quite some time. The Gold
appears inside a concave matrix recess and scattered about in small openings here and there about the
Quartz. It is semi-crystalline in structure with some smaller crystals and leaves in the lustrous mix.
The Gold cavity shown in the picture above measures 4 cm in size from top to bottom. Very impressive.
From the Keystone Gold Mine, Lincoln County, Montana.
Measures 5.7 cm by 4.7 cm by 6.3 cm in total size.
Ex. Karl Fair (1974), Mike Groben Mineral Collections
Comes with a display label
Price $5500
MIN#TUCSON-100d NEW!
Very aesthetic plate featuring colorless Calcite crystals with Stibnite spears on Dolomite covered matrix!
For some reason, rhombic Calcite with Stibnite spear combos are almost impossible to find at the shows. I don't know
if they don't survive the extraction process or if they are just very rare to find at the mining source but this is the
first plate of size that I've seen in years. The Calcite rhombs are transparent down to the matrix and measure to
3+ cm in size. They are glassy-lustrous with several internal rainbows. The brilliant Stibnite crystal spears
measure to over 6 cm in length and most exhibit terminations with one spear having terminated into matrix. The
crystals are in great shape with only a scattering of trivial contacts. I don't know when I'll find another of these.
From the Xikuangshan Sb deposit, Lengshuijiang Co., Loudi Prefecture, Hunan Province, China.
Measures 8.6 cm by 16 cm by 6.3 cm in total size.
Price $2450
MIN#TUCSON-100e NEW!
Fine specimen of brown Fluorite on Celestite drusy matrix!
This specimen is from a find that occurred several years ago and quality specimen have
since disappeared from the market. I choose this specimen because the Fluorite cubes are
large and in excellent shape with smooth glassy faces and no detracting contacts. The largest
cube in the foreground measures nearly 4.5 cm in width and every Fluorite cube exhibits a
darker phantom just beneath the surface. They sit atop a white cluster of Celestite blades.
From the White Rock Quarry, Clay Center, Ottawa County, Ohio.
Measures 9.5 cm by 12.6 cm by 7.9 cm in total size.
Price $2850
MIN#TUCSON-100f NEW!
Exceptional large specimen combination of Pyrite on Hematite from the classic Elba locality!
This is the largest Elba Pyrite specimen I've ever offered and easily the most impressive. It's a borderline
large cabinet plate with mirror-lustrous Pyrite crystals measuring to 7.5 cm in size! The crystals are all
pyritohedrons and display pristine surfaces which are mirror-like and incredibly lustrous in contrast to
the sparkling flash of the much smaller Hematite blades which form the host matrix.
From Rio Marina, Elba Island, Livorno Province, Tuscany, Italy.
Measures 14.5 cm by 12.4 cm by 10.8 cm in total size.
Price $7500
- LINKS TO THE TUCSON 2017 MINERAL SHOWROOMS -
HOME | EXCEPTIONAL MINERALS | MINERAL AUCTION | SPECIMENS FROM PAST SHOWS | CONTACT US