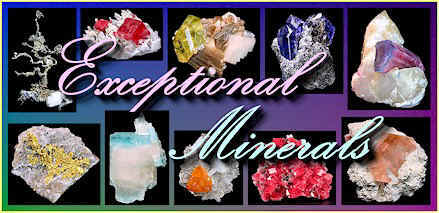 ** Updated 4/12/2011 with New Exceptional Specimens! **

MIN#EXCEPTIONAL-184 NEW!
Lustrous, silvery-gray crystal cluster of Stephanite with Calcite on matrix!
VERY impressive example of this late stage Silver Antimony Sulfosalt which is roughly
about 69% Silver by formula. The crystals appear as flattened hexagonal tables with
an obvious twin visible in the photo on the far left side of the cluster. Crude looking
dogtooth Calcite crystals surround the cluster and cover most of the host rock matrix.
From the Doloras Mine, Real del Monte, Hidalgo, Mexico.
Measures 5 cm by 4.8 cm by 4 cm in size.
Ex. Manhattanville College Mineral Collection, Purchase, New York
Price $2500
MIN#EXCEPTIONAL-185 NEW!
EXCEPTIONAL!! Twirling wires of Native Silver perched atop Calcite crystals!
I believe this is the first Peruvian Silver I've seen with complete scalenohedral Calcites!
The combination is incredibly beautiful and eye-catching! It measures 5 cm by 7 cm
in size with 1 - 1.5 cm Calcite crystals! From the Uchucchacua Mine, Oyon Province,
Lima Department, Peru. The Silver wire at top rises 3 cm above the Calcite base.
Comes with a custom made, labeled stand.
Ex. Bill and Carol Smith Collection
Price $3500
MIN#EXCEPTIONAL-187 NEW!
Exceptional specimen featuring a Smoky Quartz with a crystal-clear Topaz crystal!
A really sweet combo, the Smoky Quartz is fully terminated and in perfect condition with
only a tiny bit of chatter here and there. The Topaz crystal is large for the locale and is
completely gem with sharply striated faces. It measures 3 cm by 3.5 cm in size and is
almost colorless but for a very faint icy-blue tint. The Topaz is partially contacted on
the backside but this does not detract in the least. This is one stunning specimen to see.
From Klein Spitzkopje, Swakopmund District, Namibia.
Measures 8.1 cm by 6 cm by 4.5 cm in size.
Ex. Rolf Wein Mineral Collection
Price $2500
MIN#EXCEPTIONAL-189 NEW!
Glassy crystal of bi-color Apophyllite perched atop transparent Calcite crystals!
The Calcites are accented by Stilbite blades along the top side and smaller Apophyllite crystals
down the back. A distinct green banding can be seen in the center of the 7.2 cm Apophyllite
crystal. It's doubly terminated with the left side termination being pristine and pointed while
the right side termination is flat with a slightly matted surface. In excellent condition overall!
From Jalgaon, North Maharashtra, India.
Measures 11.9 cm by 7.3 cm by 6.7 cm in size.
Ex. Steve Neely Mineral Collection
Price $2250
MIN#EXCEPTIONAL-191 NEW!
RARE!! Leaf Native Silver atop matrix from Tsumeb!
Silver specimens from Tsumeb are incredibly rare but a matrix specimen is a very special find!
Measures 5.3 cm by 5.8 cm in size. From the Tsumeb Mine in Tsumeb, Nambia.
Ex. Bill and Carol Smith Collection.
Price $3450
MIN#EXCEPTIONAL-194 NEW!
Gorgeous specimen featuring two Corundum var. Sapphire crystals on matrix!
From Amboarohy, Ihosy Area, Horombe Region, Fianarantsoa Province, Madagascar.
Measures 5.5 cm by 8 cm in size with the largest Sapphire measuring 2.5 cm!
Price $2850
MIN#EXCEPTIONAL-195 NEW!
NEW FIND! Sharp crystals of bipyramidal Wulfenite on Limonite matrix!
These were collected in January of 2008 and have been very popular since coming to market.
These specimen is in excellent condition with very little in the way of contacts. The crystals
appear to be sitting on Descloizite coated matrix but I haven't tested to be certain.
From Level 6, San Juan Poniente Vein, Ojuela Mine, Mapimí, Mun. de Mapimí, Durango, Mexico.
Measures 6.9 cm by 10 cm by 5.3 cm in size.
Price $1850
MIN#EXCEPTIONAL-200 NEW!
Large cabinet sized specimen of very vibrant blue Azurite with Malachite!
This was one of the first mineral specimens in my own personal collection. I sold it years
ago and was very happy to find it again last year. A little bit of trimming and cleaning
and here it is again on the website. I was always impressed with the sparkle and color
of this thick specimen of solid Azurite. I also love the fact that it has its own crystal
filled vugs and seams, showing the geology of the Bisbee locality. It isn't perfect and does
have some scattered contacts and incomplete crystals but I think it's a special piece.
The photo above says it all I think. It just displays beautifully - better than most.
From the Copper Queen Mine, Bisbee, Cochise County, Arizona.
Measures 18.4 cm by 16 cm by 15.5 cm in size.
Ex. Kevin Ward Personal Collection
Comes with a custom made, labeled base.
Price $8500

For More Exceptional Specimens, Click Here!
Rhodochrosite Room | Gold Room | Silver Room | Beryl Room | Elmwood Room