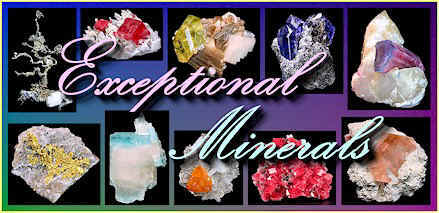 ** Updated June 4th, 2013 with Our Finest Specimens **
MIN#EXCEPTIONAL-21 SOLD!
VERY RARE!! Incredibly rich specimen of Native Gold set atop Pink Feldspar!
This is one impressive specimen from the now closed Nugget Pond Mine! The pink granitic Quartz
and Feldspar matrix clues the locality since it is the only mine I know of that features this beautiful
and unique combination. The Gold itself appears as thick "leafy" growths which pull together at the
top to form an even more solid and massive cluster. The surfaces are extremely lustrous and the
color is a bright yellow indicating Silver content. The Gold sits atop the milky-white Quartz seam
from where it emerged and drapes down over the pink Feldspar, creating the most beautiful color
combination you'll ever see in a Gold specimen. I must point out that specimens of this magnitude
from the Nugget Pond Mine are extremely rare and I've seen less than half a dozen in the past
15 years. This is an incredibly rare opportunity to add a world famous locality to your collection!
From the Nugget Pond Mine, Betts Cove, Baie Verte Peninsula, Newfoundland, Canada.
Measures 6.4 cm by 5.3 cm by 4 cm in total size.
Ex. Kevin Ward, Bernardi Mineral Collections
Price $24,500
MIN#EXCEPTIONAL-22 NEW!
RARE! Lustrous crystals of Nickeline with Nickelskutterudite from Saxony!
This is a rich, old time classic specimen from a very historic locality. The crystals of Nickelskutterudite
(NiAs2-3) are a highly reflective silverish color while the Nickeline (NiAs) is more pinkish-bronze. The crystals
measure to 1.3 cm in size. There appears to be a smaller coating of a few crystals with what appears to
be Safflorite. The specimen is in excellent condition and probably dates back to the 1940's or 1950's.
Also with some minor Proustite association on the upper right side on the specimen.
From Schlema, Schlema-Hartenstein District, Erzgebirge, Saxony, Germany.
Measures 5.7 cm by 6.8 cm by 4.2 cm in total size.
Ex. J. R. Jelks Mineral Collection
Price $4850
MIN#EXCEPTIONAL-23 SOLD!
Exceptional specimen of gemmy lavender Fluorite over thick Stibnite crystals!
I rarely come across there very popular combo specimens and this is one of the finest
I've ever offered on the website! Many of these have pale Fluorite coverage but these
crystals are very lavender-purple. The Stibnite crystals are thick and solid with most
measuring 1 cm or larger in width. The entire specimen sparkles with color and flash
and has the feel of something solid, not fragile as so many Stibnites are. Almost all
of the Stibnites are terminated with many of the terminations covered by the Fluorite.
From the Qinglong Mine, Qinglong Co., Qianxi'nan Autonomous Pref., Guizhou Prov., China
Measures 7.3 cm by 8.6 cm by 6.8 cm in total size.
Price $3250
MIN#EXCEPTIONAL-24 NEW!
Gorgeous pink Morganite crystal on Lepidolite and Cleavelandite with Quartz!
A beautiful 4.5 cm Morganite snuggled between crystal clusters of pink Lepidolite and white Cleavelandite!
The Morganite is gemmy to translucent with a perfect textbook form and glassy crystal faces. There is
no damage and the Morganite is complete on all sides. The color could best be described as a soft
pastel pink with shades of orange. The Lepidolite clusters are rosy-pink and provide a beautiful contrast.
From Pech, Nuristan Province, Afghanistan.
Measures 11 cm by 18 cm by 10.4 cm in total size.
Comes with a custom made, labeled base
Price $10,500
MIN#EXCEPTIONAL-25 NEW!
Impressive specimen featuring lavender cubes of Fluorite with Galena, Barite and Sphalerite!
This is a stunning Elmwood combo with cubes that are nearly completely colorless but for a very
slight lavender coloration. The Fluorites are in excellent condition and featuring numerous, although
tiny inclusions of Bitumen which forms some really neat patterns beneath the surfaces. Some of
these Bitumen inclusions actually form "drips" that extend downward into the Fluorites. Small
crystals of Galena, Fluorite, and Barite cover the large Galena located at the top center.
From the Elmwood Mine, Smith County, Tennessee.
Measures 9.2 cm by 11 cm by 7.2 cm in total size.
Price $3850
MIN#EXCEPTIONAL-26 NEW!
Sharp crystals of brilliant green Pyromorphite in cluster!
This lovely plate of lustrous green Pyromorphite crystals is an exceptional miniature and is about
as pristine as you can get. I've examined the specimen under 16x magnification and saw dozens and
dozens of glassy, terminated crystals. One thing I didn't see however was broken points and damage.
If there are any, they are very small and unnoticeable. The green is a bright green with a touch of olive.
From the Daoping Mine, Gongcheng Co., Guilin Prefecture, Guangxi Zhuang Autonomous Region, China.
Measures 5.1 cm by 6.1 cm by 2.8 cm in total size.
Ex. Webb Mineral Collection
Price $4500
MIN#EXCEPTIONAL-27 NEW!
Fine crystals of Azurite and Malachite ps after Azurite on Malachite!
One of the better crystalline specimens I've seen from Morenci in quite some time.
The Azurite crystals are sharp and lustrous and the Malachite is pristine and very
chatoyant! No damage to speak of and the specimen displays very aesthetically atop the
Malachite matrix with a stacked crystal display. The appearance remind me of Bisbee.
From the Morenci Mine, Morenci, Greenlee County, Arizona.
Measures 9.2 cm by 5 cm in size.
Price $4850
MIN#EXCEPTIONAL-28 NEW!
Graceful and quite beautiful arrangement of pink Rose Quartz crystals atop Quartz and Microcline!
Also with a small bit of Muscovite, this specimen can be displayed in a number of ways, two of which
are pictured above. I think the first thing one notices about this specimen is the depth of color - not pale
like so many but rich and vibrant and even more so near the periphery crystals! The crystals are distinct
and lustrous, with some scepters present! One interesting thing is that the crystals sit atop a Quartz point
on the backside of the specimen. The front is displayed above because I like the front better but the Quartz
is neat to see. If you're looking for a crystallized Rose Quartz with rich color and form, this is the specimen.
From Alto da Pitorra, Laranjeiras, Galiléia, Doce valley, Minas Gerais, Brazil
Measures 6.6 cm by 6.3 cm by 4.3 cm in total size.
Price $4500
MIN#EXCEPTIONAL-29 NEW!
Very pretty specimen of bi-colored Calcite crystals in cluster!
The crystals are glassy and gemmy with icy clear interiors and reddish-brown
Hemimorphite included tips! In excellent condition, this specimen dates back to the
late 1800's and was formally part of the Carnegie Museum Mineral Collection.
The Stank Mine was an iron (hematite) mine which was active from the 1870's to 1901.
From the Stank Mine, Barrow, SW Region, Cumbria, England.
Measures 6.5 cm by 7.9 cm by 7 cm in total size.
Price $2500
MIN#EXCEPTIONAL-30 SOLD!
HUGE, exceptional crystal of Rutile sitting atop matrix!
One of the finest, most impressive Rutiles I've ever seen, this crystal measures an incredible
8.5 cm by 7.7 cm by 6.4 cm in total size! The surfaces are pristine and the structure is nearly
flawless with superb luster and a good amount of red color slipping though in direct lighting.
This is pretty amazing considering the size and density of the crystal. The provenance of this
specimen dates back to W. F. Ferrier (1865-1950), a world reknown mineral collector who
had access to some of the finest collections of his time. This would tend to date the Rutile
to the late 1890's. The crystal is complete on all sides and sits entirely atop a matrix so
there are no contacts on the bottom side. This is truely a museum-calibre centerpiece!
From Graves Mountain, Lincoln County, Georgia.
Measures 10 cm by 9 cm by 7.1 cm in total size.
Ex. W. F. Ferrier, Lawrence H. Conklin Mineral Collections
Comes with a custom made, engraved base
Price $18,500
MIN#EXCEPTIONAL-31 NEW!
Beautiful large cabinet sized plate of phantomed Fluorite crystals on Quartz matrix!
The Fluorite crystals completely cover the atop edge of the Quartz point matrix and exhibit a colorful
combination of minty-green with purple phantoms! Each Fluorite is modified octahedral with a series of
steps leading to flattened, tranparent windows. This was one the nicest large cabinet specimens at the show!
From the Shangbao Pyrite mine, Leiyang Co., Hengyang Prefecture, Hunan Province of China.
Measures 12 cm by 16.4 cm in size.
Price $6500
MIN#EXCEPTIONAL-32 NEW!
Incredibly aesthetic specimen of Native Wire Silver!
When it comes to fine Native Wire Silver specimens from Freiberg, this specimen is literally a work of art!
With a wonderful balance and its stunning eye appeal, this rates as one of the most attactive (and unique)
specimens I've ever seen or offered on the website. The base is composed of dozens of thin Silver wires
which nest together before giving rise to nearly a dozen twisting wires of various sizes which climb upwards.
The thickest Silver wire is actually quite thick at 1 cm and can be seen to the far right, just above the base.
It also sprouts upwards in the form of thinner wires on the right side where it is joined by numerous others!
From the Himmelsfürst Mine, Freiberg District, Erzgebirge, Saxony, Germany.
Measures 9.7 cm by 7.4 cm by 4.5 cm in size.
Ex. Franz Saller, Bernardi Mineral Collections
Come with a custom made, labeled base
Price $28,500
MIN#EXCEPTIONAL-33 NEW!
EXCEPTIONAL Fluorite crystal perched atop Calcite on matrix!
A lovely, pristine Fluorite octadedron with purple and blue coloration along with modified
corners and dozens of crystal faces. The 4.2 cm Fluorite is both gemmy and lustrous-glassy
and the Calcites upon which it sits are in excellent condition with full terminations. A slight
accenting of white Dolomite completes the picture with Pyrite on the back side of the matrix.
From the Shangbao Mine, Leiyang Co., Hengyang Prefecture, Hunan Province, China.
Measures 5.6 cm by 9.7 cm by 5.5 cm in total size.
Price $4850
MIN#EXCEPTIONAL-34 NEW!
Beautifully patinaed specimen of crystalline Native Copper on Copper spinels!
The color of the Copper crystals changes from bright Copper to reddish Copper as you move towards
the bottom. The largest crystals have the deepest patina color and all are sharp with lustrous faces.
I love the way the crystal habits change with each level of growth, mimicking the color change.
From the Centennial Mine, Keweenaw County, Michigan.
Measures 6 cm by 6 cm by 3.4 cm in size.
Price $3850
MIN#EXCEPTIONAL-35 NEW!
Rare and aesthetic specimen of Native Silver wires emerging from Calcite matrix!
This is a prized locality for Silver collectors and one that is now under water and inaccessible.
The mine itself was actually located on an islet in Lake Superior and as one would expect,
eventually the water came in and flooded the shaft. Authetic Silvers from the Silver Islet
Mine date back to as early as 1868 when ore was first discovered by Thomas MacFarlane
to as late as 1884 when the mine was finally closed after yielding over $3 million in Silver. The
above specimen displays a beautiful antique patina, which is indicative of its age, over strong luster.
From the Silver Islet Mine, Silver Islet, Sibley Township, Thunder Bay District, Ontario, Canada.
Measures 3.8 cm by 1.7 cm by 2.2 cm in total size.
Ex. Graeber Mineral Collection
Price $3500
MIN#EXCEPTIONAL-37 NEW!
Very impressive plate featuring large pyramidal Pyrrhotites on Quartz crystals!
The bronze colored and quite lustrous Pyrrhotites contrast beautifully with the orange tinted Quartz
and the entire specimen is very three dimensional in appearance. Personally. In excellent condition!
From the Nikolaevskiy Mine, Dal'negorsk, Primorskiy Kray, Russia.
Measures 7 cm by 12.6 cm by 10 cm in total size.
Price $3500
MIN#EXCEPTIONAL-39 NEW!
Stunning cavern of botryoidal Chalcedony and fine Millerite crystals!
A spectacular example of metallic needles from one of the world's premier localities.
The Chalcedony lined vug completely protects the lustrous, brassy Millerite needles
and provides a beautiful border for the specimen! The mining locality for this specimen
is now closed making cabinet sized specimens of Millerite very rare in today's market.
From Halls Gap, Lincoln County, Kentucky.
Measures 7.2 cm by 11 cm by 6.8 cm in size.
Price $4500
MIN#EXCEPTIONAL-40 SOLD!
Superb cabinet specimen featuring Malachite ps after Chalcopyrite crystals with Quartz!
This is easily the finest cabinet specimen of El Cobre Malachite ps after Chalcopyrite that I've seen
in the past seven or eight years. The pseudomorphs are in perfect condition and measure to 3 cm in
size. The surfaces are excellent and nearly pristine while the brown Quartz needles are complete and
unbroken. A specimen in this condition from this locale is extremely rare. I don't see many to begin with
and this one ranks in the top three of those I have seen. The drusy coating adds a wonderful sparkle.
From El Cobre Mine, Concepción del Oro, Mun. de Concepción del Oro, Zacatecas, Mexico.
Measures 11.5 cm by 12 cm by 9.8 cm in total size.
Price $4500
- LINKS TO ALL THE EXCEPTIONAL ROOMS -
1 | 2 | 3 | 4 | 5 | 6 | 7 | 8 | 9 | 10 | 11 | 12
HOME | NEW SPECIMENS | BEST OFFER MINERAL AUCTION | SPECIMENS FROM PAST SHOWS | CONTACT US