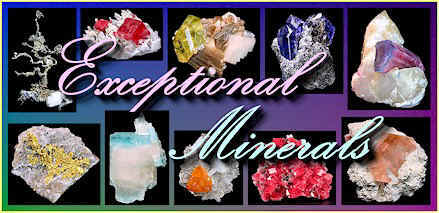 ** Updated 5/31/2012 with Our Finest Specimens **
MIN#EXCEPTIONAL-42 NEW!
Exceptional specimen of multi-colored Tourmaline crystals with Lepidolite!
A stunning specimen of multi-colored Tourmaline crystals rising some 11.3 cm above a Lepidolite
covered base! The crystal surfaces are literally flawless with a glassy vibrance I rarely see in
Tourmaline specimens. Both crystals are perfectly terminated with emerald-green tips that evolve
into a bluish-green coloration which then changes over to a lighter green near the bottom. The lower
portion of the actually becomes "watermelon" in that the interior is red while the exterior is green.
The pinkish Lepidolite crystals are the perfect accent to this amazing, UNREPAIRED Tourmaline!
Circa 2001 from the Rocket Pocket, Pederneira Mine, São José da Safira, Minas Gerais, Brazil.
Measures 11.3 cm by 2.5 cm in total size.
Price $25,000
MIN#EXCEPTIONAL-43 NEW!
Exceptional combination of Native Copper including Calcite crystals!
One of the finest Copper-Calcite specimens I've seen in years, this specimen is nearly
pristine with large, impressive Calcites, and rich amounts of Native Copper, both inside
and outside the Calcites. Looking closely at the Calcite crystals, you'll notice that they are
all terminated with barely a contact anywhere. Native Copper not only includes the crystals
and lends a good amount of color to each, but it also emerges outside of the Calcites and
creates the visual contrast that separates average specimens from exceptional ones. This is a
well balanced cabinet piece with five large Calcites and more than its fair share of eye appeal.
From the Copper Mining District, Keweenaw Peninsula, Michigan.
Measures 9.6 cm by 7.3 cm by 5.8 cm in total size.
Price $4500
MIN#EXCEPTIONAL-44 SOLD!
VERY RARE!! Rich specimen featuring Native Gold in Quartz with Limonite!
This very fine specimen is from the old mining locality of Dahlonega, Georgia! I've been
to Dahlonega and visited the local museum and this specimen is equal to if not better than
what they had on display. The Native Gold content of this specimen is rich with bright yellow
Gold popping out of every portion of the matrix. The Gold at the top actually rises above the
Quartz and appears to be semi-crystalline in structure. This is only the second Dahlonega
Gold specimen I've offered on the website so opportunity is knocking with this rare classic!
I have no idea when I might come across another and I'd be suprised if it's anytime soon.
From Dahlonega, Lumpkin County, Georgia.
Measures 6 cm by 4 cm by 3.8 cm in total size.
Ex. Ben de Wit Mineral Collection
Price $3850
MIN#EXCEPTIONAL-45 NEW!
Glassy blades of reddish-orange Wulfenite on matrix!
I love the look of this Red Cloud specimen! Not only are the individual blades very glassy and
undamaged, but the color is better than average and the setting atop the matrix really draws
your eyes towards the crystal cluster. I think there is one tiny incomplete blade in the background but
overall, this specimen is nearly perfect. I don't purchase many Wulfenites but this one impressed me!
From the 2005 Red Gem Pocket, Red Cloud Mine, Trigo Mountains, La Paz County, Arizona.
Measures 5.7 cm by 7.8 cm in size.
Price $3500
MIN#EXCEPTIONAL-46 NEW!
Large, impressive crystal of Beryl var. Heliodor!
This fully terminated gem measures some 16.3 cm in size! The faces are lustrous and satiny on the
backside where there was a very light etching. The color as evidenced in the photo is a rich golden-yellow
and this color is consistant throughout except for the tiny portion at the top termination which becomes
nearly colorless. If anything, this features adds character to the crystal and is really neat to look at.
From Padre Paraíso, Jequitinhonha Valley, Minas Gerais, Brazil.
Measures 16.3 cm by 3 cm by 2.1 cm in total size.
Comes with a custom made, engraved base.
Price $18,500
MIN#EXCEPTIONAL-47 NEW!
Stunning specimen featuring a blue-capped Tourmaline snug amound blades of Albite!
A gorgeous Elbaite specimen with at least half a dozen multi-colored crystals. The largest
crystal not only has a blue cap at its top termination, but it's also pink tipped at the botom
termination. I don't think I've ever seen this before in a Tourmaline. The center portion of
the crystal ranges from dark green to yellowish-green and both terminations are complete
with glassy, striated faces extending 8 cm in length! Smaller pink tipped Tourmalines are
present at the very top and range from 3 to 4.5 cm in size. All have complete terminations.
From Stak Nala, Skardu, Northern Areas of Pakistan.
Measurss 14.8 cm by 5.3 cm by 5.2 cm in total size.
Comes with a custom made, engraved stand
Price $7500
MIN#EXCEPTIONAL-48 NEW!
EXCEPTIONAL!! Thick, curling wire of Native Silver on Calcite matrix!
This is what a Kongsberg Silver should look like! Thick, striated, and antique patinaed,
rising out from a Calcite seam in matrix. When I think of the miners of yesteryear mining
Silver in Kongsberg, this is the image I have in mind. I can only imagine what they must
of thought when these specimens were discovered by candlelight inside those old mines.
Unfortunately for them, all Silver ore mined was the property of the King. This amazing
specimen features a 1+ cm thick wire which curls its way upwards some 5.6 cm. The
wire narrowed a bit as it grew but kept a nice thickness all the way up. Needless to
say, there's no risk of bending this sturdy wire if handled. Interesting note - Silver
wires appear on the bottom side of the matrix and this makes me wonder if the wire
extends all the way through the host rock. It's possible but I'd leave the piece as is.
From the Kongsberg Silver Mines, Kongsberg, Buskerud, Norway.
Measures 7 cm by 3.4 cm by 4.3 cm in size.
Ex. Anton Watzl Sr. Mineral Collection
Comes with a custom made, engraved base
Price $22,500
MIN#EXCEPTIONAL-51 NEW!
Gorgeous and quite gemmy Beryl var. Emerald crystal on Calcite matrix!
This 1.5 cm tall Emerald is super gemmy and glows with an incredible grassy green coloration!
The top termination is complete and smooth and measures 1 cm in width from left to right. The
vertical faces are also very glassy, allowing for a good look into the crystal gemmy interior.
Specimens of this quality are becoming very difficult to find and this is from an older collection.
From the Muzo Mine, north of Santa Fe de Bogotá, Colombia.
The specimen measures 4 cm by 4 cm in size.
Ex. G. C. B. Mineral Collection
Price $7500
MIN#EXCEPTIONAL-52 NEW!
Gemmy bi-colored crystal of Spodumene and Kunzite!
This crystal is from California and exhibits the rare combination of yellowish-green Spodumene
with a lovely pink Kunzite coloration at the termination! The Kunzite portion measures about
4 cm as it descends from the tip of this large 15.5 cm crystal. The Spodumene portion glows under
any direct lighting and terminates at the bottom with a complex, matrix influenced termination.
There may also be some etching influence there. Circa 1978, this is a tremendous California xl!!
From the Beebe Hole (Mine), Jacumba, San Diego County, California.
Measures 15.5 cm by 7 cm by 2.6 cm in size.

Ex. Edward David Mineral Collection

Comes with a custom made, engraved base
Price $8500
MIN#EXCEPTIONAL-53 SOLD!
EXCEPTIONAL large cabinet plate of bi-colored Fluorite cubes with Galena on Quartz matrix!
This is one impressive specimen! First of all, the largest Fluorite cube measures a whopping 4 cm
in size! Just below this large crystal are several lustrous Galena cubes and a color shift from deep
blue to purple-blue. This specimen also experiences a color change under different lighting and can
appear either purple or a more vivid blue. Both the Fluorite and Galena sit atop a matrix covered
by small Quartz crystals. In excellent condition with no major contacts and a satiny rolling luster.
From Bingham, Hansonburg District, Socorro County, New Mexico.
Measures 17.2 cm by 14.7 cm by 15.2 cm in total size.
Price $2850
MIN#EXCEPTIONAL-54 NEW!
SILVER ICE CRYSTALS!!
Actually these are Native Silver dendrites atop matrix but they look like ice crystals!
This is a most unusual specimen and I haven't seen anything else like it from Morocco. The dendrites
lay completely flat atop the matrix surface and almost take on the appearance of what you would see
in a Sylvanite specimen. The process of formation is the reason and apparently there was a thin crack
or seam in the matrix which was just wide enough to allow the Silver-rich solution to penetrate and grow
crystals. When they did grow, they grew in a sideways fashion instead of up and out as most Silvers
do and as a result, the crystals formed a flattened dendrite and created this very unique specimen!
From the Bou-Azzer Mine, Ouarzazate Province, Morocco.
Measures 10.4 cm by 8.8 cm in size.
Price $1500
MIN#EXCEPTIONAL-55 SOLD!
Fine, blocky Wulfenite crystals climbing a white Calcite covered matrix!
What a great looking specimen from Los Lamentos! It looks like Wulfenite crystals climbing
a snow covered mountain peak and the visual affect is not only aesthetic but very 3-dimensional
as well. The blocky crystals are in excellent condition with only a couple of very minor corner
bumps. Far less than what you would normally see on a Los Lamentos specimen of this size.
From the Los Lamentos, Chihuahua, Mexico.
Measures 10.5 cm by 7.2 cm by 4.8 cm in total size.
Comes with a custom made, engraved base.
Price $5500
MIN#EXCEPTIONAL-56 SOLD!
Beautiful attached crystals of bi-color Aqua-Morganite!
I can't recall seeing a deeper colored Aqua-Morganite in the elongated hexagonal
crystal habit! Both crystals (large and small) are doubly terminated with gemmy, cats-eye
like Aquamarine blue tips and pastel pink, translucent Morganite interiors. The backside
of the crystal grew against white Albite matrix which is still in place. I've never offered
elongated bi-color Beryls of this size and color intensity before and this is the best I've seen.
From SW Buspar Peak, Braidu Valley, Baltistan, Northern Pakistan.
Measures 8.2 cm by 5.2 cm in size.

Ex. Revelle Mineral Collection

Comes with a custom made, labeled base
Price $3950
MIN#EXCEPTIONAL-57 NEW!
Deep orange crystals of Scheelite set among Quartz points on matrix!
A very glassy series of Scheelites that reminds one of what you'd see in a fine specimen
from China - only this specimen is from Pakistan! I don't come across very many Pakistani
Scheelites and certainly very few of this calibre. There are over a dozen Scheelite crystals
scattered among the Quartz points, with the largest measuring 2.2 cm in size. Most average
around 1 - 1.5 cm in size. In excellent condition with only a tiny bump on the largest Quartz.
From the Gharmung Area, Skardu District, Baltistan, Northern Areas of Pakistan.
Measures 6.7 cm by 5.7 cm by 4.2 cm in size.
Price $2450
MIN#EXCEPTIONAL-58 NEW!
Fine terminated crystal of natural Tanzanite!
This crystal is perfectly Tanzanite with no heat treatment and as the above photos show, the color
change is strong when the crystal is viewed along a different axis. The tip of this crystal is very gemmy
and the lower portions are gemmy as well with just a scattering of internal crazing. Seriously, I can
easily read print through the top 2 cm of this crystal. Very well striated with super glassy surfaces!
From the Merelani Hills, Arusha Region, Tanzania.
Measures 4.7 cm by 1.4 cm by 1.1 cm in total size.
Comes with a custom made, engraved base.
Price $6500
MIN#EXCEPTIONAL-60 NEW!
EXCEPTIONAL! Beautiful plate featuring blue Aquamarine and pink Fluorite crystals on Muscovite!
This eye catching specimen is in excellent condition, with perfectly terminated Aquamarine crystals
which exhibit a much better than average blue coloration. The Aquamarines emerge outwards from
between sharp Muscovite blades and are draped by transparent pink Fluorite crystals! The Fluorites
are octahedral in form and also accent near the bottom on the left side. I can't really find a single
negative thing to say about this piece. It's everything you see in the photo and even better in person.
From Chumar Bakhoor, Hunza Valley, Gilgit District, Northern Areas of Pakistan.
Measures 7.8 cm by 12.3 cm by 6 cm in total size.
Ex. Martin Zinn, Saltzgaber Mineral Collections
Price $10,500
- LINKS TO ALL THE EXCEPTIONAL ROOMS -
1 | 2 | 3 | 4 | 5 | 6 | 7 | 8 | 9 | 10 | 11 | 12
HOME | NEW SPECIMENS | BEST OFFER MINERAL AUCTION | SPECIMENS FROM PAST SHOWS | CONTACT US