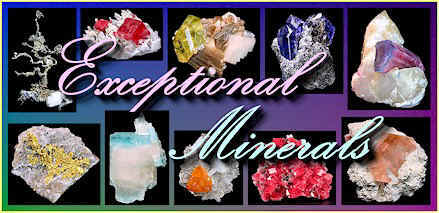 ** Updated June 6th, 2013 with Our Finest Specimens **
MIN#EXCEPTIONAL-41 NEW!
Exceptional specimen of multi-colored Tourmaline crystals with Lepidolite!
A stunning specimen of multi-colored Tourmaline crystals rising some 11.3 cm above a Lepidolite
covered base! The crystal surfaces are literally flawless with a glassy vibrance I rarely see in
Tourmaline specimens. Both crystals are perfectly terminated with emerald-green tips that evolve
into a bluish-green coloration which then changes over to a lighter green near the bottom. The lower
portion of the actually becomes "watermelon" in that the interior is red while the exterior is green.
The pinkish Lepidolite crystals are the perfect accent to this amazing, UNREPAIRED Tourmaline!
Circa 2001 from the Rocket Pocket, Pederneira Mine, São José da Safira, Minas Gerais, Brazil.
Measures 11.3 cm by 2.5 cm by 2 cm in total size.
Price $25,000
MIN#EXCEPTIONAL-43 SOLD!
Exceptional combination of Native Copper including Calcite crystals!
One of the finest Copper-Calcite specimens I've seen in years, this specimen is nearly
pristine with large, impressive Calcites, and rich amounts of Native Copper, both inside
and outside the Calcites. Looking closely at the Calcite crystals, you'll notice that they are
all terminated with barely a contact anywhere. Native Copper not only includes the crystals
and lends a good amount of color to each, but it also emerges outside of the Calcites and
creates the visual contrast that separates average specimens from exceptional ones. This is a
well balanced cabinet piece with five large Calcites and more than its fair share of eye appeal.
From the Copper Mining District, Keweenaw Peninsula, Michigan.
Measures 9.6 cm by 7.3 cm by 5.8 cm in total size.
Price $6500
MIN#EXCEPTIONAL-44 NEW!
Brilliant specimen of crystalline Native Gold on Quartz!
This specimen represents the famous Eagle's Nest Mine very well indeed. It's completely crystalline from
top to bottom with flatterned trigons and crystal leaves. The edges are crystal covered as well and all display
a rich, beautiful color with a vibrant luster. The Native Gold rises upwards from a matrix of white Quartz
and presents itself perfectly with the large crystalline leaf on the lower right being the diagnostic feature.
From the Eagle's Nest Mine, Placer County, California.
Measures 9.3 cm by 4.2 cm by 2.4 cm in total size.
Ex. Bernardi Mineral Collection
Comes with a custom made, labeled display base
Price $17,500
MIN#EXCEPTIONAL-46 NEW!
Large, impressive crystal of Beryl var. Heliodor!
This fully terminated gem measures some 16.3 cm in size! The faces are lustrous and satiny on the
backside where there was a very light etching. The color as evidenced in the photo is a rich golden-yellow
and this color is consistant throughout except for the tiny portion at the top termination which becomes
nearly colorless. If anything, this features adds character to the crystal and is really neat to look at.
From Padre Paraíso, Jequitinhonha Valley, Minas Gerais, Brazil.
Measures 16.3 cm by 3 cm by 2.1 cm in total size.
Comes with a custom made, engraved base
Price $18,500
MIN#EXCEPTIONAL-47 NEW!
Stunning specimen featuring a blue-capped Tourmaline snug amound blades of Albite!
A gorgeous Elbaite specimen with at least half a dozen multi-colored crystals. The largest
crystal not only has a blue cap at its top termination, but it's also pink tipped at the botom
termination. I don't think I've ever seen this before in a Tourmaline. The center portion of
the crystal ranges from dark green to yellowish-green and both terminations are complete
with glassy, striated faces extending 8 cm in length! Smaller pink tipped Tourmalines are
present at the very top and range from 3 to 4.5 cm in size. All have complete terminations.
From Stak Nala, Skardu, Northern Areas of Pakistan.
Measurss 14.8 cm by 5.3 cm by 5.2 cm in total size.
Comes with a custom made, engraved stand
Price $7500
MIN#EXCEPTIONAL-48 SOLD!
Museum specimen of Sylvanite on Limonite colored micro-Quartz covered matrix!
This is a true museum piece and it is easily the finest Cripple Creek Sylvanite I've ever seen or
offered. The flashy-lustrous crystal sprays of Sylvanite stand out better than any other I've seen
because they are set against a brownish surface of micro-Quartz crystals. Rarely is this the case
and the result is an incredibly sharp and vivid visual display. It's also the richest ore I've seen from
Cripple Creek and all evidence supports the fact that this specimen was once in the personal collection
of W. S. Stratton, one of the founders of Cripple Creek and its first mining millionaire. He was the owner
of the Independence Mine which was an incredibly rich find. He used his millions to help improve the city
of Colorado Springs and actually donated the land for the courthouse which eventually became the Pioneer
Museum. One of the items in Stratton's collection was an incredibly rich piece of Sylvanite that he used
as a paperweight. His collection was given to the museum upon his death and this specimen is the only one
that corresponds to that description. Until just recently, the specimen remained in the Pioneer Museum
for decades. A specimen of this calibre and historical significance is a rare opportunity for all collectors.
The backside of the specimen is covered with tiny micro-Fluorite crystals which is typical for the locale.
Circa 1890s - From the Cripple Creek District, Teller County, Colorado.
Measures 7.2 cm by 5 cm by 3.1 cm in total size.
Ex. W. S. Stratton, Pioneer Museum Mineral Collections
Price $12,500
MIN#EXCEPTIONAL-49 NEW!
Gorgeous and quite gemmy Beryl var. Emerald crystal on Calcite matrix!
This 1.5 cm tall Emerald is super gemmy and glows with an incredible grassy green coloration!
The top termination is complete and smooth and measures 1 cm in width from left to right. The
vertical faces are also very glassy, allowing for a good look into the crystal gemmy interior.
Specimens of this quality are becoming very difficult to find and this is from an older collection.
From the Muzo Mine, north of Santa Fe de Bogotá, Colombia.
The specimen measures 4 cm by 4 cm in size.
Ex. G. C. B. Mineral Collection
Price $7500
MIN#EXCEPTIONAL-50 NEW!
Gemmy bi-colored crystal of Spodumene and Kunzite!
This crystal is from California and exhibits the rare combination of yellowish-green Spodumene
with a lovely pink Kunzite coloration at the termination! The Kunzite portion measures about
4 cm as it descends from the tip of this large 15.5 cm crystal. The Spodumene portion glows under
any direct lighting and terminates at the bottom with a complex, matrix influenced termination.
There may also be some etching influence there. Circa 1978, this is a tremendous California xl!!
From the Beebe Hole (Mine), Jacumba, San Diego County, California.
Measures 15.5 cm by 7 cm by 2.6 cm in size.

Ex. Edward David Mineral Collection

Comes with a custom made, engraved base
Price $8500
MIN#EXCEPTIONAL-51 SOLD!
Very rare! Incredibly rich specimen of Native Gold with Petzite on Pink Feldspar!
This is a tremendous specimen from the now closed Nugget Pond Mine! The pink granitic Quartz
and Feldspar matrix clues the locality since it is the only mine I know of that features this beautiful
and unique combination. The Gold itself appears as thick "leafy" growths which pull together at the
top to form an even more solid and massive cluster. The surfaces are extremely lustrous and the
color is a brilliant, reflective yellow. The Native Gold sits atop a matrix of Quartz and pink Granite
creating the most beautiful color combination you'll ever see in a Gold specimen. It must be noted
that specimens of this size and calibre from the now closed Nugget Pond Mine are extremely rare
and I've seen less than half a dozen in the past decade and a half. This specimen represents an
incredibly rare opportunity to add a world famous Gold mining locality to your mineral collection.
I can't see these specimens doing anything but going much higher in price in the years to come.
From the Nugget Pond Mine, Betts Cove, Baie Verte Peninsula, Newfoundland, Canada.
Measures 8.2 cm by 6.5 cm by 5.5 cm in total size.
Ex. Bernardi Mineral Collection
Comes with a custom made, labeled display base
Price $28,500
MIN#EXCEPTIONAL-52 SOLD!
Impressive specimen of Native Wire Silver on Barite crystals from Creede, Colorado!
This specimen ranks as one of the best covered Creede Silvers I've seen in a while. The crystals
of Barite cover the matrix and the entire upper half is covered with the thin Silver wire patch.
The wires move when touched but the specimen is quite stable and the wires firmly attached.
From the Bulldog Mountain Mine, Creede, Mineral County, Colorado.
Measures 5.5 cm by 5 cm by 3 cm in total size.
Ex. David Glenn Mineral Collection
Price $3500
MIN#EXCEPTIONAL-53 NEW!
An incredibly GEMMY specimen of Aquamarine crystals and Muscovite!
This was one of the gemmiest, most transparent Aquamarine clusters at the show! The crystals
are a deeper blue than most Aquamarines from this locality and the crystal in the back is even
slightly greenish-blue in certain lighting. The crystal faces look like lustrous clear glass with
brilliant light striations. The crystals are separating by a well placed accenting of Muscovite blades
which climb the edges of each vertical Aquamarine. A special thing about this specimen is that the
back side is completely rehealed with a multitude of faces. This allows the light to shine through
like a faceted jewel and intensifies the color of the main crystals. In excellent condition overall.
From Chumar Bakhoor, Hunza Valley, Gilgit District, Gilgit-Baltistan, Pakistan.
Measures 10.4 cm by 9.2 cm by 6 cm in total size.
Price $12,500
MIN#EXCEPTIONAL-56 NEW!
Deep orange crystals of Scheelite set among Quartz points on matrix!
A very glassy series of Scheelites that reminds one of what you'd see in a fine specimen
from China - only this specimen is from Pakistan! I don't come across very many Pakistani
Scheelites and certainly very few of this calibre. There are over a dozen Scheelite crystals
scattered among the Quartz points, with the largest measuring 2.2 cm in size. Most average
around 1 - 1.5 cm in size. In excellent condition with only a tiny bump on the largest Quartz.
From the Gharmung Area, Skardu District, Baltistan, Northern Areas of Pakistan.
Measures 6.7 cm by 5.7 cm by 4.2 cm in total size.
Price $2450
MIN#EXCEPTIONAL-60 SOLD!
EXCEPTIONAL! Beautiful plate featuring blue Aquamarine and pink Fluorite crystals on Muscovite!
This eye catching specimen is in excellent condition, with perfectly terminated Aquamarine crystals
which exhibit a much better than average blue coloration. The Aquamarines emerge outwards from
between sharp Muscovite blades and are draped by transparent pink Fluorite crystals! The Fluorites
are octahedral in form and also accent near the bottom on the left side. I can't really find a single
negative thing to say about this piece. It's everything you see in the photo and even better in person.
From Chumar Bakhoor, Hunza Valley, Gilgit District, Northern Areas of Pakistan.
Measures 7.8 cm by 12.3 cm by 6 cm in total size.
Ex. Martin Zinn, Saltzgaber Mineral Collections
Price $10,500
- LINKS TO ALL THE EXCEPTIONAL ROOMS -
1 | 2 | 3 | 4 | 5 | 6 | 7 | 8 | 9 | 10 | 11 | 12
HOME | NEW SPECIMENS | BEST OFFER MINERAL AUCTION | SPECIMENS FROM PAST SHOWS | CONTACT US