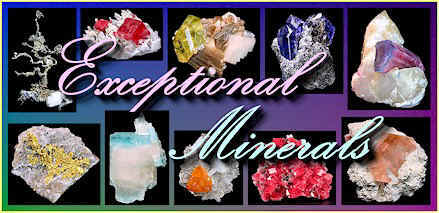 ** Updated 5/31/2012 with Our Finest Specimens **
MIN#EXCEPTIONAL-61 NEW!
Wonderful specimen of Rhodochrosite atop a large Pyrite with Tetrahedrite and Quartz!
One of the most impressive combo specimens I've seen from the Sweet Home Mine and easily
the largest Pyrite crystal, this specimen was formally in the private collection of Bryan Lees.
The main rhomb at the top measures over 4 cm in size from corner to corner and is a deep
red with an internal glow that radiates through the entire translucent crystal! The bottom side
and far right side faces are misted and this is probably what helps the color become so intense.
The Rhodo rhomb is in perfect condition and sits atop a 2.3 cm Pyrite which is as shiny as it
is striated. A sprinkling of dark Tetrahedrite and needle Quartz crystals accent the surface.
All in all, this is a MAJOR Rhodochrosite and possibly the finest combination of Rhodo and
Pyrite ever found at the Sweet Home. A specimen that is easily worthy of the finest collections.
From Collector's Pocket, 2nd Crosscut, Sweet Home Mine, Alma, Colorado.
Measures 5.6 cm by 4 cm by 3.4 cm in total size.
Ex. Bryan Lees Personal Collection
Price $25,000
MIN#EXCEPTIONAL-62 NEW!
Gorgeous, glassy tabular crystals of Aquamarine with Muscovite!
This plate has a wonderful flash to it and the color of the Aquamarine crystals is much better
than what normally comes from this locale! I would place the depth of blue on par with the Aquamarines
one sees coming out of Afghanistan and that's pretty good for a Chinese specimen. The tabular crystals
are glassy and translucent with some gem. No real damage to speak of - only some bumps at the trimming.
From Mt. Xuebaoding, Sichuan Province of China.
Measures 7.5 cm by 13.2 cm by 9.5 cm in total size.
Price $4500
MIN#EXCEPTIONAL-63 SOLD!
VERY RARE!! Exceptional specimen of Native Gold on matrix from Leadville, Colorado!
I can count the number of Leadville Gold specimens I've seen in the past decade on one hand
and I've never seen a specimen that even comes close to this one! Not even in the Leadville
or Denver Mineral Museums. The Native Gold is a mesh of fine semi-crystalline growth and
is quite solid all the way through. In other words, there is no give to the mesh. It sits atop
the Quartz matrix and peeks out in veins all the way down to the bottom. This impressive
specimen was found in July of 2008 by Ed Muceus during a collecting trip at the Ibex #3.
From the Ibex #3 Mine, Leadville, Lake County, Colorado.
Measures 5.5 cm by 4 cm by 1.6 cm in total size.
Ex. Vorpahl, Bernardi Mineral Collections
Comes with a custom made stand for display
Price $14,500
MIN#EXCEPTIONAL-64 SOLD!
Exceptional specimen of Native Silver wires atop Acanthite covered matrix!
True museum quality, this incredible German Silver has been in a private collection for years but was offered to me
during the Tucson Show and I was happy to acquire it for the website! The aesthetics are stunning and it's difficult to
walk away from the specimen without taking several glances as many people found out for themselves while it was on
display in my showcase. The wires rise up from the Acanthite and climb upwards to create a unique variation of the classic
tree shape! The bottom wires are very thick and the second photo to the right even shows a perfect little "ram's horn"!
The specimen is a true prize for any collection and the antique patina and slight sprinkling of Pyrite are really nice.
From the Himmelsfürst Mine, Freiberg District, Erzgebirge, Saxony, Germany.
Measures 10.7 cm by 4.8 cm by 3.3 cm in size.
Ex. Wolfgang Wendel, Scott Werschky, Kevin Ward Mineral Collections
Price $35,000
MIN#EXCEPTIONAL-65 NEW!
Sweet combo piece featuring a large orange Scheelite with attached Goshenite crystals!
The Scheelite crystal appears to be a floater with no point of attachment. The only point
of possible attachment is on the backside but the crystal must have separated a long time
ago if this is the case because the backside is completely rehealed with crystal faces. There's
also a really neat looking "arm" of attached Scheelite crystals extending upwards from the
right side of the main crystal. On the upper left side are three attached Goshenites which
have melded to form the appearance of one large crystal. There are multiple terminations
however and the crystal itself measures 5 cm in size! The surfaces are lustrous and glassy.
From Mt Xuebaoding, Pingwu Co., Mianyang Prefecture, Sichuan Province, China.
Measures 6.5 cm by 5.6 cm by 5.2 cm in total size.
Price $5500
MIN#EXCEPTIONAL-66 SOLD!
Fine specimen of lavender Creedite crystals with Chalcopyrite and Pyrite!
Easily one of the more aesthetic Creedite specimens I've seen in a long time, the lavender
crystals are sharp, terminated and very glassy. Interestingly, the Creedite crystals to the lower
right are brown in color, suggesting an inclusion/coating of Hematite. Two large Chalcopyrite
crystals can be seen just below the Creedits near the center of the specimen. They are actually
set back a little bit with the Creedite crystals pointing outwards. In very good condition with a only a
scattering of contacts here and there along the trimming edges. I really love the look of this specimen!
From the Santo Domingo Mine, Francisco Portillo, Santa Eulalia District, Chihuahua, Mexico.
Measures 7.5 cm by 8.8 cm by 6.5 cm in total size.
Comes with a custom made, engraved base
Price $4500
MIN#EXCEPTIONAL-69 NEW!
EXCEPTIONAL! Very fine cabinet plate of Native Silver pseudomorphing after Dyscrazite!
The crystal form is well defined and sharp although completely replaced by Native Silver. This is one
of the most well balanced plates I've seen. It could actually be displayed from either side as there are
larger "fans" on the backside. I prefer the "jackstraw" crystal appearance on the front side though
and the patina is completely original and untampered with which is how fine Silvers should appear.
From Príbram, Central Bohemia, Bohemia, Czech Republic.
Measures 8.2 cm by 10.2 cm by 4 cm in size
Price $3500
MIN#EXCEPTIONAL-70 NEW!
Beautiful specimen featuring two tri-color Tourmaline crystals with Albite!
Both crystals exhibit a gorgeous laying of yellow-green to green to pink at both perfect
terminations! The surfaces are well striated and super glassy while the pink portions
near the tips are gemmy. Both crystals are held tight by several blades of Cleavelandite.
From Paprok, Nuristan Province, Afghanistan.
Measures 3.3 cm by 2.7 cm in size.
Ex. Matthew Webb Collection
Price $2850
MIN#EXCEPTIONAL-71 SOLD!
Superbly crystallized Gold var. Electrum specimen!
This entire specimen is composed of crystals in all shapes and sizes! There are even
some spinel-twins in the mix and thick wires that bend back towards the Quartz matrix.
The luster is excellent and the color suggests a Silver content of at least 30% or higher.
I love quality Electrums from Nevada and this is one of the finest from the Tucson Show.
From the Round Mountain Mine, Round Mountain District, Nye County, Nevada.
Measures 3.1 cm by 2.5 cm by 1.8 cm in total size.
Price $4500
MIN#EXCEPTIONAL-72 NEW!
UNIQUE AND VERY RARE!!
Museum plate of Pyrargyrite crystals with Acanthite and Quartz from Tonopah, Nevada!
An unbelievable find!!! This specimen was presented as a gift to the Philadelphia Academy in 1915 by
the Tonopah-Belmont Mining Company and has not been touched or messed with since it was found in the
mine pocket nearly 100 years ago. Large cabinet in size, this is a true relic from the earliest Silver mining
history of Nevada and represents the largest and finest specimen that I've ever seen from Tonopah or
any other locale in Nevada for that matter. The plate features dozens of shiny, lustrous Pyrargyrite
crystals with Acanthite and white Quartz points. There's a good deal of color remaining in these ruby-silvers
and many of the Pyrargyrites show red under normal lighting A direct spotlight really brings out the color!
Obviously this cabinet sized plate has been well protected during its many decades in the Academy!
Measures 16 cm by 19 cm by 6 cm in total size.
From the Tonopah-Belmont Mining Company, Tonopah Mining District, Nye County, Nevada.
Ex. Philadelphia Academy of Natural Science Mineral Collection
Ex. Kevin Ward Mineral Classics Collection
Comes with a custom made, labeled stand
Price $50,000
MIN#EXCEPTIONAL-73 SOLD!
Gemmy crystals of vibrant purple Fluorite with Barite blades!
Each Fluorite cube displays a slightly darker phantom just beneath the surface. The crystals
are very gemmy and allow one to look inside all the way to the underlying matrix. The surfaces
are very glassy and reflective with only a few tiny contacts along the edges that do no detract.
Cream-colored Barite blades cluster along the left edge and climb upwards over the very top.
From Berbes, Berbes Mining area, Ribadesella, Asturias, Spain.
Measures 12.5 cm by 9.2 cm by 5.7 cm in total size.
Price $4850
MIN#EXCEPTIONAL-74 NEW!
Wonderful specimen featuring a GEM Golden Topaz crystal with Smoky Quartz points!
I love the look of this specimen! The color richness of both the Topaz and Smoky Quartz
is stunning and very obvious in the above photograph! The small white crystal sitting
atop the Golden Topaz is actually a tiny colorless Topaz crystal. The Golden Topaz
is pure perfection with sharp, complete faces. The Smoky is also perfectly terminated.
From Sakangyi, Mogok, Sagaing District, Mandalay Division, Burma (Myanmar)
Measures 7 cm by 6 cm by 5.2 cm in size.
Ex. James Vorpahl Mineral Collection
Price $2850
MIN#EXCEPTIONAL-75 SOLD!
HUGE crystal of Golden Barite on Calcite blades!
The largest crystal laying horizontally across the matrix measures a whopping 14.5 cm in length!
It's perfectly terminated and glassy with a good bit of transparency near the tip! The other
crystals measurss 4.3 cm and 3.6 in size with the smallest being completely gemmy and clear!
The Barites sit atop a matrix covered from end to end by yellow Calcite. A gorgeous large cab!
From the Meikle Mine, Bootstrap District, Elko County, Nevada.
Measures 10 cm by 18 cm by 11 cm in total size.
Price $4500
MIN#EXCEPTIONAL-76 NEW!
Classic specimen featuring Amethyst with Calcite, Chalcopyrite, and Quartz!
This is one of my first specimens as a collector and it was formally in the mine director's personal collection.
It's a stunning combination of crystals with golden Chalcopyrites and well formed Calcite crystals. The
smoky-purple Amethyst points add the perfect contrast and round out what is a very beautiful cabinet piece.
From Taxco de Alarcón, Mun. de Taxco, Guerrero, Mexico.
Measures 16.6 cm by 12.7 cm by 8.9 cm in size.
Ex. Morrell, Kevin Ward Mineral Collections
Price $9500
MIN#EXCEPTIONAL-77 NEW!
Breathtaking specimen of Erythrite blades on matrix!
The combination of sharp Erythrite blades with the light pink drusy balls makes
this specimen a sight to see! The blades are full translucent and nearly pristine.
This is the prettiest Erythrite specimen I've seen in a long time.
From Bou Azzer, Tazenakht, Ouarzazate Province, Morocco.
Measures 5.9 cm by 4.7 cm in size.
Ex. Martin Zinn, Bernardi Mineral Collections
Comes with a custom made, labeled base
Price $3500
MIN#EXCEPTIONAL-78 NEW!
Large and very distinct crystals of bronze Pyrrhotite with golden Chalcopyrite!
Also with some Calcite crystals, this impressive combination piece boasts a 5.2 cm
Pyrrhotite crystal at top to go along with a 4.2 cm Chalcopyrite in the center! Actually,
the Chalcopyrite is complete surrounded by thick Pyrrhotite crystals on all sides!
From the Nikolaevskiy Mine, Nikolaevskoe Pb-Zn-Ag deposit, Dal'negorsk, Primorskiy Kray, Russia.
Measures 7.4 cm by 9.5 cm by 6.5 cm in size.
Ex. Pilipenko, Star van Schriver, Edward David Mineral Collections
Price $4500
MIN#EXCEPTIONAL-79 SOLD!
Incredible large cabinet specimen of multi-colored Fluorite cubes on Albite with Smoky Quartz!
These Fluorites cubes are amazing! Under direct lighting, they exhibit a mix of colors one wouldn't
expect to see in a Colorado Fluorite. Blues, greens, yellows, and violet pop out in the photograph
and highlight the interior of both large cubes. I can't remember seeing another Colorado specimen
that displayed the same colors range. The Fluorites are also quite large, each measuring around
7 cm in size. They're complete on all faces with some rehealing on the backside against the matrix.
This is the second time I've been able to offer this fine specimen and I'm very happy to give another
collector a chance. Fluorite specimens of this quality from Colorado come along once every few years!
From the Dreamtime Claim, Teller County, Colorado.
Measures 12 cm by 15 cm by 17 cm in total size.
Ex. Kevin Ward Mineral Collection
Comes with a custom made stand for display
Price $6500
MIN#EXCEPTIONAL-80 NEW!
Very impressive plate featuring large pyramidal Pyrrhotites on Quartz crystals!
The bronze colored and quite lustrous Pyrrhotites contrast beautifully with the orange tinted Quartz
and the entire specimen is very three dimensional in appearance. Personally. In excellent condition!
From the Nikolaevskiy Mine, Dal'negorsk, Primorskiy Kray, Russia.
Measures 7 cm by 12.6 cm by 10 cm in total size.
Price $3500
- LINKS TO ALL THE EXCEPTIONAL ROOMS -
1 | 2 | 3 | 4 | 5 | 6 | 7 | 8 | 9 | 10 | 11 | 12
HOME | NEW SPECIMENS | BEST OFFER MINERAL AUCTION | SPECIMENS FROM PAST SHOWS | CONTACT US