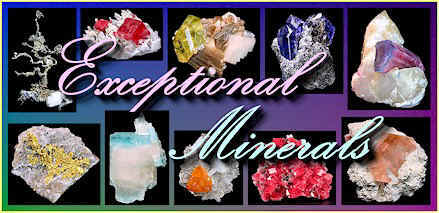 ** Updated August 21st, 2013 with Our Finest Specimens **
MIN#EXCEPTIONAL-121 NEW!
Beautiful plate of intensely yellow Botryoidal Mimetite on matrix!
A lovely plate with just a touch of orange in certain portions of the clean, bright yellow surfaces.
A tiny sprinkling of Calcite crystals adds a good amount of sparkle. The matrix is a thin one which
removes the bulkiness often seen with these specimens. The upright presentation is very nice.
From the San Pedro Corralitos Mine, Chihuahua, Mexico.
Measures 8.8 cm by 7.2 cm by 2.5 cm in total size.
Comes with a custom made, engraved display base
Price $4850
MIN#EXCEPTIONAL-123 SOLD!
EXCEPTIONAL! Classic and dramatic Native Silver from Kongsberg!
I fell in love with this Kongsberg Silver the moment I saw it! Thick, lustrous, ropey wires rise up
from a white Calcite accented base, curling their way up to various heights. The center wire and
tallest of the group completes its growth in a twirly, tornado-like tip, full of striations and artistry.
This is one of those specimens that I could look at for hours and is easily one of the finest Silver
miniatures from this classic locality that I have ever owned! I saw no better miniature at the show.
I think one would be hard pressed to find a more attractive example that isn't of the tree form.
Circa 1850's - From Kongsberg Silver Mining District, Kongsberg, Buskerud, Norway.
Measures 5.8 cm by 4 cm by 2.3 cm in total size.
Ex. Herbert Obodda Mineral Collection #3133
Comes with a custom made, labeled base for display
Price $17,500
MIN#EXCEPTIONAL-124 NEW!
Killer specimen featuring crystals of Native Copper separated only by Chrysocolla!
I love this specimen and I'm pretty picky about Coppers! The crystals are sharp and well
defined with isolation on the front and clustering on the back side. The terminations and
crystal faces look great and there is none of the typical crudeness you often see with these
specimens. The patina is original and naturally aged. Chrysocolla accents between each xl!
From the New Cornelia Mine area, Ajo, Little Ajo Mts, Ajo District, Pima Co., Arizona.
Measures 4.7 cm by 4.2 cm by 2.8 cm in total size.
Ex. Evan Jones Mineral Collection
Price $2450
MIN#EXCEPTIONAL-125 NEW!
EXCEPTIONAL LARGE CABINET!! Incredible specimen hosting two large Selenite crystals on Goethite!
One of the most impressive Selenites at the entire show, this specimen features two doubly terminated
Selenites measuring nearly 22 cm and 16.5 cm in size! Both crystals are incredibly clear and glassy with
well striated surfaces that reflect the light with an intense luster. For a soft mineral of such large size, this
specimen is in amazing condition with only a few trivial contacts. This could easily be a museum piece or a
wonderful centerpiece for a personal mineral collection. If you'd like a stand, I can have one made for you.
From the Gibralter Mine, Naica, Chihuahua, Mexico.
Measures 21 cm by 26.8 cm by 12.2 cm in total size.
Price $2500
MIN#EXCEPTIONAL-126 NEW!
Exceptional miniature of iridescent Native Silver on matrix from Kongsberg!
The Native Silver emerges from the Calcitic matrix, forming two distinct "horns" which are
reminiscent of a viking helmet! The surfaces are not only highly lustrous, but there are also
iridescent with shades of red, green, purple, and blue. The Silver measures 2.5 cm in height
and is surrounded by Acanthite, Polybasite, and other Silver Sulfides atop the host matrix.
From the Kongsberg Silver Mining District, Kongsberg, Buskerud, Norway.
Measures 4.1 cm by 4.4 cm by 3.5 cm in total size.
Ex. Herbert Obodda Mineral Collection
Price $4500
MIN#EXCEPTIONAL-127 NEW!
EXCEPTIONAL!! Stunning combination of Amazonite crystals with Smoky Quartz and Albite!
One of the finest Amazonite-Smoky combos I've seen in a long time. Not only is the specimen
large in size, the color of the Amazonite crystals is every bit as deep as those from the Tree Root
find. The crystals of both minerals are large and well formed and the overall arrangement has to be
one of the most aesthetic I've seen in years. This large plate has the balance and artistic qualities
that all collectors look for in the finest of specimens. There are the usual repairs and restoration
common to large Amazonite-Smokys but they are so expertly done that they are virtually invisible.
Considering the rough pocket conditions in which these specimens are found, it's always amazing
to me just how well they survive the stresses of the earth. Even the Smoky points on this specimen
are complete and terminated with only the most minor of bumps here and these along the edges.
This is the second time I've had the pleasure of offering this fine specimen. I'm thrilled to do so!
From Sentinel Rock, El Paso County, Colorado.
Measures 8.6 cm by 12.8 cm by 8.5 cm in size.
Price $28,500
MIN#EXCEPTIONAL-128 NEW!
Elogated stack of lustrous Pyrrhotites on Quartz crystals!
The bronze colored and quite lustrous Pyrrhotites contrast beautifully with the orange tinted Quartz
and the entire specimen is very three dimensional in appearance. The stack climbs some 9.5 cm
in height above the Quartz and has been stabilized along a matrix crack on the backside to
strengthen a weak point. I believe this is the longest Pyrrhotite stack I've ever offered.
From the Nikolaevskiy Mine, Dal'negorsk, Primorskiy Kray, Russia.
Measures 10 cm by 9.2 cm by 6.3 cm in total size.
Price $3250
MIN#EXCEPTIONAL-129 NEW!
Fine blocky crystals of Orange Wulfenite on Limonite matrix!
A very impressive specimen of Ojuela Wulfenite which is covered with hundreds of
lustrous orange crystals from top to bottom. The crystals are complete and glassy
with smooth reflective faces and the specimen is in excellent condition overall. This is
easily one of the best Ojuela Wulfenites I've seen in many years and they are scarce.
From the Ojuela Mine, Mapimi, Durango, Mexico.
Measures 8.4 cm by 7.3 cm by 4.3 cm in total size.
Ex. Matthew Webb Mineral Collection
Price $2500
MIN#EXCEPTIONAL-130 SOLD!
Beautiful plate of emerald-green Dioptase crystals from Tsumeb!
A very fine specimen that exhibits the best of luster and a deep green color that glows with the
best of them. The crystals are in excellent shape and there really is nothing that detracts save for
one tiny incomplete crystal near the upper left trimming edge. This could easily be trimmed off.
When I hold the specimen in even faint light, it dazzles with flash. On a sparkling Calcite matrix.
From the Tsumeb Mine, Tsumeb, Namibia, SW Africa.
Measures 6.4 cm by 5.1 cm by 2.4 cm in total size.
Ex. R. R. Stoddard Mineral Collection
Price $1850
MIN#EXCEPTIONAL-131 NEW!
Glowing crystals of Native Sulfur perched atop a ledge of Celestine matrix!
This specimen is very aesthetic and the Sulfur crystals are wonderfully isolated along the white matrix
edge! There are well over a dozen Sulfur crystals here, measuring to 2.5 cm in size. All are in good
condition with other the most minor of contacts here and there. The surfaces are satiny and the crystal
interiors are very translucent. The host matrix is completely covered with small Celestine crystals.
From Agrigento (Girgenti), Agrigento Province, Sicily, Italy.
Measures 5.2 cm by 13.2 cm by 9.3 cm in total size.
Price $6500
MIN#EXCEPTIONAL-132 NEW!
EXCEPTIONAL CLASSIC!! Lustrous pyramidal crystal clusters of Acanthite with Native Silver wires!
An amazing combination featuring stacked Acanthite ps. after Argentite (Silver Sulfide) crystals with Native
Silver wires throughout! Obviously the Sulfur component was removed at some point during the development
of this specimen, allowing for the Native Silver growth. Specimens like this always amaze me. They are both
beautiful and extremely interesting in a geological as well as an historical sense. This specimen is a classic
rarity from a major Silver mining district which has faded into the past. Fortunately, great specimens survive
for all collectors to enjoy. I might point out that this specimen is very heavy and nearly solid Silver mineral!
From the Foster Mine, Glen Lake, Coleman Township, near Cobalt, Ontario, Canada.
Measures 8.4 cm by 7 cm by 7.8 cm in total size.

Currently in the Kevin Ward Mineral Collection

Comes with a custom made, labeled stand
Price $9500
MIN#EXCEPTIONAL-134 NEW!
EXCEPTIONAL! Elogated crystals of Acanthite ps Argentite sprouting upwards atop Acanthite cubes!
Bizarre looking specimen and one that is a Silver collector's dream! Argentite is a mineral that exists
at high temperature and when it cools, it pseudomorphs into Acanthite which is the low temperature
version of the same mineral. These Argentite crystals kept their original form which could best be
described as "fishtail-like". Perfectly formed, lustrous cubes of Acanthite make up the base of this
very unique specimen. Classic Silver specimen dating back to the late 1800's or possibly earlier.
From the Himmelsfürst Mine, Freiberg District, Erzgebirge, Saxony, Germany.
Measures 4 cm by 3.1 cm by 2.6 cm in total size.
Ex. Wolfgang Wendel, Kevin Ward Mineral Collections
Price $3500
MIN#EXCEPTIONAL-136 SOLD!
Amazing specimen featuring Acanthite crystals nestled between Amethyst points!
This specimen has been in my personal collection for years but I felt it was time to
give it some web exposure. Someone told me years ago that no Silver minerals appear
in crystal form with Amethyst from the Creede localty, but this was obviously incorrect.
I will admit I haven't seen too many of them over the years and this is definately the
best specimen I've come across. The Acanthite crystals are fairly distinct with a slight
secondary growth along some crystal faces. There are also Silver wires scattered about
in association. While the front of the specimen is Amethyst, the backside is all Acanthite!
From Creede, Mineral County, Colorado.
Measures 8 cm by 5.7 cm in size.
Ex. Kevin Ward Mineral Collection
Comes with a custom made, labeled base
Price $8500
MIN#EXCEPTIONAL-137 NEW!
UNIQUE!! Multi-colored Smithsonite with orange caps!
I call this the "Mushroom Smithsonite" because the orange caps over the surface growth
look like the tops of mushrooms. Actually, you have three distinct layers of growth on this
unique looking specimen. The first is a misty-blue layer which covers the matrix. The second
is a more lustrous white layer. The third and final is the most lustrous yet - the orange colored
top layer of Cadmium Smithsonite which only appears draped atop the other two layers. One
must wonder if the Cadmium layer appeared last and never completed its growth or were the
sides etched away leaving only the caps? I see evidence of both possibilites but the former seems the
most likely explanation. Whatever the cause, it resulted in a specimen that is both odd and beautiful.
From the El Refugio Mine, Choix, Sinaloa, Mexico.
Measures 6.8 cm by 12 cm by 4.4 cm in size.
Price $2850
MIN#EXCEPTIONAL-138 NEW!
Gorgeous, gemmy crystal of deep orange Scheelite on Muscovite!
This Scheelite literally glows! Glassy, translucent, deeply colored, and perfect! If you're
looking for a specimen of Scheelite and Scheelite only, I highly recommend this 4.5 cm crystal.
The color and gemmy termination are incredible and only the far back side is slightly matted.
From the Mt. Xuebaoding Mine, Pingwu, Sichuan Province of China.
Measures 6.8 cm by 5.6 cm in size.
Price $6500
MIN#EXCEPTIONAL-139 NEW!
HUGE!! Large cabinet centerpiece of Galena, Sphalerite, and Chalcopyrite crystals on Quartz points!
This very impressive specimen is from Creede, Colorado and is easily the largest I have ever offered from that
classic mining locality. The Sphalerite crystal are glossy and lustrous and make up the majority of the surface.
Frosty Galena cubes are scattered about as are the golden and iridescent Chalcopyrite crystals. My favorite
thing about this specimen (other than the size) is the two layered appearance. It's very 3-dimensional and displays
like a museum piece. I had a custom, labeled acrylic base constructed for the specimen so it could easily be one.
From the Commodore Mine, Creede District, Mineral County, Colorado.
Measures 19.2 cm by 26.2 cm by 19.8 cm in total size.
Ex. Kevin Ward Mineral Collection
Comes with a custom made, labeled base for display
Price $4850
MIN#EXCEPTIONAL-140 SOLD!
EXCEPTIONAL!! Large cabinet plate of Tri-State Galenas with Calcite crystals on Chert matrix!
This is a true centerpiece for any collection! The specimen is circa 1940s with a 70 year old tag that
reads NOT FOR SALE and then VALUE $18. I wonder why they placed a value on it if it wasn't for sale?
18 dollars was a good bit of money back in the 1940s and the mines were still open then so supply was still
coming to market! With the mines now long closed and entire towns being reclaimed as environmental hazard
clean up spots, these specimens are becoming rarer and rarer. This huge plate is nearly pristine with dozens
of lustrous Galena cubes and yellowish barrel Calcite crystals! I also see some smaller Sphalerite crystals
scattered atop the Chert matrix. The Galenas measure to 2.5 cm in size with the Calcites to 4.2 cm. The Calcite
crystals are doubly terminated. You can look far and wide and won't see many Tri-State specimens of this calibre.
From the Ballard Mine, Bazter Springs, Picher Field, Tri-State District, Cherokee County, Kansas.
Measures 10 cm by 32.3 cm by 13.4 cm in total size.
Price $4500
- LINKS TO ALL THE EXCEPTIONAL ROOMS -
1 | 2 | 3 | 4 | 5 | 6 | 7 | 8 | 9 | 10 | 11 | 12
HOME | NEW SPECIMENS | BEST OFFER MINERAL AUCTION | SPECIMENS FROM PAST SHOWS | CONTACT US