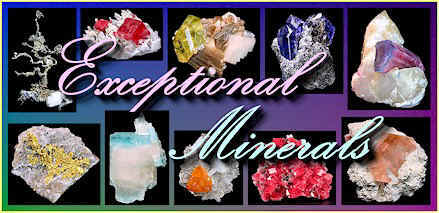 ** Updated August 5th, 2013 with Our Finest Specimens **
MIN#EXCEPTIONAL-81 SOLD!
Gorgeous rhombs of Rhodochrosite with lavender Fluorite, Tetrahedrite, and Quartz!
This specimen has a little of everything for the Rhodochrosite collector. The gemmy, red rhombs
are beautifully positioned atop the host matrix and perfectly accenting by modified cubes of lavender
Fluorite. Most of the Fluorite crystals are partially coated with a white mineral adding additional color
contrast. Small needles of Quartz surround the Rhodochrosite rhombs, along with Tetrahedrite crystals.
From Steve's Pocket, Fluorite Raise, Sweet Home Mine, Alma, Colorado.
Measures 6 cm by 5.4 cm by 3.4 cm in total size.
Ex. J. Vorpahl Mineral Collection
Price $9500
MIN#EXCEPTIONAL-82 NEW!
CLASSIC! Amazing specimen featuring Pyrargyrite crystals draped atop Calcite rhombs!
This incredibly aesthetic combination of Pyrargyrite crystals draped over the top of Hematite accented
Calcite rhombs dates back to the late 1800's! It's in wonderful condition considering it's age and has a
presence that will impress even the fussiest collectors. The provenance is also very impressive, consisting of
two major names in the world of minerals. Amazingly, both of their original labels are intact with the specimen!
From the Samson Mine, St. Andreasberg, Harz, Germany.
Measures 3.5 cm by 6.6 cm by 4.4 cm in size.
Circa late 1800's - Ex. Franz Hafliger, W. Maucher, Kevin Ward Mineral Collections
Comes with a custom made, labeled acrylic base
Price $12,500
MIN#EXCEPTIONAL-83 SOLD!
Very impressive and large Alexandrite sixling crystal!
This is a huge crystal of Alexandrite, matrix free and complete - almost like a floater.
The sixling shape is quite apparent and the surfaces are typically matted with a deep green
color which changes to raspberry-red near the edges. The impressive size and density of the
crystal prevents a complete color change but the change will happen under a stronger light.
From Masvingo (Fort Victoria), Masvingo, Zimbabwe.
Measures 4 cm by 4.4 cm by 3.1 cm in total size.
Ex. Webb Mineral Collection
Price $4500
MIN#EXCEPTIONAL-85 NEW!
The "SILVER COBRA"!
This is truely an EXCEPTIONAL specimen of Peruvian Native Wire Silver on matrix!
Peruvian Silvers hit the market about ten years ago and they really came on strong and heavy
at the time. Unfortunately, I didn't find very many with the aesthetical quality of this well known
specimen. The piece was photographed by Jeff Scovil at the time for publication and it was named
the Cobra for obvious reasons. Unlike so many Peruvian Silvers, these wires are thick and clean.
The luster is also very impressive. I consider this one of the finest Silvers to come out of the find.
From a private collection, this is the second appearance of this fine specimen on the website!
From the Uchucchacua mine, Oyon Province, Lima Department, Peru.
Measures 5 cm by 6.5 cm in size with a "snake-like" 3.5 cm curl of .3 cm thick Wire Silver.
Ex. Kevin Ward Mineral, G. C. B. Mineral Collections
Price $9500
MIN#EXCEPTIONAL-86 NEW!
Colorful cabinet sized plate of Azurite with Malachite!
Of all the Azurite specimens I see from Utah, the Apex Mine is one of the scarcest localities.
Cabinet sized plates are even rarer. This specimen is a beautiful example which displays at least
two color variations of Azurite along with a botryoidal form and a micro-crystalline form which
sparkles under my office lights. The rolling Azurite surfaces are accented by round nodules of
green Malachite which appear as micro-crystalline balls and smooth, reflective balls. Overall,
this is a specimen that is quite 3-dimensional with a good number of recesses. It's in excellent
condition with no problems to speak of and would make a great display piece in any collection.
From the Apex Mine, Jarvis Peak, Tutsagubet District, Beaver Dam Mts, Washington Co., Utah.
Measures 8.6 cm by 13.6 cm by 8.5 cm in total size.
Ex. Presmyk Mineral Collection
Price $2850
MIN#EXCEPTIONAL-87 NEW!
Textbook perfect combination of Galena, Sphalerite, and Calcite on Chert matrix!
This specimen could be pictured in a mineralogy book! The three crystal habits are so
perfect for the minerals featured and the way they are all sitting there together on the
same matrix is amazing. The Galenas are cubes, the Calcite is scalenohedral and doubly
terminated, and the Sphalerite is tetrahedral. In excellent condition with no visible contacts!
This specimen was in my personal cabinet for years and I'm pleased to offer it here.
From the Lead-Zine Mines, Tri-State Mining District, Cherokee County, Kansas.
Measures 8.3 cm by 5 cm by 4 cm in total size.
Ex. Carlton M. Davis, Kevin Ward Mineral Collections
Price $3500
MIN#EXCEPTIONAL-88 SOLD!
Sculptural cluster of Hematite accented Calcite crystals!
This is the first of several Calcite specimens in this update. This aesthetic specimen is from
the famous Tsumeb Mine locality and is cabinet size. The Calcite rhombs are stacked atop
one another with glassy, translucent interiors and a well placed accenting of brown Hematite.
The specimen is very well trimmed and light bounces off the numerous stepped crystal faces.
In excellent condition with only a few tiny, well scattered bumps. This is an impressive piece.
From the Tsumeb Mine, Tsumeb, Otjikoto Region, Namibia.
Measures 14.5 cm by 12 cm by 11.4 cm in total size.
Ex. Webb Mineral Collection
Price $5500
MIN#EXCEPTIONAL-89 NEW!
Gorgeous, gemmy crystals of Forsterite var. Peridot on Magnetite!
I count at least eight gem Peridots on this impressive specimen and all are quite glassy
and transparent. The Magnetite crystal is also complete and lustrous. You could cut some
brilliant gemstones from these crystals but I prefer the specimen in its natural state of beauty.
From Sapat Gali, Naran-Kagan Valley, Kohistan District, North-West Frontier Province, Pakistan.
Measures 5 cm by 3.6 cm by 3 cm in total size.
Ex. Wallace Mineral Collection
Price $2850
MIN#EXCEPTIONAL-90 NEW!
Exceptional, museum quality large cabinet plate of lustrous Sphalerite clusters with Barite on Dolostone!
No doubt about it! This is easily the finest Elmwood Sphalerite plate I have ever seen or offered on the website.
Usually large plates of Sphalerite are either dull or damaged but this specimen is completely pristine! The crystal
clusters are super reflective and lustrous and the specimen is as close to perfect as you can find. The plate is
very well proportioned and balanced with one side being more Sphalerite and the other more Barite clusters.
I could see this plate standing alone or being the centerpiece of a fine Elmwood collection.
From the Elmwood Mine in Smith County, Tennessee.
Measures 24 cm by 33 cm in size with a 9.5 cm Sphalerite cluster at top left.
Ex. Charlie Key Mineral Collection
Comes with a custom made, labeled base
Price $12,500
MIN#EXCEPTIONAL-91 NEW!
Rare specimen of Native Copper (Spinels and crystals) from Australia!
This specimen is not only rare, it's also pretty spectacular. The well formed Copper crystals which
form the majority of the specimen give rise to these incredible Spinel-twins along the top. These
crystals measure up to 1.7 cm in size and the dozen or so shoot out in various directions as they
seemingly "float" atop stacks of smaller Copper crystals below. This is an amazing specimen the
likes of which I have never seen before. It's in pristine condition with a original reddish-brown patina.
From the Broken Hill Proprietary Mine, Broken Hill, Yancowinna Co., New South Wales, Australia.
Measures 3.8 cm by 7.4 cm by 2.8 cm in size.
Ex. Webb Mineral Collection
Price $3500
MIN#EXCEPTIONAL-92 SOLD!
EXCEPTIONAL! Large crystal of deep orange Scheelite on Muscovite!
What a crystal this one is! Glassy, translucent, deeply colored, and perfect! If you're
looking for a specimen of Scheelite and Scheelite only, I highly recommend this one.
The crystal itself measures 6 cm at the base!! The termination is complete and stepped.
From the Mt. Xuebaoding Mine, Pingwu, Sichuan Province of China.
Measures 5.6 cm by 10.2 cm in size.
Price $9500
MIN#EXCEPTIONAL-93 NEW!
Gemmy and extremely flashy blue cluster of Celestite crystals on matrix!
These specimens always dazzle but this one seems to have a bit more pizzazz than usual and the
aesthetics are superb. There is no damage except for the outer trim line which is the norm. The largest
crystals rising up from the center measure 5 to 6 cm in total size! A great example of this popular mineral.
From the Sakoany Mine, Majunga, Madagascar.
Measures 11.7 cm by 12.4 cm by 13.4 cm in size.
Price $4500
MIN#EXCEPTIONAL-95 NEW!
Exceptional plate featuring purple tipped Adamite crystals on matrix with Goethite!
A fascinating specimen! The large crystals of yellowish-green Adamite have a distinctive
purple coloration at the tips. The crystals themselves are very lustrous and sharp with no
damage to speak of. The grape-like clusters of Goethite add a nice contrast at all three sides.
This is an older specimen from earlier Adamite finds and of a higher quality I think.
From Mina Ojuela, Mapimi, Durango, Mexico.
Measures 7 cm by 11.2 cm in size.
Ex. Matthew Webb Mineral Collection
Price $5500
MIN#EXCEPTIONAL-96 NEW!
Amazing specimen featuring lustrous Acanthite crystals sitting atop Polybasite!
Admittedly, I'm a Silver specimen fanatic and I go crazy when I see incredible combination pieces
like this one, but even non-Silver collectors can appreciate a specimen of this calibre! The pristine
Acanthites xls (largest measures 1.4 cm in size) sit perfectly atop very sharp blades of Polybasite
which are in turn, accented by a peppering of golden-iridescent Pyrite crystals. The Polybasite also
appears to be slightly coated by additional micro-Acanthites. I've never seen a specimen quite like
this one and the contrasting habits of both Silver Sulfides is what caught my attention. The largest
Polybasite is nearly 2 cm in width so it pretty hard not to notice! All crystals are sharp and distinct.
From the Reyes Mine, Guanajuato, Mun. de Guanajuato, Guanajuato, Mexico.
Measures 4.9 cm by 3.9 in size.
Ex. Al Ordway, Kevin Ward Mineral Collections
Comes with a professionally made acrylic stand
Price $4500
MIN#EXCEPTIONAL-97 NEW!
Brilliant red crystals of Cuprite clusted atop Dolomitic matrix!
This is an impressive Tsumeb Cuprite. The crystals are bright and lustrous with a slight
accenting of green Malachite at the base and near the edges. The cluster sits atop a cast
matrix consisting of Calcite and Dolomite crystals. One thing I can tell you is these Cuprites
are red even under my office lights so under a direct light they should glow the deepest red.
There is no damage to the specimen and no noticeable contacts. Using a loupe, I can see
what appears to be small Mimetites and possibly Cerrusites atop the upper left edge.
From the Tsumeb Mine, Tsumeb, Otjikoto Region, Namibia.
Measures 6 cm by 5.5 cm by 3.8 cm in total size.
Ex. Russell P. MacFall Mineral Collection

Price $2500
MIN#EXCEPTIONAL-98 NEW!
Fine crystals of yellowish-orange Pyromorphite on Barite matrix!
Good Pyromorphites from Les Farges are becoming very difficult to find these days. This one
has a less common color, best described as yellowish or greenish-orange, with sharp crystals
and minimal contacts, mostly on the smaller less important crystals. There is one missing
crystal just beneath the largest crystal in the center but it is well hidden in the recesses.
The Pyromorphite has very good luster and almost complete covered the Barite matrix.
From the Les Farges Mine, Ussel, Corrèze, Limousin, France.
Measures 7.4 cm by 7.5 cm by 3.4 cm in total size.
Price $2500
MIN#EXCEPTIONAL-99 NEW!
Super fine Native Silver dendrites set atop Native Arsenic covered matrix!
This specimen is covered with brilliant feathers of Native Silver dendrites. I love this variety of
Silver from Germany, which I consider to be among the best dendritic Silvers in the world. The
largest vertical Silver feather top center measures 3.4 cm in size and is surrounded on all sides
by additional dendritic feathers of various size. The one thing to look for in these Silvers is
balance and the aesthetical placement of crystallization. This fine piece meets all the criteria.
From the Tropperstollen Mine, Wolkenstein, Marienberg District, Erzgebirge, Saxony, Germany.
Measures 5.5 cm by 5.2 cm by 4.8 cm in total size.
Ex. Jorg Walther Mineral Collection
Price $5500
MIN#EXCEPTIONAL-100 NEW!
Really neat specimen featuring several Prehnite "fingers" pseudo. after Anhydrite!
Truth be known, all of these fingers are hollow casts but the way the horizontal crystal exposes
its interior next to the verticle crystals is not only unique but it's also very asthetic and dramatic!
The structure of the original Anhydrite crystals is still recognizable but is now displayed with light
green, lustrous surfaces. A very sturdy specimen that would look wonderful in any collection.
From the Lower New Street Quarry, Paterson, Passaic Co., New Jersey.
Measures 8.4 cm x 4.5 cm x 4.5 cm in total size.
Circa 1950's - Ex. Frank Valenzuela, W. Mueller Mineral Collections
Price $1850


- LINKS TO ALL THE EXCEPTIONAL ROOMS -
1 | 2 | 3 | 4 | 5 | 6 | 7 | 8 | 9 | 10 | 11 | 12
HOME | NEW SPECIMENS | BEST OFFER MINERAL AUCTION | SPECIMENS FROM PAST SHOWS | CONTACT US