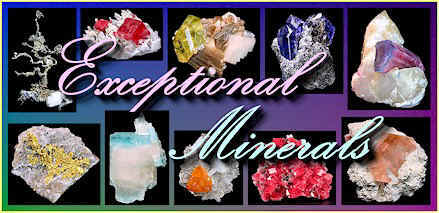 ** Updated 6/1/2012 with Our Finest Specimens **
MIN#EXCEPTIONAL-81 SOLD!
Museum quality specimen of crystalline Native Gold wires on Calcite with Pyrite!
Without a doubt, this is one of the finest Gold specimens I have ever seen! When one sees this specimen,
you are immediately struck by the superb aesthetics and perfect overall balance. The bright yellow Gold
wires emerge from the pearly-white Calcite seam at the top and extend all the way to the bottom. On the
far right side of the matrix, there's a single Pyrite cube that adds the perfect finishing touch to this
remarkable specimen. This piece, placed in a display case, will be the center of attention every time!
From the San Pedro Mine in Santa Fe County, New Mexico.
Measures 7.5 cm by 10 cm by 3.5 cm in size.
Ex. Dyck, Kevin Ward, Bruce Gold Mineral Collections
Price $45,000
MIN#EXCEPTIONAL-82 NEW!
CLASSIC! Amazing specimen featuring Pyrargyrite crystals draped atop Calcite rhombs!
This incredibly aesthetic combination of Pyrargyrite crystals draped over the top of Hematite accented
Calcite rhombs dates back to the late 1800's! It's in wonderful condition considering it's age and has a
presence that will impress even the fussiest collectors. The provenance is also very impressive, consisting of
two major names in the world of minerals. Amazingly, both of their original labels are intact with the specimen!
From the Samson Mine, St. Andreasberg, Harz, Germany.
Measures 3.5 cm by 6.6 cm by 4.4 cm in size.
Circa late 1800's - Ex. Franz Hafliger, W. Maucher, Kevin Ward Mineral Collections
Comes with a custom made, labeled acrylic base
Price $12,500
MIN#EXCEPTIONAL-83 NEW!
EXCEPTIONAL CABINET SIZED RED BERYL PLATE!
This is easily the largest Red Beryl specimen I've offered on the website and one of the largest
I've ever seen. Usually when I find a large Red Beryl specimen, the crystals are tiny, damaged, and of
poor quality. This plate offers four Red Beryl crystals (1.8 cm, 1.6 cm, 1.3 cm, and 1.3 cm in size), and
three of them are doubly terminated! There's also a good amount of gem material peaking out of these
crystals in addition to smooth, glassy faces and no corner chipping which is common to Red Beryls.
I can visualize this plate as being the centerpiece of a gem mineral or Beryl collection!
From the Harris Red Beryl Claim, Wah Wah Mountains, Beaver County, Utah.
Measures 11 cm by 16.5 cm by 5 cm in size.
Comes with a custom made, engraved base
Price $24,500
MIN#EXCEPTIONAL-85 NEW!
The "SILVER COBRA"!
This is truely an EXCEPTIONAL specimen of Peruvian Native Wire Silver on matrix!
Peruvian Silvers hit the market about ten years ago and they really came on strong and heavy
at the time. Unfortunately, I didn't find very many with the aesthetical quality of this well known
specimen. The piece was photographed by Jeff Scovil at the time for publication and it was named
the Cobra for obvious reasons. Unlike so many Peruvian Silvers, these wires are thick and clean.
The luster is also very impressive. I consider this one of the finest Silvers to come out of the find.
From a private collection, this is the second appearance of this fine specimen on the website!
From the Uchucchacua mine, Oyon Province, Lima Department, Peru.
Measures 5 cm by 6.5 cm in size with a "snake-like" 3.5 cm curl of .3 cm thick Wire Silver.
Ex. Kevin Ward Mineral, G. C. B. Mineral Collections
Price $9500
MIN#EXCEPTIONAL-87 SOLD!
The "Silver Octopus"!
Exceptional specimen of Native Wire Silver with individual Acanthite crystals!
I rarely come across German wire Silver specimens with such distinct Acanthites and this
beauty caught my eye immediately! It's so well balanced and aesthetic that one would be
hard pressed to find a better miniature anywhere. The golden antiquish patina is gorgeous!
I sold this specimen years ago and I'm thrilled to be able to offer it again on the website!
From the Himmelsfurst Mine, Freiberg District, Saxony, Germany.
Measures 3.7 cm by 3.4 cm in size.
Ex. Scalisi, Kevin Ward, Tucker Mineral Collections
Price $12,500
MIN#EXCEPTIONAL-88 SOLD!
Gorgeous combination of lustrous Galena crystals with Sphalerite and Amethyst!
These incredible combos appeared several years ago and have become difficult to find
at today's shows. The yellowish interiors of the Sphalerite are very apparent in this photo
as is the growth laying of the Galena cubes. A cluster of deep purple Amethyst accents both!
From the P-Vein, 2 South, 5 Level of the Commodore Mine in Creede, Mineral County, Colorado.
Measures 6.8 cm by 6.8 cm in total size.
Price $1450
MIN#EXCEPTIONAL-90 SOLD!
Impressive plate featuring dozens of mirror-like octahedron Magnetite crystals on matrix!
This plate is covered from one end to the other with lustrous Magnetites measuring to 2+ cm in size!
A very impressive plate with no noticable damage to speak of and lots of reflectivity. These appeared
about a decade ago in Tucson and I've actually been holding this specimen back since then. You won't
see many in the current marketplace so this fine cabinet specimen represents a rare opportunity.
From the Kovdor Massif, Kola Peninsula, Murmanskaja Oblast', Northern Region, Russia.
Measures 10.8 cm by 12.3 cm by 7.7 cm in size.
Ex. E. Schlichter Mineral Collection
Price $2500
MIN#EXCEPTIONAL-91 NEW!
Dramatic specimen of "Cave Calcite" fingers and crystals from Bisbee, Arizona!
This is one of the finest examples of mining Calcite that I've seen from the old Copper mines in
Bisbee! The rounded Calcite fingers are topped by sharp Aragonite crystals which glisten in even
faint lighting. The specimen is pristine overall with no visible damage. It was preserved with
great care by the former owners. The story behind these specimens - Most were encountered
deep inside the mines at Bisbee and unfortunately, most were also destroyed or blasted away
during the mining process. A specimen of this quality is rarely encountered and is a true prize.
From the Holbrook Shaft, Copper Queen Mine, Bisbee, Cochise County, Arizona.
Measures 12.2 cm by 9.8 cm by 6.4 cm in size.
Comes with a custom made, engraved base
Price $3500
MIN#EXCEPTIONAL-92 NEW!
EXCEPTIONAL! Large crystal of deep orange Scheelite on Muscovite!
What a crystal this one is! Glassy, translucent, deeply colored, and perfect! If you're
looking for a specimen of Scheelite and Scheelite only, I highly recommend this one.
The crystal itself measures 6 cm at the base!! The termination is complete and stepped.
From the Mt. Xuebaoding Mine, Pingwu, Sichuan Province of China.
Measures 5.6 cm by 10.2 cm in size.
Price $9500
MIN#EXCEPTIONAL-94 NEW!
Gemmy and extremely flashy blue cluster of Celestite crystals on matrix!
These specimens always dazzle but this one seems to have a bit more pizzazz than usual and the
aesthetics are superb. There is no damage except for the outer trim line which is the norm. The largest
crystals rising up from the center measure 5 to 6 cm in total size! A great example of this popular mineral.
From the Sakoany Mine, Majunga, Madagascar.
Measures 11.7 cm by 12.4 cm by 13.4 cm in size.
Price $4500
MIN#EXCEPTIONAL-95 NEW!
Lustrous curling wires of Native Silver with a slight antique patina!
Very aesthetic miniature featuring numerous winding wires, twisting their way
upwards from just a small bit of matrix. The old label dates this specimen back
at least 50 years but it is probably much older. A great looking Silver miniature!
From the Himmelsfurst Mine, Freiberg District, Erzgebirge, Saxony, Germany.
Measures 6.3 cm by 1.8 cm in size.
Ex. Gerald Clark, Revelle Mineral Collections
Comes with an original Staatl. Mineralien-Niederlage, Freiberg, Sa. label
Price $4250
MIN#EXCEPTIONAL-96 NEW!
Exceptional plate featuring purple tipped Adamite crystals on matrix with Goethite!
A fascinating specimen! The large crystals of yellowish-green Adamite have a distinctive
purple coloration at the tips. The crystals themselves are very lustrous and sharp with no
damage to speak of. The grape-like clusters of Goethite add a nice contrast at all three sides.
This is an older specimen from earlier Adamite finds and of a higher quality I think.
From Mina Ojuela, Mapimi, Durango, Mexico.
Measures 7 cm by 11.2 cm in size.
Ex. Matthew Webb Mineral Collection
Price $5500
MIN#EXCEPTIONAL-97 NEW!
Stunning cabinet plate featuring Titanite (Sphene) crystals with Adularia and needle Tourmalines!
This is a wonderful specimen that has it all! The green Titanite crystals are all terminated and
glassy. The Adularia crystals are also quite glassy but many are also doubly terminated. A fine
Chlorite dusting accents the specimen and the Tourmaline needles include many of the Sphenes.
From Zillertal, Tyrol, Austria.
Measures 16 cm by 11.2 cm by 8.4 cm in total size.
Ex. Keith Proctor, Marvin Rausch Mineral Collections
Price $2500
MIN#EXCEPTIONAL-98 SOLD!
Classic Colorado mix of Galena cubes with tan Siderite on Sphalerite matrix!
One of the best combo specimens I've found in a long time from the Eagle Mine in the Gilman
Mining District, Eagle County, Colorado. The Siderite crystals are sharp and distinct with no
damage to speak of. The Galena cubes are matted but some have mirror-like faces as well.
From the Eagle Mine in the Gilman Mining District, Eagle County, Colorado.
Measures 5 cm by 10.3 cm in size.
Price $1850
MIN#EXCEPTIONAL-99 NEW!
Really neat specimen featuring several Prehnite "fingers" pseudo. after Anhydrite!
Truth be known, all of these fingers are hollow casts but the way the horizontal crystal exposes
its interior next to the verticle crystals is not only unique but it's also very asthetic and dramatic!
The structure of the original Anhydrite crystals is still recognizable but is now displayed with light
green, lustrous surfaces. A very sturdy specimen that would look wonderful in any collection.
From the Lower New Street Quarry, Paterson, Passaic Co., New Jersey.
Measures 8.4 cm x 4.5 cm x 4.5 cm in total size.
Circa 1950's - Ex. Frank Valenzuela, W. Mueller Mineral Collections
Price $1850
MIN#EXCEPTIONAL-100 SOLD!
Fine crystals of brilliant Native Gold on Quartz covered matrix!
The specimen is a sparkling stunner, covered with hundreds of Native Gold micro-crystals!
I'm used to seeing the leaf specimens of Gold from this locality so this specimen was a nice change of
pace. The color ranges from yellow Gold to a more orangish-Gold indicating varying alloys in the mix.
From Rosia Montană (Vöröspatak), Alba County (Transylvania), Romania.
Measures 6 cm by 5.2 cm by 2.5 cm in total size.
Ex. Herbert Obodda Mineral Collection #2301
(Come with antique handwritten label)
Price $4500
- LINKS TO ALL THE EXCEPTIONAL ROOMS -
1 | 2 | 3 | 4 | 5 | 6 | 7 | 8 | 9 | 10 | 11 | 12
HOME | NEW SPECIMENS | BEST OFFER MINERAL AUCTION | SPECIMENS FROM PAST SHOWS | CONTACT US