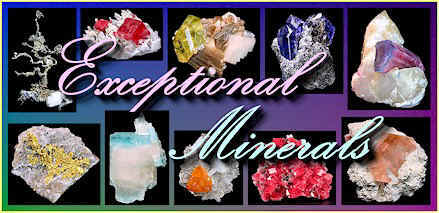 ** Updated 4/12/2011 with New Exceptional Specimens! **

MIN#EXCEPTIONAL-161 NEW!
EXCEPTIONAL MUSEUM SPECIMEN!!
Tremendous antique plate of super lustrous Pyrargyrite crystals with Calcite on matrix!
One of the finest I've seen from St. Andreasberg and one that has quite an impressive
provenance as well. The Pyrargyrite crystal grouping is incredibly sharp, undamaged, and
lustrous. It also still displays an amazing amount of red for a specimen of its age! Note the
reddish color of the crystals in the bottom close up when exposed to a direct light. This plate
is literally covered from top to bottom with lustrous, shiny Pyrargyrite but it's the main
grouping in the top center which is the main attraction. These large crystals each measure
just shy of 2 cm in size with some 1 cm crystals nearby. I love this specimen and can highly
recommend it to anyone who is a Silver mineral collector or a collector of very high end classics!
From St. Andreasberg, Harz Mountains, Lower Saxony, Germany.
Measures 7 cm by 11.3 cm by 8.8 cm in size.
Ex. Geipel Collection (early 1900's), Bally-Prior Museum Collection in Schönenwerd, Switzerland
Price $17,500
MIN#EXCEPTIONAL-163 NEW!
VERY RARE!! Fine specimen of Native Silver atop Chalcocite from Tsumeb!
Tsumeb Silver specimens are rare enough but this specimen exhibits nearly 3 cm of
leaf Silver atop the center crystal faces of the grayish Chalcocite!! Also with Quartz.
From the Tsumeb Mine, Tsumeb, Namibia, SW Africa.
Measures 6 cm by 6.7 cm by 4.6 cm in size.
Ex. Uli Bahmann Mineral Collection
Price $2500
MIN#EXCEPTIONAL-166 NEW!
Stunning specimen of iridescent Native Silver leaves and crystals with Calcite!
A gorgeous and very colorful specimen from this old, classic locality.
There may be a slight Bornite coating responsible for the color.
From the Dolores Mine, Chanarcillo, near Copiapo, Atacama Province, Chile.
Measures 2.5 cm by 2.6 cm in size.
Ex. Willard J. Perkin Collection
Ex. Minette Collection
Price $1500
MIN#EXCEPTIONAL-172 Sold!
Exceptional specimen of Native Wire Silver from China!
Without a doubt, the most aesthetic specimen of Chinese Silver that I've ever seen
in the miniature size range. The specimen looks like a Silver tree and the thick wire
base actually sits on host rock matrix! I can count the number of Chinese Silvers with
matrix that I've seen on only one hand - they are that rare! The wires sprouting out from
the center are firm and lustrous, with a beautiful golden patina. Exceptional in every way!
From Lingqiu County, Shanxi Province of China.
Measures 8 cm by 7.1 cm by 3.2 cm in size.
Currently in the Kevin Ward Personal Collection
Price $12,500
MIN#EXCEPTIONAL-174 NEW! Breathtaking specimen of Erythrite blades on matrix!
The combination of sharp Erythrite blades with the light pink drusy balls makes
this specimen a sight to see! The blades are full translucent and nearly pristine.
This is the prettiest Erythrite specimen I've seen in a long time.
From Bou Azzer, Tazenakht, Ouarzazate Province, Morocco.
Measures 5.9 cm by 4.7 cm in size.
Ex. Martin Zinn, Bernardi Collections
Comes with a custom made, labeled base
Price $3500
MIN#EXCEPTIONAL-175 NEW!
Good looking specimen of Green Fluorite with a terminated Schorl Tourmaline!
White Albite accents the piece and helps to show the depth of color of this Fluorite.
This is a RICH GREEN Fluorite, not pale like those we see all too often from this
locality. The Fluorite is modified in habit, very gemmy, and satiny lustrous! The shiny
black Schorl Tourmaline is nearly 4 cm in length and displays a perfect top termination.
From Nagar, Gilgit, Northern Areas of Pakistan.
Measures 5.8 cm by 6.6 cm by 5.5 cm in size.
Ex. Gene Meieran Mineral Collection
Comes with a custom made, engraved base
Price $4500

For More Exceptional Specimens, Click Here!
Rhodochrosite Room | Gold Room | Silver Room | Beryl Room | Elmwood Room