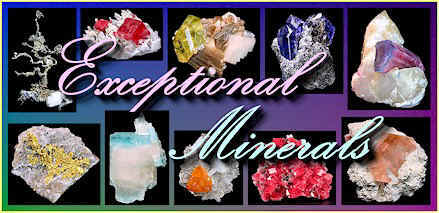 ** Updated 9/15/2012 with Our Finest Specimens **
MIN#EXCEPTIONAL-142 SOLD!
Gorgeous specimen featuring three terminated crystals of Tanzanite with a framing of white Calcite!
Stunning cluster which actually includes a fourth Tanzanite on the backside near the top (darker crystal
in the photo) but most of this crystal is hidden by the Calcite coating. The three vertical Tanzanites are
very glassy and perfectly terminated. They glow in direct light and color change from blue to purple when
rotated. The photo displays the blue color visible from the front. The crystals measure to 2.6 cm in size.
Matrix Tanzanite specimens are very difficult to find and a matrix piece with three crystals is incredible!
From the Merelani Hills (Mererani), Lelatema Mts, Arusha Region, Tanzania.
Measures 4 cm by 4.5 cm by 2.6 cm in total size.
Price $6500
MIN#EXCEPTIONAL-143 NEW!
EXCEPTIONAL!! Amazing specimen featuring one of the largest Amazonite crystals I've seen!
The main upright Amazonite crystal measures 11 cm in height! It is also perfectly terminated
with the deepest, most incredible turquoise-blue coloration imaginable. The fat Smoky Quartz
in the front adds a wonderful contrast and is also terminated. It features a darker top and lighter
base which really suites the specimen I think. Smaller but equally as fine Amazonite xls can be
seen to the lower right side of the largest crystal. As is the norm for Smoky-Amazonites, this
specimen has been expertly repaired. The large crystal of Amazonite is totally complete though.
From Sentinel Rock, El Paso County, Colorado.
Measures 12 cm by 16 cm by 8 cm in size.
Ex. Revelle Mineral Collection
Comes with a custom made, labeled base
Price $12,500
MIN#EXCEPTIONAL-144 NEW!
Exceptional specimen featuring Acanthite crystals with Polybasite and Calcite!
This very aesthetic specimen is rich with both contrast and Silver minerals! The Acanthites
are a lustrous gray as are the Polybasites. The small Calcite crystals are colorless and really
pop against the darker Silver minerals. The rounded Acanthite crystals branch out and form
an arrangement which reminds one of Argentite. The largest average around 1 cm in size.
From Fresnillo, Zacatecas, Mexico.
Measures 4.8 cm by 5.4 cm by 2.6 cm in total size.
Ex. Kuhn, Stoudt, Kevin Ward Mineral Collections
Price $2850
MIN#EXCEPTIONAL-145 SOLD!
This is one stunning specimen to say the least. The aesthetics are superb and I was struck at
first glance by the way the gem Brazilianite crystals climbed the left side of the Albite and draped
over the top. Seriously, I couldn't take my eyes off the piece! The crystals are all in excellent
shape with full terminations except for one crystal on the back side which is rehealed.
From Conselheiro Pena, Rio Doce Valley, Minas Gerais, Brazil.
Measures 8 cm by 7 cm by 4.8 cm in total size.
Ex. Herbert Obodda Mineral Collection #2872
Comes with a custom made, labeled base for display
Price $7500
MIN#EXCEPTIONAL-146 NEW!
Tremendous cabinet sized specimen of Native Wire Silver from China!
INCREDIBLE specimen of Native Silver, with wires twirling and curling their way upwards
from the thicker wires at the bottom, and twisting into a very aesthetic "tree" form! The luster
is brilliant and covers the entire surface from top to bottom. A light patina can be seen along the
edges and this only serves to enhance the beauty of the overall specimen. Also, a peppering
of sparkling Acanthite drusy lends additional contract to the edges of some of the Silver wires.
From the Hongda Mine, Lingqiu County, Datong Prefecture, Shanxi Province, China
Measures 15 cm by 11.4 cm in size.
Comes with a custom made, engraved acrylic stand.
Price $18,500
MIN#EXCEPTIONAL-147 SOLD!
Brilliant, gemmy Golden Topaz set between a Quartz point and Albite matrix!
A crystal that is practically flawless. The termination is complete and perfect. The crystal surfaces
are all glassy and lustrous. The color is very good and the clarity is such that you can read print through
the widest part of the crystal. Simply a gorgeous Topaz! The crystal itself measures 5.5 cm by 3.3 cm in size!
I might also point out that the large semi-smoky Quartz crystal is also terminated with a bit of Albite attached.
From Dassu, Skardu, Northern Areas of Pakistan.
Measures 7.3 cm by 8.3 cm by 5.5 cm in total size.
Come with a custom made, engraved base for display
Price $5500
MIN#EXCEPTIONAL-150 NEW!
GORGEOUS! Unique cluster of bi-color Beryl (Heliodor and Aquamarine) with Schorl and Albite!
A small find of these rare bi-color Beryls appeared recently from Namibia and this is one of the
largest plates that I've seen. The Heliodor crystals are all tipped with blue Aquamarine!
From the Davib Ost Farm, Erongo Mountains, Namibia, SW Africa.
Measures 8.7 cm by 11.5 cm in size.
Price $3250
MIN#EXCEPTIONAL-151 NEW!
Graceful specimen featuring deep pink Rhodochrosite rhombs sitting atop Quartz matrix!
Very attractive miniature with a pair of rhombs measuring 2.3 cm and 1.8 cm in size.
Both are perfect with no damage and sharp, well defined crystal faces. Very nice mini!
From the Sunnyside Mine, Silverton Mining District, San Juan County, Colorado.
Measures 5 cm by 4.5 cm in size.
Price $1250
MIN#EXCEPTIONAL-152 NEW!
Exceptional cluster of gemmy blue Aquamarine crystals on Albite with Schorl Tourmaline!
This is one great looking Erongo specimen - much better than what I normally see in the marketplace.
The crystals are a deep blue and very gem except for the normal opaqueness against the matrix. The
terminations are complete and the faces are very glassy. The shiny black Schorl contrasts beautifully.
Circa August 2009 - From the Erongo Mountains in Nambia, SW Africa.
Measures 6 cm by 8 cm by 5.5 cm in total size.
Price $4500
MIN#EXCEPTIONAL-154 NEW!
"The Copper Cactus"
First we had a Copper Scorpian and now a Copper Cactus! You could build a unique looking
collection with these Native Copper specimens! This specimen is also composed of elongated
crystals, with the largest having the added bonus of green Epidote and Quartz along the top
left side. Overall, this is a very impressive old timer from Michigan with great crystal form!
From the Centennial Mine, Centennial, Kearsarge Lode, Houghton County, Michigan.
Measures 7.1 cm by 3 cm in size.
Ex. Revelle Mineral Collection
Comes with an acrylic base
Price $7500
MIN#EXCEPTIONAL-155 SOLD!
EXCEPTIONAL! Stunning specimen featuring Galena cubes on Chalcopyrite covered drusy matrix!
There are also Galena octahedrons along both edges of this amazing cabinet specimen. This piece is the
first of three high end pieces in a collection I purchased recently. The second specimen is a superb Calcite
on Marcasite and the third is an amazing Sphalerite crystal perched atop matrix. All are well matched
sizewise and incredibly aesthetic. They were chosen by the collector for their quality and eye appeal and
would look incredible if reunited in a new collection. This large Galena at top on the sparkling matrix
measures nearly 3.5 cm in size and is incredible lusterous. It is a complete cube all around and has a
smaller partial cube of Galena on the back side. The matrix is covered with Dolomite and drusy and
then nearly completed covered on the front side by iridescent Chalcopyrite crystals! This specimen
is easily one of the most attractive combos I've seen from the Sweetwater Mine in a very long time.
From the Sweetwater Mine, Ellington, Viburnum Trend District, Reynolds Co., Missouri.
Measures 10.8 cm by 10.1 cm by 6.2 cm in total size.
Ex. Williams Mineral Collection
Price $2450
MIN#EXCEPTIONAL-156 NEW!
Awesome stacked crystals of Malachite pseudo after Azurite!
This is simply a tremendous pseudomorph from a classic Copper mining locality in Arizona!
I love the stacked crystals on the upper left but the entire specimen is impressive with its
large crystal blades. In excellent condition overall with very few contacts. This specimen
dates back to the earliest mining period of the Miami district and is circa 1910-1920.
From the Live Oak pit, Inspiration Mine, Globe-Miami District, Gila County, Arizona.
Measures 9.5 cm by 7.2 cm by 5.8 cm in total size.
Ex. Gerry McLoughlin Mineral Collection
Price $3500
MIN#EXCEPTIONAL-157 SOLD!
Amazing combo featuring Polybasite crystals atop Calcite with a larger Calcite at top!
This is the kind of specimen that really gets me excited! A large, gemmy Calcite sitting
atop a matrix of smaller Calcites which are completely covered by Polybasite crystals
in varying sizes! I love combination specimens but to find one of this size with so many
Polybasites (there must be hundreds of them!) is rare indeed. The largest Polybasite
is very lustrous and can be seen at 4 o'clock in the photo. It measures 1.3 cm in size!
From Guanajuato, Guanajuato (GTO) , Mexico.
Measures 7 cm by 8.3 cm in size with a 4 cm Calcite!
Ex. Kevin Ward Personal Collection
Comes with a custom made, labeled base for display
Price $4500
- LINKS TO ALL THE EXCEPTIONAL ROOMS -
1 | 2 | 3 | 4 | 5 | 6 | 7 | 8 | 9 | 10 | 11 | 12
HOME | NEW SPECIMENS | BEST OFFER MINERAL AUCTION | SPECIMENS FROM PAST SHOWS | CONTACT US