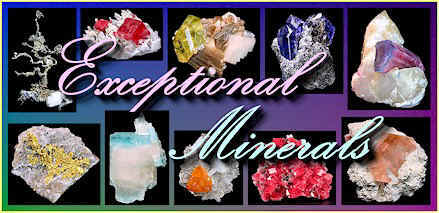 ** Updated January 8th, 2017 with Our Finest Showroom Specimens **
MIN#EXCEPTIONAL-141 NEW!
Deeply colored Beryl var. Morganite crystal perched atop Cleavelandite matrix!
I don't see many Morganites with this depth of color. The crystal itself measures 7 cm in size
and features brilliant, glassy crystal faces. The interior is loaded with gemminess and the color
could best be described as a deep, vibrant orangy-pink, almost peach color. The color is consistant
throughout the entire Morganite crystal with a light frosting present on the top horizontal face. The
gem crystal is complete on all sides with only a couple of tiny internal stress lines of natural origin.
A Morganite of this quality is a rare prize indeed. This would make a great cabinet centerpiece.
From Dara-i-Pech, Kunar Province, Afghanistan.
Measures 7.2 cm by 13.3 cm by 8 cm in total size.
Comes with a custom made, labeled display base
Price $18,500
MIN#EXCEPTIONAL-142 NEW!
Exceptional Native Silver wires with Acanthite crystals and on Silver matrix!
This is a MAJOR Native Silver and one of the finest I've ever seen from the Hongda Mine!
First of all, it's an impressive small cabinet in size. Secondly, the Native Silver - Acanthite base gives
rise to over a dozen wires, all curling upwards like flames of a fire. The wires are highly lustrous and
brilliant with some displaying a secondary crystallization atop the striated surfaces. It appears that
small Silver crystals began to form at some point atop some of the wires, giving them a serious amount
of sparkle to go with the noticeable luster. The base of the specimen is mostly Native Silver with some
scattered Acanthite crystals and Acanthite micro-crystals. There also appears to be a greenish mineral
along the left back side wires that may be Sphalerite. The surface patina is a beautiful golden-brown.
From the Hongda Mine, Xiaoqinggou Ag-Mn deposit, Lingqiu Co., Datong Prefecture, Shanxi Province, China.
Measures 6.5 cm by 8.2 cm by 3.7 cm in total size.
Ex. Kevin Ward Mineral Collection
Comes with a custom made, labeled display base
Price $55,000
MIN#EXCEPTIONAL-143 NEW!
Gorgeous, gemmy Golden Calcite crystal set alongside sparkling Dolostone matrix!
The Calcite crystal measures 15.3 cm tip to tip and displays a beautiful deep golden coloration with
gemmy interiors. It is doubly terminated and perched 3-dimensionally atop a matrix of Dolostone
with a smaller Calcite crystal as a companion. The crystal is super glassy and nearly perfect with
only a tiny chip near the top termination and some tiny chatter along the back left edge. Nothing
unusual for a Calcite of this size and very minor. The tips are super clear and can be read though.
From the Elmwood Mine, Smith County, Tennessee.
Measures 20 cm by 16.6 cm by 7.8 cm in total size.
Comes with a custom made, labeled display base
Price $4850
MIN#EXCEPTIONAL-144 NEW!
Very rare! Aesthetic combination featuring Anhydrite blades on yellow Calcite crystals with Fluorite!
This is a rare specimen, the likes of which I haven't seen in many years. Very few were discovered
and they are almost impossible to find in the marketplace. This piece, as almost all that appear for sale,
is from an older collection. Matrix specimens with aesthetics and isolated crystal sprays like this one are
a true prize! This competition-level specimen is unique for its aesthetics, in that the 3-dimensional cluster
of Anhydrite, with crystals measuring to 10 cm, is balanced against a pedestal of Calcite crystals. It is from
the noted Mexican collection of Dr. Peter Megaw, who travels extensively in Mexico and specializes in
Mexican minerals. These blue Anhydrite blades in in excellent condition and perfectly fram the Calcites.
From Mantos Mixtos, Naica Mine, Naica, Chihuahua, Mexico.
Measures 10.5 cm by 7.8 cm by 6.9 cm in total size.
Ex. Dr. Peter Megaw Mineral Collection
Price $5450
MIN#EXCEPTIONAL-145 NEW!
Exceptional specimen featuring Native Silver wires with Acanthite crystals on matrix!
Incredibly aesthetic and super lustrous specimen featuring large wires of Native Silver rising high atop matrix
with associated crystals of gray Acanthite! I love the way the largest wire flattens out to a width of nearly 1.5 cm
and rises upwards some 3.4 cm before curling over at the tip to form a ram's horn. Another wire in the foreground
juts out nearly 3 cm to the left, twisting and turning as it stretches outward. Just below the wires is a large 1.5 cm
Acanthite crystal with smaller crystals climbing the right edge on the matrix. This specimen is in excellent condition
with a gorgeous reddish-golden patina highlighting brilliant striated surfaces. One of my favorite Silvers from the show.
From the Hongda Mine, Xiaoqinggou Ag-Mn deposit, Lingqiu Co., Datong Prefecture, Shanxi Province, China.
Measures 6.6 cm by 3.9 cm by 3.8 cm in total size.
Price $5500
MIN#EXCEPTIONAL-146 NEW!
Exceptional specimen featuring large crystals of Native Copper!
The large triangular crystal on the top measures 3.5 cm in size! Smaller crystals measuring to nearly 3 cm
form the majority of what is a large dendritic-styled growth pattern. The Copper surfaces are lustrous with an
attactive reddish-brown patina. The specimen is very asethetic and the crystal placement makes it 3-dimensional.
From the Ahmeek Mine, Ahmeek, Keweenaw Peninsula, Michigan.
Measures 9.6 cm by 4.3 cm by 4.4 cm in size.
Ex. Rolf Wein Mineral Collection
Price $4500
MIN#EXCEPTIONAL-148 NEW!
Awesome stacked crystals of Malachite pseudo after Azurite!
This is simply a tremendous pseudomorph from a classic Copper mining locality in Arizona!
I love the stacked crystals on the upper left but the entire specimen is impressive with its
large crystal blades. In excellent condition overall with very few contacts. This specimen
dates back to the earliest mining period of the Miami district and is circa 1910-1920.
From the Live Oak pit, Inspiration Mine, Globe-Miami District, Gila County, Arizona.
Measures 9.5 cm by 7.2 cm by 5.8 cm in total size.
Ex. Gerry McLoughlin Mineral Collection
Price $3500
MIN#EXCEPTIONAL-149 NEW!
Exceptional combination specimen featuring a large Scheelite with Fluorite and a Goshenite Beryl!
Specimens with this variety of minerals on the same plate are so incredibly difficult to find in today's
marketplace and this is one the finest I've seen since the mid 2000's! It displays like a charm, with
an upright positioning and a super lustrous, nearly 5 cm Scheelite at the bottom, topped by a smaller
Scheelite at the top with transparent Fluorite cystals an a milky-Goshenite Beryl along the far right
edge. The large Scheelite displays a brilliance and vibrance that only the deeper colored specimens
can produce and there is a good amount of translucency in this crystal, despite its large size. The
Fluorites are crystal-clear and brilliant and the Goshenite is a true Goshenite, not a pale Aqua like is
so often seen from China. In excellent condition with only trivial contacts. It will be hard to top this one.
From Mt Xuebaoding, Pingwu Co., Mianyang Prefecture, Sichuan Province, China.
Measures 8.2 cm by 6 cm by 4 cm in total size.
Price $8500
MIN#EXCEPTIONAL-151 NEW!
Classic old specimen of Rhodochrosite on Quartz ps after Rhodochrosite!
I rarely find impressive specimens from the Grizzly Bear Mine so this one immediately caught
my attention. It dates to the 1960's and features fine rhombs of reddish-pink Rhodochrosite atop
Quartz casts pseudomorphing Rhodochrosites. The Rhodo rhombs are in excellent condition and
measure to 1.8 cm in size. This is one of the finest miniatures I've seen in years from this locality.
From the Zanett Tunnel, Grizzly Bear Mine, Bear Creek Canyon, Ouray, Ouray Dist., Ouray Co., Colorado.
Measures 5.2 cm by 7.2 cm by 2.7 cm in total size.
Ex. Vendl Mineral Collection
Price $1850
MIN#EXCEPTIONAL-152 NEW!
Amazing specimen of Silver pseudomorphing after Acanthite crystals!
This is a tremendous Silver pseudo and the first I have seen from the Rayas Mine. The Native Silver has
pseudomorphed the majority of the Acanthite and also appears as small wires atop the crystal surfaces.
The habit of the Acanthites is somewhat hoppered and this has been well preserved by the Native Silver.
Interestingly enough, there is also Calcite present in the center of the specimen and a small purple Fluorite.
From the San Juan de Rayas Mine (Rayas Mine), Guanajuato, Mun. de Guanajuato, Guanajuato, Mexico.
Measures 5.2 cm by 5.7 cm by 4.1 cm in total size.
Ex. Romero, Stoudt Mineral Collections
Price $5500
MIN#EXCEPTIONAL-153 NEW!
Very fine specimen of Andradite Garnet with Calcite accenting!
Sharp, glassy dodecahedrons of Andradite Garnet fill this concave shaped matrix, with the largest crystals
perched across the very top. The surfaces are reflective and lustrous and there are no detractions or contacts
worth mentioning. One of the better examples I've seen from this locality and one that displays extremely well.
From the Stanley Butte area, Stanley Dist., Santa Teresa Mts, San Carlos Indian Reservation, Graham Co., Arizona.
Measures 8.8 cm by 8 cm by 6.3 cm in total size.
Ex. Galveston Mineral Collection
Price $2450
MIN#EXCEPTIONAL-154 NEW!
Exceptional and quite rare specimen of Brochantite on a cabinet sized matrix!
Brochantites from Nevada are extremely difficult to find and Ludwig specimens are seldomly seen
in the marketplace. The concave structures of this large specimen are heavily covered with fine green
acicular crystals of Brochantite which appear mostly as clusters and sprays. The sprays have been well
protected by the matrix pockets and light jumps across each needle surface to create a dazzling visual
appearance. This is very rare locality specimen and represents a unique opportunity for all collectors!
From the Ludwig Mine, Ludwig, Yerington District, Singatse Range, Lyon County, Nevada.
Measures 12 cm by 12.2 cm by 8.7 cm in total size.
Price $4500
MIN#EXCEPTIONAL-155 NEW!
Very fine specimen featuring reddish-pink rhombs of Rhodochrosite atop micro-Quartz crystals!
This is one of the finest Sunnyside Rhododchrosite specimens that I've seen in years and while they
do appear in the marketplace from time to time, they are rarely of this quality and depth of color.
The rhombs are sharp, measuring to 1.2 cm in size, and they beautifully cover the snowy-white Quartz.
This is a specimen that will both attract your eye with color and dazzle with sparkling Quartz brilliance.
From the Sunnyside Mine (American Tunnel), Gladstone, Eureka District, San Juan County, Colorado.
Measures 8 cm by 6 cm by 3.4 cm in total size.
Price $4500
MIN#EXCEPTIONAL-157 NEW!
VERY RARE!! Amazing combination of Native Silver crystals on olive-green Chlorargyrite var. Embolite!
Both sit atop a matrix of orange Limonite. Specimens of Chlorargyrite and Native Silver are extremely
rare from all localities. The minerals usually don't form together on the same matrix. Here you have
hundreds of lustrous Silver crystals and some fine wires sitting atop and between the brownish-green
crystals of Embolite! A unique opportunity to acquire a combination few collectors have ever owned.
From the Broken Hill Mine in New South Wales, Australia.
Measures 5.2 cm by 7.5 cm by 3.5 cm in total size.
Ex. Dr. Eric Asselborn, Albert Chapman, Kevin Ward Mineral Collections
Price $12,500
MIN#EXCEPTIONAL-158 NEW!
Aesthetic plate featuring flattened discs of Azurite on Kaolinite matrix!
These flattened discs of Azurite are formed between layers of Kaolinite which forced them to grow in a laterally
compressed, radiating manner. There are well over a dozen here on this small cabinet sized plate, measuring to
3.4 cm in size. This is one of the best covered plates in the cabinet size range that I found in Tucson and the
discs are in excellent condition with a radiating luster. The color of these Azurite "suns" is a deep royal blue.
From the Malbunka Copper Mine, Alice Springs, Gardiner Range, MacDonnell Shire, Northern Territory, Australia.
Measures 12 cm by 8.6 cm by 3.4 cm in total size.
Price $2450
MIN#EXCEPTIONAL-159 NEW!
Gorgeous crystals of gemmy golden Calcite on reddish Sphalerite crystal covered matrix!
This is a Tri-State classic, featuring transparent golden Calcites, some with internal phantoming. The crystals
are beautifully striated with a super glassy luster. The terminations are complete with barely a contact anywhere.
From Joplin Field, Tri-State District, Jasper County, Missouri.
Measures 14 cm by 12.3 cm by 5 cm in total size.
Ex. H. A. Ford Mineral Collection with original label
Price $2850
MIN#EXCEPTIONAL-160 SOLD!
Stout cluster of terminated Quartz crystals with deep red Hematite inclusions and phantoms!
These is a great looking cabinet specimen with two very obvious phases of crystallization. The first
terminated and was heavily coated with a bright red layer of Hematite. The second overgrew the prior
terminations with additional clear Quartz, forming a second, larger termination in the process. The end
results are beautiful, distinctive phantoms which are very visible inside each crystal. There also appears
to have been a later coating of Hematite on the exterior of the crystals, just below the huge scepter in
the middle. This adds additional color and sparkle flash to what was already and incredible display piece.
From Wuhuashan, Jiangxi Province, China.
Measures 11.2 cm by 18.3 cm by 9.2 cm in total size.
Comes with a custom made, labeled display base
Price $4500
- LINKS TO ALL THE EXCEPTIONAL ROOMS -
1 | 2 | 3 | 4 | 5 | 6 | 7 | 8 | 9 | 10 | 11 | 12
HOME | BEST OFFER MINERAL AUCTION | SPECIMENS FROM PAST SHOWS | CONTACT US