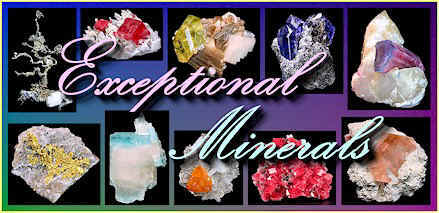 ** Updated August 5th, 2013 with Our Finest Specimens **
MIN#EXCEPTIONAL-101 NEW!
Incredibly rich specimen of crystalline Native Gold on Quartz matrix!
This is a tremendous specimen of crystalline Gold from Romania. It's aesthetic and
lustrous, consisting of very fine crystalline leaves and dendrites on small Quartz crystals.
Besides the eye catching brilliance and flash, one of the first things you'll notice about this
specimen is the color. Most Romanian Golds tend to lean towards the pale side and some
are more Electrum in appearance but this specimen is a deep yellow, much like the color
of a California specimen. That's what my caught my eye at first glance and it's the reason
I acquired the specimen I didn't see another Romanian Gold with same richness of color.
From Rosia Montana, Verespatak, Alba County, Transylvania, Romania.
Measures 2.1 cm by 3.2 cm by 1.4 cm in total size.
Ex. Wendland Mineral Collection
Price $2500
MIN#EXCEPTIONAL-102 SOLD!
Gem crystal of Pink Precious Topaz with Quartz on hard matrix!
This is one of the most aesthetic Katlang specimens that I've ever seen. The Topaz itself
is impressive, measuring nearly 4 cm with a rosey-pink blush that is breathtaking. The way
it sits next to a smaller terminated Quartz crystal is remarkable. Both crystals are glassy with
pristine terminations. The Topaz has the usual internal noise along the far left edge which is
typical of Katlang Topaz specimen but it really only shows from one viewing angle. The Topaz
is very gemmy, especially at the top where it's transparent. There is no damage to speak of
as both crystals are complete and free of contacts. Pink Topaz is extremely rare, especially
as a crystal of this size. A Pink Topaz matched with a Quartz crystal is almost unheard of.
From Katlang, Mardan District, Khyber Pakhtunkhwa, North-West Frontier Province, Pakistan.
Measures 4.5 cm by 3.3 cm by 5 cm in total size.
Price $4500
MIN#EXCEPTIONAL-103 SOLD!
Large, inpressive crystals of Azurite with partial alteration to Malachite on matrix!
The crystals of Azurite on this specimen are huge and blocky, measuring to 3.5 cm in size.
They display lustrous, highly glassy surfaces of deep blue except for where they've begun their change
to green Malachite. Here the surface texture changes to a satiny luster but is still reflective beneath
the rolling luster. As with most large Azurites from Morocco, there are a few contacts scattered about
but most get lost in the pizzazz of the specimen. One crystal near the center is contacted and another
is slightly touched at the top near the trimming edge. If not for these, the price would be much higher
considering the calibre of the specimen. A little bit of trimming could increase the value quite a bit.
From Touissit, Touissit District, Oujda-Angad Province, Oriental Region, Morocco.
Measures 8 cm by 10.5 cm by 6 cm in total size.
Ex. Webb Mineral Collection
Price $8500
MIN#EXCEPTIONAL-104 NEW!
Beautiful specimen featuring two Golden Calcite crystals with iridescent Chalcopyrite!
This is a superb specimen and one of the most aesthetic I've seen in a long time from this
locality. Both crystals are doubly terminated and gemmy with glowing terminations. Both
also measure right around 6.5 cm in length so they size up well. Just beneath the Calcites
there are numerous crystals of iridescent Chalcopyrite atop Dolomite covered matrix. Shades
of purple, reddish-purple, gold, golden-brown, and blue can be seen and the combination with
the golden color of the Calcites is stunning. In excellent condition with no damage to speak of.
From the Sweetwater Mine, Ellington, Viburnum Trend District, Reynolds Co., Missouri.
Measures 10.8 cm by 5.4 cm by 8.6 cm in total size.
Ex. Webb Mineral Collection
Price $2250
MIN#EXCEPTIONAL-105 NEW!
Completely crystallized specimen of Native Silver on matrix!
Look at the hundreds of crystals and cubes which make up this very impressive Mexican Silver!
This is easily one of the most crystallized Batopilas specimens I've ever come across. The patina
is a lovely antique-golden brown and the crystals are present on both sides of the specimen!
From Batopilas, Chihuahua, Mexico.
Measures 5.2 cm by 5.8 cm by 4.3 cm in size.
Price $2450
MIN#EXCEPTIONAL-106 NEW!
Fine elongated crystals of orange Wulfenite with Calcite on Limonite!
Doubly terminated, lustrous, and deeply colored, these Wulfenite are in excellent condition!
From the Ojuela Mine, Mapimi, Durango, Mexico.
Measures 5 cm by 9.9 cm in size.
Ex. Vorpahl Mineral Collection
Price $2850
MIN#EXCEPTIONAL-107 SOLD!
Exceptional specimen of large crystals of Galena on matrix from Tsumeb!
This would definately rank as one of the finest Tsumeb Galena specimens I've seen.
The crystals are sharp and well defined, measuring to 2 cm in size. The surfaces have a
matted luster and there are no contacts to speak of. Galena of this quality from Tsmeb is
incredibly rare and the specimen is so high quality that it looks more like something you'd
find in the Tri-State Region than a mine in Namibia. Small Quartz crystals accent the piece.
From the Tsumeb Mine in Tsumeb, Namibia, SW Africa.
Measures 7.5 cm by 6 cm by 6 cm in total size.
Price $4500
MIN#EXCEPTIONAL-111 NEW!
Dazzling plate of lustrous Azurite crystals with Malachite!
These plate is mostly covered with fine Azurite crystals but the Malachite around the
edges sure adds a nice contrast to the glassy dark blue! I can't stress enough just how
flashy the plate is. It literally blinds you when given a direct light and the crystals are
all there. I'm hard pressed to find any real damage to speak of but there is some slight
incompleteness near the upper trim edge. If you're looking for a cabinet sized Bisbee
Azurite that looks great and is priced reasonably, then this is the specimen for you!
Circa 1880-1890 - From the Copper Queen Mine, Bisbee, Cochise County, Arizona.
Measures 9 cm by 12.9 cm by 5.2 cm in size.
Price $2500
MIN#EXCEPTIONAL-112 NEW!
Pristine, doubly terminated Anglesite crystal atop Anglesite with Cerrusite!
This superb and quite rare specimen has a price tag of $850 from 1974 and that was a lot
of money back then. It's obvious why the specimen was so highly valued however. The Anglesite
crystal measures 4.4 cm in size and is doubly terminated as sits atop smaller Anglesite and Cerrusite
crystals. The smaller crystals also exhibit sharp terminations and the entire specimen is glassy with
a pearl-like luster. The crystals are thick, making for some translucence. Contacts are very minimal.
From the Tsumeb Mine in Tsumeb, Namibia, SW Africa.
Measures 5.5 cm by 4.3 cm in total size.
Ex. Schlepp, Charlie Key, Severance Mineral Collections
Price $2500
MIN#EXCEPTIONAL-113 NEW!
Large brilliant plate of golden-yellow Fluorite in cluster!
This is one of the largest Spanish "yellows" I've seen in quite some time and it is in excellent
condition for a plate of this size. The back side is solid Fluorite without any matrix so light passes
through quite easily, giving the specimen a gorgeous glow. The cubes in this cluster measure to 1.6 cm
in size and display super glassy surfaces with enough luster for several Fluorite specimens. There is an
attractive accenting of tiny Pyrite crystals throughout the piece and no damage to speak of. Very nice!
From the Moscona Mine, Solís, Corvera de Asturias, Villabona mining area, Asturias, Spain.
Measures 10.6 cm by 13.8 cm by 3 cm in total size.
Ex. Edward David, Webb Mineral Collections
Price $2500
MIN#EXCEPTIONAL-114 NEW!
Rare specimen featuring Native Silver with Safflorite and Amphibole Asbestos from Cobalt, Ontario!
This specimen is entirely composed of Native Silver leaves and dendrites, nestled between crystal
balls of Safflorite and sprays of Amphibole Asbestos. The Native Silver is lustrous with a slightly
golden patina while the Safflorite is steel gray to dark gray. This impressive specimen from the
historical Cobalt area is quite heavy and loaded with Silver all the way through the solid base.
The Amphibole Asbestos appears as tightly packed fibers and they sit atop the surface of both
minerals as well as filling the concave openings in the solid matrix. This is a superb example of
the richness of the Cobalt area, one of the richest strikes of Silver ever recorded. I wouldn't be
surprised if there was also some Nickeline or Skutterudite in this very rich mineral specimen.
From the Cobalt area, Cobalt-Gowganda region, Timiskaming District, Ontario, Canada.
Measures 5.4 cm by 12.8 cm by 3.8 cm in total size.
Ex. Kleine Mineral Collection
Price $4500
MIN#EXCEPTIONAL-115 NEW!
Impressive cabinet sized specimen of Cuprite crystals on matrix!
This sculptural specimen is literally covered with red Cuprite crystals in cluster set atop the
greyish host rock matrix. The matrix appears as fragments between the Cuprite cluster and this
adds to the overall beauty of the specimen in my opinion. Under an incandescent light, the Cuprite
become a deep glowing red color as illustrated by the close up photo above. The entire specimen is
very airy and open with holes spread about the length of the piece, both front and back. This is one
of the best Chino Mine Cuprites I've seen in recent years and is from an old European collection.
From the Chino Mine, Santa Rita District, Grant County, New Mexico.
Measures 12 cm by 9.4 cm by 5.2 cm in total size.
Ex. Fleck Mineral Collection
Price $2500
MIN#EXCEPTIONAL-116 NEW!
Sweet specimen of Arsenian Pyromorphite crystals on matrix!
This is a wonderful miniature with no visible damage and enough sparkle and flash for several
specimens. The crystals are bright yellowish-orange and display a visible translucence. Upon
closer examination with a 16x loupe, I can see just how glassy the crystal faces are and most
of the Pyromorphite crystals display a pyramidal termination. The matrix is brown and cast-like/
From the Bunker Hill Mine, Kellogg, Shoshone County, Idaho.
Measures 4 cm by 5.7 cm by 3.8 cm in total size.
Price $2500
MIN#EXCEPTIONAL-117 NEW!
Dazzling specimen of Precious Opal from Australia!
If only a photograph could do justice to this fine specimen. Brilliant flashes of green, purple,
blue, red, and yellow pop out when the Opal is rotated under normal room lighting. Under a
direct light source, the colors leap out from the white surface. It's very difficult to photograph
white Opal because of the problems with exposure and Opal tends to display different colors
at different angles. The above photograph captured some of the green and blue flashes but
only a tiny portion of the reds - and this Opal has A LOT of red in it! The Opal layer is fairly
thick at .5 cm and the gem portion on the right side could produce a stone measuring 4.5 cm
across at the base! I'm tempted to cut it but I also like the specimen as is. I'll leave the final
decision as to specimen or gemstone up to the collector (or cutter) who purchases the piece.
From Coober Pedy, Coober Pedy - Everard Range Regions, South Australia, Australia.
Measures 6 cm by 6.2 cm by 4.8 cm in total size.
Ex. Webb Mineral Collection
Price $2450
MIN#EXCEPTIONAL-118 NEW!
Impressive specimen featuring LARGE Galena octahedrons on Quartz from Colorado!
I don't think I've seen a specimen with larger crystals from this locality outside of a museum.
The largest modified Galena crystal measures 6 cm in size and the others are of a similar size.
This would rate as one of the most impressive Colorado Galena specimens I've ever come across.
From the New Jersey Zinc Eagle Mine (Gilman Mine), Gilman, Gilman District, Eagle Co., Colorado.
Measures 7.4 cm by 14 cm by 10.2 cm in total size.
Ex. Dr. Gary Hansen Mineral Collection
Price $4500
MIN#EXCEPTIONAL-120 NEW!
VERY RARE!! Fine Silver dendrites in Quartz Diorite matrix from Arizona!
This specimen is from the famous Silver King Mine in Pinal County and specimens from this
locality are both extremely difficult to find and highly prized by collectors. Here are two pictures
of this impressive Silver - one from the front and the other the back. I consider the picture on the
left to be the front but the specimen could be displayed either way. The dendrites are similar to
those found in Batopilas Silvers but the matrix is harder and this imparts a sandy texture to the
Silver crystals. The Silver King Mine was first operated in the early 1880's and was mined off and
on until the 1950's. This specimen presents a rare opportunity for Arizona and Silver collectors.
From the Silver King Mine, Comstock Wash, Pioneer District, Pinal Mts, Pinal Co., Arizona.
Measures 3.8 cm by 2.9 cm by 2.5 cm in total size.
Ex. Evan Jones Mineral Collection
Price $4850
- LINKS TO ALL THE EXCEPTIONAL ROOMS -
1 | 2 | 3 | 4 | 5 | 6 | 7 | 8 | 9 | 10 | 11 | 12
HOME | NEW SPECIMENS | BEST OFFER MINERAL AUCTION | SPECIMENS FROM PAST SHOWS | CONTACT US