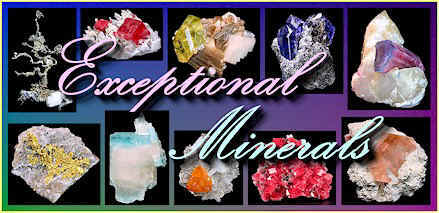 ** Updated 7/3/2012 with Our Finest Specimens **
MIN#EXCEPTIONAL-101 SOLD!
MUSEUM QUALITY!! Exceptional specimen of Native Silver wires on Calcite matrix!
This stunning specimen rates as one of the finest Pervian Wire Silvers I have ever seen or offered!
Not only is it extraordinarily well balanced, but it is incredibly artistic with at least two S curves,
one of the most graceful formations found in both art and nature! The wires vary in thickness from
.5 cm to 1.5 cm and are very stable atop the white matrix. They are beautifully striated with a lovely
golden patina throughout. I could see this specimen and the Batopilas specimen above being placed
into the same collection, creating a Native Silver display of competition level. Both Silvers are well
matched sizewise and offer two distinct forms of Native Silver in a quality that I rarely encounter.
From the Uchucchacua Mine, Oyon Province, Lima Department, Peru.
Measures 7 cm by 4 cm by 4.4 cm in total size.
Price $25,000
MIN#EXCEPTIONAL-102 SOLD!
Incredible crystal of ruby-red Pyrargyrite perched atop Calcite covered matrix!
This amazing Pyrargyrite crystal screams red when given a direct light and measures over an inch
(3 cm) in size! Actually, the crystal is very red even in faint lighting which is all the more impressive.
I must admit, when I first saw the specimen I was certain this was a Proustite crystal. The crystal
rises upwards above the white Calcite with a stair-stepped pattern and then juts off towards the left
into a perfect termination. The faces range from smooth to textured and the luster is a wet looking
sheen. There is no damage anywhere and smaller Pyrargyrites are scattered about the matrix. This
is easily one of the most impressive specimens I've seen from San Genaro and very 3-dimensional!
From the San Genaro Mine, Castrovirreyna Province, Huancavelica Department, Peru.
Measures 3.3 cm by 5.8 cm by 4.7 cm in total size.
Ex. Michel Jouty, J. R. Jelks Mineral Collections
Price $4500
MIN#EXCEPTIONAL-103 SOLD!
VERY RARE! Fine combination of Native Gold leaves and wires emerging from Pink Feldspar!
This stunning miniature popped up in Tucson and represents one of the finest miniatures I've
seen in years from the now closed Nugget Pond Mine. The trademark for the Nugget Pond
is the pinkish Feldspar matrix and this specimen does not disappoint. The Gold is composed
of leaves and dozens of wires clustered together. A few of the wires curl and point outwards
from the rest of the pack and I believe most if not all are spinel twins. There are also small,
lustrous crystals of Gold scattered about near the wires where the matrix was more open.
From the Nugget Pond Mine, Betts Cove, Baie Verte Peninsula, Newfoundland, Canada.
Weighs 52.1 total gram weight - Measures 4.6 cm by 3 cm by 4 cm in total size.
Ex. Skirkanich Mineral Collection
Price $4500
MIN#EXCEPTIONAL-104 SOLD!
Incredible BLUE FLUORITE!!
Quality Blue Fluorites from Illinois have become almost impossible to find these days and this is
the finest plate I've acquired in years. This cabinet sized plate has a lot going on, including Barite
along the top edge and an etched Strontianite ball to the left, all on blackjack Sphalerite matrix.
The color of the Fluorite is visually stunning, displaying the deepest, clearest sky-blue set atop
purple phantoms. The cubes are so clear and gemmy that you can see all the way through to the
matrix beneath. Very lustrous and brilliant with only the most minor of contacts among the cubes.
From the Minerva #1 Mine, Hardin County, Illinois.
Measures 12 cm by 15 cm by 7.8 cm in total size.
Ex. A. M. Mineral Collection
Price $9500
MIN#EXCEPTIONAL-105 NEW!
Completely crystallized specimen of Native Silver on matrix!
Look at the hundreds of crystals and cubes which make up this very impressive Mexican Silver!
This is easily one of the most crystallized Batopilas specimens I've ever come across. The patina
is a lovely antique-golden brown and the crystals are present on both sides of the specimen!
From Batopilas, Chihuahua, Mexico.
Measures 5.2 cm by 5.8 cm by 4.3 cm in size.
Price $2450
MIN#EXCEPTIONAL-106 NEW!
Fine elongated crystals of orange Wulfenite with Calcite on Limonite!
Doubly terminated, lustrous, and deeply colored, these Wulfenite are in excellent condition!
From the Ojuela Mine, Mapimi, Durango, Mexico.
Measures 5 cm by 9.9 cm in size.
Ex. Vorpahl Mineral Collection
Price $2850
MIN#EXCEPTIONAL-107 NEW!
Translucent crystal blades of Azurite with Malachite from the recent Milpillas find!
Easily among the finest Azurites to ever come to market, the Milpillas find has been one for the books!
The above crystals display mind blowing luster and glow a deep vibrant blue under direct lighting. I think
this is evident in the above photographs, especially near the edges where the crystals are thinner. In these
areas, I even get a visible glow under normal incandescent room lighting! The largest Azurite crystal here
measures over 5 cm in width and is perfectly terminated. The smaller Azurite crystals are just as glassy
luster-wise, and also feature sharp terminations. There is some alteration to Malachite as you move
down the specimen but the top portions are all Azurite. This is a tremendous specimen that offers a lot
of crystal size for the money. I fully expect these specimens to move much higher in the years ahead.
From the Electric Blue Pocket, Milpillas Mine, Cuitaca, Sonora, Mexico.
Measures 6 cm by 9 cm by 2.3 cm in total size.
Ex. Bernardi Mineral Collection
Comes with a custom made, engraved stand for display
Price $12,500
MIN#EXCEPTIONAL-108 SOLD!
RARE specimen of Native Gold with Pyrite crystals on Quartz from the Mother Lode!
Old time specimen featuring lustrous leaf Gold nestled between white crystal points! There
are Pyrite crystals scattered about and the leaf surfaces range from mirror-smooth to matted
in texture. I would date this specimen to the mid 1850's to as possibly as late as 1890. The old
label is brittle and in two pieces with the middle portion missing but the words Oro, quarzo, and
California are visible. Numerous Quartz crystals form the host matrix and some are terminated!
From the Mother Lode Region of California.
Weighs 29.7 total gram weight - Measures 5 cm by 3.5 cm by 2.5 cm in total size.
Price $7500
MIN#EXCEPTIONAL-109 NEW!
VERY LUSTROUS and aesthetic combo featuring Arsenopyrite crystals alongside a large Ferberite!
A dazzling specimen, these combos appeared around seven years ago and have virtually disappeared
from the current marketplace. This specimen features a cluster of lustrous Arsenopyrite crystals on
the far left edge with the largest upright and terminated crystal measuring some 5 cm in length!!
The large 5.4 cm by 4.5 cm Ferberite crystal is heavily striated which accounts for its heavy luster.
It is partially rehealed on two sides and complete two others. The nickel-silver color of the
Arsenopyrite crystals contrasts beautifully with the shiny black color of the Ferberite.
From the Yaogangxian Mine, Hunan Province of China.
Measures 5.3 cm by 8 cm by 6.2 cm in size.
Price $2850
MIN#EXCEPTIONAL-110 NEW!
Gorgeous combo of gem red Rhodochrosite rhombs with frosted lavender Fluorite and Tetrahedrite!
Also with Quartz, this specimen has everything for the Rhodo collector, including the finest color!
From Steve's Pocket, Fluorite Raise, Sweet Home Mine, Alma, Colorado.
Measures 5.5 cm by 5.8 cm by 2 cm in total size.
Ex. James Vorpahl Mineral Collection
Price $6500
MIN#EXCEPTIONAL-111 NEW!
Dazzling plate of lustrous Azurite crystals with Malachite!
These plate is mostly covered with fine Azurite crystals but the Malachite around the
edges sure adds a nice contrast to the glassy dark blue! I can't stress enough just how
flashy the plate is. It literally blinds you when given a direct light and the crystals are
all there. I'm hard pressed to find any real damage to speak of but there is some slight
incompleteness near the upper trim edge. If you're looking for a cabinet sized Bisbee
Azurite that looks great and is priced reasonably, then this is the specimen for you!
Circa 1880-1890 - From the Copper Queen Mine, Bisbee, Cochise County, Arizona.
Measures 9 cm by 12.9 cm by 5.2 cm in size.
Price $2500
MIN#EXCEPTIONAL-112 NEW!
Pristine, doubly terminated Anglesite crystal atop Anglesite with Cerrusite!
This superb and quite rare specimen has a price tag of $850 from 1974 and that was a lot
of money back then. It's obvious why the specimen was so highly valued however. The Anglesite
crystal measures 4.4 cm in size and is doubly terminated as sits atop smaller Anglesite and Cerrusite
crystals. The smaller crystals also exhibit sharp terminations and the entire specimen is glassy with
a pearl-like luster. The crystals are thick, making for some translucence. Contacts are very minimal.
From the Tsumeb Mine in Tsumeb, Namibia, SW Africa.
Measures 5.5 cm by 4.3 cm in total size.
Ex. Schlepp, Charlie Key, Severance Mineral Collections
Price $2500
MIN#EXCEPTIONAL-113 NEW!
Very attractive specimen of Azurite and Malachite in vug form!
The aesthetics of this specimen are incredible! I love the satiny botryoidal form of
Bisbee Azurite and this specimen has everything I look for. The rolling Azurite surfaces
are micro-crystalline covered and completely layer the matrix and interior of the small
vug to the far right. At the very back of the vug there are some larger Azurite crystals
and the color become even deeper among these. The entire botryoidal Azurite is surrounded
by layers of Malachite. The surface is in excellent condition with only a few trivial contacts.
From the Copper Queen Mine, Bisbee, Cochise County, Arizona.
Measures 5.4 cm by 11.3 cm by 5 cm in total size.
Ex. E. O. Stratton Mineral Collection
Price $2500
MIN#EXCEPTIONAL-114 NEW!
EXCEPTIONAL! Sculptural specimen of Embolite from Australia!
This is one of the finest specimens of Embolite that I've ever offered on the website! Embolite is
a form of Chlorargyrite with Bromide included in the mix. This specimen is incredibly aesthetic,
displaying the natural stalactic form it formed in the mine. It reminds me of the old "Horn Silver"
specimens from the old western mining days and actually looks somewhat like a horn. The surfaces
are in excellent condition with a resinous luster that looks almost waxy. This reminds me of the
old stories about miners in the 1800s shaping and molding Horn Silver into small figurines in their
spare time. The color of the specimen is a yellowish-green when given a normal amount of light.
From the Junction Mine, Broken Hill, New South Wales, Australia.
Measures 8 cm by 5.5 cm by 4.4 cm in total size.
Ex. J. R. Jelks Mineral Collection
Price $2850
MIN#EXCEPTIONAL-115 SOLD!
Superb large cabinet plate of deep purple Fluorite cubes on a Sphalerite coated matrix!
It's hard to take one's eyes off of this impressive specimen. The cubes are so perfect
and smooth with a satiny luster and their positioning on the matrix shows a great deal
of isolation for a completely covered surface. When given a direct light, the cubes glow
a vibrant neon purple brilliance which is illustrated along the edges in the above photo.
Circa late 1980's - From the Annabel Lee Mine, Hardin County, Illinois.
Measures 11.7 cm by 21.3 cm by 6.4 cm in total size.
Ex. Roy A. Smith Mineral Collection
Price $2500
MIN#EXCEPTIONAL-116 NEW!
Sweet specimen of Arsenian Pyromorphite crystals on matrix!
This is a wonderful miniature with no visible damage and enough sparkle and flash for several
specimens. The crystals are bright yellowish-orange and display a visible translucence. Upon
closer examination with a 16x loupe, I can see just how glassy the crystal faces are and most
of the Pyromorphite crystals display a pyramidal termination. The matrix is brown and cast-like/
From the Bunker Hill Mine, Kellogg, Shoshone County, Idaho.
Measures 4 cm by 5.7 cm by 3.8 cm in total size.
Price $2500
MIN#EXCEPTIONAL-117 SOLD!
AMAZING COMBO! Large, lustrous Calcites with Native Copper crystals on Prehnite!
I've never seen anything like this large cabinet plate! We've all seen the usual Copper included
pinkish Calcites from Michigan but never have I seen a specimen where the Calcite crystals
and Native Copper crystals are so separated and distinct. The spacing of the two minerals is
very unusual and the various habits of the Copper crystals is an incredible sight to see under a
10X loupe! The Calcites have a matty luster and are nearly flawless with only a few matrix
influenced terminations. All in all, a stunning large cabinet that is both beautiful and unique!
From the Quincy Mine, Hancock, Houghton County, Michigan.
Measures 12.2 cm by 18 cm by 9.2 cm in size.
Ex. Kevin Ward Mineral Collection
Price $8500
MIN#EXCEPTIONAL-118 NEW!
Impressive specimen featuring LARGE Galena octahedrons on Quartz from Colorado!
I don't think I've seen a specimen with larger crystals from this locality outside of a museum.
The largest modified Galena crystal measures 6 cm in size and the others are of a similar size.
This would rate as one of the most impressive Colorado Galena specimens I've ever come across.
From the New Jersey Zinc Eagle Mine (Gilman Mine), Gilman, Gilman District, Eagle Co., Colorado.
Measures 7.4 cm by 14 cm by 10.2 cm in total size.
Ex. Dr. Gary Hansen Mineral Collection
Price $4500
MIN#EXCEPTIONAL-119 SOLD!
Gemmy and beautifully isolated crystals of Native Sulfur on Calcite and Aragonite!
Most of these yellow gem crystals are doubly terminated and all are very distinct and sharp in form!
With barely a contact anywhere, these translucent crystals are clean and damage free with a satiny luster.
From Agrigento, Agrigento Province, Sicily, Italy.
Measures 7 cm by 9.2 cm by 4.8 cm in total size.
Price $3500
MIN#EXCEPTIONAL-120 NEW!
Dazzling cabinet specimen featuring radial sprays of Atacamite with Libethenite and Pseudomalachite!
These perfect crystal sprays are incredibly lustrous and set tightly against the matrix so there is no risk of
crystal loss. Between the sprays, there are velvety green balls of Libethenite and both sit atop a matrix
covered with light bluish-green Halloysite. In wonderful condition, there are lots of Copper minerals here!
This large plate was almost too flashy and reflective to photograph. It's even better in person!
From La Farola Mine, Cerro Pintado, Las Pintadas district, Tierra Amarilla, Copiapů Province, Atacama Region, Chile.
Measures 11.3 cm by 15 cm by 7.3 cm in total size.
Ex. Al Ordway Mineral Collection
Price $2500
- LINKS TO ALL THE EXCEPTIONAL ROOMS -
1 | 2 | 3 | 4 | 5 | 6 | 7 | 8 | 9 | 10 | 11 | 12
HOME | NEW SPECIMENS | BEST OFFER MINERAL AUCTION | SPECIMENS FROM PAST SHOWS | CONTACT US