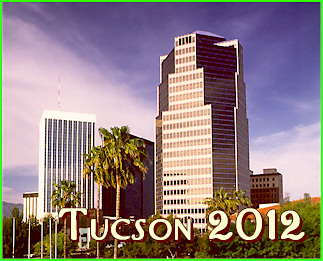 The Tucson Show 2012 Mineral Rooms

Re-Updated August 2nd, 2013
MIN#Tucson2012-181 New!
Incredibly striated specimen of Calcite crystals on etched Calcite!
This specimen is one flashy Calcite combo with enough light reflecting striations for several specimens.
The two Calcites are incredibly gemmy and transparent with glassy smooth faces. The terminations
are where you find the intense striations and they reflect light back into each crystal like faceted jewels.
The Calcites intersect and I believe they're twins despite the size difference. Both crystals sit atop a matrix
of tan colored and etched Calcite which serves to add a little bit of color to the otherwise crystal clearness.
From the Verchniy Mine, Dal'negorsk, Primorskiy Kray, Far-Eastern Region, Russia.
Measures 8.8 cm by 8 cm by 9 cm in toal size.
Ex. K. Cooper Mineral Collection
Price $1850
MIN#Tucson2012-182 Sold!
VERY RARE!! Absolutely gorgeous specimen of Pink Garnet with Diopside from the Jeffrey Mine!
These are the rarest Garnets that appear at the Jeffrey Mine and I find a decent specimen maybe once
or twice every few years. I find a specimen of this calibre maybe once a decade. The color of the super
gemmy Garnets is a rosy-pink blush and this is accentuated by the vivid green Diopside beneath. The
crystals are extremely glassy and reflect the light like faceted gemstones. The clarity? Good enough to
see all the way through each Garnet to the matrix. I seriously can't find anything really negative to say
about this amazing specimen. There are some incomplete xls on the far right where they were touching
matrix and the normal incompleteness along the trimming edge, but this is nothing that can detract
from the incredible beauty of the dozens of glowing pink gems up and down the hard rock matrix!
From the Jeffrey mine, Asbestos, Estrie, Québec, Canada.
Measures 6.8 cm by 4.2 cm by 2.8 cm in total size.
Price $6500
MIN#Tucson2012-183 New!
Lustrous specimen of Mimetite from the famed San Pedro Corralitos!
This is a very 3-dimensional specimen as the photo indicates. There are two layers of Mimetite
here, both displaying satiny, lustrous surfaces and they cover the matrix as it opens up in the middle.
The specimen has a few very minor contacts along the upper edge but these are very difficult to see
and don't detract. The matrix edge on the upper level has been stabilized to prevent any shedding.
From the Congreso-Leon Mine, San Pedro Corralitos, Mun. de Casas Grandes, Chihuahua, Mexico.
Measures 6.8 cm by 8.6 cm by 6.5 cm in total size.
Price $2500
MIN#Tucson2012-184 New!
EXCEPTIONAL! Incredible specimen of large crystals of grey Calcite atop sparkling Marcasite covered matrix!
This is the second specimen from a collection of three very high end pieces. The grey Calcite at center is pristine
with a visible internal phantom. It measures 11.5 cm in length from tip to tip and is also perfectly doubly terminated!
It sits atop a surface of dazzling golden Marcasite crystals which sparkle intensely in the faintest of lighting. This
specimen is literally contact free and would make a wonderful centerpiece for any Calcite collector's cabinet.
From the Brushy Creek Mine, Drift 106, Greeley, Viburnum Trend District, Reynolds Co., Missouri.
Measures 19.3 cm by 14.5 cm by 8 cm in total size.
Ex. Williams Mineral Collection
Price $2500
MIN#Tucson2012-185 New!
Exceptional specimen of Boleite cubes on matrix!
This is the finest Boleite specimen I've acquired in quite some time and it is also small cabinet sized!
There are 5 Boleites on the matrix above (I didn't count the small ones), and all are complete and in
excellent condition. The only contact is on the bottom left corner of the Boleite to the far right and this
is an irregular growth where the Boleite contacted matrix. It is not damage. The color of the Boleite
is a dark blue with vibrant glowing corners when exposed to a direct light source. The largest of the
crystals measures 1.3 cm corner to corner. They sit aesthetically atop the matrix with good isolation.
Provenance - This specimen was actually part of the group that Ed Swoboda collected decades ago!
From the Amelia Mine, Santa Rosalía, Boleo District, Mun. de Mulegé, Baja California Sur, Mexico.
Measures 7.5 cm by 6 cm by 5.6 cm in total size.
Ex. Edward Swoboda, Al Ordway Mineral Collections
Price $9500
MIN#Tucson2012-186 New!
Very aesthetic specimen of Hausmannite atop Andradite Garnet covered matrix!
Unbelievably lustrous and flashy, the center cluster of Hausmannite crystals is completely pristine
and complete all the way around. It measures nearly 4 cm in width and is surrounded by individual
crystals of Haumannite atop the reddish Andradite Garnet. Small colorless crystals of Datolite accent.
From the N'Chwaning II Mine, Kuruman, Kalahari Manganese Fields, Northern Cape Province, South Africa.
Measures 6.4 cm by 8 cm by 5.2 cm in total size.
Ex. Charlie Key Mineral Collection
Price $2500
MIN#Tucson2012-187 New!
Aesthetic specimen of crystalline Native Copper perched high atop matrix!
A beautiful miniature, featuring well crystallized and slightly dendritic branches of Native Copper
sitting tree-like high atop the Quartz matrix. The surfaces are well patinaed and lustrous. This
specimen can also be displayed from several sides due to the unique nature of its crystal display.
From the Kearsarge Lode, Ojibway Mine, Keweenaw County, Keweenaw Peninsula, Michigan.
Measures 5.3 cm by 3.7 cm by 2.8 cm in total size.
Price $850
MIN#Tucson2012-188 New!
Naturally polished plate of botryoidal Malachite from Australia!
It looks like an African Malachite but it's from the historical mining town of Burra Burra
in South Australia. Burra Burra was a Cornish style mining town established in the 1840's and
which yielded approximately 10,000 tons of ore throughout its decades of operations. Today, the
old mining site is a protected historical landmark and all mineral collecting is strictly prohibited.
From the Burra Burra Mine, Burra, North Mt Lofty Ranges, Mt Lofty Ranges, South Australia, Australia.
Measures 7 cm by 10.6 cm by 1.3 cm in total size.
Ex. Matthew Webb Mineral Collection
Price $985
MIN#Tucson2012-190 New!
MAJOR NATIVE COPPER!!!
A dramatic, highly sculptural specimen of large Native Copper crystals sporting a Malachite coating!
The contrast between the Malachite and original Copper patina is gorgeous. This is one of my favorite
Coppers from a collection of Native Coppers I've come recently acquired. The provenance of this specimen
is very impressive, indicating that is has been highly thought of by some of the most distinguished collectors.
From the Lake Superior Mining District, Keweenaw Peninsula, Michigan.
Measures 11.8 cm by 13.8 cm by 6.3 cm in total size.
Ex. Morganthau, Smith College, Hansen, Gene Meieran Mineral Collections
Price $8500
MIN#Tucson2012-191 New!
Powder-blue specimens of Anhydrite (Angelite)!
This is a 2-1 deal! A beautifully polished specimen of Anhydite and its companion - a cut and
polished egg of the same mineral. Angelite is the trade name for the gem variety of Anhydrite.
From Lima Department, Peru.
Measures 7 cm by 5.7 cm by 4.3 cm / 2.5 cm by 3.6 cm in sizes.
Ex. Eduard Gübelin Collection
Price $485
MIN#Tucson2012-192 New!
Exceptional Russian Combo!
Large, crystal-clear Fluorite dodecahedron perched between Green Quartz
(Hedenbergite included) and atop Calcite! The glassy Fluorite itself is pristine and very
lustrous, measuring nearly 4 cm across the front. A smaller sidecart crystal is incomplete
on the backside but this doesn't affect the large Fluorite. Most of the Green Quartz
crystals are terminated with the largest being doubly terminated. The Calcites near
the bottom add a nice touch to what is a very attractive specimen of bygone mining.
From Dal'negorsk, Primorskiy Kray, Russia.
Measures 7.4 cm by 6 cm by 4.8 cm in total size.
Ex. Edward David Collection
Price $2500
MIN#Tucson2012-193 New!
Fine wires and crystals of Native Silver in Calcitic matrix!
This is part of a small batch of Silvers from recent workings at the old Balcoll Mine.
The Balcoll Mine was worked by the Romans for Silver for decades and is obviously
still loaded with fine specimens. An Acanthite coating darkens some of the wires.
From the Balcoll Mine, Falset, Tarragona, Catalonia, Spain.
Measures 5.5 cm by 3.7 cm in size.
Price $850
MIN#Tucson2012-194 New!
Pretty specimen of bi-color Aquamarine-Goshenite with Schorl on Microcline!
I've seen some Aqua-Morganites from here but this is the first Aqua-Goshenite I've
come across. The cluster is impressive with full terminations and a nice contrasting
mix of Schorl crystals in various sizes. The Beryls could best be described as a 50/50
split, with the bottom half being Goshenite and the upper half blue Aquamarine.
From Baha, Braldu Valley, Baltistan, Northern Areas of Pakistan.
Measures 7 cm by 9 cm in size.
Price $2450
MIN#Tucson2012-195 New!
NEW FIND!! Terminated Celestite crystals with Sulfur inclusions!
I purchased a small collection of the these incredible specimens at the show. This specimen
features a pair of glassy crystals with one being doubly terminated. The other may also be
but I'm not certain. The yellowish Sulfur inclusions are quite visible just beneath the
translucent surfaces. The story behind this find - These specimens were collected
in 1962 by Oz Krebs in Libya. They were apparently held in private for over 40 years
and just released recently to the market. The small flat I purchased are among the best.
From Jabal al Akhdar, Cyrenaica, Libya.
Measures 5.1 cm by 6.5 cm in size.
Price $1500
MIN#Tucson2012-196 New!
Classic Mexican combination featuring Amethyst with Calcite, Chalcopyrite, and Quartz!
This is one of my first specimens as a collector and it was formally in the mine director's personal collection.
It's a stunning combination of crystals with golden Chalcopyrites and well formed Calcite crystals. The
smoky-purple Amethyst points add the perfect contrast and round out what is a very beautiful cabinet piece.
From Taxco de Alarcón, Mun. de Taxco, Guerrero, Mexico.
Measures 16.6 cm by 12.7 cm by 8.9 cm in size.
From the Kevin Ward Mineral Collection
Price $9500
MIN#Tucson2012-197 New!
Gemmy crystals of Forsterite var. Peridot!
These crystals glow green when exposed to a direct light! The largest crystal
to the right is terminated while the smaller, even more gemmy crystal to the left is also
terminated. Just below that crystal is another terminated Peridot making three in total!
From Soppat, Kohistan District, North-West Frontier Province, Pakistan.
Measures 3.1 cm by 2.6 cm by 2.4 cm in total size.
Ex. Gerald Clark Mineral Collection
Price $585
MIN#Tucson2012-198 New!
RARE! Malachite tubes with Azurite interiors after Selenite!
I love these unusual specimens! The Selenite crystals have been replaced by Malachite and
Azurite hollow tubes or casts from top to bottom. This is one of the better examples I've seen with
two long tubes and one small tube in the middle. Six openings of Malachite and Azurite are present.
From the Apex Mine, Jarvis Peak, Tutsagubet District, Beaver Dam Mts, Washington Co., Utah.
Measures 8 cm by 3.7 cm by 2.6 cm in total size.
Ex. Webb Mineral Collection
Price $4500
MIN#Tucson2012-199 New!
Huge Spessartine Garnet set atop a Smoky Quartz point with smaller Spessartines!
This is one of the largest Spessartine Garnets I've seen from China. It measures
2.1 cm by 2.2 cm in size or just shy of an inch! The color is a rich reddish-orange
and the crystal faces are super glassy and reflective with no damage whatsoever.
From the Wushan Spessartine Mine, Tongbei, Fujian Province of China.
Measures 3.7 cm by 3.7 cm by 3.4 cm in total size.
Price $1500
MIN#Tucson2012-201 New!
Classic and pristine specimen of Rosasite on matrix!
Beautiful satiny surfaces of botryoidal Rosasite highlight this specimen.
From the Silver Bill Mine, near Gleeson, Cochise County, Arizona.
Measures 3.6 cm by 2.7 cm by 2.5 cm in total size.
Ex. Harold Michel Collection
Price $385
MIN#Tucson2012-202 New!
Beautiful cluster of raspberryish Spinel crystals on matrix!
The large Spinel crystal in the center measures 4.3 cm in size and is surrounded by at
least a dozen smaller Spinels of at least 1 cm. The surfaces are glassy and brilliant.
From the Sungate Mine, An Phu, Luc Yen, Yen Bai District, Vietnam.
Measures 7 cm by 7.3 cm by 5.4 cm in total size.
Price $1500
MIN#Tucson2012-203 New!
Fine blades of Wulfenite atop matrix!
Here's another old timer from the Gleeson area. The blades are in great condition
with a slight accenting of white Calcite. The color is best described as yellowish-orange.
From the Defiance Mine, Gleeson, Cochise County, Arizona.
Measures 5 cm by 6.5 cm in size.
Ex. Harold Michel Collection
Price $285
MIN#Tucson2012-204 New!
Glassy, green crystals of Dioptase atop Calcite!
Attractive specimen with over a dozen complete Dioptase crystals. The only incomplete
crystals are located along the outer matrix trim and could easily be removed if desired.
From the Altyn-Tyube Deposit, Karaganda Oblast', Kazakhstan.
Measures 7.2 cm by 6.4 cm in size.
Ex. Goings Mineral Collection
Price $385
MIN#Tucson2012-205 New!
Golden-brown cubes of Fluorite with Celestite on sparkling matrix!
From the recent Ohio find, the Fluorites are gemmy and sharp with great luster.
From Clay Center, Ottawa County, Ohio.
Measures 7.5 cm by 10 cm by 6.4 cm in total size.
Price $785
MIN#Tucson2012-206 New!
Brilliant, glassy, emerald-green crystals of Dioptase in cluster!
Fine example of green brilliance. No real damage to speak of on the main crystals.
From the Tsumeb Mine, Tsumen, Namibia, SW Africa.
Measures 3.7 cm by 3.6 cm by 3.2 cm in total size.
Price $850
MIN#Tucson2012-207 New!
Stunning cluster of lustrous and terminated Stibnite crystals!
This specimen looks Chinese but it's actually from the Raura District,
Lima Department, Peru! All but one of the crystals is terminated and the
surface luster is excellent. The aesthetics speak for themselves I think!
From the Raura District, Lima Department, Peru.
Measures 7 cm by 6.2 cm by 5.5 cm in total size.
Price $985
MIN#Tucson2012-209 New!
Impressive cluster of pearly Danburite crystals with Quartz and Chlorite accents!
A very attractive cabinet specimen with full terminations and practically no contacts!
The luster is pearly and glassy while the crystals are milky-white and flashy!
From Charcas, Mun. de Charcas, San Luis Potosí, Mexico.
Measures 11 cm by 16 cm by 11.2 cm in size.
Ex. Marvin D. Rausch Mineral Collection
Price $1850
MIN#Tucson2012-211 New!
EXCEPTIONAL TOURMALINES with LEPIDOLITE!!
A stunning specimen of multi-colored Tourmaline crystals rising some 11.3 cm above a Lepidolite
covered base! The crystal surfaces are literally flawless with a glassy vibrance I rarely see in
Tourmaline specimens. Both crystals are perfectly terminated with emerald-green tips that evolve
into a bluish-green coloration which then changes over to a lighter green near the bottom. The lower
portion of the actually becomes "watermelon" in that the interior is red while the exterior is green.
The pinkish Lepidolite crystals are the perfect accent to this amazing, UNREPAIRED Tourmaline!
Circa 2001 from the Rocket Pocket, Pederneira Mine, São José da Safira, Minas Gerais, Brazil.
Measures 11.3 cm by 2.5 cm by 2.5 cm in total size.
Price $25,000
MIN#Tucson2012-212 New!
Cute miniature featuring gemmy crystals of purple Creedite perched atop Quartz!
These are isolated crystals of Creedite and all are doubly terminated! They're also
completely transparent and shine like glass. The Quartz is accented by Pyrite and Calcite.
From the Santa Eulalia District, Chihuahua, Mexico.
Measures 3.8 cm by 4.1 cm in size.
Price $285
MIN#Tucson2012-213 New!
SHIPWRECK SPECIAL!!
Complete 1744 Pillar Dollar stuck in conglomerate with pieces of colored glass and brass!
Ok, I know this isn't really a mineral specimen but it's pretty amazing as well as aesthetic and was part
of an Atocha Bar purchase. This specimen is from the Reijgersdaal which sunk off the coast of South
Africa on October 25th, 1747. The ship had been anchored between Robbin and Dassen Islands so the
crew could capture rock rabbits for food. Along came a gale which broke the anchor line and the rest
is history. Almost nothing from the wreck was salvaged due to the dangerous conditions of the area.
Apparently, when this Mexican Pillar Dollar (1744-MF) tumbled down through the depths, it became
embedded in the mud and debris of the wreck. Over the course of 250+ years, the conglomerate
hardened and locked the coin in place along with pieces of colored glass and a small round object
made of brass that may be a crotal bell. There's also the hollow remains of a piece of wood or iron.
From the 1747 Reijgersdaal (Reygersdahl) Shipwreck, Off the coast of South Africa.
Recovered in 1979-1980. Measures 8.5 cm by 7.2 cm by 4.5 cm in size.
Comes with certificate of authenticity
Price $4500
MIN#Tucson2012-214 New!
Rare plate of Forsterite var. Peridot crystals on stabilized matrix!
This plate is from Burma and is loaded with gemmy green Peridots which grew inside a matrix
seam that stretches from front to back. There are well over a dozen crystals here and most
are terminated outside the matrix. This is the first and only Peridot plate I've seen from Burma.
From Bernardmyo, Mogok, Sagaing District, Mandalay Division, Burma (Myanmar).
Measures 10 cm by 12.6 cm by 8 cm in total size with a see-through seam of crystals!
Price $2450
MIN#Tucson2012-215 New!
UNIQUE!! Multi-colored Smithsonite with orange caps!
I call this the "Mushroom Smithsonite" because the orange caps over the surface growth
look like the tops of mushrooms. Actually, you have three distinct layers of growth on this
unique looking specimen. The first is a misty-blue layer which covers the matrix. The second
is a more lustrous white layer. The third and final is the most lustrous yet - the orange colored
top layer of Cadmium Smithsonite which only appears draped atop the other two layers. One
must wonder if the Cadmium layer appeared last and never completed its growth or were the
sides etched away leaving only the caps? I see evidence of both possibilites but the former seems the
most likely explanation. Whatever the cause, it resulted in a specimen that is both odd and beautiful.
From the El Refugio Mine, Choix, Sinaloa, Mexico.
Measures 6.8 cm by 12 cm by 4.4 cm in total size.
Price $2850
MIN#Tucson2012-216 New!
Colorful specimen of golden Fluorite with purple accents and Chalcopyrite!
Overall, this specimen is in good shape with only a small contact on the back Fluorite corner.z
There are some scattered Chalcopyrite inclusions just under the crystal surfaces.
From the Minerva #1 Mine, Hardin County, Illinois.
Measures 9.5 cm by 13.5 cm by 8.8 cm in total size.
Price $1500

- LINKS TO THE TUCSON-HOUSTON 2012 SHOWROOMS -
1 | 2 | 3 | 4 | 5 | 6 | 7 | 8 | 9 | 10 | Denver 2012 Showrooms
HOME | EXCEPTIONAL MINERALS | MINERAL AUCTION | SPECIMENS FROM PAST SHOWS | CONTACT US