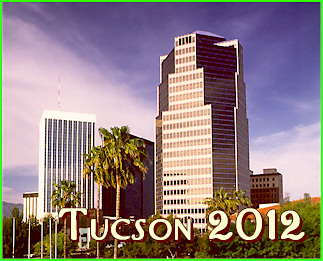 The Tucson Show 2012 Mineral Rooms
Re-Updated August 2nd, 2013
MIN#Tucson2012-81 New!
EXCEPTIONAL! Beautiful plate featuring blue Aquamarine and pink Fluorite crystals on Muscovite!
This eye catching specimen is in excellent condition, with perfectly terminated Aquamarine crystals
which exhibit a much better than average blue coloration. The Aquamarines emerge outwards from
between sharp Muscovite blades and are draped by transparent pink Fluorite crystals! The Fluorites
are octahedral in form and also accent near the bottom on the left side. I can't really find a single
negative thing to say about this piece. It's everything you see in the photo and even better in person.
From Chumar Bakhoor, Hunza Valley, Gilgit District, Northern Areas of Pakistan.
Measures 7.8 cm by 12.3 cm by 6 cm in total size.
Ex. Martin Zinn, Saltzgaber Mineral Collections
Price $10,500
MIN#Tucson2012-82 New!
Fine cluster of purple Fluorite cubes with phantoms and golden interiors!
Luscious, satiny faces of glowing purple Fluorite cubes in cluster. Beneath the surface a
hint of golden-yellow can be seen and when the specimen is backlighted, it really jumps out!
In excellent condition overall with a few minor contacts and rehealing on the back side.
From the Denton Mine, Hardin County, Illinois.
Measures 10.7 cm by 11.5 cm in size.
Ex. Webb, James Vorpahl Mineral Collection
Price $2500
MIN#Tucson2012-83 New!
Fine dendrites of Native Silver in and on Calcite!
Incredibly graceful and delicate in appearance, these Silver feathers cover the specimen from
top to bottom. Most were etched from white Calcite which can be seen behind the dendrites.
There are Silver dendrites on both the front and back of this very rich specimen.
From the El Bonanza Mine, Port Radium District, Great Bear Lake, Northwest Territories, Canada.
Measures 4.5 cm by 2 cm by 2.8 cm in total size.
Price $685
MIN#Tucson2012-84 New!
Beautiful specimen of Aquamarine crystals with Muscovite!
The color is an excellent rich blue and much deeper than normal for Afghanistan Aqua.
The largest crystal on the left measures 6 cm in length and has a unique stepping (modification)
along the top edges. This stepped is somewhat darker in color and nearly circles the entire termination!
The bottom side of the main crystal is rehealed as are the backsides of the smaller crystals to the right.
From the Nuristan Province of Afghanistan.
Measures 6.2 cm by 8.2 cm by 5 cm in total size.
Ex. Ben de Wit Mineral Collection
Price $2850
MIN#Tucson2012-85 New!
Sharp and distinctively freestanding blades of iridescent Covellite inside a Quartz vug!
The majority of the blades and in excellent condition. The reddish-purple color is consistant
throughout but does change to blue in certain areas. All in all, an impressive Covellite miniature
which resembles what you'd normally from Butte but this one is actually from Summitville, Colorado!
From Summitville, Summitville District, Rio Grande County, Colorado.
Measures 4 cm by 4.4 cm in size.
Price $985
MIN#Tucson2012-86 New!
Stunning specimen of Chalcopyrite crystals with Sphalerite and Galena!
Yellowish-green Sphalerite crystals shine like glass among the gray Galens cubes and iridescent
Chalcopyrites! This plate is a true classic and has a little bit of almost everything from the famous
Creede Mining District. In excellent condition with lots of shine and color and only trim edge contacts.
From the Commodore Mine, Creede, Mineral County, Colorado.
Measures 6.5 cm by 10.2 cm in size.
Price $1450
MIN#Tucson2012-87 New!
Textbook specimen of Tri-State Galena, Sphalerite, and Calcite on Chert matrix!
This specimen could be pictured in a mineralogy book! The three crystal habits are so
perfect for the minerals featured and the way they are all sitting there together on the
same matrix is amazing. The Galenas are cubes, the Calcite is scalenohedral and doubly
terminated, and the Sphalerite is tetrahedral. In excellent condition with no visible contacts!
This specimen was in my personal cabinet for years and I'm pleased to offer it here.
From the Lead-Zine Mines, Tri-State Mining District, Cherokee County, Kansas.
Measures 8.3 cm by 5 cm by 4 cm in total size.
Ex. Carlton M. Davis, Kevin Ward Mineral Collections
Price $3500
MIN#Tucson2012-88 New!
Fine specimen featuring Native Copper atop and inside a large glassy Calcite crystal!
A really neat combo, the Native Copper portion extends horizontally some 6.3 cm. It also
appear along the left side of the Calcite crystal. The front side of the Calcite is perfect
while the back side has some cleaves where the specimen was separated from the matrix.
From Houghton County, Michigan.
Measures 6.4 cm by 6 cm by 4.6 cm in total size.
Price $685
MIN#Tucson2012-89 New!
Superb cluster of bright orange Orpiment crystals on matrix!
Excellent color and luster with no visible contacts on any of the crystal tips.
As a matter of fact, the only contacts I see anywhere are along the trimming edge where
you'd expect to see them. Very few of these on the market are in such fine condition.
From Cut 62, Twin Creeks Mine, Humboldt County, Nevada.
Measures 8.6 cm by 6.8 cm in size.
Price $985
MIN#Tucson2012-90 New!
Glassy crystals of colorless Calcite set atop Calcite matrix!
Pristine and perfect, these four scalenohedral Calcites are perfectly terminated and very gem!
There is a portion of another small Calcite on the back side but it is just cleave and unimportant.
From the Nikolaevskiy Mine, Dal'negorsk, Primorskiy Kray, Far-Eastern Region, Russia.
Measures 4.3 cm by 5.3 cm by 3.7 cm in total size.
Price $985
MIN#Tucson2012-91 New!
Rare and classic specimen of Native Silver dendrites on Native Arsenic with micro-Proustite!
A seldom seem locality for Native Silver, this specimen displays some of the most intricate
Silver dendrites you'll ever seen. The close-up photo shows the woven-like growth of the
crystals atop the Native Arsenic covered matrix. Very lustrous with an antiquish patina.
The host matrix below is a pinkish color rock which is not something I see often.
From the Vater Abraham Mine, Lauta, Marienberg District, Erzgebirge, Saxony, Germany.
Measures 6 cm by 3.4 cm by 3.6 cm in total size.
Ex. J. Hoppner Mineral Collection
Price $950
MIN#Tucson2012-92 Sold!
Graceful specimen featuring lustrous Stibnite crystals intersecting a golden Calcite!
The above pictures says it all about this fine specimen. The Calcite is nearly perfect
with only the tiniest of contacts along the top. The indentation on the far left edge is
natural and covered with stepped growth. There may have been another Stibnite there
at one time which popped out and left it's impression in the Calcite edge. The Calcite is
glassy and gemmy and many of the Stibnites crystals actually appear on both sides of
the Calcite, making a full passage through the Calcite. The Stibnites are also complete!
From Nandan, Hechi Prefecture, Guangxi Zhuang Autonomous Region, China.
Measures 5 cm by 6.2 cm by 3.4 cm in total size.
Price $3500
MIN#Tucson2012-93 New!
Sharp crystals of dark red Zircon in Biotite and Quartz matrix!
Deeply red, especially near the outer edges and tips, these Zircons display very well
against the dark Biotite mica crystal background. The close-up above shows the largest
of the Zircons, measuring 2.2 or nearly an inch in size! The surfaces are glassy smooth.
From Gilgit, Gilgit District, Gilgit-Baltistan, Pakistan.
Measures 9.3 cm by 7.3 cm by 7.8 cm in total size.
Price $1850
MIN#Tucson2012-94 New!
Cute specimen featuring a Beryl var. Emerald crystals perched on hard matrix!
This gemmy Emerald crystal measures 1.7 cm in length. It is doubly terminated and displays
glassy faces and a good internal glow with a rich coloration. There are a few tiny chips on the
top termination but you would need a 16X loupe to see them. This is a good looking specimen!
From the Muzo Mine, Mun. de Muzo, Vasquez-Yacopí Mining District, Boyacá Department, Colombia.
Measures 2.6 cm by 2.1 cm by 2.4 cm in total size.
Ex. R. R. Stoddard Mineral Collection
Price $2450
MIN#Tucson2012-95 New!
Large, terminated crystal of Microcline with an attached Golden Topaz!
Also with some Quartz and Cleavelandite, the Microcline crystal measures over 13 cm
in length and features a textbook perfect termination at the top! The Topaz crystal is
gemmy and doubly terminated. It measures 2.1 cm in length from top to bottom termination.
From Nagar, Hunza Valley, Gilgit District, Gilgit-Baltistan, Pakistan.
Measures 13.1 cm by 4.2 cm by 4.8 cm in total size.
Ex. Ordway Mineral Collection
Price $485
MIN#Tucson2012-96 New!
Fine plate of Golden Calcite crystals on Chert matrix!
This borderline large cabinet sized plate features dozens of transparent-translucent
barrel shaped Calcite crystals on a sparkling Chert matrix with some minor Sphalerite.
Many of the Calcite crystals are doubly terminated and they are all in excellent condition.
There are a few cleaves but only on the backside where the plate was split from the host matrix.
From the Tri-State Mining District, Picher Mine, Ottawa County, Oklahoma.
Measures 12 cm by 19.5 cm by 5.3 cm in total size.
Price $785
MIN#Tucson2012-97 New!
Large Chalcopyrite crystals with greenish-yellow Sphalerite!
The largest Chalcopyrite is 3 cm in size and there is a definate flash of iridescence atop its
lustrous, striated surfaces. The Sphalerites are gemmy and accent the upper portion of
the dark, sparkling matrix. In excellent condition and from the find that appeared in 2007.
From the Emperious Vein, Commodore Mine, Creede, Mineral County, Colorado.
Measures 6 cm by 8 cm by 3.7 cm in total size.
Price $895
MIN#Tucson2012-98 New!
Rare specimen featuring Zincian Dolomite crystals on Calcite stalactites!
A seldom seen variety of Dolomite, this Tsumeb specimen features over a dozen crystals of
Zincian Dolomite to 1.8 cm atop the sparkling pinkish-tan Calcite fingers. The crystals are
hexagonal in habit and I don't see a single point of contact anywhere. In excellent condition.
From the Tsumeb Mine, Tsumeb, Namibia.
Measures 7 cm by 5.6 cm by 5.2 cm in total size.
Ex. Marshall Sussman Mineral Collection
Price $1850
MIN#Tucson2012-99 New!
Rare specimen of purple Fluorite in cluster from Greece!
Greek Fluorite specimens are few and far between and a plate of this size and quality usually
only comes to market from an older collection. This one is from the Obodda Collection and is
completely undamaged with an attractive trimming and brilliant luster atop the purple faces.
From the Megala Pefka Mine No. 28, Lavrion District Mines, Lavrion District, Attikí Prefecture, Greece.
Measures 6 cm by 9.6 cm by 2.7 cm in total size.
Ex. Herbert Obodda Mineral Collection No. 3308
Price $1850

- LINKS TO THE TUCSON-HOUSTON 2012 SHOWROOMS -
1 | 2 | 3 | 4 | 5 | 6 | 7 | 8 | 9 | 10 | Denver 2012 Showrooms
HOME | EXCEPTIONAL MINERALS | MINERAL AUCTION | SPECIMENS FROM PAST SHOWS | CONTACT US