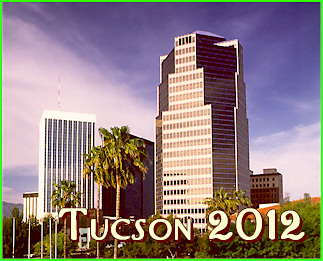 The Tucson Show 2012 Mineral Rooms

Re-Updated July 30th, 2013
MIN#Tucson2012-41 New!
EXCEPTIONAL Fluorite crystal perched atop Calcite on matrix!
A lovely, pristine Fluorite octadedron with purple and blue coloration along with modified
corners and dozens of crystal faces. The 4.2 cm Fluorite is both gemmy and lustrous-glassy
and the Calcites upon which it sits are in excellent condition with full terminations. A slight
accenting of white Dolomite completes the picture with Pyrite on the back side of the matrix.
From the Shangbao Mine, Leiyang Co., Hengyang Prefecture, Hunan Province, China.
Measures 5.6 cm by 9.7 cm by 5.5 cm in total size.
Price $4850
MIN#Tucson2012-43 Sold!
EXCEPTIONAL!! Large, well formed crystal of Native Copper sitting atop Native Copper!
The eye appeal of this specimen is tremendous and I dare say it looks even more impressive
in person. The crystal is pristine and complete on all sides. It measures 3.5 cm in size and
comes with a lovely, slightly iridescent antique patina. There are two collection numbers on the
back side suggesting this specimen has been part of at least two collections in years past.
Small Datolite crystals add sparkle to the recesses in the Native Copper at bottom.
From the Pewabic Lode Mine, Hancock, Houghton County, Michigan.
Measures 3.5 cm by 5.7 cm by 3.1 cm in total size.
Ex. T. F. Cole Mineral Collection
Price $2850
MIN#Tucson2012-44 Sold!
Exceptional specimen of gemmy lavender Fluorite over thick Stibnite crystals!
I rarely come across there very popular combo specimens and this is one of the finest
I've ever offered on the website! Many of these have pale Fluorite coverage but these
crystals are very lavender-purple. The Stibnite crystals are thick and solid with most
measuring 1 cm or larger in width. The entire specimen sparkles with color and flash
and has the feel of something solid, not fragile as so many Stibnites are. Almost all
of the Stibnites are terminated with many of the terminations covered by the Fluorite.
From the Qinglong Mine, Qinglong Co., Qianxi'nan Autonomous Pref., Guizhou Prov., China
Measures 7.3 cm by 8.6 cm by 6.8 cm in total size.
Price $3250
MIN#Tucson2012-45 New!
Glassy crystal of brownish-orange Zircon perched on matrix!
Here's another Australian beauty for you to consider! The Zircon measures 2.2 cm in size
and has very glossy surfaces. The crystal is complete although the right side is not completely
formed due to matrix influence. There is no damage however and several smaller xls are present.
From Mud Tank, Harts Ranges, Northern Territory, Australia.
Measures 4 cm by 3.8 cm by 4.6 cm in total size.
Price $1850
MIN#Tucson2012-46 New!
Large, impressive crystal of Beryl var. Heliodor!
This fully terminated gem measures some 16.3 cm in size! The faces are lustrous and satiny on the
backside where there was a very light etching. The color as evidenced in the photo is a rich golden-yellow
and this color is consistant throughout except for the tiny portion at the top termination which becomes
nearly colorless. If anything, this features adds character to the crystal and is really neat to look at.
From Padre Paraíso, Jequitinhonha Valley, Minas Gerais, Brazil.
Measures 16.3 cm by 3 cm by 2.1 cm in total size.
Comes with a custom made, engraved base.
Price $18,500
MIN#Tucson2012-47 New!
EXCEPTIONAL in so many ways! Gemmy bi-colored crystal of Spodumene and Kunzite!
This crystal is from California and exhibits the rare combination of yellowish-green Spodumene
with a lovely pink Kunzite coloration at the termination! The Kunzite portion measures about
4 cm as it descends from the tip of this large 15.5 cm crystal. The Spodumene portion glows under
any direct lighting and terminates at the bottom with a complex, matrix influenced termination.
There may also be some etching influence there. Circa 1978, this is a tremendous California xl!!
From the Beebe Hole (Mine), Jacumba, San Diego County, California.
Measures 15.5 cm by 7 cm by 2.6 cm in total size.
Ex. Edward David Mineral Collection
Comes with a custom made, engraved base
Price $8500
MIN#Tucson2012-48 New!
Tri-colored crystal of Tourmaline perched atop a ball of Albite blades!
This beautiful crystal is doubly terminated and sports a bright pink tip! The left side
termination is a flat termination and is nearly colorless before changing over to a grassy
green. The middle of the crystal ranges from yellowish-green to a dark green coloration.
From Stak Nala, Skardu, Northern Areas of Pakistan.
Measures 4.8 cm by 4.4 cm by 3.2 cm in total size.
Ex. Matthew Webb Mineral Collection
Price $1850
MIN#Tucson2012-49 New!
Killer combo piece featuring a large orange Scheelite with attached Goshenite crystals!
The Scheelite crystal appears to be a floater with no point of attachment. The only point
of possible attachment is on the backside but the crystal must have separated a long time
ago if this is the case because the backside is completely rehealed with crystal faces. There's
also a really neat looking "arm" of attached Scheelite crystals extending upwards from the
right side of the main crystal. On the upper left side are three attached Goshenites which
have melded to form the appearance of one large crystal. There are multiple terminations
however and the crystal itself measures 5 cm in size! The surfaces are lustrous and glassy.
From Mt Xuebaoding, Pingwu Co., Mianyang Prefecture, Sichuan Province, China.
Measures 6.5 cm by 5.6 cm by 5.2 cm in total size.
Price $5500
MIN#Tucson2012-50 New!
Gemmy specimen of attached Beryl var. Helidor crystals!
Glassy and gem, this specimen is doubly terminated (both crystals!) with partially
etched terminations. Oddly enough, the faces exhibit no etching and are all completely
smooth and reflective. The color is a brilliant yellowish-green with plenty of internal glow.
From Minas Gerais, Southeast Region of Brazil.
Measures 5.8 cm by 2.3 cm by 1.2 cm in total size.
Price $685
MIN#Tucson2012-51 New!
Two crystals of Corundum var. Ruby in matrix!
An attractive specimen featuring two 3 cm crystals. Both Rubys are well formed with
lustrous terminations and the classic hexagonal form. The matrix is mostly Oligoclase
with a peppering of Biotite. A rare specimen which is well balanced and deeply colored.
From the Kleggåsen Ruby Quarry, Froland, Aust-Agder, Norway.
Measures 5 cm by 7.8 cm by 4.1 cm in total size.
Ex. University of Arizona Mineral Collection
Price $1500
MIN#Tucson2012-52 Sold!
Ultra-fine "feather" dendrites of Native Gold in white Quartz matrix!
This old time Gold specimen was labeled as "Florence Mine Gold" but the appearance
is more fitting of the workings from Manhattan, Nevada, about 75 miles due north. The
specimen dates back to the early 1900's and is actually quite rich, with a good amount
of Gold dendrites inside the bright white matrix. The bottom side of the specimen shows
a heavy peppering of Gold and nearly every side displays visible color. Out of the 119.2
grams weight of this specimen, I would estimate at least a third is Gold weight and possibly
more. That would place the specimen between 1.25 to 2 ounces of Gold. More important to
me however is the fine feather structure which reminds me of Hope's Nose specimens. This
is what attracted me to the specimen - that and the past history of the old mining locality.
From Manhattan, Manhattan District, Nye County, Nevada.
Measures 7.4 cm by 4.7 cm by 4.6 cm in total size.
Price $2500
MIN#Tucson2012-53 Sold!
Fine crystals of Helvite on Albite with gem Smoky Quartz and Muscovite!
The largest orange crystal of Helvite measures 1.5 cm in size and there are several
smaller Helvites scattered about the Albite. The two gem Smoky crystals are both
terminated and measure 3.5 cm and 3.2 cm in size. An attractive, no problem specimen!
From Tongbei, Yunxiao Co., Zhangzhou Prefecture, Fujian Province of China.
Measures 9.2 cm by 8 cm in size.
Price $3250
MIN#Tucson2012-54 New!
EXCEPTIONAL!! Tremendous specimen of Native Wire Silver atop a matrix of massive Silver!
This incredible specimen hails from the obscure Shaft #66 in Schlema! I'm told that this shaft is
actually located near the center of town and that specimens from there are quite rare. The wires rise
up from a matrix that is mostly massive Silver and thin wires intertwined with small bits of Calcite.
The wires that stand upwards are more like knarled ropes and they are all very stable. This is
easily one of the finest Schlema Silvers I've seen in a long time and would make a wonderful
addition to a Silver specimen suite or European mineral collection. Superb, aesthetic small cab!
From Shaft #66, Schlema, Schlema-Hartenstein District, Erzgebirge, Saxony, Germany.
Measures 5 cm by 7.4 cm by 4.2 cm in total size.
Ex. Wolfgang Wendel, Kevin Ward Mineral Collections
Price $9500
MIN#Tucson2012-55 New!
Stunning cabinet plate of sparkling green Prehnite pseudo after large Calcite crystals!
One of the most impressive pseudomorphs I've seen in a long time! The Calcites are quite
large, with the largest measuring 11.5 cm in width, and I don't detect any damage or contacts
anywhere! On the backside of the largest Calcite pseudo, there is a small opening in the Prehnite
and a glossy portion of the Calcite crystal being pseudomorphed is visible. The surfaces of each
crystal and the botryoidal Prehnite covering the matrix are very bright and full of sparkling flash.
Circa early 1980's - From Kandivali Quarry, Malad, Mumbai, Mumbai District, Maharashtra, India.
Measures 8 cm by 17.2 cm by 13.2 cm in total size.
Ex. Ed Swoboda Pseudomorph Collection and Edward David Mineral Collection
Price $8500
MIN#Tucson2012-56 New!
Lustrous growths of pearly Smithsonite atop Cadmium Smithsonite covered matrix!
A unique specimen that I rarely encounter at the shows. The white Smithsonite is actually
colorless clusters of Smithsonite crystals which take on a "bubbly" appearance. There are
some small single crystals scattered about between the clusters but the crystal habit can
be easily seen with a 16x loupe. Beneath these are clusters of Cadmium-rich Smithsonite!
From the Monte Cristo Mine, Rush, Rush Creek District, Marion Co., Arkansas.
Measures 12.4 cm by 14.2 cm in size.
Price $685
MIN#Tucson2012-58 New!
RARE!!! Very rare specimen featuring a large Yellow Topaz crystal with Quartz on matrix!
An amazing old time classic from the world famous Schneckenstein locality! I've seen a handful
of these in the past decade and this is by far the largest and most impressive specimen. Most
Topaz crystals I see from Schneckenstein are 1 cm in size or smaller but this terminated gem
measures 2.7 cm or more than a full inch! The color is a deep gemmy yellow and the termination
is pristine. A terminated Quartz crystal lays across the top of the Topaz. By the way, this crystal
has not been replaced or glued back into the matrix. It is completely natural and untampered with.
The Schneckenstein Topaz locale is now off limits to collection and most fine specimen like this
one were collected a long time ago. This specimen dates back to the early 1800's or late 1700's!
From the Schneckenstein cliff (Königskrone Topaz Mine), Kielberg, Klingenthal, Saxony, Germany.
Measures 6 cm by 6.8 cm by 3.5 cm in size.
Ex. Siegbert Zecha Mineral Collection
Price $5500
MIN#Tucson2012-59 New!
Classic specimen featuring sharp, well formed crystals of Native Copper!
The antique patina on this specimen is totally original, indicating that this specimen
has not been messed with over the past 100 or so years since it was mined. Lustrous
shades of golden-brown and red cover these fine crystals with a slight accenting of green
Malachite at the edges. The crystals are distinct and as impressive as those from Michigan.
From the 2200 Level, Campbell Shaft, Bisbee, Cochise County, Arizona.
Measures 5.7 cm by 3.5 cm by 3.9 cm in total size.
Price $1500
MIN#Tucson2012-60 New!
Tabular crystals of misty-blue Celestine with Calcite on matrix!
Fine specimen with perfectly terminated Celestine crystals, both of which are
pristine. The largest measures 3 cm in length and smaller crystals surround it at
the base along with several tan Calcites. The specimen is well trimmed and aesthetic.
From Maybee, Monroe County, Michigan.
Measures 5.6 cm by 5.4 cm in size.
Price $485

- LINKS TO THE TUCSON-HOUSTON 2012 SHOWROOMS -
1 | 2 | 3 | 4 | 5 | 6 | 7 | 8 | 9 | 10 | Denver 2012 Showrooms
HOME | EXCEPTIONAL MINERALS | MINERAL AUCTION | SPECIMENS FROM PAST SHOWS | CONTACT US