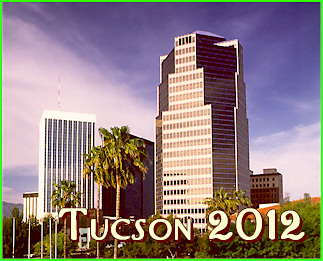 The Tucson Show 2012 Mineral Rooms

Re-Updated July 30th, 2013
MIN#Tucson2012-22 New!
Beautiful plate of intensely yellow Botryoidal Mimetite on matrix!
A lovely plate with just a touch of orange in certain portions of the clean, bright yellow surfaces.
A tiny sprinkling of Calcite crystals adds a good amount of sparkle. The matrix is a thin one which
removes the bulkiness often seen with these specimens. The upright presentation is very nice.
From the San Pedro Corralitos Mine, Chihuahua, Mexico.
Measures 8.8 cm by 7.2 cm by 2.5 cm in total size.
Comes with a custom made, engraved display base
Price $4850
MIN#Tucson2012-23 New!
Fine crystals of Azurite and Malachite ps after Azurite on Malachite!
One of the better crystalline specimens I've seen from Morenci in quite some time.
The Azurite crystals are sharp and lustrous and the Malachite is pristine and very
chatoyant! No damage to speak of and the specimen displays very aesthetically atop the
Malachite matrix with a stacked crystal display. The appearance remind me of Bisbee.
From the Morenci Mine, Morenci, Greenlee County, Arizona.
Measures 9.2 cm by 5 cm by 3 cm in total size.
Price $4850
MIN#Tucson2012-24 New!
RARE!! Scarce specimen of Köttigite crystal sprays on Limonite!
Köttigite is a Zinc Arsenate Hydrate and quality specimens like this one rarely appear at the
shows. This small cab plate of Limonite had not one but several separate sprays of the greenish-
blue mineral and all were in excellent condition thanks to the protective ridge along the left edge
of the matrix. The crystals are acicular, with the largest spray measures a full inch across (2.5 cm)!
Note: There is a 3 cm spray on the backside but it does have a slight contact.
From the Ojuela Mine, Mapimí, Mun. de Mapimí, Durango, Mexico.
Measures 8.5 cm by 6.4 cm in size.
Ex. Hollis Page Mineral Collection
Price $985
MIN#Tucson2012-26 New!
Dramatic, almost sculptural specimen of Stibnite crystals in Calcite matrix!
A very aesthetic Italian Stibnite which is both 3-dimensional and balanced. The Stibnites
are in very good condition with only some minor incompleteness here and there. All are
lustrous against the glossy white Calcite surfaces. The specimen was obviously etched to
expose the Stibnite and the preparer did a wonderful job of created a specimen with a lot
of eye appeal. I love the way the top looks like an ocean wave rising above the crystals.
From Montauto, Manciano, Grosseto Province, Tuscany, Italy.
Measures 6.2 cm by 8.4 cm by 7.4 cm in total size.
Price $1850
MIN#Tucson2012-27 New!
Interesting specimen featuring greenish-brown Embolite crystals with Goethite and Cerussite!
Chlorargyrite is the mineral known as "Horn Silver". It was once misunderstood by miners
until they had it assayed and discovered it was Silver Chloride and very rich. Embolite is
a variety of Chlorargyrite which adds some Bromian into the molecular mix and is also
known as Bromian Chlorargyrite. This specimen is covered with the waxy-brown crystals
which are accented by iridescent (bluish-lavender) Goethite and tiny twinned Cerussites!
I haven't seen this combination of minerals from the Broken Hill before and it's very nice.
From the Broken Hill Proprietary Mine, Broken Hill, Yancowinna Co., New South Wales, Australia.
Circa 1950's - Measures 9.5 cm by 7.4 cm by 5.5 cm in total size.
Price $2500
MIN#Tucson2012-29 New!
Transparent purple cubes of Fluorite atop lustrous Sphalerite matrix!
Good looking specimen of Fluorite with a dozen cubes scattered atop the Sphalerite.
In good shape overall with only some incompleteness along the left trimming edge.
From the Elmwood Mine, Smith County, Tennessee.
Measures 7.5 cm by 7.7 cm in size.
Price $285
MIN#Tucson2012-30 New!
Stunning combination of Calcite on bi-colored Fluorite and Chalcopyrite covered Sphalerite!
The Calcite crystals are glassy and terminated! They cluster the top side of the specimen and
sit atop purple Fluorite cubes with golden interiors and Chalcopyrite crystals over Sphalerite.
From the Denton Mine, Hardin County, Illinois.
Circa 1982 - Measures 7.5 cm by 10.8 cm by 8.7 cm in total size.
Ex. Tom Wiesner Fluorite Collection
Price $895
MIN#Tucson2012-31 New!
Gemmy crystals of reddish-orange Spessartine Garnet on Mica and Quartz!
A beautiful specimen which has at least a dozen of these colorful jewels, all undamaged and
displaying reflective, glassy faces. The Mica is slightly green and contrasts well with the Garnets.
From Untersulzbachtal, Hohe Tauern Mountains, Salzburg, Austria.
Measures 3.7 cm by 4.8 cm in size.
Ex. F. J. Barlow Mineral Collection
Price $685
MIN#Tucson2012-33 New!
Doubly terminated Calcite crystal set atop zoned Fluorite with Chalcopyrite!
A rather unique Calcite which appears to be almost faceted while the top widens out to
what appears to be a scepter! The Fluorite is light purple with darker purple phantoms.
From the Denton Mine, Hardin County, Illinois.
Measures 6.5 cm by 5 cm in size.
Ex. Tom Wiesner Fluorite Collection
Price $985
MIN#Tucson2012-35 New!
Richly covered specimen featuring light blue Topaz crystals with Smoky Quartz on matrix!
Covered from top to bottom with Topaz, this is one of the finest Russian Topaz specimens
I've seen in quite some time. The largest crystal at top measures 3 cm in length and is
doubly terminated! Dozens of other Topaz crystals cover the gaps between the dark smoky
Quartz crystals. Some light orangish coloration, probably from Hematite, is also present.
From Sherlovaya Gora, Adun-Cholon Range, Nerchinsk Gem Mines, Chitinskaya Oblast, Eastern-Siberian Region, Russia.
Measures 8.4 cm by 6.8 cm by 2.8 cm in total size.
Price $2500
MIN#Tucson2012-36 New!
Deep orange crystals of Scheelite set among Quartz points on matrix!
A very glassy series of Scheelites that reminds one of what you'd see in a fine specimen
from China - only this specimen is from Pakistan! I don't come across very many Pakistani
Scheelites and certainly very few of this calibre. There are over a dozen Scheelite crystals
scattered among the Quartz points, with the largest measuring 2.2 cm in size. Most average
around 1 - 1.5 cm in size. In excellent condition with only a tiny bump on the largest Quartz.
From the Gharmung Area, Skardu District, Baltistan, Northern Areas of Pakistan.
Measures 6.7 cm by 5.7 cm by 4.2 cm in size.
Price $2450
MIN#Tucson2012-37 New!
Elongated crystals of Vesuvianite and Manganvesuvianite!
Impressive cluster of yellows and pinks, with crystals ranging from 1.3 cm to 1.5 cm in size!
Many of the largest crystals stand upright but there are also crystals laying horizontally.
In excellent condition overall with perfect terminations atop the main crystals.
From the Jeffrey Quarry, Asbestos, Quebec, Canada.
Measures 3.2 cm by 3.4 cm by 2.6 cm in total size.
Price $685
MIN#Tucson2012-39 New!
Gorgeous specimen featuring large Hessonite Garnets perched atop Albite!
The pristine Hessonite at top measures 1.3 cm in size and is surrounded on both sides
by additional gemmy Garnets in various sizes. Albite crystals cover the majority of the
matrix beneath. On the backside on this specimen, there is a complete coverage of
Hessonite Garnets! This is truely a specimen that could be displayed from either side.
From the Jeffrey Quarry, Asbestos, Quebec, Canada.
Measures 3.4 cm by 3.7 cm by 2.6 cm in total size.
Price $1500
MIN#Tucson2012-40 New!
Exceptional specimen of Tri-State Calcite crystals on Chert matrix!
A gorgeous Calcite specimen displaying a rich golden color and a good amount of gemminess,
especially at the tips! This specimen gave me a few good laughs at the show because so many
people commented on it and called it "the Elmwood Calcite specimen". They were shocked
when I explained that the specimen was actually from Picher, Oklahoma (which no longer
exists as of last month now that the government has begun to dismantle the entire town as
part of their superfund cleanup). The top crystal actually consists of two adjoined Calcites,
both featuring perfect terminations and measuring nearly 14 cm in height! The horizontal
Calcite laying beneath the main crystal measures 11.4 cm in size and is doubly terminated!
It's complete and in excellent condition save for a slight bump on the right side tip. Honestly,
Tri-State specimens of this quality are few and far between and with the disappearance of
Picher, the prices can only go higher in the years to come. The specimen is nearly large cab!
From the Tri-State Mining District, Picher, Ottawa County, Oklahoma.
Measures 21 cm by 14.3 cm by 8.3 cm in total size.
Price $4500

- LINKS TO THE TUCSON-HOUSTON 2012 SHOWROOMS -
1 | 2 | 3 | 4 | 5 | 6 | 7 | 8 | 9 | 10 | Denver 2012 Showrooms
HOME | EXCEPTIONAL MINERALS | MINERAL AUCTION | SPECIMENS FROM PAST SHOWS | CONTACT US