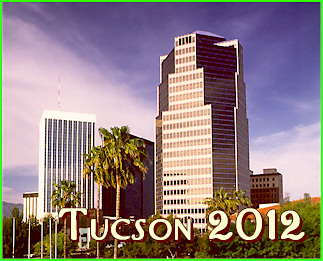 The Tucson Show 2012 Mineral Rooms

Updated March 28th, 2012
MIN#Tucson2012-61 Sold!
EXCEPTIONAL CRYSTALS!! Completely crystalline specimen of Native Gold on Quartz!
This entire specimen is composed of very distinct Native Gold crystals and Spinel-twins. I've seen many
Round Mountain Gold specimens with crystals, but this is one of the finest miniatures I've ever come across.
This is actually the second time I've had the pleasure of offering this very fine specimen because I sold it
to a major collector several years ago. I'm thrilled to have it back again to offer others a second chance!
From the Round Mountain Mine, Round Mountain District, Nye County, Nevada.
Measures 6 cm by 4.7 cm by 1.5 cm in total size.
Ex. Scott Kleine, Bernardi Mineral Collections
Comes with a custom made, labeled display base
Price $12,500
MIN#Tucson2012-62 New!
Lustrous crystals of Hematite ps after Magnetite with Hematite!
I've seen dozens, if not hundreds of these pseudomorphs over the years but none of them
compared to the aesthetic appearance of this fine specimen. The crystals of are various shapes
and sizes, with the largest elongated crystal at the top measuring 4.5 cm in length! Other crystals
are pure octahedron but all have pyramidal terminations. The crystal faces are extremely lustrous
and bright with the only exception being the reddish-brown Hematite crystals which add great contrast.
From the Payún Volcano, Altiplano de Payún Matru, Mendoza, Argentina.
Measures 5.7 cm by 4.6 cm by 3.2 cm in total size.
Price $985
MIN#Tucson2012-63 New!
EXCEPTIONAL!! Gorgeous combination of Native Copper including Calcite crystals!
One of the finest Copper-Calcite specimens I've seen in years, this specimen is nearly
pristine with large, impressive Calcites, and rich amounts of Native Copper, both inside
and outside the Calcites. Looking closely at the Calcite crystals, you'll notice that they are
all terminated with barely a contact anywhere. Native Copper not only includes the crystals
and lends a good amount of color to each, but it also emerges outside of the Calcites and
creates the visual contrast that separates average specimens from exceptional ones. This is a
well balanced cabinet piece with five large Calcites and more than its fair share of eye appeal.
From the Copper Mining District, Keweenaw Peninsula, Michigan.
Measures 9.6 cm by 7.3 cm by 5.8 cm in total size.
Price $4500
MIN#Tucson2012-66 New!
Lustrous, blocky crystals of Azurite sitting beside a larger Malachite ps after Azurite!
Dating back to the early 1900's, this specimen is not only aesthetic but it is also completely
undamaged with no contacts on any of the major crystals. The large Malachite ps measures
almost 3 cm in size and contrasts perfectly in terms of form and texture with the Azurite xls.
From Bisbee, Cochise County, Arizona.
Measures 6.6 cm by 7.5 cm by 6.7 cm in total size.
Ex. Gerald Clark Mineral Collection
Price $1500
MIN#Tucson2012-67 New!
Lustrous stacked elongated crystals of Galena!
I would definately call this a Galena stalactite. It comes from a find at the West Fork Mine
in the early 1990's and displays an elongated growth of Galena with a mirror-like cube perched
at the very top. The only point of attached is at the very bottom on a single corner. Very nice!
From the West Fork Mine, Viburnum Trend, Reynolds County, Missouri.
Measures 6 cm by 2.8 cm by 3 cm in total size.
Ex. Russell Mineral Collection
Price $485
MIN#Tucson2012-68 New!
Brilliant, lustrous specimen of crystalline Native Gold sitting atop white Quartz!
This specimen is nearly completely crystalline with Gold crystals from one side to the
other! It's miniature in size and sits perfectly for display all on its own. Under a 10x loupe,
the crystals are an incredible sight and the reflective surfaces are a lustrous, rich yellow.
From the Eagle's Nest Mine, Placer County, California.
Measures 3.2 cm by 6.7 cm by 4.1 cm in total size.
Price $6500
MIN#Tucson2012-69 New!
Lovely specimen featuring Manganoan Calcite stalactites inside a matrix cast!
The interior sparkles with a drusy surface and the stalactites are very distinct in the foreground.
This is one of my favorite specimens in the Tsumeb collection I acquired because it is so unique!
In great condition with no visible contacts. There is one tiny left side crack but it does not detract.
From the Wessels Mine, Hotazel, Kalahari Manganese Fields, Northern Cape Province, South Africa.
Measures 5.7 cm by 5.5 cm in size.
Price $1500
MIN#Tucson2012-70 New!
Fine specimen of golden Pyrite with Quartz points!
This is one great looking miniature! The Pyrite is complete on all sides with superb
striation and brilliant, reflective surfaces. There's a small crack on the lower left side
which is typical for the locale and reheals itself on the back side. The Pyrite crystal is
surrounded by several terminated Quartz points which create the perfect backdrop.
From the Spruce Ridge Claim, Goldmyer Hot Springs, King County, Washington.
Measures 5 cm by 5.7 cm by 4.3 cm in total size.
Price $895
MIN#Tucson2012-71 Sold!
Gemmy green crystal blades of Vivianite on Calcite crystal matrix!
The Huanuni Mine has produced some of the finest Vivianites in the world but unfortunately
the regulations of the Bolivian Government have made it difficult for these fine specimens to
come to market. Specimen removal from the mine has been forbidden and the levels with
the finest specimens have been flooded. This specimen is from the mid 1990 finds and displays
several criss-crossing crystal blades which display the most incredible green coloration you
could ever hope for. The blades are all terminated and in excellent condition with few contacts.
I might also point out that the surfaces are incredibly glassy with a superb rolling luster.
From the Huanuni mine, Huanuni, Dalence Province, Oruro Department, Bolivia.
Measures 4 cm by 6.4 cm by 5 cm in total size.
Price $850
MIN#Tucson2012-72 Sold!
Classic specimen of Native Gold on Quartz and Arsenopyrite with a Slate base!
This gorgeous, brilliant Gold displays a RICH yellow coloration with just a hint
of orange. The luster is intense and dazzling and the specimen could be displayed
from either side. The Gold rises up from a white Quartz matrix and Arsenopyrite
with some Arsenopyrite crystal faces visible. The Goldenville area was mined in
the 1860's through 1907 and produced nearly 42,000 ounces during it's lifespan.
From Goldenville, Guysborough Co., Nova Scotia, Canada
Measures 3.8 cm by 2.7 cm by 2.2 cm in total size.
Price $2450
MIN#Tucson2012-74 New!
Gorgeous and quite gemmy Beryl var. Emerald crystal on Calcite matrix!
This 1.5 cm tall Emerald is super gemmy and glows with an incredible grassy green coloration!
The top termination is complete and smooth and measures 1 cm in width from left to right. The
vertical faces are also very glassy, allowing for a good look into the crystal gemmy interior.
Specimens of this quality are becoming very difficult to find and this is from an older collection.
From the Muzo Mine, north of Santa Fe de Bogotá, Colombia.
The specimen measures 4 cm by 4 cm in size.
Ex. G. C. B. Mineral Collection
Price $7500
MIN#Tucson2012-76 New!
Stunning crystalline Canadian Gold specimen on orange Quartz!
This flashy miniature is actually pretty rich with beautiful, trigon covered leaves and wires
atop the orange colored Quartz matrix. Imagine the sparkle of drusy Quartz set against
the luster of bright yellow Gold crystals and you'll have a good idea of how attractive
this specimen is. In addition to the Gold leaves and wires, there is a peppering of Gold
popping out from every portion of the surface matrix. Today, Shining Tree, Ontario is a great
place to visit and go fishing but it once had its very own Gold Rush between 1911-1933.
Mining was pretty much done by 1942 however when WWII closed most of the mines.
I wish they had found more specimens like the one offered here! It's the first I've seen.
From the Shining Tree area, Sudbury District, Ontario, Canada.
Measures 5.4 cm by 6.7 cm by 4.7 cm in total size.
Ex. University of Arizona Mineral Collection
Price $2500
MIN#Tucson2012-77 New!
Deep red crystals of Cinnabar on Calcite!
Definately no darkening to these crystals. The bright red Cinnabars completely
cover the Calcite matrix with enough isolation to show each individual crystal. Upon
close examination with a 16 X loupe, I detect very little in the way of contacts and
almost every crystal is complete and terminated. Cinnabars from this locality are
somewhat scarce and rarely appear on the market. This is a great looking miniature.
From the San Bartolo Mine, Charcas, San Luis Potosí, Mexico.
Measures 3.6 cm by 4.8 cm in size.
Ex. Frank Wright Mineral Collection
Price $895
MIN#Tucson2012-80 New!
Brilliant crystals of Golden Calcite!
These glassy faced crystals grew as one atop the other with the largest at the very top.
They become a deeper golden color at the tips but remain golden throughout their length.
The terminations are all complete with the bottom crystal being double terminated! This
is a lovely specimen and would make a unique display piece for an Elmwood Collection.
Contacts are tiny and very minimal with Barite covering the bottom sides of each crystal.
From the Elmwood Mine, Smith County, Tennessee.
Measures 14 cm by 5.5 cm by 4.4 cm in total size.
Ex. Gerry McLoughlin Mineral Collection
Price $1250
- LINKS TO THE TUCSON-HOUSTON 2012 SHOWROOMS -
1 | 2 | 3 | 4 | 5 | 6 | 7 | 8 | 9 | 10 | Denver 2012 Showrooms
HOME | EXCEPTIONAL MINERALS | MINERAL AUCTION | SPECIMENS FROM PAST SHOWS | CONTACT US