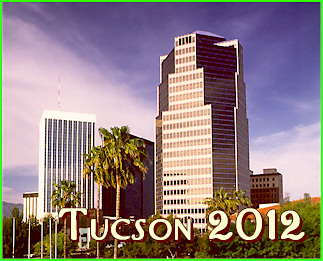 The Tucson Show 2012 Mineral Rooms

Updated April 18th, 2012
MIN#Tucson2012-101 New!
Gorgeous pink Morganite crystal on Lepidolite and Cleavelandite with Quartz!
Beautiful 4.5 cm Morganite snuggled between crystal clusters of pink Lepidolite and white Cleavelandite!
The Morganite is gemmy to translucent with a perfect textbook form and glassy crystal faces. There is
no damage and the Morganite is complete on all sides. The color could best be described as a pastel pink
with just a tiny hint of orange. The Lepidolite clusters are rosy-pink and provide a beautiful contrast.
From Pech, Nuristan Province, Afghanistan.
Measures 11 cm by 18 cm by 10.4 cm in total size.
Comes with a custom made, labeled base
Price $12,500
MIN#Tucson2012-102 New!
Iridescent crystals of Galena set atop Dolomite covered matrix!
There are also tiny clusters of golden Chalcopyrite scattered about, adding additional color
to the cluster. The Galena crystals are octahedral in form and exhibit a lovely blue-purple-red
iridescent flash. They measures to 2.2 cm in size. In excellent condition with no visible contacts.
From the West Fork Mine, Centerville, Viburnum Trend District, Reynolds Co., Missouri.
Measures 5.2 cm by 9.5 cm by 5 cm in total size.
Ex. Russell Mineral Collection
Price $585
MIN#Tucson2012-103 New!
GEMMY crystal of Imperial Topaz!
This is a gorgeous, fat, terminated crystal of Imperial Topaz and the color is incredible!
The crystal itself has glassy surfaces and sharp striations. There are some of the normal
matrix influenced irregularities that are common to these crystals but they are almost invisible to
the naked eye. The color could best be described as an intense, glowing golden orange. Very nice!!
From Ouro Preto, Minas Gerais, Brazil.
Measures 3.4 cm by 3.1 cm by 2.2 cm in total size. Weighs 38.1 grams.
Ex. R. R. Stoddard Mineral Collection
Price $1450
MIN#Tucson2012-104 New!
Fine crystal of Imperial Topaz!
A lovely gem crystal featuring the famous golden-orange Imperial Topaz color!
The top is perfectly terminated and the surfaces are glassy and striated. Very nice!
From Ouro Preto, Minas Gerais, Brazil.
Measures 3.8 cm by 1.1 cm by .8 cm in total size. Weighs 5.8 grams.
Ex. R. R. Stoddard Mineral Collection
Price $785
MIN#Tucson2012-105 New!
Large crystals of Sulfur set atop Aragonite covered matrix!
Great looking specimen with Sulfur crystals measuring 3.5 cm, 3.3 cm, and 3.2 cm in size!
All three crystals are doubly terminated with great looking faces and only one minor contact
which does not detract. The surfaces are satiny lustrous with a fine internal translucence.
From Agrigento, Agrigento Province, Sicily, Italy.
Measures 4.6 cm by 6.6 cm by 3.8 cm in total size.
Price $2850
MIN#Tucson2012-110 New!
Incredible combination of Rubyjacl Sphalerite crystals on Galena cubes!
Also with a small Calcite on the far left side, this is one of the finest Tri-State combo miniatures
I've acquired in years. The large 2.8 cm twinned Sphalerite crystal at the very top sits perfectly
atop the cubic Galenas. A coating of smaller Rubyjack crystals coat the top faces and add a strong
reddish tint to the specimen. The largest Galena on the left measures 2.7 cm and all exhibit lustrous
faces on both front and back, with the back being slightly more mirror-like. With attached Chert matrix.
From the Ballard Mine, Baxter Springs, Picher Field, Tri-State District, Cherokee Co., Kansas.
Measures 5.5 cm by 5 cm by 4.8 cm in total size.
Price $985
MIN#Tucson2012-111 New!
Neat specimen of mustard-yellow Orpiment crystals in cluster!
I must admit that I've never offered a specimen of Orpiment from this locality before.
The Roberts Mountains are in the middle of nowhere in the center of Nevada but they
produce some good looking Orpiment. This specimen is in excellent condition with only
minor contacts. The largest crystal at top measures about 3 cm in size and the luster of all
ranges from satiny to glassy on the back. The only point of trimming is along the far right edge.
From Roberts Mountains, Eureka County, Nevada.
Measures 6.7 cm by 4.8 cm by 3.8 cm in total size.
Price $385
MIN#Tucson2012-114 New!
Rare! Lustrous specimen of Galena crystals with Fluorite!
This fine specimen is from the obscure Hill-Ledford Mine and is the first specimen I've found from
this scarce locality in quite some time. It's also one of the best Hardin County Galena plates I've offered
and was once in the personal collection of the mine owner himself, Mr. Paul Ledford. The Galenas are
all complete and undamaged with modified faces. A rolling, satiny luster highlights each crystal as do
the pretty light purple Fluorite cubes seen beneath the largest 4.5 cm Galena and on the far right side.
Circa 1957 - From the Hill-Ledford Mine, Cave-in-Rock District, Hardin County, Illinois.
Measures 6.8 cm by 9.3 cm by 4.8 cm in total size.
Ex. Paul Ledford, Roy A. Smith Mineral Collections
Price $1450
MIN#Tucson2012-116 Sold!
Gemmy crystals of vibrant purple Fluorite with Barite blades!
Each Fluorite cube displays a slightly darker phantom just beneath the surface. The crystals
are very gemmy and allow one to look inside all the way to the underlying matrix. The surfaces
are very glassy and reflective with only a few tiny contacts along the edges that do no detract.
Cream-colored Barite blades cluster along the left edge and climb upwards over the very top.
From Berbes, Berbes Mining area, Ribadesella, Asturias, Spain.
Measures 12.5 cm by 9.2 cm by 5.7 cm in total size.
Price $4850
MIN#Tucson2012-117 New!
Scarce specimen combination mix Native Copper with green Prehnite nodules!
The Native Copper juts out at the top and appears as small crystals between the Prehnite nodules
and white Dolomite. There's even a small Copper wire located on the upper left side of this fine combo.
From the Keweenaw Peninsula of Michigan.
Measures 9.3 cm by 6.8 cm in size.
Ex. Russell MacFall Mineral Collection
Price $850
- LINKS TO THE TUCSON-HOUSTON 2012 SHOWROOMS -
1 | 2 | 3 | 4 | 5 | 6 | 7 | 8 | 9 | 10 | Denver 2012 Showrooms
HOME | EXCEPTIONAL MINERALS | MINERAL AUCTION | SPECIMENS FROM PAST SHOWS | CONTACT US