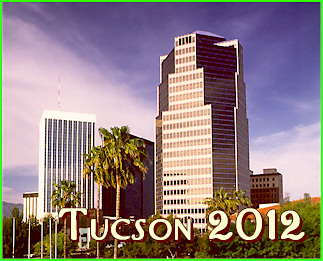 The Tucson Show 2012 Mineral Rooms

Re-Updated August 2nd, 2013
MIN#Tucson2012-101 New!
Gorgeous pink Morganite crystal on Lepidolite and Cleavelandite with Quartz!
Beautiful 4.5 cm Morganite snuggled between crystal clusters of pink Lepidolite and white Cleavelandite!
The Morganite is gemmy to translucent with a perfect textbook form and glassy crystal faces. There is
no damage and the Morganite is complete on all sides. The color could best be described as a pastel pink
with just a tiny hint of orange. The Lepidolite clusters are rosy-pink and provide a beautiful contrast.
From Pech, Nuristan Province, Afghanistan.
Measures 11 cm by 18 cm by 10.4 cm in total size.
Comes with a custom made, labeled base
Price $12,500
MIN#Tucson2012-102 New!
Iridescent crystals of Galena set atop Dolomite covered matrix!
There are also tiny clusters of golden Chalcopyrite scattered about, adding additional color
to the cluster. The Galena crystals are octahedral in form and exhibit a lovely blue-purple-red
iridescent flash. They measures to 2.2 cm in size. In excellent condition with no visible contacts.
From the West Fork Mine, Centerville, Viburnum Trend District, Reynolds Co., Missouri.
Measures 5.2 cm by 9.5 cm by 5 cm in total size.
Ex. Russell Mineral Collection
Price $585
MIN#Tucson2012-103 New!
GEMMY crystal of Imperial Topaz!
This is a gorgeous, fat, terminated crystal of Imperial Topaz and the color is incredible!
The crystal itself has glassy surfaces and sharp striations. There are some of the normal
matrix influenced irregularities that are common to these crystals but they are almost invisible to
the naked eye. The color could best be described as an intense, glowing golden orange. Very nice!!
From Ouro Preto, Minas Gerais, Brazil.
Measures 3.4 cm by 3.1 cm by 2.2 cm in total size. Weighs 38.1 grams.
Ex. R. R. Stoddard Mineral Collection
Price $1850
MIN#Tucson2012-104 New!
EXCEPTIONAL!! Amazing specimen featuring lustrous Acanthite crystals sitting atop Polybasite!
Admittedly, I'm a Silver specimen fanatic and I go crazy when I see incredible combination pieces
like this one, but even non-Silver collectors can appreciate a specimen of this calibre! The pristine
Acanthites xls (largest measures 1.4 cm in size) sit perfectly atop very sharp blades of Polybasite
which are in turn, accented by a peppering of golden-iridescent Pyrite crystals. The Polybasite also
appears to be slightly coated by additional micro-Acanthites. I've never seen a specimen quite like
this one and the contrasting habits of both Silver Sulfides is what caught my attention. The largest
Polybasite is nearly 2 cm in width so it pretty hard not to notice! All crystals are sharp and distinct.
From the Reyes Mine, Guanajuato, Mun. de Guanajuato, Guanajuato, Mexico.
Measures 4.9 cm by 3.9 in size.
Ex. Al Ordway, Kevin Ward Mineral Collections
Comes with a professionally made acrylic stand
Price $4500
MIN#Tucson2012-105 New!
Gemmy golden Topaz crystal snug between Albite blades with Schorl Tourmaline!
This 2.5 cm Topaz crystal is complete and gem with better than average color. A second
smaller Topaz can be seen on the back side and an smaller third Topaz is visible on the
far right. Schorl crystals are scattered about, accenting the otherwise colorless Albite.
From the Shigar Valley, Skardu District, Baltistan, Northern Areas of Pakistan.
Measures 6.5 cm by 7.2 cm by 6 cm in total size.
Price $685
MIN#Tucson2012-106 New!
Fine crystal of Imperial Topaz!
A lovely gem crystal featuring the famous golden-orange Imperial Topaz color!
The top is perfectly terminated and the surfaces are glassy and striated. Very nice!
From Ouro Preto, Minas Gerais, Brazil.
Measures 3.8 cm by 1.1 cm by .8 cm in total size. Weighs 5.8 grams.
Ex. R. R. Stoddard Mineral Collection
Price $785
MIN#Tucson2012-107 New!
Large crystals of Sulfur set atop Aragonite covered matrix!
Great looking specimen with Sulfur crystals measuring 3.5 cm, 3.3 cm, and 3.2 cm in size!
All three crystals are doubly terminated with great looking faces and only one minor contact
which does not detract. The surfaces are satiny lustrous with a fine internal translucence.
From Agrigento, Agrigento Province, Sicily, Italy.
Measures 4.6 cm by 6.6 cm by 3.8 cm in total size.
Price $2850
MIN#Tucson2012-108 New!
Incredible combination of Rubyjacl Sphalerite crystals on Galena cubes!
Also with a small Calcite on the far left side, this is one of the finest Tri-State combo miniatures
I've acquired in years. The large 2.8 cm twinned Sphalerite crystal at the very top sits perfectly
atop the cubic Galenas. A coating of smaller Rubyjack crystals coat the top faces and add a strong
reddish tint to the specimen. The largest Galena on the left measures 2.7 cm and all exhibit lustrous
faces on both front and back, with the back being slightly more mirror-like. With attached Chert matrix.
From the Ballard Mine, Baxter Springs, Picher Field, Tri-State District, Cherokee Co., Kansas.
Measures 5.5 cm by 5 cm by 4.8 cm in total size.
Price $985
MIN#Tucson2012-109 New!
Neat specimen of mustard-yellow Orpiment crystals in cluster!
I must admit that I've never offered a specimen of Orpiment from this locality before.
The Roberts Mountains are in the middle of nowhere in the center of Nevada but they
produce some good looking Orpiment. This specimen is in excellent condition with only
minor contacts. The largest crystal at top measures about 3 cm in size and the luster of all
ranges from satiny to glassy on the back. The only point of trimming is along the far right edge.
From Roberts Mountains, Eureka County, Nevada.
Measures 6.7 cm by 4.8 cm by 3.8 cm in total size.
Price $385
MIN#Tucson2012-110 New!
Rare! Lustrous specimen of Galena crystals with Fluorite!
This fine specimen is from the obscure Hill-Ledford Mine and is the first specimen I've found from
this scarce locality in quite some time. It's also one of the best Hardin County Galena plates I've offered
and was once in the personal collection of the mine owner himself, Mr. Paul Ledford. The Galenas are
all complete and undamaged with modified faces. A rolling, satiny luster highlights each crystal as do
the pretty light purple Fluorite cubes seen beneath the largest 4.5 cm Galena and on the far right side.
Circa 1957 - From the Hill-Ledford Mine, Cave-in-Rock District, Hardin County, Illinois.
Measures 6.8 cm by 9.3 cm by 4.8 cm in total size.
Ex. Paul Ledford, Roy A. Smith Mineral Collections
Price $1450
MIN#Tucson2012-111 New!
Scarce specimen combination mix Native Copper with green Prehnite nodules!
The Native Copper juts out at the top and appears as small crystals between the Prehnite nodules
and white Dolomite. There's even a small Copper wire located on the upper left side of this fine combo.
From the Keweenaw Peninsula of Michigan.
Measures 9.3 cm by 6.8 cm in size.
Ex. Russell MacFall Mineral Collection
Price $850
MIN#Tucson2012-112 New!
Classic and very rare specimen of lustrous gray Acanthite crystals with Chalcopyrite on matrix!
The largest crystal in the middle measures 1.8 cm in length! The remainder of this very rich
Silver Sulfide is covered with smaller Acanthites and patches of iridescent Chalcopyrite.
From the Eldorado Mine, Port Radium, Mackenzie District, Northwest Territories, Canada.
(This locality was discovered in 1900 and mined as a source of Silver and Radium in the 1930's.
It was dewatered in 1976 and mined again for its Silver and Copper reserves before closing for
good in 1982. The mine and its settlement were destroyed by fire and no longer exist today.)
Circa 1930's - Measures 4.7 cm by 5.2 cm in size.
Ex. Philadelphia Academy of Natural Sciences Collection
Ex. Kevin Ward Mineral Collection
Price $8500
MIN#Tucson2012-113 New!
Exceptional large crystals of yellowish-orange Wulfenite on matrix with Bisbeeite!
The blades are clustered together and elongated with the largest measures 7 cm in
width!! Smaller blades are scattered about the foreground with Bisbeeite coatings.
Very few contacts along the tips of the Wulfenite and no real detractions.
Classic specimen from the Tsumeb Mine in Tsumeb, Namibia, SW Africa.
Measures 6 cm by 8.5 cm in size.
Ex. Rolf Wein Mineral Collection
Price $2500
MIN#Tucson2012-114 New!
Aesthetic specimen featuring a mix of Galena crystals with Ankerite!
The Galena cubes are slightly drusy covered and sparkle while small Quartz crystals
accent the top two crystals. The specimen is in excellent shape with 3 dimensionality!
From Waterblast Flat, Smallcleugh Mine, Nenthead, Cumbria, England.
Measures 6.5 cm by 5.2 cm in size.
Price $685
MIN#Tucson2012-115 New!
Well balanced combination of Golden Calcite and Galena cubes on a Sphalerite crystal!
In excellent condition and undamaged on all sides! The Golden Calcites are gemmy and
and the Galenas are complete and lustrous. Only a couple of minor bumps on the Sphalerite.
From the Tri-State Mining District, Joplin, Granby County, Missouri.
Measures 3.3 cm by 3.3 cm by 2.9 cm in total size.
Ex. Scott J. Williams Mineral Collection
Price $285
MIN#Tucson2012-116 New!
Outstanding small plate of Native Silver crystals with Native Copper!
There are well over a dozen Silver crystals here with distinct, slightly rounded faces.
The backside is mainly Native Copper and matrix but there are additional Silver crystals
there as well. I love the way the crystals grew together and formed holes on the left side.
The luster is excellent with a lovely antique patina atop the crystals.
From the Wolverine Mine, Houghton County, Michigan.
Measures 6.5 cm by 6.5 cm in size.
Price $3500
MIN#Tucson2012-117 New!
Amazing specimen of Ram's Horn Selenite perched atop matrix!
I purchased this specimen about ten years ago for my personal cabinet and it has stayed there
ever since, always receiving a great number of compliments and questions regarding the price.
I decided the pull it out and finally let it see the light of day on the website. The specimen is
in perfect condition with two complete ram's horn curls at the top. Smaller curls can be seen
among the smaller Selenites at the base. The matrix is Selenite covered and quite lustrous.
From the Bou Bekker Mine, Touissit, Oujda-Angad Province, Oriental Region, Morocco.
Measures 15.5 cm by 8.2 cm by 5 cm in total size.
Ex. Kevin Ward Mineral Collection
Price $4500
MIN#Tucson2012-118 Sold!
Pristine cluster of Pyrrhotite with Calcite crystals on tan colored Quartz points!
The main attraction of this superb miniature is the pristine and very lustrous 3.4 Pyrrhotite rossette!
In the photo it appears silverish but under room lighting takes on more of a golden-bronze coloration.
The tan Quartz points are also in excellent condition with few contacts as are the white Calcites.
From the Nikolaevsky Mine, Primorskiy Kray, Russia.
Measures 7 cm by 5 cm by 5.2 cm in total size.
Ex. Martin Zinn Mineral Collection
Price $1850
MIN#Tucson2012-119 New!
Beautiful combination of green Apophyllite, Stilbite, and a spray of Scolecite shooting upwards!
The Apophyllite crystals are in excellent condition with gemmy, clear tips! There are a few flat top
Apophyllites but these are natural cleavages from the pocket. If you look closely at the Apophyllite
just below the Scolecite, that was a flat top crystal at one time but a clear tip actually grew atop
the old cleavage. I think the clear tips are present due to this fact. They represent rehealing
and later growth which formed the colorless terminations. All in all, a very aesthetic Zeolite!
From Chalisgaon, Jalgaon District, Maharashtra, India.
Measures 9.8 cm by 9 cm by 8 cm in total size.
Comes with a custom made, labeled base
Price $1850
MIN#Tucson2012-120 New!
Fine yellow crystals of Native Sulfur perched atop blades of Barite in ball clusters!
Two large crystal balls sit atop a third crystal ball cluster in the middle. The Barite crystals are
lustrous and in excellent condition with few contacts and the Sulfur crystals have nestled
themselves between and atop many of the blades. A scarce combination in a unique format!
From the Machˇw mine, Tarnobrzeg, Podkarpackie, Poland.
Measures 9 cm by 14.7 cm by 6.4 cm in total size.
Price $2500

- LINKS TO THE TUCSON-HOUSTON 2012 SHOWROOMS -
1 | 2 | 3 | 4 | 5 | 6 | 7 | 8 | 9 | 10 | Denver 2012 Showrooms
HOME | EXCEPTIONAL MINERALS | MINERAL AUCTION | SPECIMENS FROM PAST SHOWS | CONTACT US