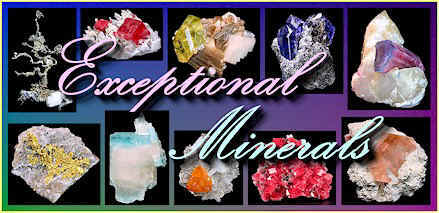 ** Updated 4/12/2011 with New Exceptional Specimens! **

MIN#EXCEPTIONAL-202 NEW!
EXCEPTIONAL! Large crystals of reddish-brown accented Hemimorphite in a matrix vug!
Hemimorphite isn't a mineral that usually excites me but this specimen is a killer small cab!
The Hemimorphite crystals are glassy, terminated, and very reflective. The top and back sides
are accented by reddish-brown to orange Iron Oxide and the largest crystals measure 4 cm in
length! I can't recall seeing a more impressive Hemimorphite. I know this is the finest small cab.
From Santa Eulalia, Mun. de Aquiles Serdán, Chihuahua, Mexico.
Measures 8 cm by 8.9 cm by 8.2 cm in size.
Price $1250
MIN#EXCEPTIONAL-205 NEW!
Gorgeous, gemmy crystals of Forsterite var. Peridot on Magnetite!
I count at least eight gem Peridots on this impressive specimen and all are complete
and tranparent. I would imagine you could cut some wonderful gemstones from these crystals
but why would anyone want to do that?? The Magnetite crystal is also complete and lustrous!
From Sapat Gali, Naran-Kagan Valley, Kohistan District, North-West Frontier Province, Pakistan.
Measures 5 cm by 3.6 cm in size.
Ex. Scott Wallace Mineral Collection
Price $2500
MIN#EXCEPTIONAL-208 NEW!
Lustrous and quite rare Native Silver Wire rising up from a matrix vug!
I can tell you right now that I seldom see good matrix wire Silvers from China. This specimen
leaped out when I saw it in Tucson and I had the matrix trimmed even further to more centralize
the wire. The wire itself is pretty big, measuring just shy of 5.5 cm from base to tip! I love the way
it does an "S" curve bend as it pulls away from the Calcite and Acanthite coated vug and rises
upwards, well above the matrix. The wire is very lustrous with a golden patina and very attractive.
From Lingqiu County, Datong Prefecture, Shanxi Province of China.
Measures 7.8 cm by 5.7 cm in size.
Currently in the Kevin Ward Personal Collection
Price $7500
MIN#EXCEPTIONAL-209 Sold!
Misty-blue Barite crystal set atop reddish (Hematite accented) Dolomite covered matrix!
A stunning example which is doubly terminated with an internal rainbow! The crystal is large
and impressive and set aesthetically atop a crevice in the matrix. The faces are glassy and complete.
From Frizington, West Cumberland Iron Field, North and Western Region (Cumberland), Cumbria, England.
Measures 9.6 cm by 6.2 cm in size.
Price $4500
MIN#EXCEPTIONAL-213 NEW!
Impressive specimen featuring bi-colored crystals of Malachite ps. after Azurite!
While Malachite has replaced most of the Azurite, the tips remain faithful to the original
mineral and dark blue color. A small bit of matrix is attached to the edge for contrast.
From the Tsumeb Mine in Tsumeb, Namibia. SW Africa!
Measures 6 cm by 6.5 cm in size.
Price $2750
MIN#EXCEPTIONAL-214 NEW!
GORGEOUS, sparkling crystal balls of Olmiite with gemmy Calcite!
Many of these specimens were originally labeled as Poldervaartite but analysis has shown
that these are indeed Olmiite - a Mn dominant Poldervaartite. This lustrous specimen boasts a
3.1 cm Olmiite crystal ball with a smaller crystal ball to the right. The color is a peachy-orange!
From the N'Chwaning II Mine, Kalahari Manganese Fields, Northern Cape Province, South Africa.
Measures 5.5 cm by 3.4 cm by 2.5 cm in size.
Price $1500
MIN#EXCEPTIONAL-215 NEW!
Beryl var. Heliodor crystal wand!
I love these "pencil" crystals and this one is super gemmy with the excellent color I look for!
From Corrego Vermelho, Padre Paraiso, Minas Gerais, Brazil.
Measures 1.6 cm by 10.9 cm in total length!
Ex. Korpi Mineral Collection
Price $2850

For More Exceptional Specimens, Click Here!
Rhodochrosite Room | Gold Room | Silver Room | Beryl Room | Elmwood Room