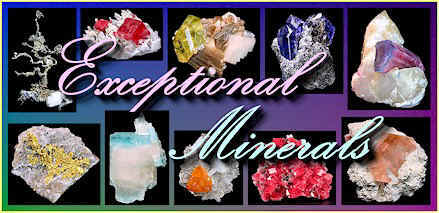 ** Updated 4/12/2011 with New Exceptional Specimens! **

MIN#EXCEPTIONAL-222 NEW!
Superb specimen of large Pyromorphite crystals!
Very impressive specimen featuring lustrous crystals which rise as high as 3 cm above
the matrix! The slightly greenish but mostly yellow crystal faces are sharp and glassy.
All are terminated and I only see a couple of small crystals missing on the backside.
From the Jersey Vein, 9 Level, Bunker Hill Mine, Kellogg, Shoshone County, Idaho.
Measures 3.5 cm by 4.8 cm in size.
Ex. Mine Owner's Collection
Price $2850
MIN#EXCEPTIONAL-223 Sold!
Amazing specimen featuring Native Silver wires perched atop Quartz matrix!
This specimen was among the first Native Silver specimens to be found at the Imiter Mine
in Morocco. A single Quartz boulder was collected shortly before the and broken into several
specimens which exposed the rich nest of Native Silver! The matrix is a cluster of incomplete and
complete Quartz crystals with a few terminations here and there pointing outwards from the center.
From the Imiter Mine, Ouarzazate Province, Morocco.
Measures 8 cm by 7 cm in total size.
Comes with a custom made, labeled base
Price $5750
MIN#EXCEPTIONAL-225 NEW!
Bright and lustrous specimen of crystalline Native Gold on matrix!
A very rich seam of Gold in Quartz with well defined crystals along the exterior!
The crystallization took place everywhere the matrix widened and apparently
this was mostly along the periphery of the main seam. Hoppered crystals and
numerous octahedrons can be easily seen among the incredibly flashy surfaces.
From the Mockingbird Mine, Mariposa County, California.
Measures 6 cm by 4.7 cm in size.
Price $5500
MIN#EXCEPTIONAL-226 NEW!
VERY RARE!! Amazing combination of Native Silver crystals on olive-green Chlorargyrite var. Embolite!
Both sit atop a matrix of orange Limonite. This is the only specimen of this combination that I've ever seen
and they are extremely rare from all localities. Using a 10X loupe, you literally see hundreds of lustrous
Silver crystals and some fine Silver wires sitting atop and between green crystals of Embolite! This is
truly a rare opportunity to acquire a mineral conbination that very few collectors have ever owned.
From the Broken Hill Mine in New South Wales, Australia.
Measures 5.2 cm by 7.5 cm by 3.5 cm in total size.
Ex. Dr. Eric Asselborn, Albert Chapman, Kevin Ward Mineral Collections
Price $12,500
MIN#EXCEPTIONAL-231 NEW!
Native Copper nugget-halfbreed with Native Silver crystals!
Bizarre specimen which at first glance appears to be a typical Copper-Silver halfbreed.
When you turn the specimen around, however, a Silver crystal lined vug appears! I count
about a dozen freestanding crystals filling the Copper vug. I've never seen another like it!
From the Keweenaw Peninsula in Michigan.
Measures 5.5 cm by 7 cm in size.
Ex. Ken Hollmann Collection
Price $5500
MIN#EXCEPTIONAL-234 NEW!
Exceptional specimen featuring a huge Lazurite crystal with Pyrite on Marble matrix!
Superb specimen boasting an 8 cm crystal of dark blue Lazurite. The matrix is a mix of white
Marble, Pyrite, and Muscovite and provides the perfect background for the Lazurite. Overall,
the crystal is in excellent condition with no bumps or contacts. The only area of slight incompleteness
is on the very bottom of the matrix where the specimen was trimmed. This does not detract at all.
From the Koksha Valley, Badakhshan Province, Afghanistan
Measures 9 cm by 11.4 cm by 8.2 cm in size.
Ex. Steve Neely Mineral Collection
Price $9500
MIN#EXCEPTIONAL-237 NEW!
Stunning specimen featuring three crystals of Forsterite var. Peridot atop a Magnetite!
Very unique specimen featuring multiple terminated green crystals of gemmy Peridot!
The dark Magnetite crystal serves as the center base and measures 1.6 cm in size.
From Sapat Gali, Naran-Kagan Valley, Kohistan District, North-West Frontier Province, Pakistan.
Measures 2.7 cm by 3.2 cm in size.
Price $1450
MIN#EXCEPTIONAL-238 NEW!
Exceptional combination of Aegirine crystals with Smoky Quartz on Microcline!
Super aesthetic specimen featuring over half a dozen terminated Aegirine crystals
rising upwards atop Microcline matrix. A perfect, doubly terminated Smoky Quartz
crystal lays horizontally in the foreground. This adds not only contrast, but depth
and eye appeal to what can easily be a somewhat unglamorous mineral. Very nice!
From Mt. Malosa, Zomba District, Malawi.
Measures 6.9 cm by 5.4 cm in size.
Comes with a labeled acrylic base.
Ex. Gabriel Risse Mineral Collection
Price $2450
MIN#EXCEPTIONAL-239 NEW!
Exceptional Russian Fluorite with Green Quartz Combo!
Large, crystal-clear Fluorite dodecahedron perched between Green Quartz
(Hedenbergite included) and atop Calcite! The glassy Fluorite itself is pristine and very
lustrous, measuring nearly 4 cm across the front. A smaller sidecart crystal is incomplete
on the backside but this doesn't affect the large Fluorite. Most of the Green Quartz
crystals are terminated with the largest being doubly terminated. The Calcites near
the bottom add a nice touch to what is a very attractive specimen of bygone mining.
From Dal'negorsk, Primorskiy Kray, Russia.
Measures 7.4 cm by 6 cm in size.
Ex. Edward David Collection
Price $2500

Rhodochrosite Room | Gold Room | Silver Room | Beryl Room | Elmwood Room